Valentine's Day Activities For The Whole Family To Do Together
Valentine's Day is a day most people think is for romantic love only. But what about all of the other people who we love and care for in our lives? We should show love to our whole family and what better way to do that than on Valentine's Day.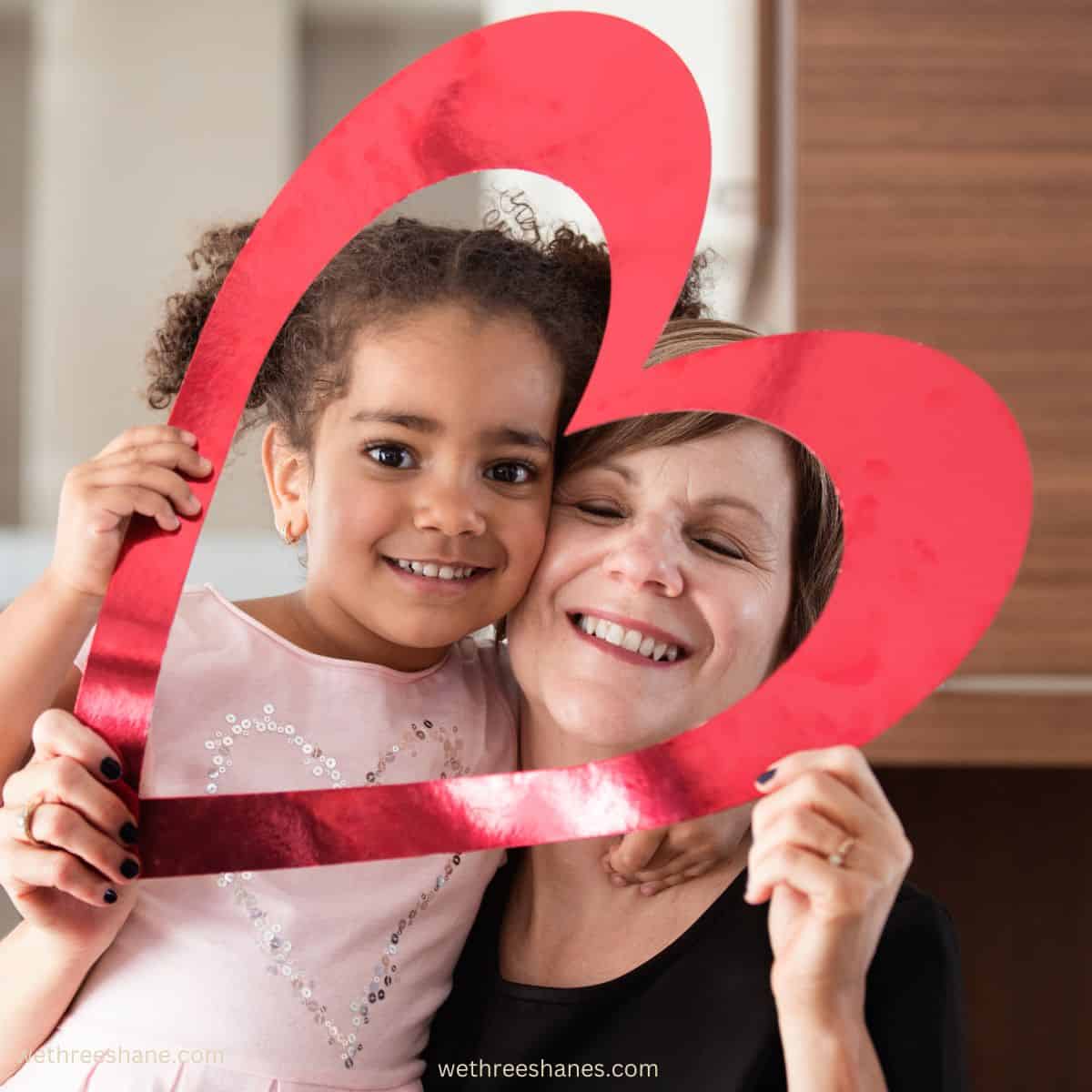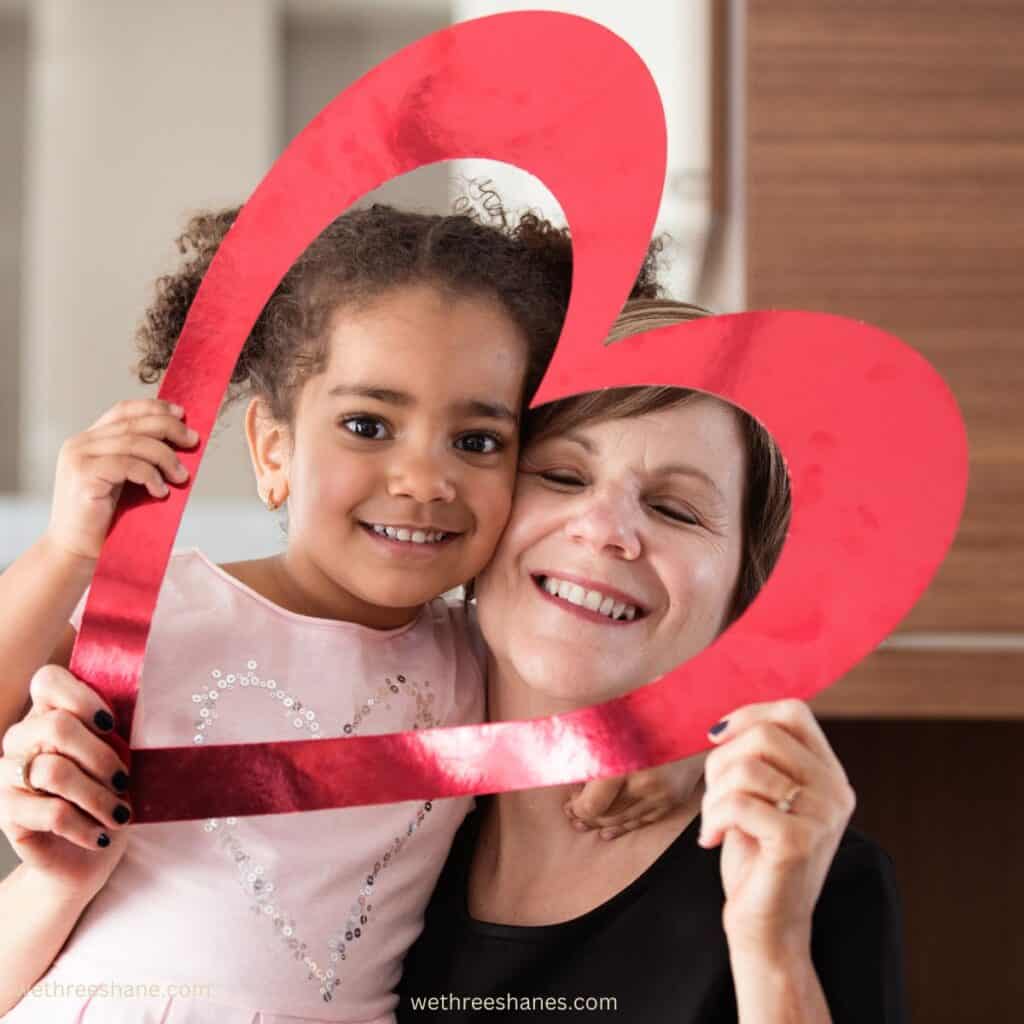 (THIS POST PROBABLY CONTAINS AFFILIATE LINKS. OUR FULL DISCLOSURE POLICY IS LONG & BORING BUT, YOU CAN FIND IT HERE.)
Valentine's Day Activities For the Whole Family
There are some very obvious ways to show love to others on valentine's day, such as writing a love note, doing a chore for them or even just saying I love you. But there are many other ways we can show others we care for them.
While Valentine's Day is considered a day for couples there is no reason you can't share it with your family. It's a great opportunity to model ways that love can be expressed in a healthy manner and to have fun together. Create memories as a family!
Let's talk about some interesting and fun ideas to celebrate Valentines day with the entire family.
Once the holiday is over you'll want to start thinking about the next holiday coming up that you can celebrate together and these St. Patrick's Day movies for kids is a great resource! Every holiday doesn't need to have a huge activity involved. Sometimes a movie is the perfect solution.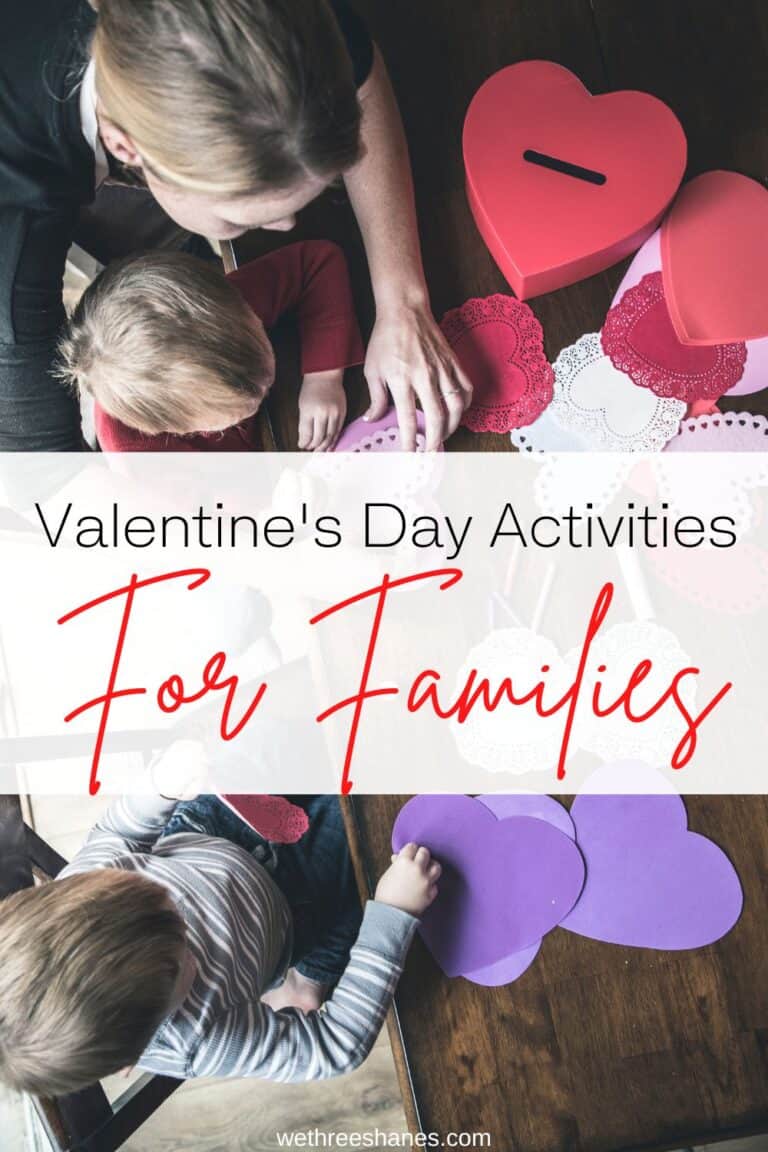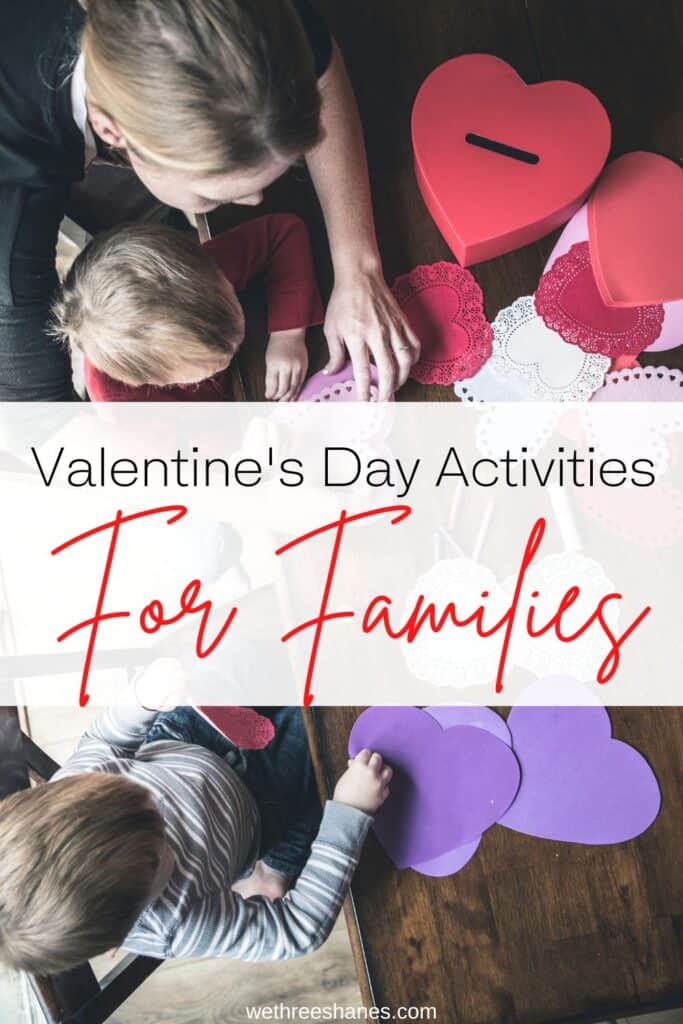 Spend Time With Your Family
One of the best ways to show others we care is by spending time with them. Especially our family members.
Everyone is so wrapped up with their phones these days. No one ever just puts them down and looks each other in the face and talk. When we listen to a loved one talk while still looking at a screen we are telling them that the phone is more important.
I am totally guilty of this. Partly because my teenage daughter NEVER stops talking, but also because I'm always busy doing something. But I try and remember to put the phone down and make eye contact with her when I can.
I never want her too look back and think her mom didn't listen to her. I want to give my children a loving space where they know they can come to me and I will listen. It is so important to do this with each family member.
Even as adults we talk to each other while still looking at our phones. We made it a rule that date night means no phones. We need that time to connect and be present with each other.
Gift Giving
Valentine's day can be a great time to give presents. I know we like to get the kids two or three things to say I love you. Usually something to wear, something to eat and something just for fun.
This is a great way to make them feel loved and appreciated. Last year we even bought the dog his own Valentine gift.
Bonus points if you and your significant other go shopping together. You also could take the kids shopping and have them pick out gifts for each other.
Creating New Traditions
Maybe this year you can start a new tradition. I have a dear friend who told me that she put paper hearts on each kids door with something she loves about them written on it.
She starts February 1st and so by Valentines day their door is covered in hearts. Your child can look at their door and remember that someone loves so many things about them.
It is a perfect way to express love.
If you have younger kids who don't get along great, make them join in and put a heart on their siblings door with something they love or admire about them. It would be a great bonding opportunity and a fun way to learn things about yourself.
By the way this isn't just for kids. Older kids and spouses love to hear how amazing they are too so be sure to give them hearts everyday as well. This is a great opportunity to show love especially if you are bad at telling your family about all the ways you think they are amazing human beings.
Family Movie Night
We love movie nights at our house. Have a special movie night where you watch a feel good movie about love. Make it special with yummy treats and NO PHONES.
Food Ideas for Valentine's Day
We love food in this house. There are lots of creative ideas you can do with food. Here's a list I put together of some of the things I thought of.
Valentines Chex Mix ( would be perfect to eat during your movie )
Heart shaped cookies, homemade or store bought
Heart-shaped pancakes or pink and red pancakes
Heart shaped strawberries dipped in chocolate
A heart-y breakfast (think everything heart shaped)
The cool thing about the above list is several of those foods you can make together as a fun activity.
Decorate some heart-shaped cookies and deliver them to a neighbor or friend. Cookie decorating is always fun. Buy a heart-shaped cookie cutter or get a whole valentines cookie kit.
This is a great idea for young children to get them involved and teach them about service. They would be so proud of these cookies when they are done and feel so good about themselves when they hand deliver them to a special someone.
Another fun idea is to spread out a blanket in the living room and have a picnic. You could also make fondue and enjoy that. We have a post all about having a fondue night with the family that has tons of ideas and recipes.
---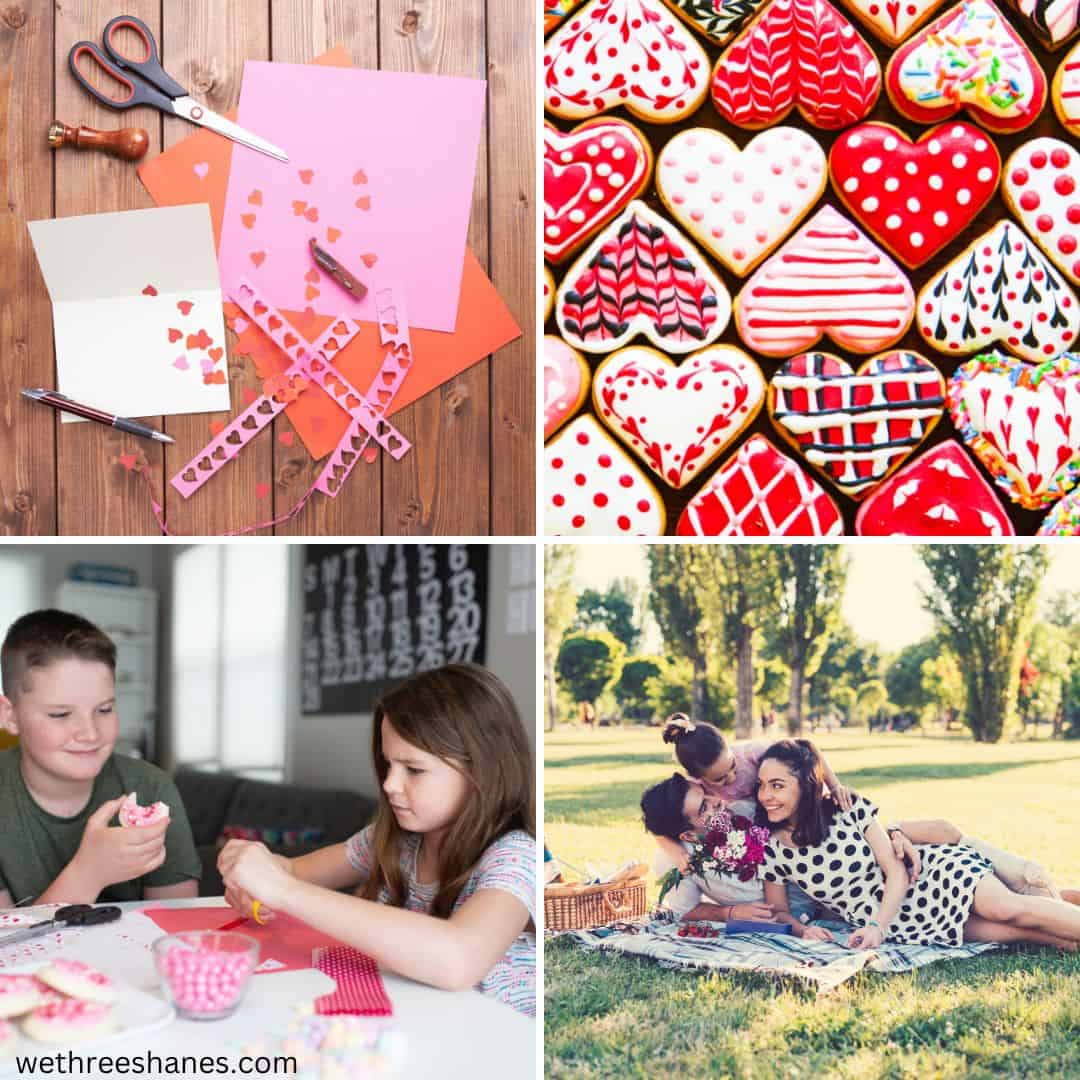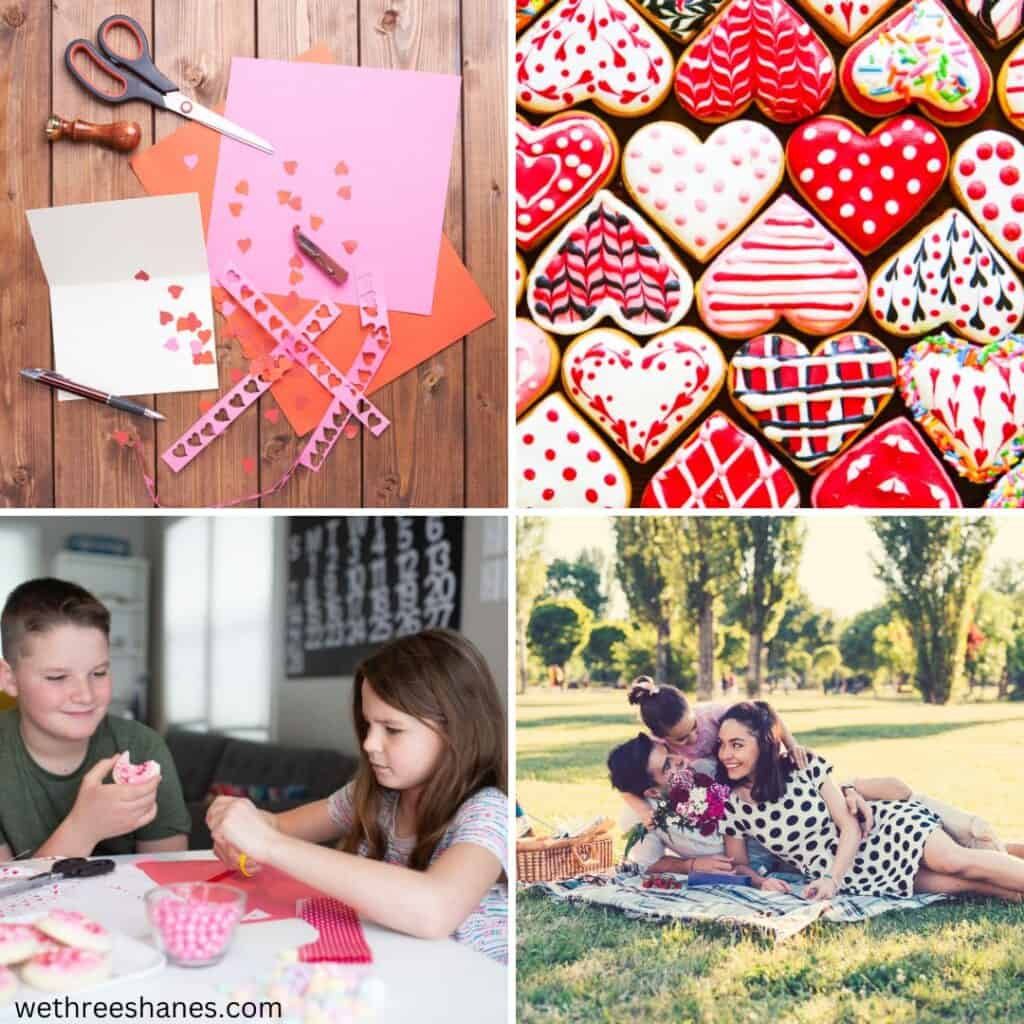 Have a Family Dance Party
My kids would be too old for this now but when they were little they loved to dance. Crank up the music and clear the floor and have a dance party.
Don't forget to also play a slow song so the kids can watch you and your partner slow dance. We like to slow dance in the kitchen.
One time we were dancing and my son said, "EEEWWW gross I'm going up stairs." After he left I got my phone out and took a video of us slow dancing and texted it to him.
I hear him yell from upstairs, "Really?" But I know he will remember that his parents love each other hopefully be sweet to his partner when he starts a family.
If you do not have a partner, slow dance with your kids. Show them how to do it. Where to put their hands or arms and take turns. This is the perfect time to teach them these things.
Kids Choice Day
Ask your kids what they want to do. Maybe they will come up with something you hadn't thought of. I'm sure my kids would want to eat at their favorite restaurant, maybe get some sweet treats after that and possibly go bowling or play miniature golf.
My son has always loved Lego's and one year the Lego Movie 2 was out during February so we went to see it on Valentine's day with the kids.
Creative Valentine's Day Crafts
Have your kids make Valentines for you and for their siblings. They actually have cool valentine kits you can order that come with everything you need to make valentines.
They were lots of years in elementary school when I helped my kids make made Valentines for their class instead of buying them. It's always a fun time coming up with something to make.
Another card making idea is to take your homemade cards to a retirement home. The people who live there often get lonely and would love a visit from anyone but especially kids!
You also could make some kits to hand out to homeless people at a nearby park. Perhaps make them Valentine cards and hand those out with some food to let them know that they haven't been forgotten.
Homemade valentines are so much more meaningful. But really getting any form of valentine's day cards makes you feel special.
Family Donations
Speaking of service, you also could have your kids go through their room and make a donation pile of things they no longer need.
Explain to them that there are kids in the world who don't have toys or a jacket to keep them warm. You'd be surprised what your kids wants to donate after hearing that.
Then have them help you take it to a shelter. What a perfect opportunity to teach them about caring for others.
Have a Conversation About Love and Caring for Each Other
Talk to your family about love. Tell them about the different ways they can show others love.
Then ask them if they have any ideas or anyone special they want to make a Valentine for. If you do this early enough during the day you might be able to follow through on some of the ideas your kids came up with.
If you have young kids you can suggest they do something special for a kid in their class who maybe doesn't have a lot of friends or maybe the janitor at their school. The people who collect their trash or recycling is another idea. Help them think outside of the box.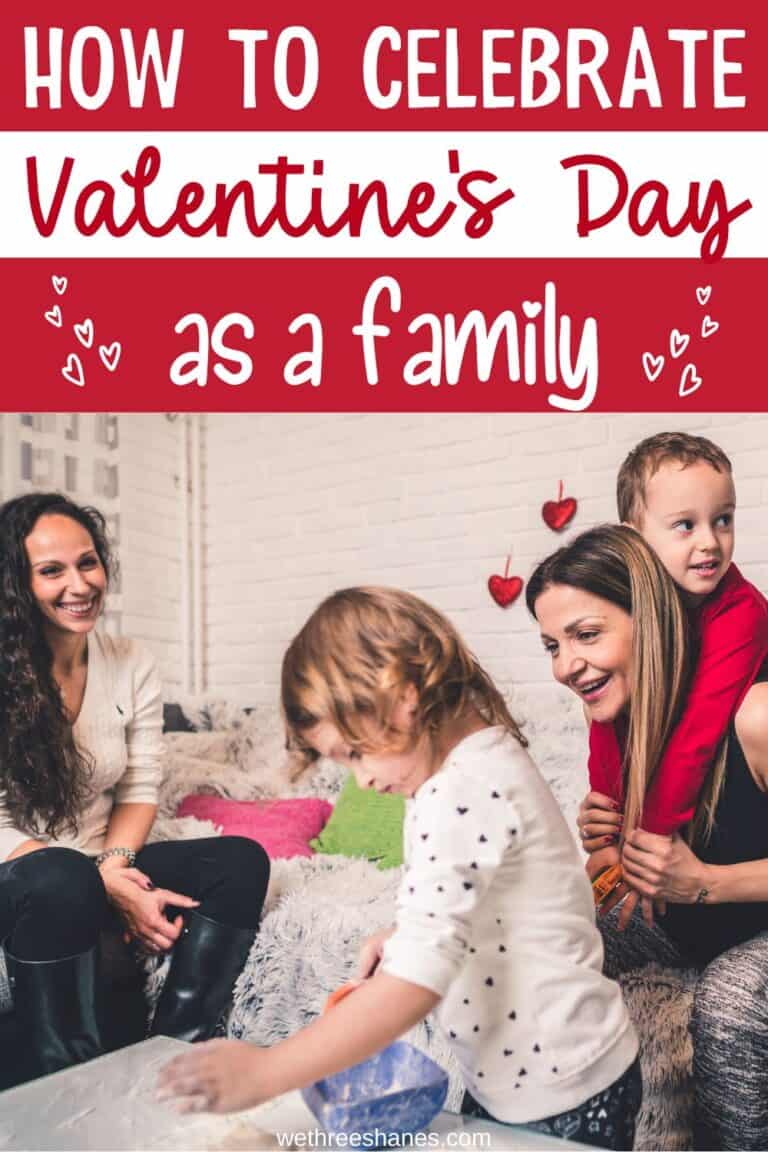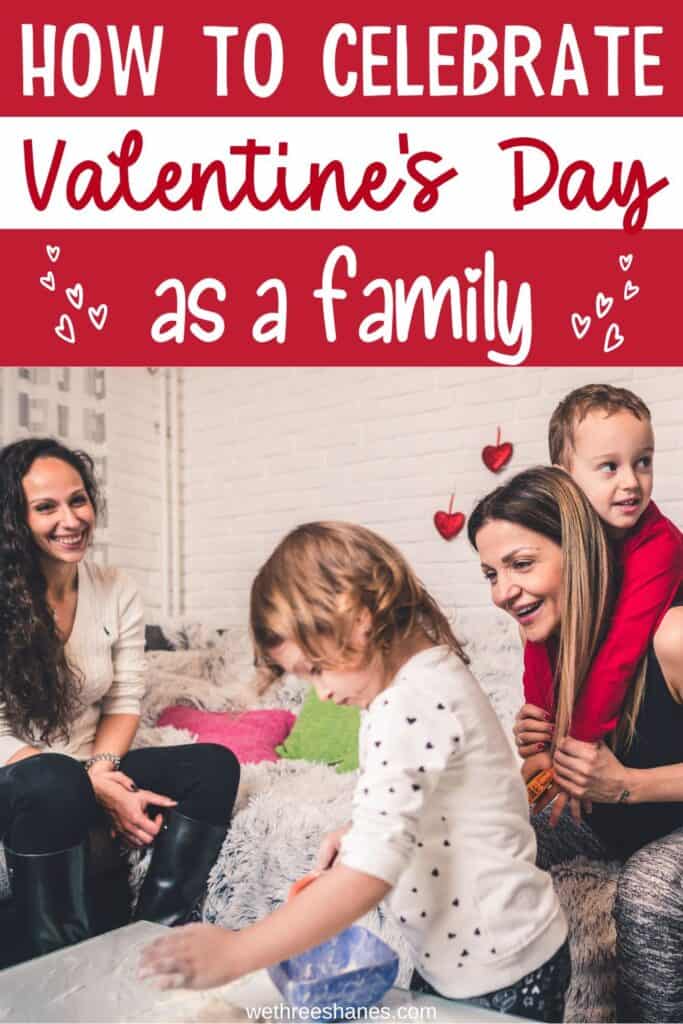 How to Celebrate Valentine's Day as a Family
At the end of the day, February 14th is a great opportunity to talk about, give and receive love for and from our family members. It doesn't always have to be based off of romance alone. Kids of all ages want to hear they are loved and feel it.
Put little love notes in their lunches, give them big hugs, look them in the eyes when they are telling you about the valentine's day party they had at school that day. And be sure to tell them about your love story of how you and your partner fell in love.
Simple things make a difference so don't get overwhelmed with a huge list of complicated ideas. Pick one or two things from the list or come up with your own ideas.
Remember, what your family really wants is time spent together. In the end that's all that matters.
Do you have a tradition I didn't talk about you want to share with us? We'd love to hear it in the comments below. If not them tell us which of the above ideas you might try out this year to help your loved ones celebrate Valentine's day as a family this year.
---
You May Also Like: