Amazon Prime Days | Simple Living Deals 2022
Ready to get some deals and save some cash? Me Too!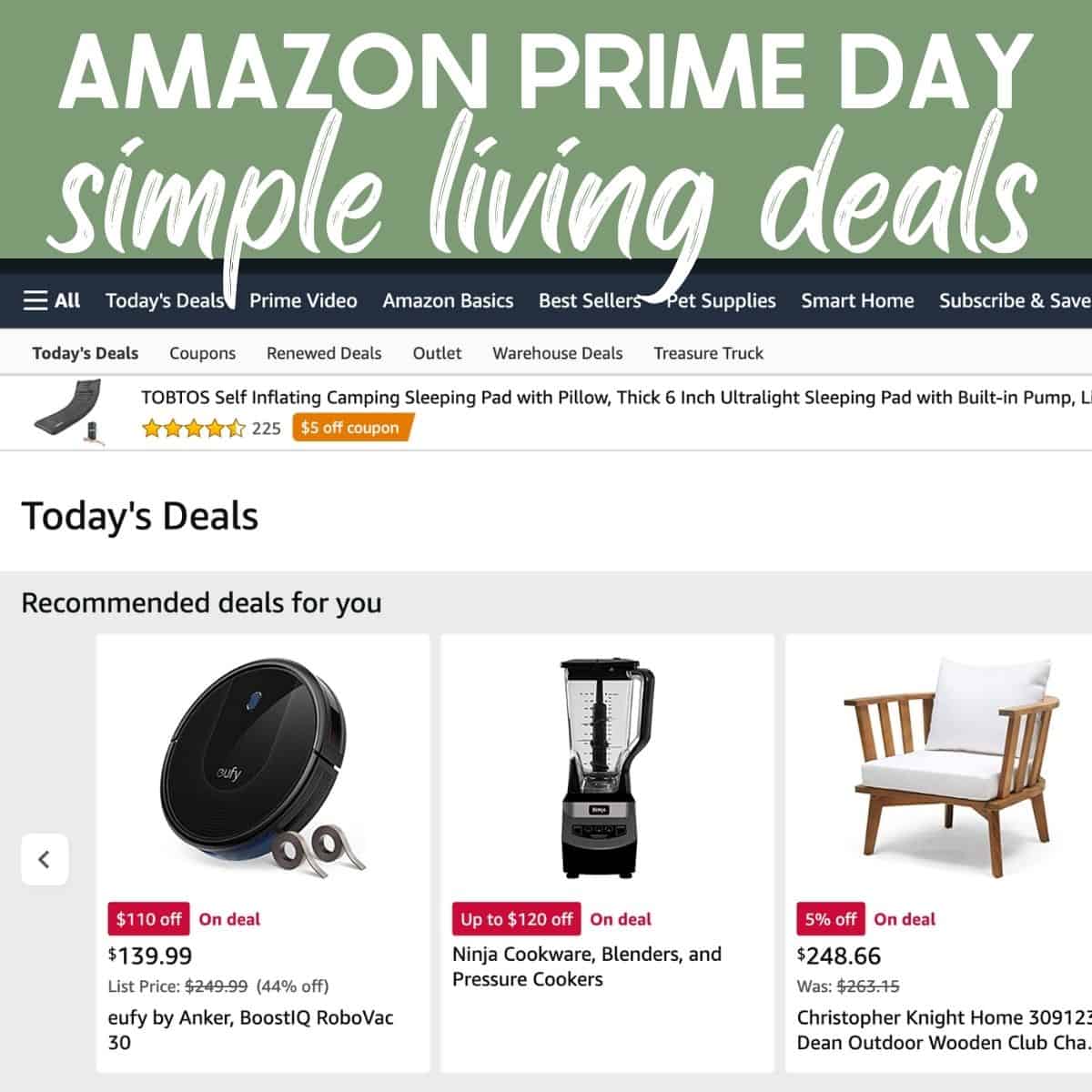 (THIS POST PROBABLY CONTAINS AFFILIATE LINKS. OUR FULL DISCLOSURE POLICY IS LONG & BORING BUT, YOU CAN FIND IT HERE.)
Save Some Money With Amazon Prime Day
My husband and I always check out Amazon Prime days to see what deals we can find. Some times we save money on items we've had our eye on but we also go in with an open mind and look for items we didn't know we needed in our life. (Like last years Deep Tissue Massage Gun.)
Some of you might be asking yourselves, What is Prime Days? It's like Black Friday in July. Amazon marks down prices on over 100,000 items which means there is always something for everyone!
This year it's July 12 and 13th but Amazon always has early deals going on. Some will last for days while others are lightening deals that go fast.
Check back July 11-13 to see if we've added any deals to this list.
You do need to be a prime member in order to get these deals. I have been a member for years because you just can't beat that two day shipping and I have always found Amazon to be great about returns.
If you aren't a member then you'll need to sign up now for a 30-day FREE trial. If you're a student then make sure to take advantage of student Prime which gets you additional savings.
Simple Living Prime Deals
Everyone has a different idea of what simple living looks like for them. That's because we're all in different stages in life. Hopefully you have a good idea of what simple living looks like for you.
Getting Outdoors
For my family, this time of year is about getting out in nature more. Last year we looked at prime deals that had to do with camping. Camping equipment like tents, sleeping bags and sleeping pads, and these pop lanterns that are also perfect for power outages.
We also live about 5 minutes away from a reservoir so we're spending a ton of time hiking, swimming, and enjoying a relaxing day at the beach. Deals we're looking for include:
If you don't have somewhere close to get away to then your backyard could be a great place for you to relax. Look for deals on:
Prime Deals for the Home
Let's move inside the home now. When I look for prime deals for my home I look at four categories: cleaning, organizing, kitchen, cozy. How can I clean faster, organize better, cook faster and eat healthier, and make my home as cozy as possible.
Cleaning Deals
Here are a couple of my favorite cleaning deals going on right now.
Organizing
You can always find great deals on small stuff to organize with but some of them go fast. So keep an eye out and grab them while you can.
Kitchen Deals
When I'm looking for kitchen deals I look for things that will help me meal prep and cook faster. There will be better deals on actual prime days but there are some things you can get on sale now.
Like this Cosori Air Fryer. I love our air fryer, especially during the summer when I don't want to turn the oven on.
You can also look through this page that will have all deals on air fryers and instant pots.
KitchenAid mixers can be expensive so any deal, even small ones, are helpful. Amazon has deals on the 4.5 quart, 5 quart, 6 quart pro series.
For the Home
Just a couple of things to consider.
Prime Days
I've only covered an incredibly small list of items that are on sale right now. Tomorrow and the next day will have even more savings so check back.
Don't just shop for you. Think of upcoming birthdays or even shop for some holidays that will be here before you know it.
Do you have certain items you look for when Prime Day hits. I'm always looking for ideas and would love to hear about them in the comments section, below.