Billion Dollar Beauty Review, a Seint Makeup Dupe?
Billion Dollar Beauty prides itself on being a makeup company that brings the magnetic, low waste makeup box to the masses. It is much more affordable than the pioneers of the magnetic beauty box idea, Seint (formerly Maskcara Makeup), but can it really compare at such affordable prices? Read on and find out!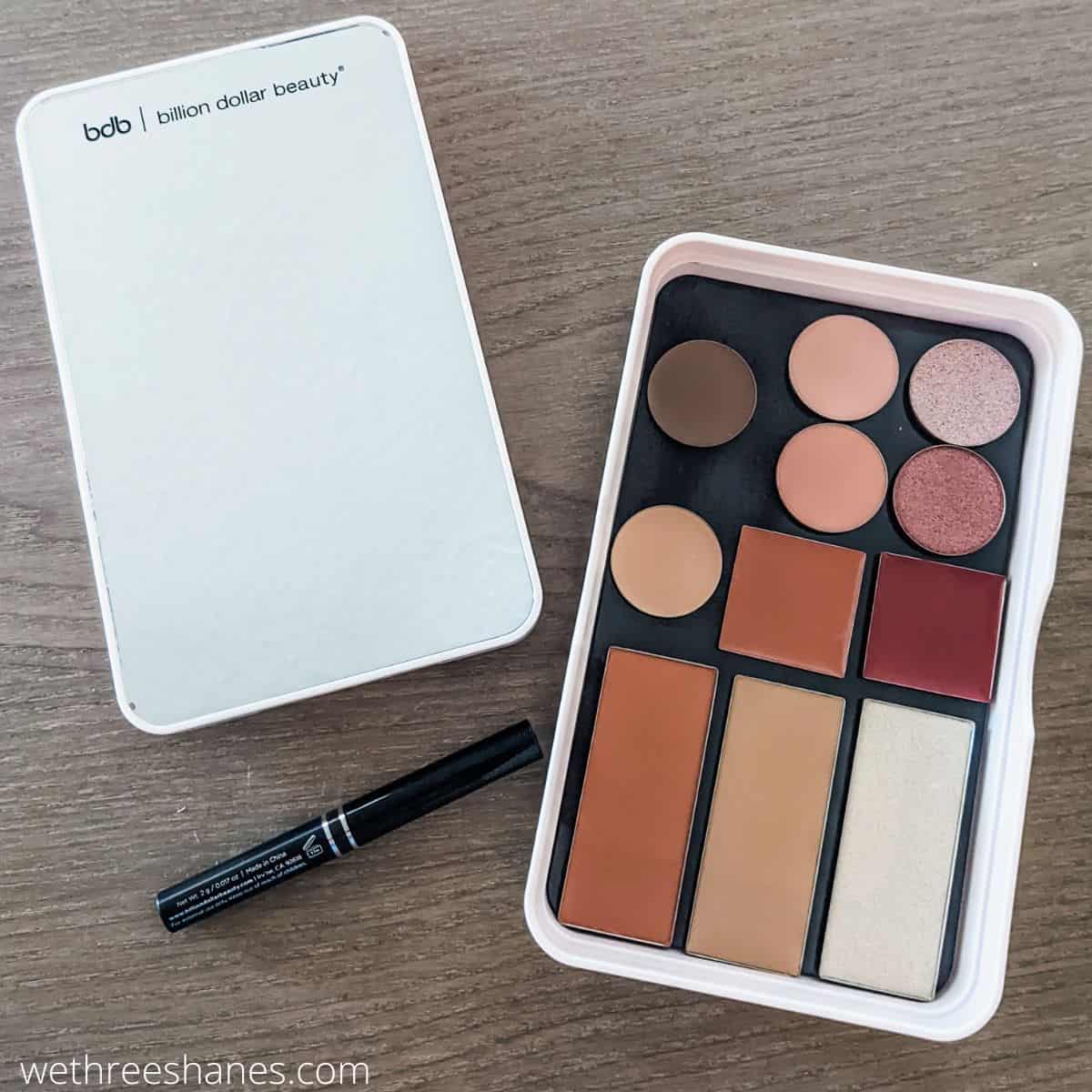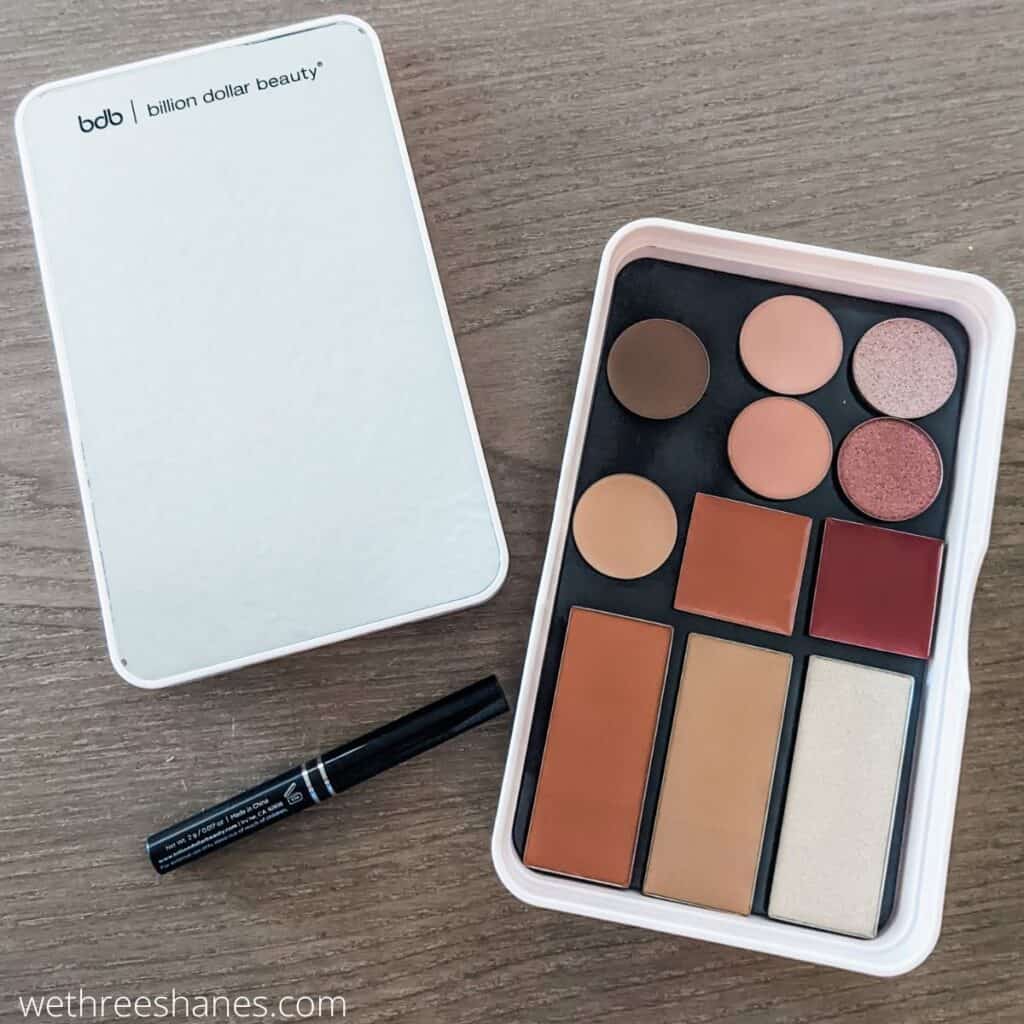 Billion Dollar Beauty Magnetic Makeup Box
Billion Dollar Beauty is a company that sells beauty products. While they do sell some full size products, they are the company that is bringing the idea of the refillable, magnetic makeup box to the masses. This is what caught my eye.
As someone who has used Seint makeup in the past and liked it, it can be a bit expensive. Billion Dollar Beauty has much better prices while using a similar idea, only buy the colors and makeup you want.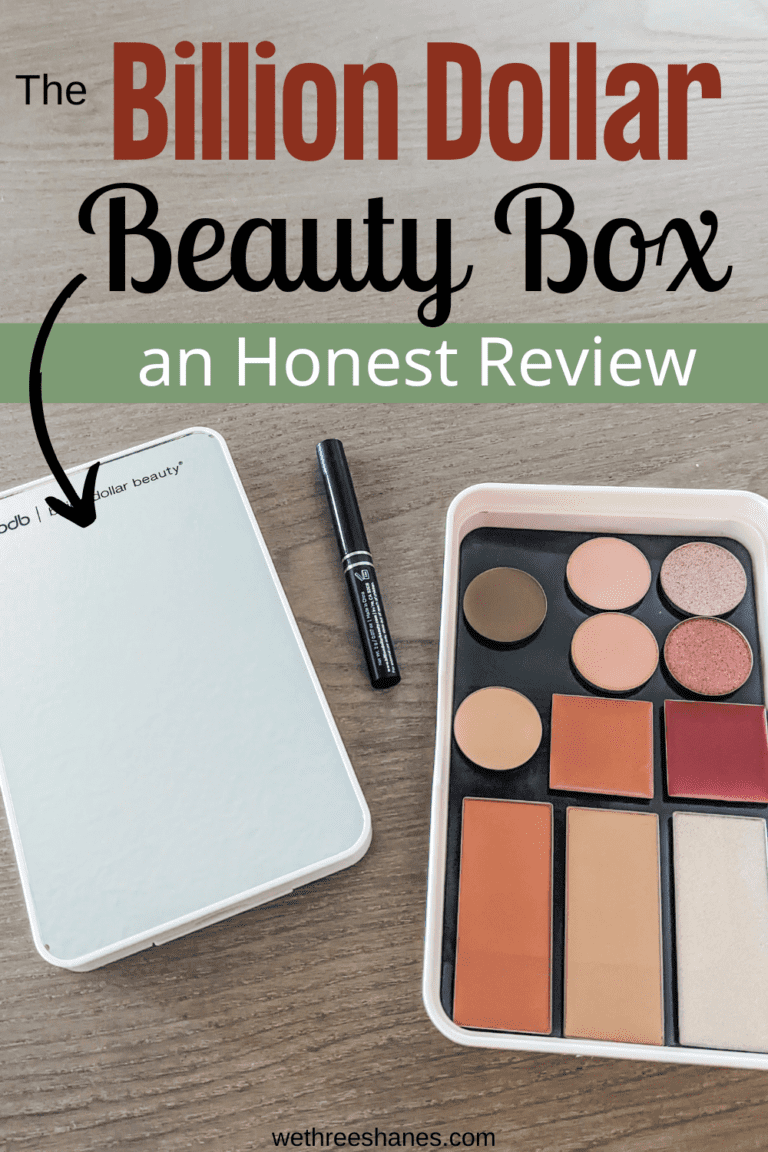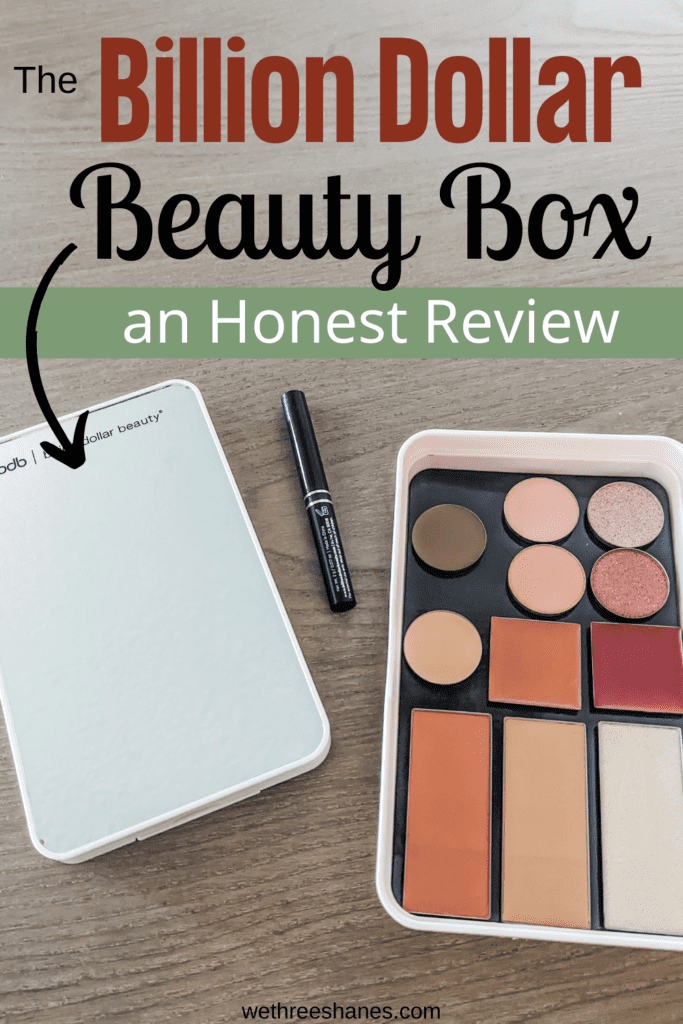 Billion Dollar Beauty (sometimes referenced as BDB throughout this post) prides itself on bringing a quality product at an affordable price. Their makeup is:
Cruelty-free
Vegan
Paraben-free
Formaldehyde-free
Sulfate-free
Talcum-free
Made with PCR plastic (plastic made from already recycled materials)
Waterproof
They also pride themselves as doing all of this without the MLM platform. And probably most important to the magnetic beauty box concept, able to be bought in individual, low waste pieces.
Billion Dollar Beauty products can be bought directly from their website, but also from Target. And while it is not in every single physical Target store, it is in more than 700 of them. If you cannot find the makeup at the Target near you, you can get it online from Target through their website, or App.
(THIS POST PROBABLY CONTAINS AFFILIATE LINKS. OUR FULL DISCLOSURE POLICY IS LONG & BORING BUT, YOU CAN FIND IT HERE.)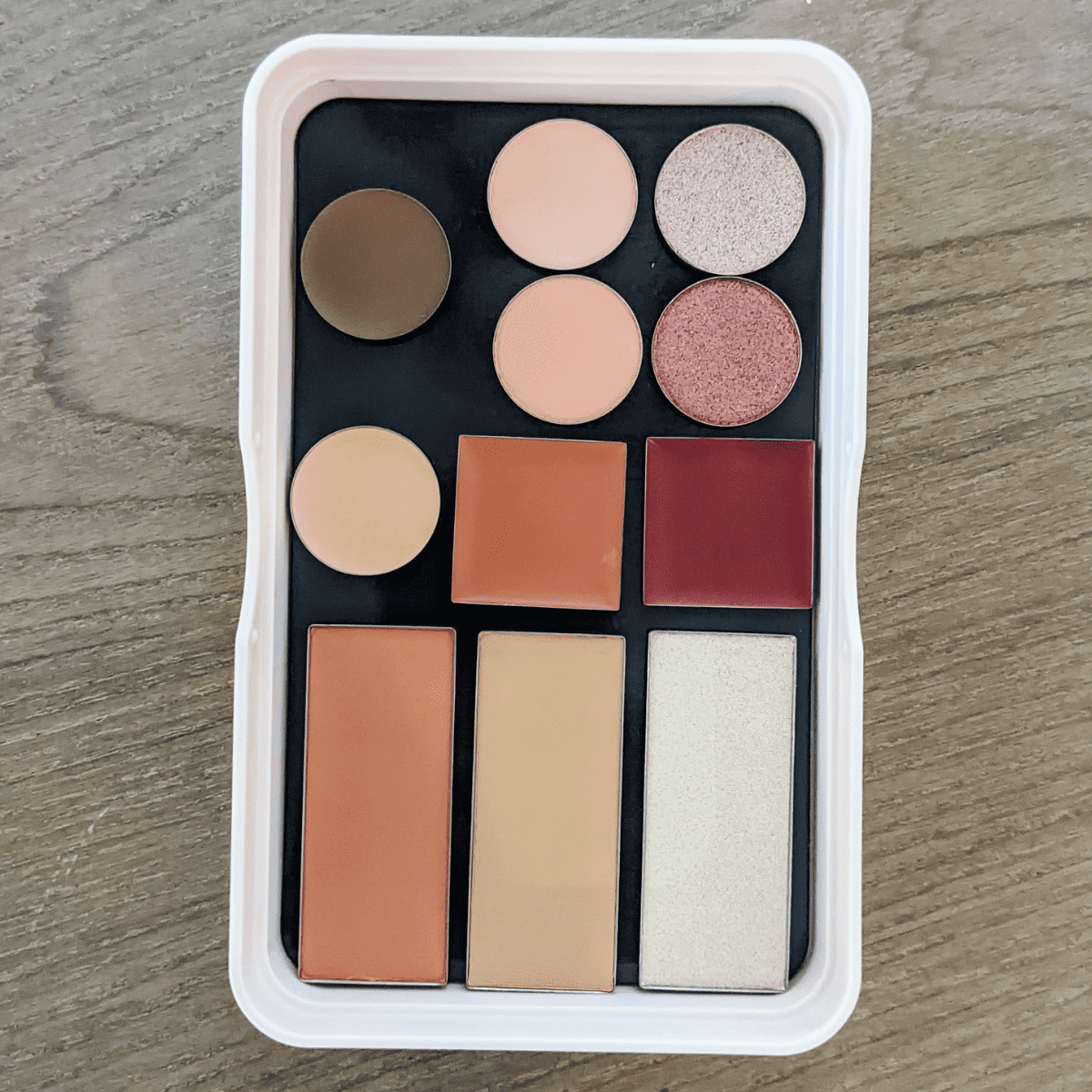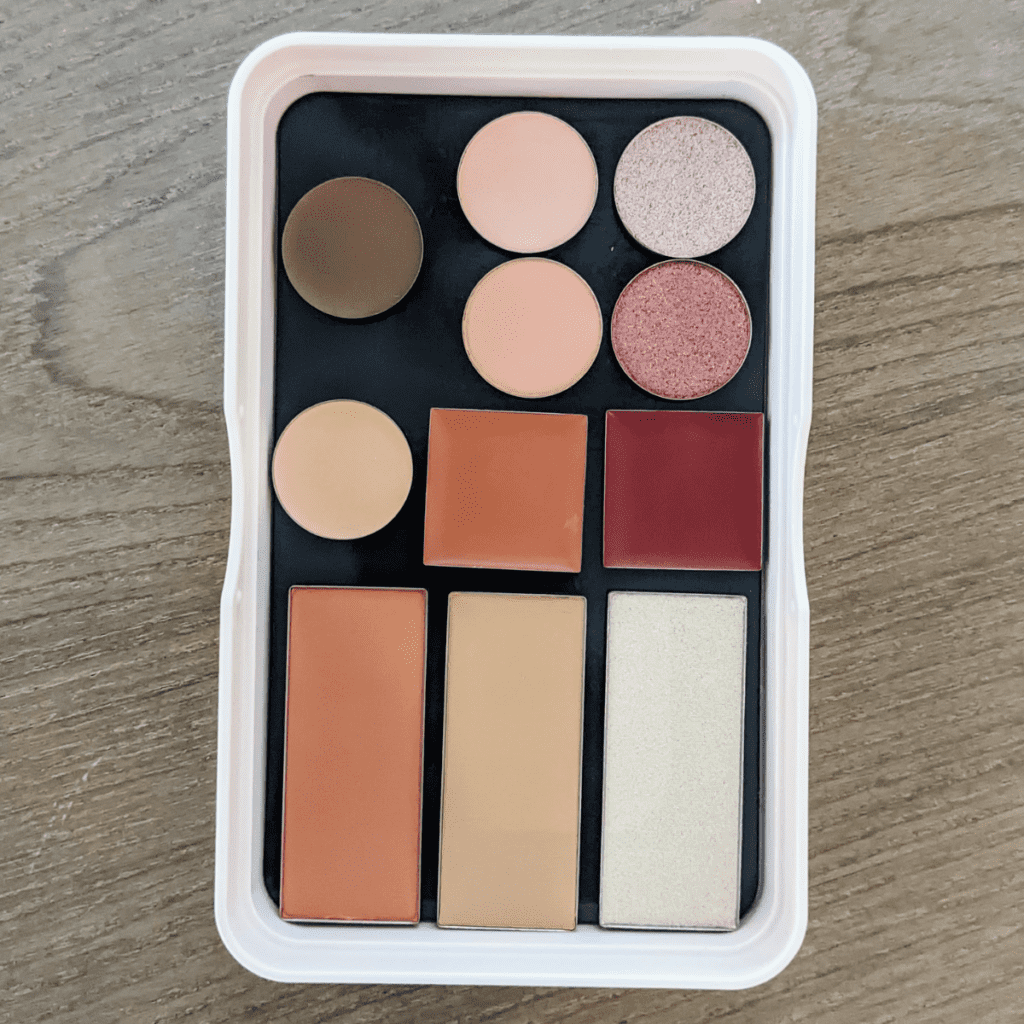 ---
Seint Beauty
Seint was the first of the two beauty brands to be on the market. It was formerly known as Maskcara Beauty and it was founded in 2013.
They were the first company to come up with the idea of a central magnetic case. You would then buy individual items of makeup that you would stick inside to make your own palette. In doing so, you get less wasted product, and less packaging.
Seint has their HAC system (which stands for highlight and contour). It is a special way of putting on their makeup that sets them apart from all other beauty brands, and it is very unique.
If you want to learn more about the HAC, and Seint beauty in general, you can see my previous review of it here, Maskcara Beauty (Now Seint), An Honest Review from a Non-Seller.
Individual pieces from Seint that fit into their magnetic cases, usually run from $12-18 dollars when not on sale. They also have more expensive items like their brushes and skin care that do not fit in the magnetic boxes.
Everything I have tried from them has been good quality. And I especially love their brushes. I have been using them for years, and still have never had to replace one.
---
Billion Dollar Beauty vs. Seint Beauty
Both Billion Dollar Beauty and Seint give you the opportunity to use healthier, less wasteful beauty products. And they both use magnetic beauty cases. But for the next little bit, let's explore their differences.
The HAC
While Seint has a special way that you apply some of their makeup, Billion Dollar Beauty does not. Having used the HAC, I like it and have had good results with it.
However, I have also have good results doing a face full of regular makeup. For most people, it would just come down to a personal preference.
Availability
You can get both Seint Beauty and Billion Dollar Beauty from their websites. But that's the only similarity.
With Seint Beauty, you need to find a representative because Seint operates an MLM structure with individual consultants.
Billion Dollar Beauty however has a partnership with Target, making it more accessible to more people. If you live by a Target that carries their products, you can pick up any refill you need while you are there shopping.
For those that don't live by one of these Target stores, you can add it to your online Target order, making it easy to reach the $35 dollar amount needed to get free shipping.
Product Size
Some Seint Beauty products are similar in size to Billion Dollar Beauty products. For example, their eye shadows, while different shapes, are pretty comparable in size.
Other products however are very different in size. The concealer from Billion Dollar Beauty is much smaller than the one from Seint Beauty.
Products
There are some things that you cannot get from Billion Dollar Beauty. While Seint's HAC system gives you total skin coverage, BDB only has a concealer.
While BDB does have a highlighter and blush, it doesn't give you the same coverage that the HAC does so you can't use it the same way.
There are currently no products of theirs that give you total skin coverage like with a foundation. They only have a small concealer for things like dark circles or blemishes.
Price
This may be the biggest difference. Both Beauty companies give you the option of having healthier products with less waste that work well, but Billion Dollar Beauty is the clear winner when it comes to price.
The individual pieces you buy to fill your case run from $3.99 to $5.99. They are an incredible value, and they make it much easier to get a whole system of their products at once.
Seint pieces cost between $10-$16 which means you're going to spend a whole lot more, especially when you first start out.
---
Trying Billion Dollar Beauty
I have used Seint for years. The concept of buying just the pieces of makeup I want, when I want, with less waste, is wonderful. No longer did I have to buy a palette of 9 colors just to get 3 I liked. I could buy exactly what I wanted, customized just for me.
The only thing I really didn't like was the price. Buying that one eye shadow color I really liked could cost as much as some whole palettes of 9 colors. So when I saw an advertisement for Billion Dollar Beauty through Target, I was intrigued and excited.
I love the idea of it being at a store as accessible as Target. The fact that I don't have to find a consultant, and can get what I need on my own any time I want is important to me. It also made me happy to see it available at such affordable prices. But, would I like the product as much? It was time to put it to the test!
I decided to order it in time for my sister Kim's visit here to Utah, so you could have two opinions instead of just one.
---
Kim's Billion Dollar Beauty Review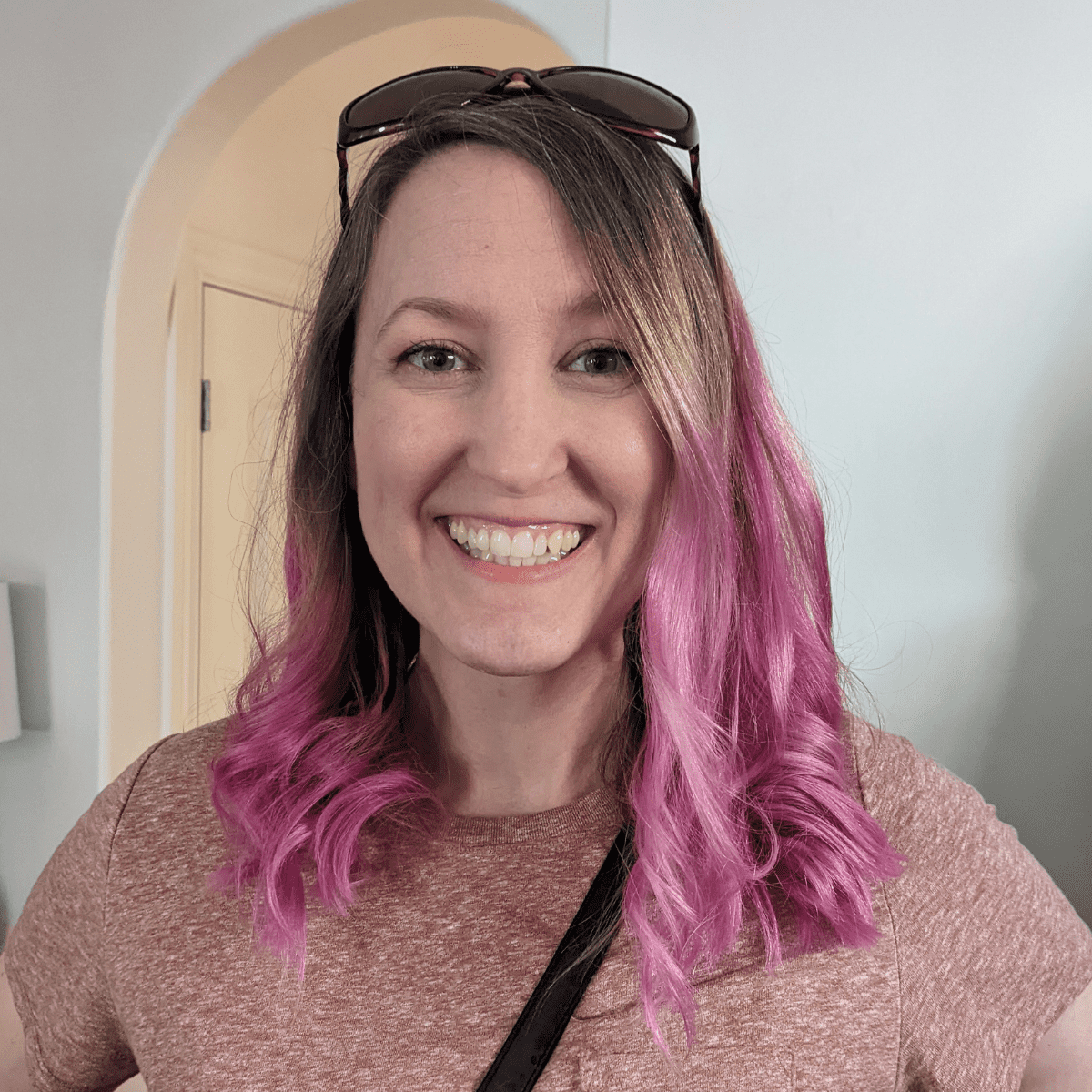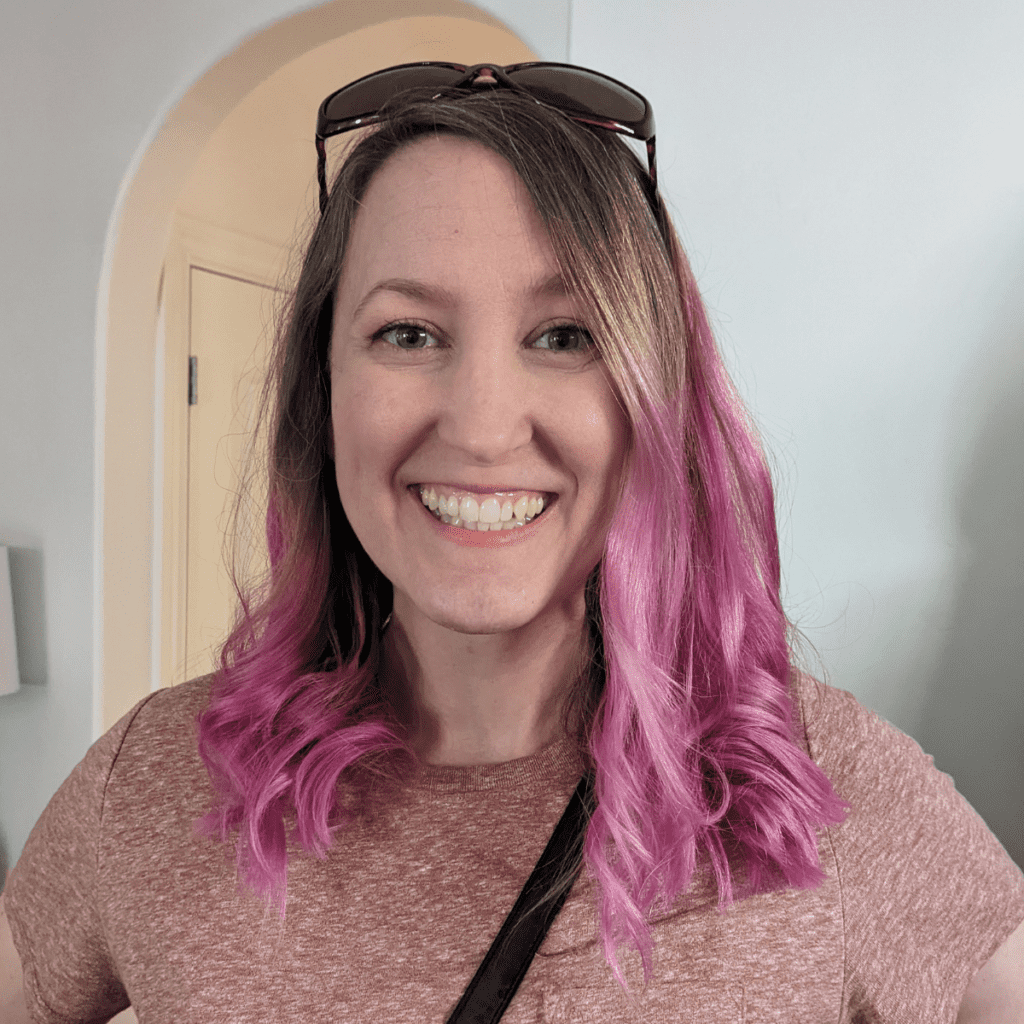 Things Kim Didn't Like
Not too much honestly. Really the only complaints Kim had were in the color choices I had bought. She usually likes a lip color with more brown tones in it instead of pink/nude tones.
What Kim Liked About BDB
Kim said she loved it, and plans to buy a set for herself. She thought the makeup was pretty pigmented, and stayed on great throughout the day with very little fading.
She really liked the magnetic case, and thought it would make traveling very easy since you could just grab your case, and a few extra pieces, and be set. The look she applied was simple and pretty, but she thought it would be easy to glam up the look when needed as well.
All in all, she was very impressed with the quality you get for such an affordable price. She would recommend it.
Kim is wearing Australian Gold Botanical Sunscreen Tinted Face BB Cream with an SPF 50 instead of foundation. It gives a light coverage and is crazy silky for a mineral sunscreen.
---
My Experience with Billion Dollar Beauty
I ordered my set from Target online. They did not have some of the items I wanted in stock, but it was nice to be able to get some items while doing some regular shopping. The BDB website had almost everything in stock when this post was written.
The only difference I could see with getting your makeup from Target vs. Billion Dollar Beauty online was that Target still had a bronzer, while BDB's website did not. I am wondering if the bronzer was discontinued and I just happened to get one of the few Target had left in stock. Otherwise, the products they sold for the boxes, and their prices were the same.
What I got for my box.
concealer
bronzer
highlighter
eyeliner
blush
brow pomade
lip balms (2)
matte eye shadows (2)
shimmer eye shadows (2)
1 magnetic box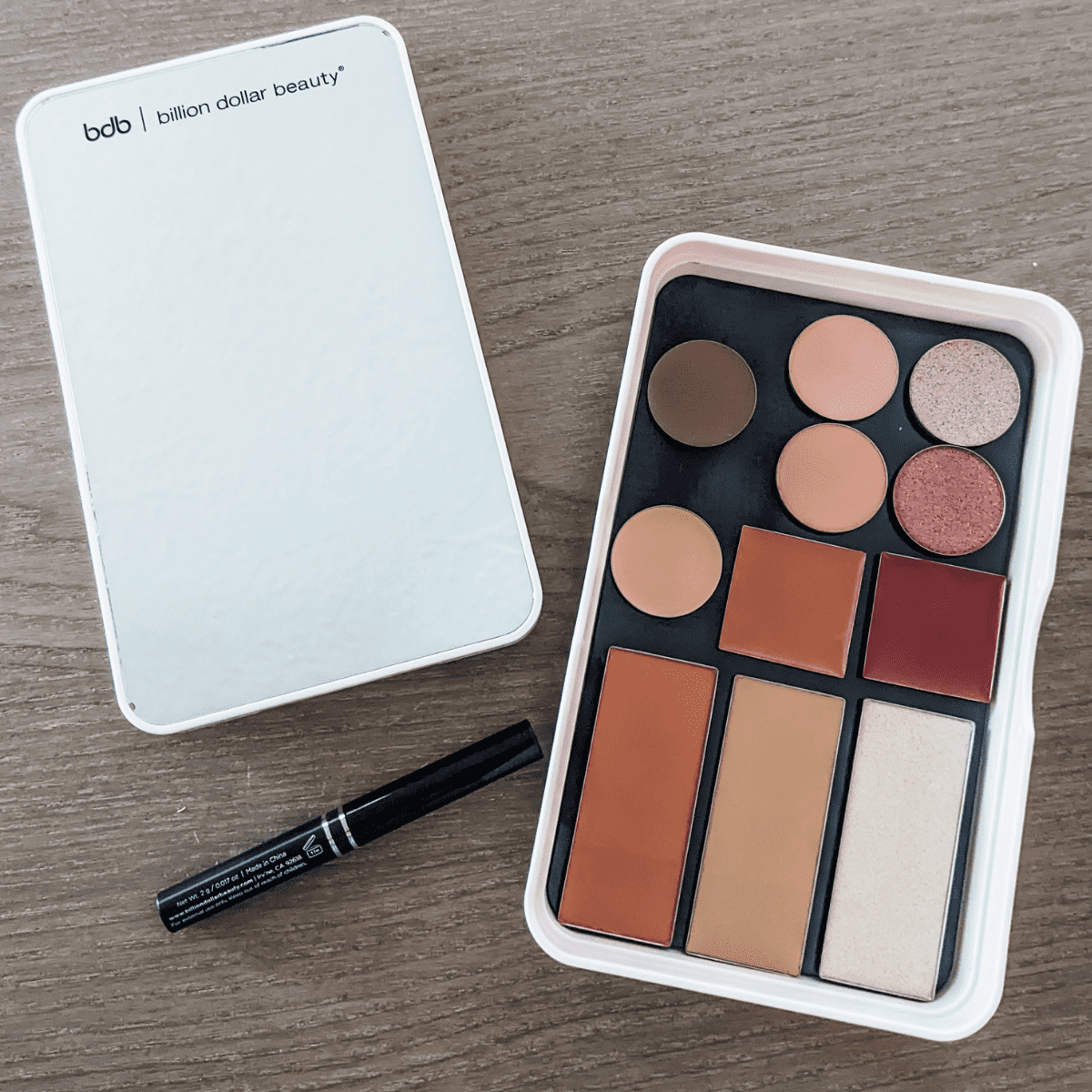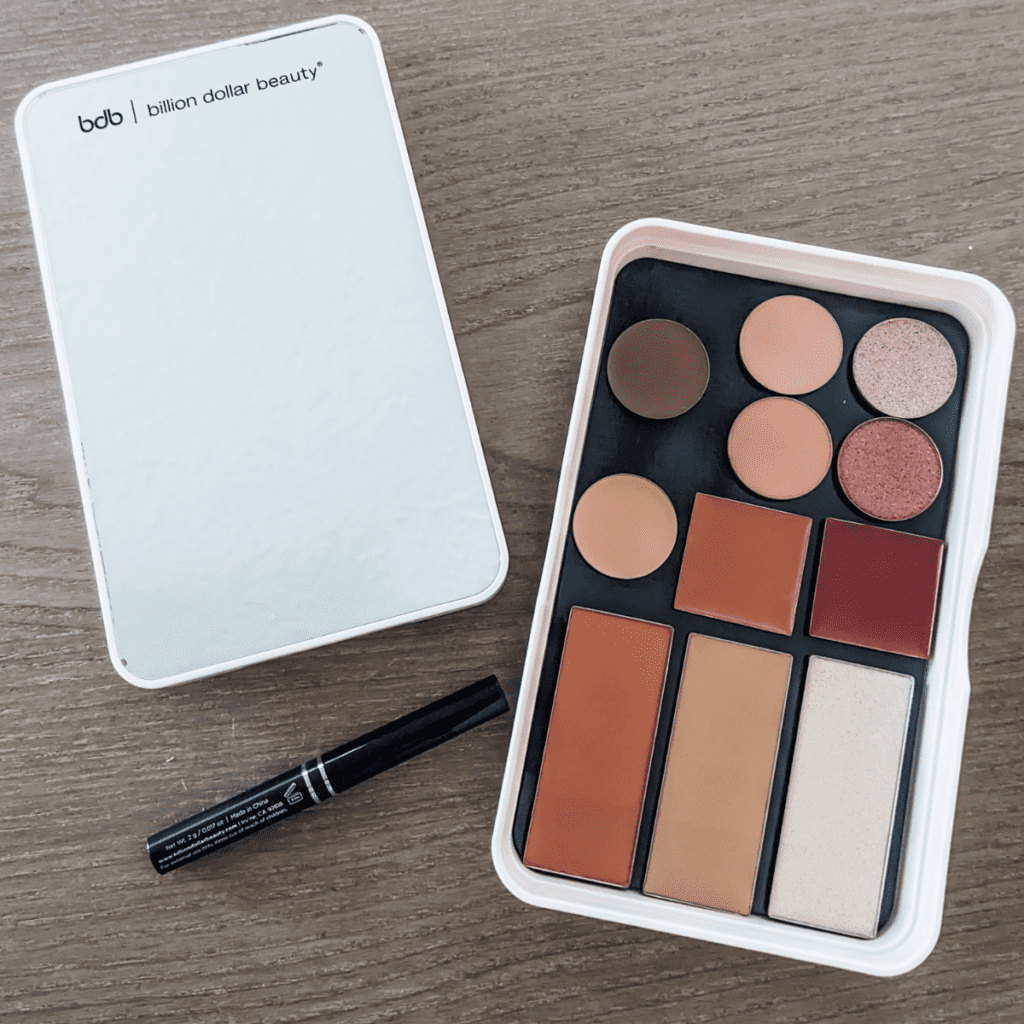 Trying the Makeup
First, I started with a clean, moisturized face (you know I love y'all if I am willing to put up a pinned back hair, makeup free shot for you).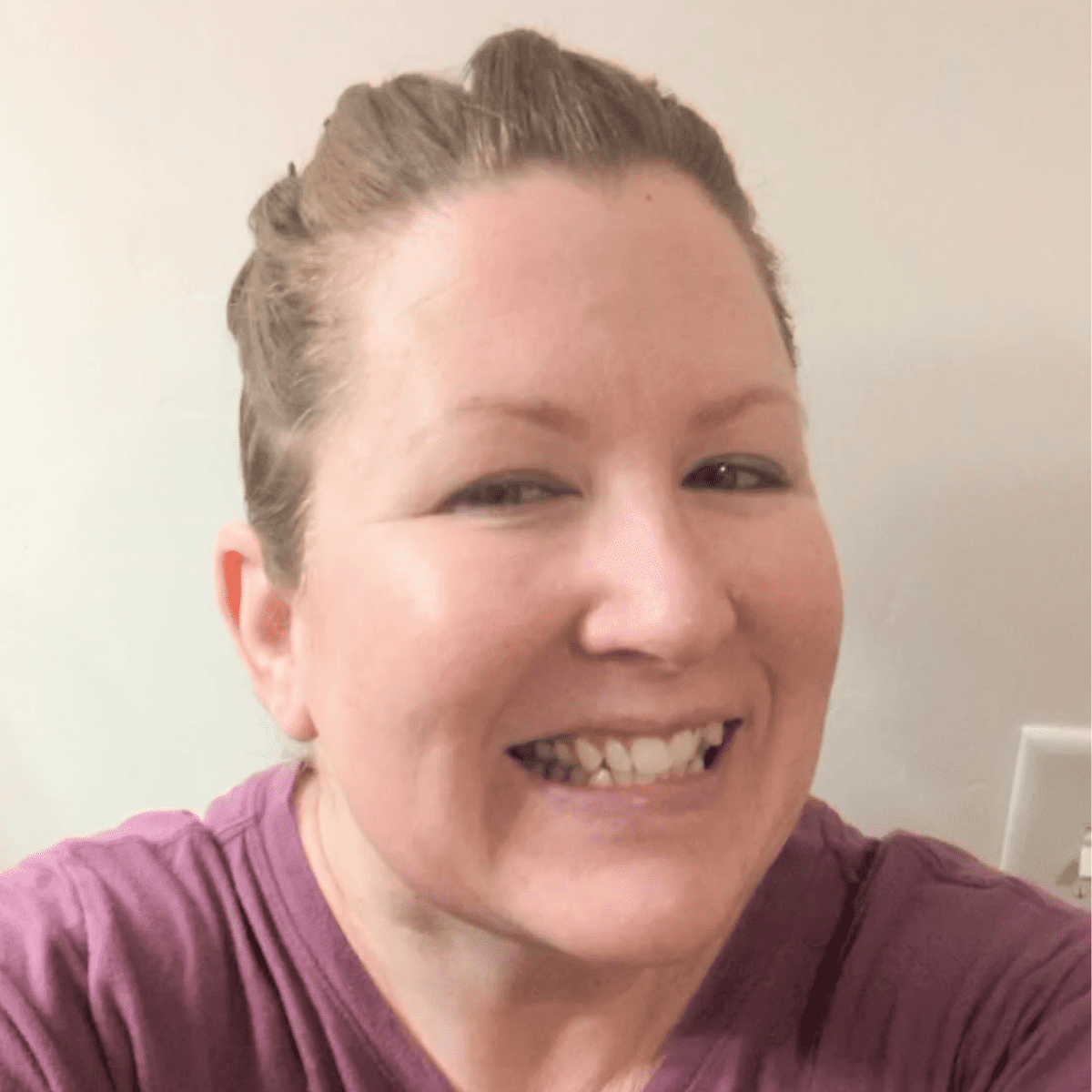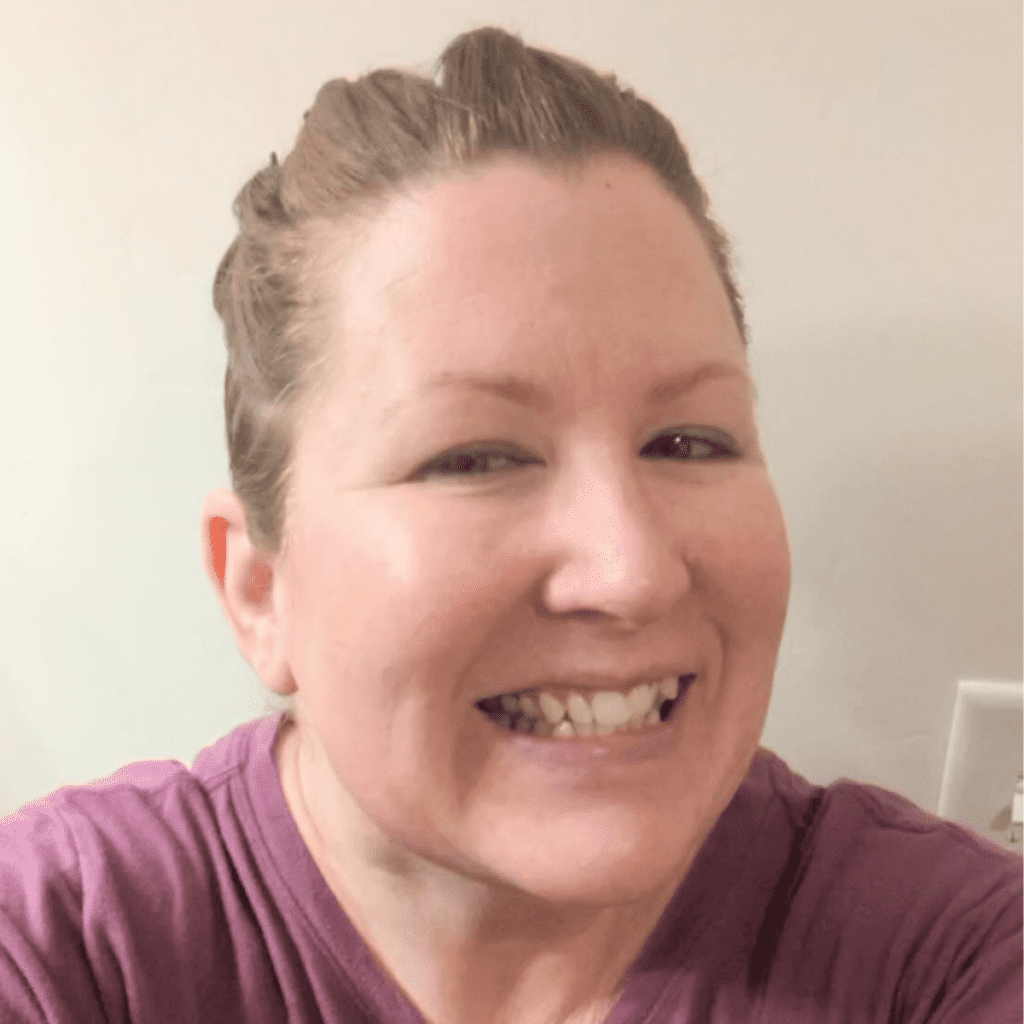 Because BDB doesn't have a foundation type product, I used my go-to favorite as a base, and then used the BDB makeup on top.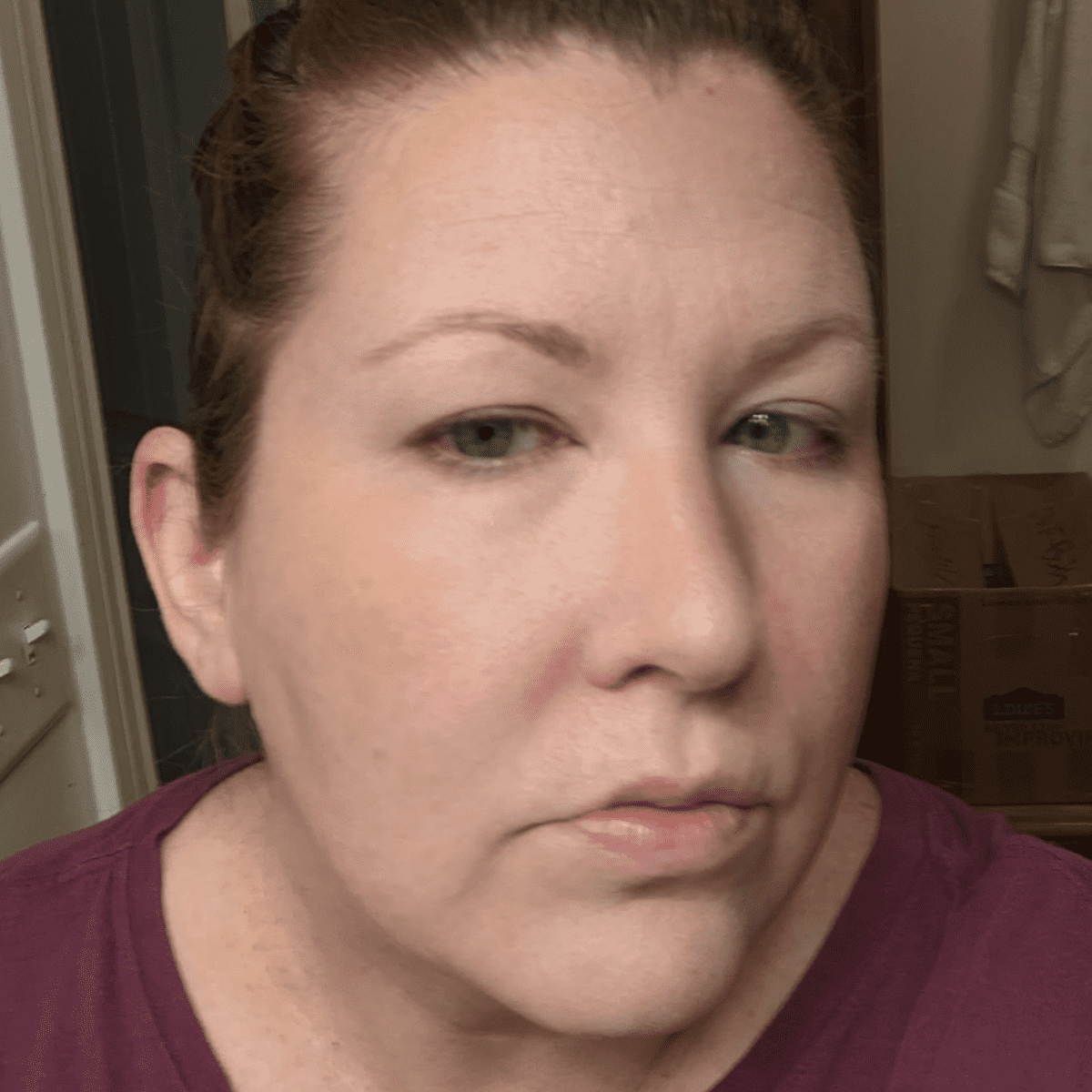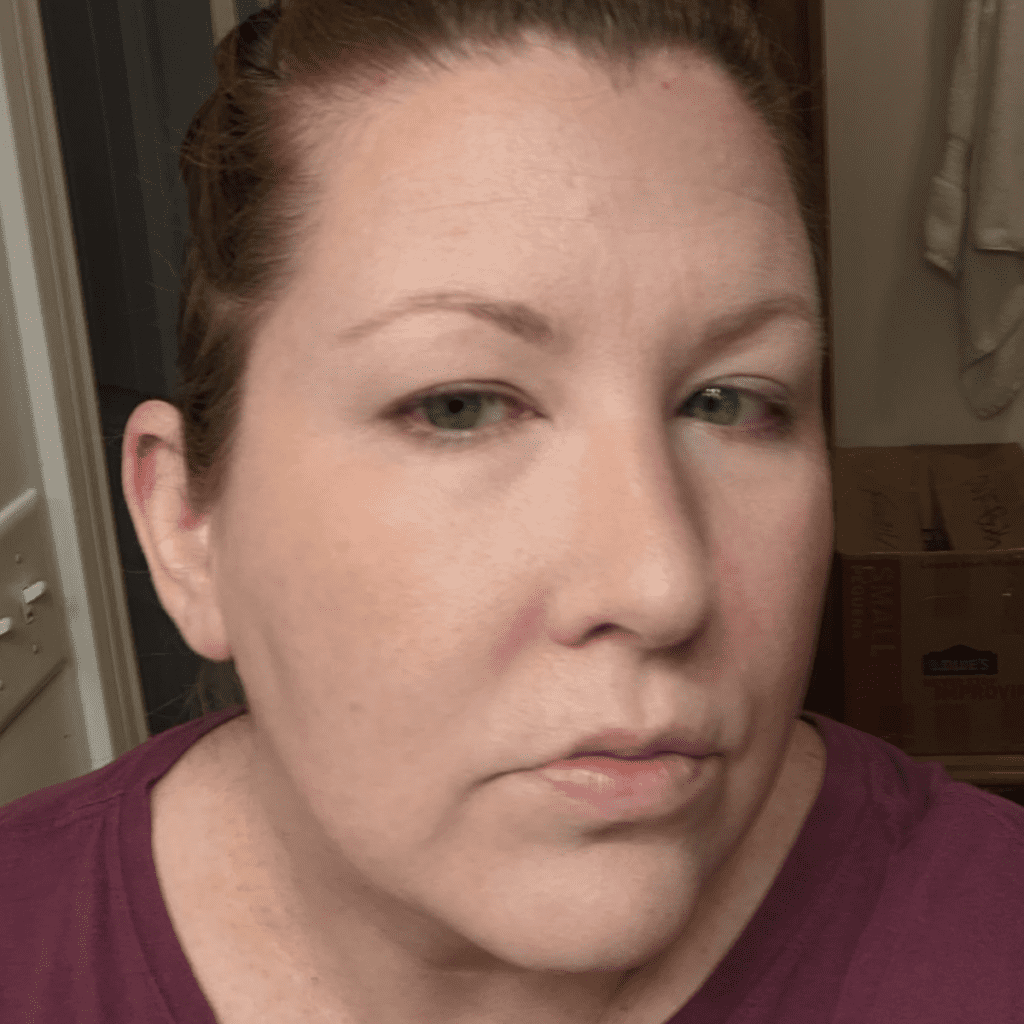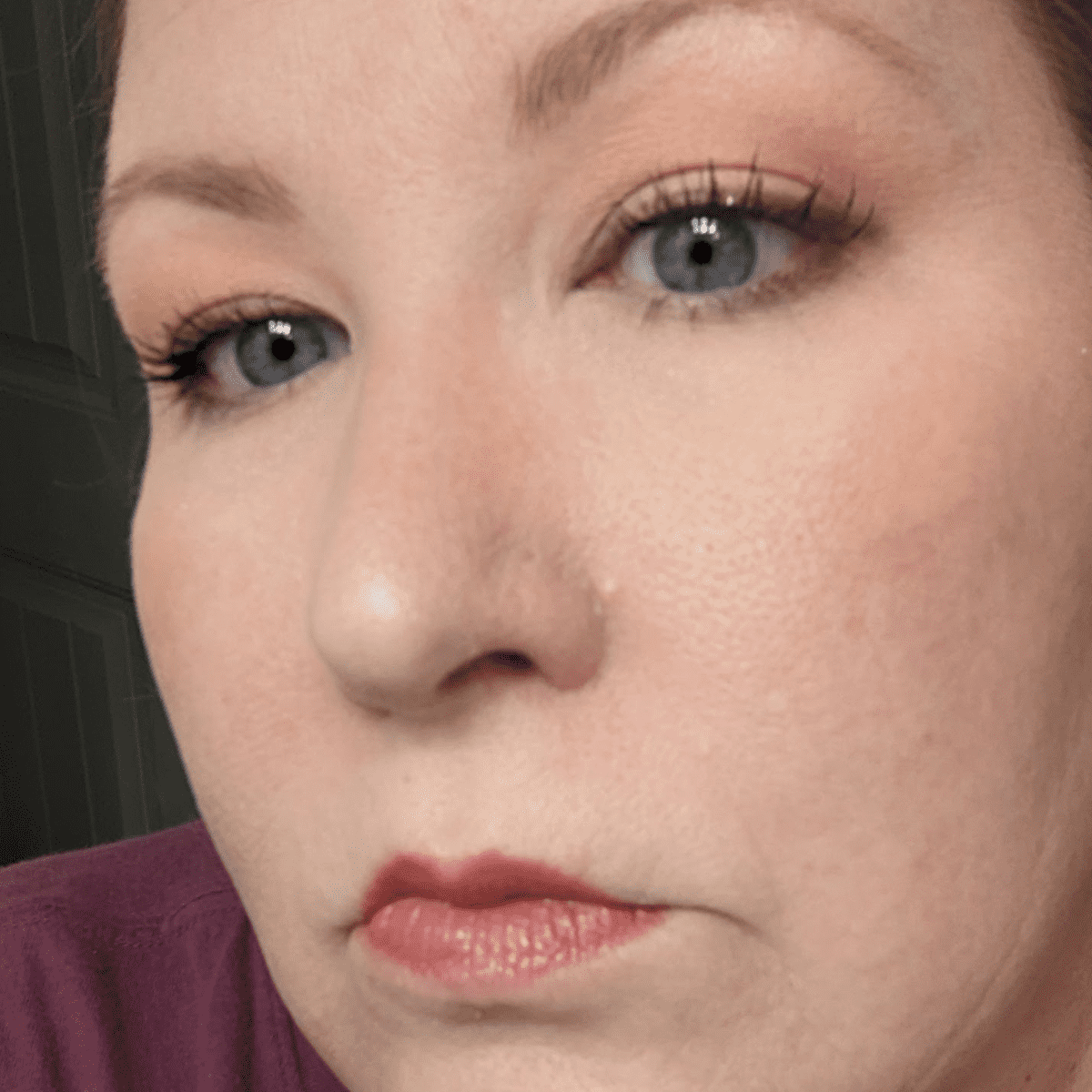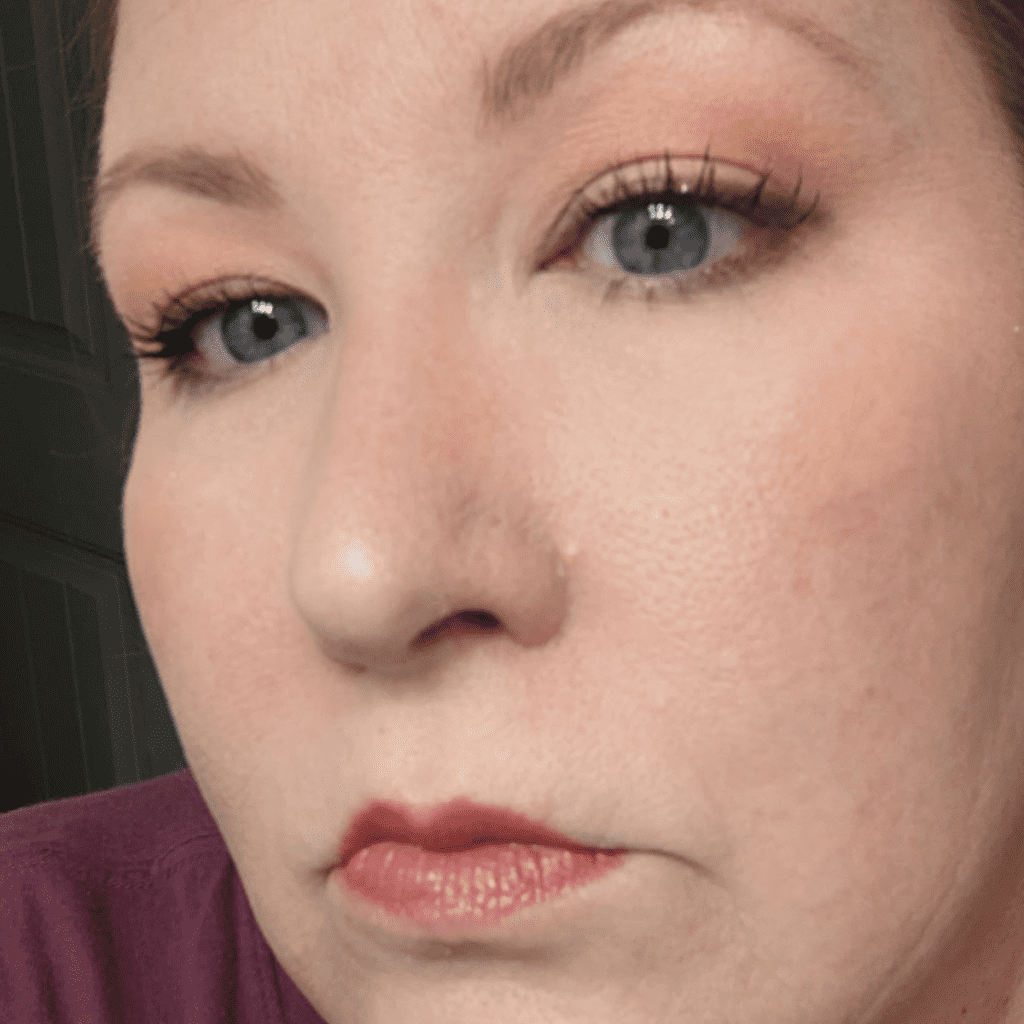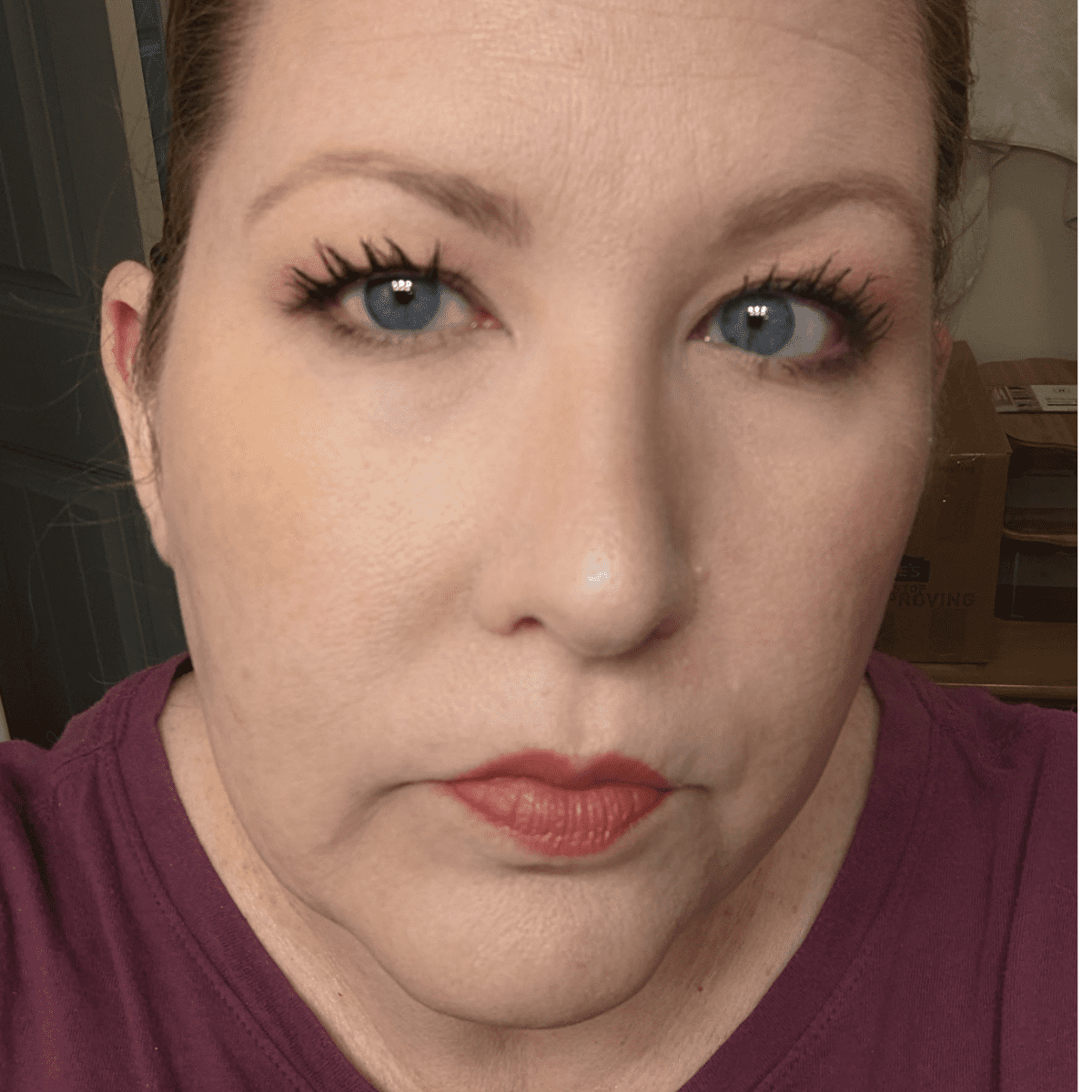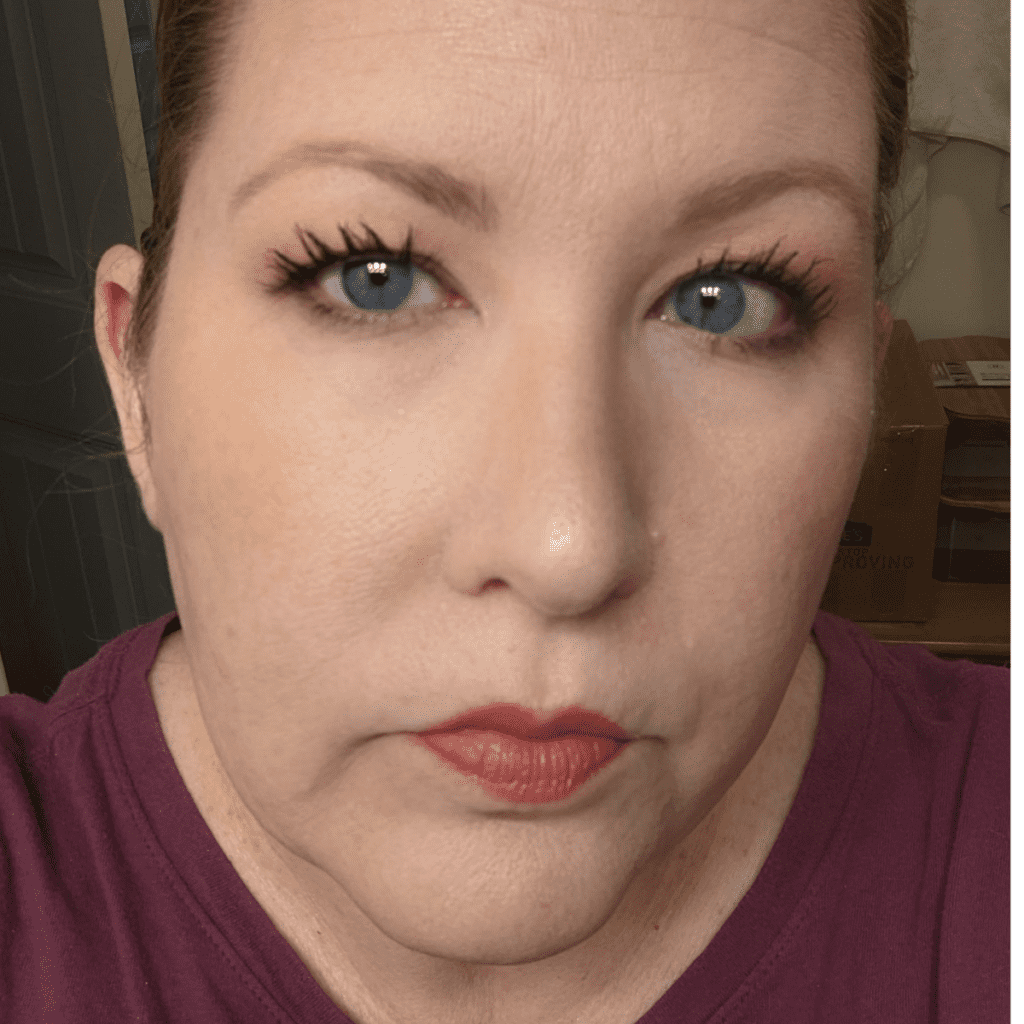 I was able to use Billion Dollar Beauty for everything else except my mascara, they don't have a mini mascara to go into the kit.
This makeup was really enjoyable to use. It went on smooth, and it was very pigmented (like Kim had said). Everything lasted all day except for the lip balm. I don't think I would use that on my lips again (because I prefer longer lasting lip products), but I think I will use it as a cheek tint since I prefer cream blush to a powder one.
The eye shadow lasted really well, with little ceasing after a long day. Considering the price, I think it's great.
But the product I think I loved the most was the concealer. It was amazing. I loved the look of it, and it didn't crease under my eyes.
All in all, I was very impressed. It held its own against other drug store makeup, but with the advantages of it being made with healthier ingredients and less product packaging.
The tinted serum I used under my makeup can be found here. And my two favorite mascaras are here (for everyday use), and here (for special occasions). My favorite affordable lash serum can be found here.
---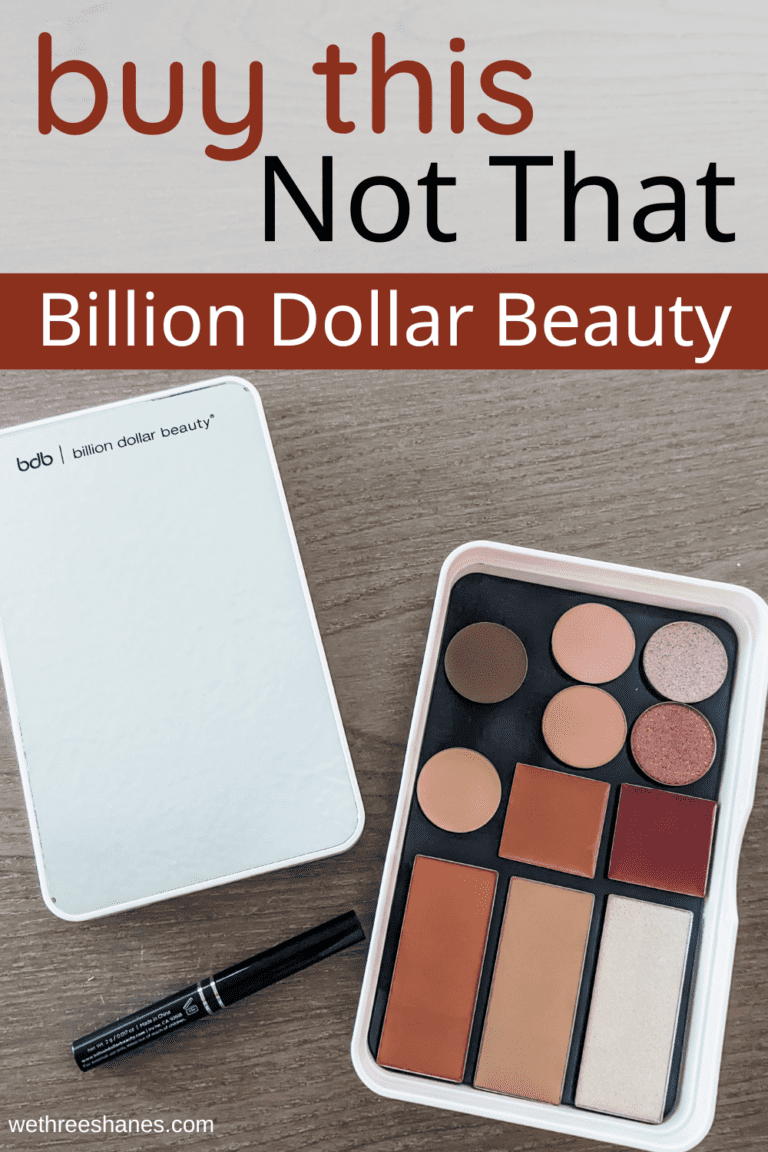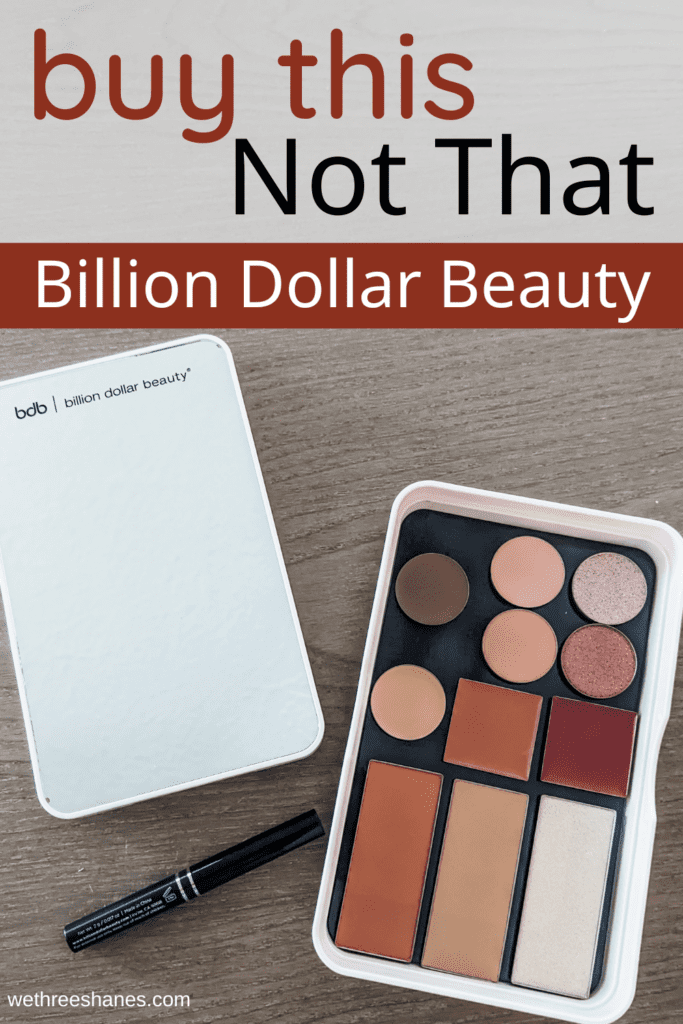 The results of this makeup were impressive, considering how affordable it is. I absolutely will continue to purchase Billion Dollar Beauty, and look forward to trying new shades.
Have you considered getting healthier, more sustainable makeup? Billion Dollar Beauty just might be the way to go! If you have already tried it, or are excited to give it a whirl, sound off in the comments. We love hearing from you!
If you have already tried it, or are excited to give it a whirl, sound off in the comments. We love hearing from you!
---
You Might Also Like:
Best Affordable Lash Products for Amazing Eyelashes