Create a Minimalist Fall Wardrobe to Fit Your Style
Want that stylish fall look without breaking the bank, or destroying the planet? Then it's the perfect time of year to start a capsule wardrobe and make getting dressed this fall a breeze.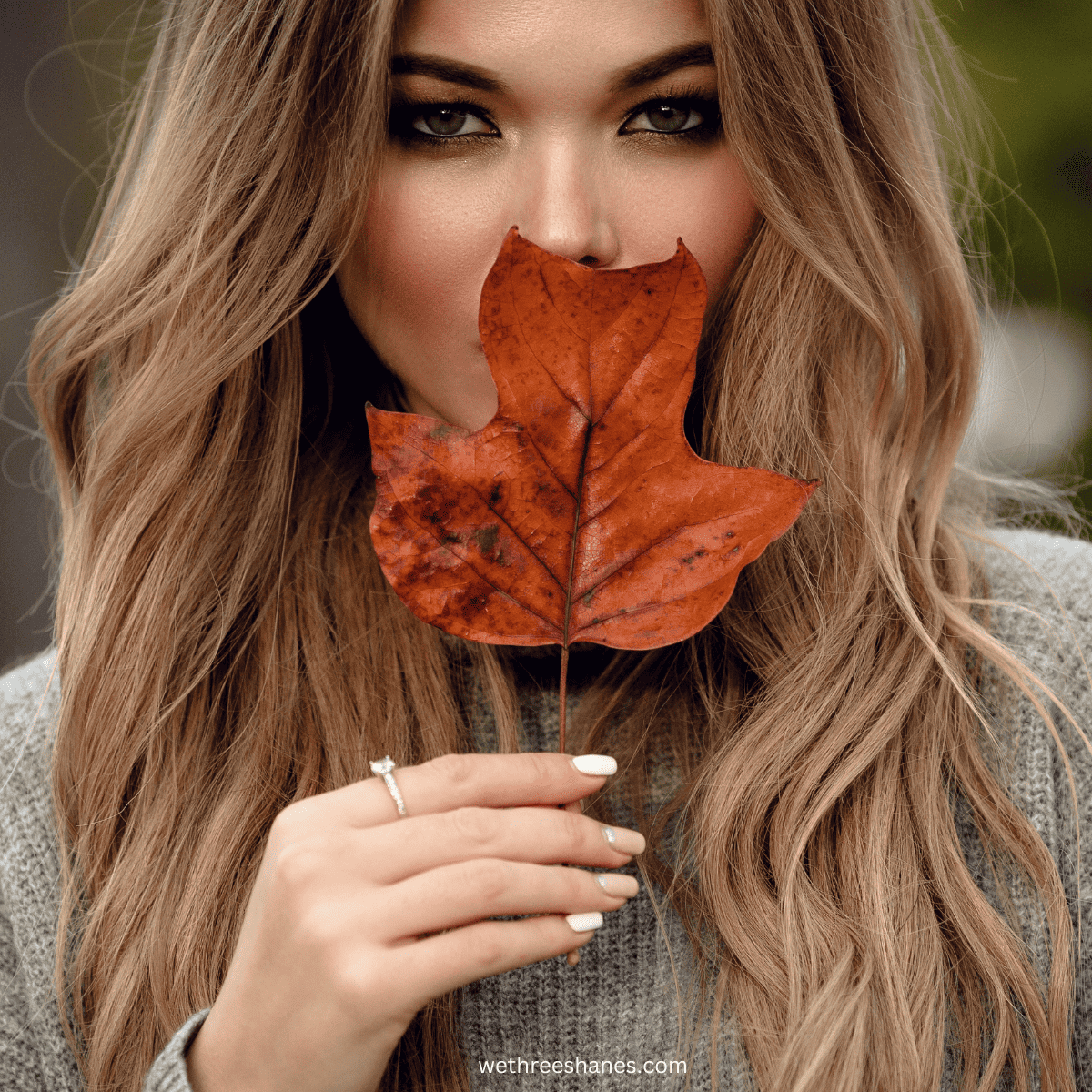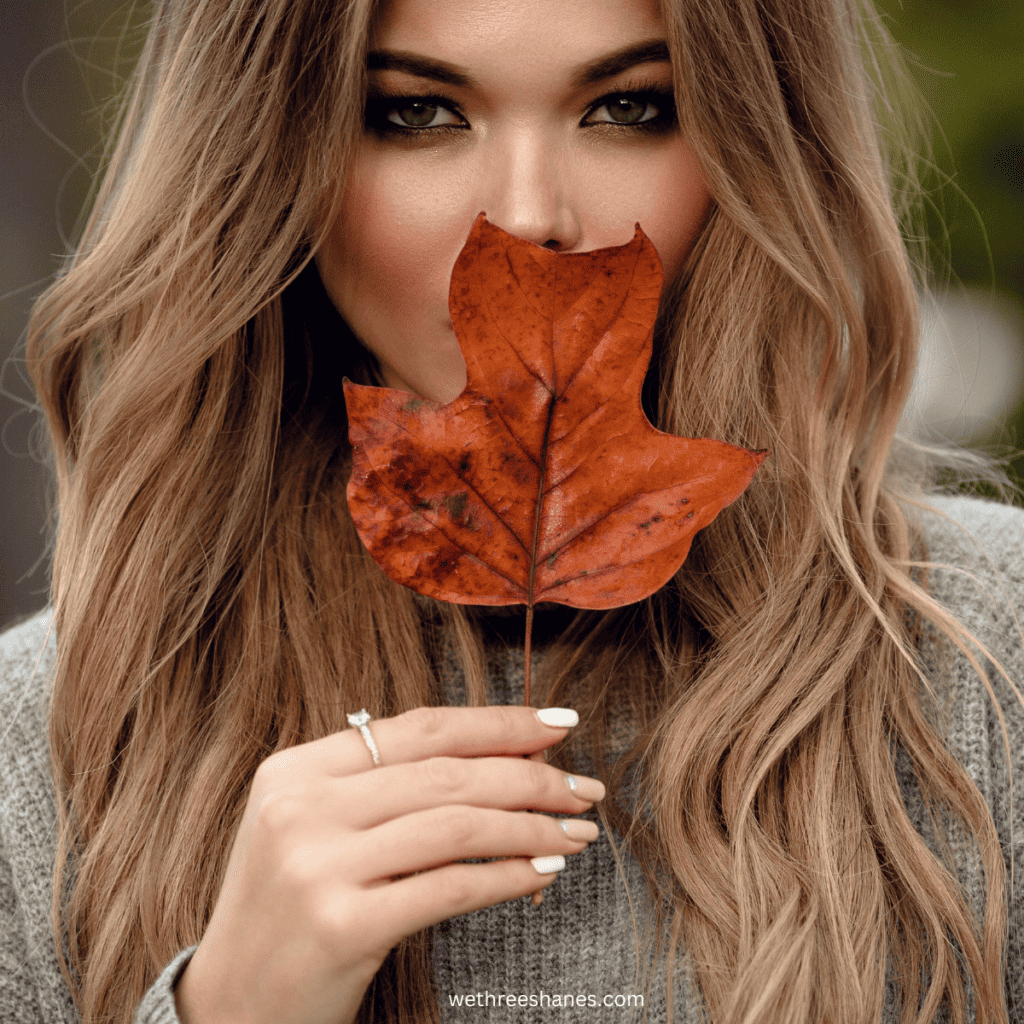 (THIS POST PROBABLY CONTAINS AFFILIATE LINKS. OUR FULL DISCLOSURE POLICY IS LONG & BORING BUT, YOU CAN FIND IT HERE.)
Creating a Minimalist Fall Wardrobe
What do we want out of our fall wardrobes? Clothing that makes getting dressed easy, are cozy, but also make us look our best.
So how do we accomplish that? By going minimal for fall of course!
​There is just something about fall fashion that gives us all the feels! The warm colors, the comfy factor. It is the "feel good" fashion season for sure.
But fall fashion can also be expensive. The fall capsule wardrobe staples like chunky sweaters, boots, leather jackets, cute scarves, and hats can all add up.
By having a well curated fall minimalist wardrobe you can have the best of both worlds. You can have the warm, comfy style, but also not bust your budget. You'll end up with key items that will last year after year. Plus, you won't burden landfills with more fast fashion
As we enter into those cooler months, you can have the closet of your dreams! In this post we will teach you how to create a minimalist fall wardrobe to fit your style and life.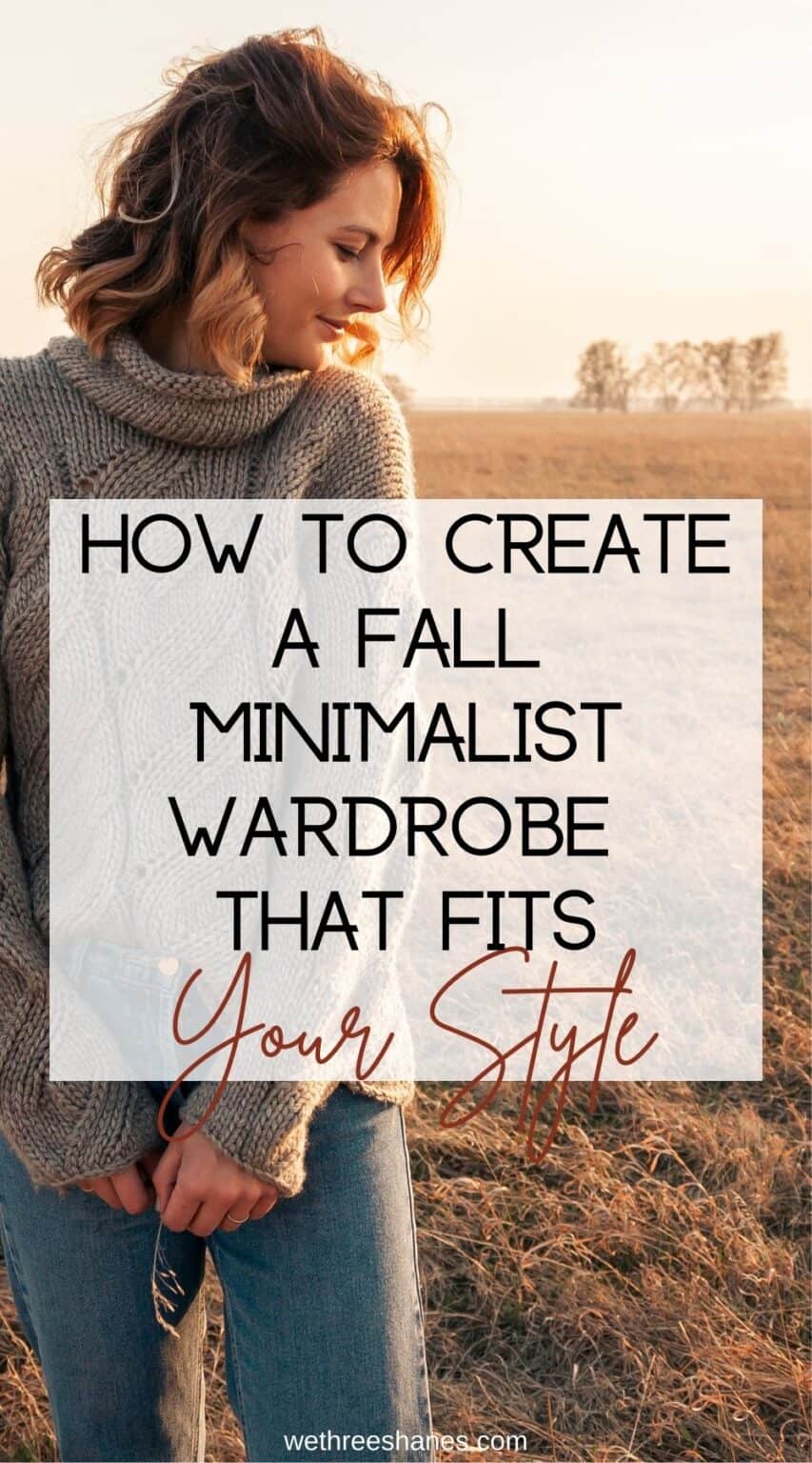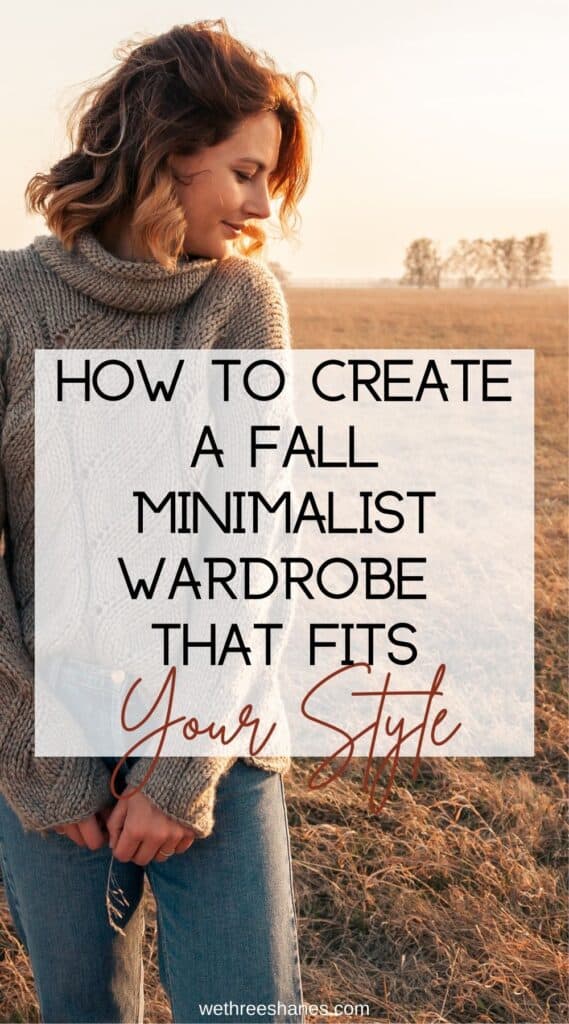 What is Minimalism?
We have done other posts about Minimalism, like, Minimalism: A Practical Beginner's Guide. So for the purposes of this post we will just give this little refresher.
Minimalism is a life philosophy where you are living your life with fewer, but carefully selected things. As a result you make less waste, and save more money.
You purposefully have less commitments, so you can spend time on the things that really matter most.
How do you Practice Minimalism with your Wardrobe?
We have also done other posts about having a minimalist wardrobe, like, How to Build a Minimalist Capsule Wardrobe in Your Style, or How to Create a Minimalist Wardrobe Checklist. So let's just give you the basics.
A minimalist wardrobe (also known as a capsule wardrobe) is a small collection of clothing that can be put together in different ways, mixed and matched to make different outfits.
They are usually high quality pieces that will last for years to come. It covers all your needs, all while owning fewer clothes.
What is a Minimalist Fall Wardrobe?
​A minimalist fall wardrobe is a selection of slowly curated items meant to be worn throughout the fall season. The selection should be limited so you don't get frustrated while getting dressed, or so you don't get decision fatigue.
You should have transitional pieces for layering, and different temperatures since fall is a season of flux with both warm days, and cool nights.
And it should be full of classic pieces and high quality items to build on year after year.
​What Items Should I Have in a Minimalist Fall Wardrobe?
​In your fall minimalist wardrobe you should probably have the following basic pieces:
dresses
sweaters
flannel
leggings
jeans
trousers
leggings
tees
jackets
scarves
hats
boots
flats or tennis shoes
and I personally like a good hoodie
Really, it's anything that makes you feel cozy as the temperature drops. And you want to find these pieces while keeping in mind versatility and longevity.
Most people already have a number of these items so you won't be starting form scratch. You'll need to do a quick inventory of what you have a then make of list of what you still need.
When shopping for new items you'll be looking for two things:
Versatility
You want neutral, timeless pieces. This way you can make multiple outfits with each piece, and each piece can be styled or layered in different ways.
Longevity
Good quality, classic pieces that last for years are the goal. You want pieces that rarely wear out and that don't go out of style. Doing this means you can build up your perfect fall wardrobe over time, and not strain your budget.
Questions to Ask While Building Your Minimalist Closet for Fall
There are some important questions to ask yourself when building your wardrobe. This will help you not waste time and money. Here are a few examples of questions you might want to ask yourself before you start to build any type of capsule wardrobe.
​​What do you do every day? If you are on your feet most of the day, buying a high heeled boot is probably not the best idea. Make sure your wardrobe matches your lifestyle.
Do you need work clothes? If you work outside of the home, make sure you are buying appropriate pieces. If you are a fitness instructor, then investing in a lot of high end business attire is not a smart move.
What are your priorities? How important is it to be comfy? Do you go out a lot so you want nice outfits? Think about how you spend your time and that will help you build your capsule.
What looks good on my body? I have short legs, it's just the way it is. So boxy clothing is not going to look good on me. So while an over-sized sweater might be all the rage one year, I need to be realistic with what will make me feel my best. Think about your body and what looks best one you and keep that in mind.
Tips for Building Your Wardrobe in Your Own Minimalist Style
Here are some tips to help you build your minimalist closet so that you will love everything in your minimalist fall wardrobe. This will make it so you can easily put together outfits because you actually love all your clothes.
​​1. Do not get something you don't like, just because it's following fashion trends or popular.
If you don't like chunky sweaters and you buy one just because you think you should because it's fall, that sweater will just sit in your closet taking up space. It is very unlikely that you will regularly reach for it since it isn't normally part of your personal style.
If you don't look good in orange, don't buy it just because it's fall and orange seems appropriate. Maybe choose a color like olive green instead.
You don't want to have clothes you don't reach for regularly as part of any minimalist wardrobe.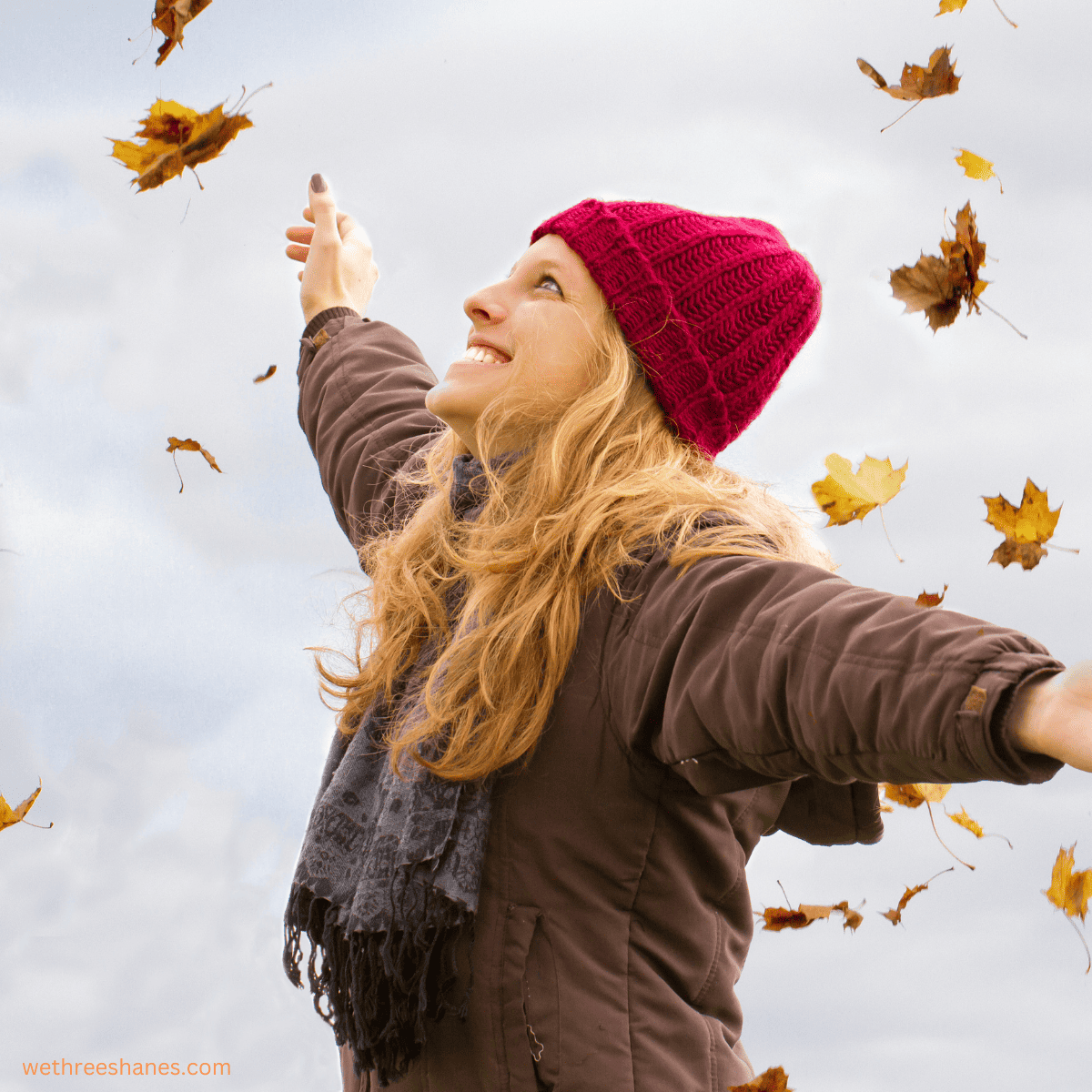 2. Color
A minimalist wardrobe should contain some pops of color. Just because you are trying to be minimalist and therefore versatile, that doesn't mean everything has to be neutral colors.
Make sure you do have some pops of color that are seasonally appropriate, but also easily work with your neutrals. Examples of great colors for fall that still look good with neutrals include, burnt orange, gold, olive, burgundy, and chocolate brown. This time of year, your color palette should mainly be warm colors.
3. Accessories
Accessories really bring an outfit together and can help you feel like you're getting the most out of a capsule wardrobe.
Some great accessories for a minimalist fall wardrobe can include simple gold hoop earrings, tortoise shell or gold sunglasses, and a brown bag, and maybe some tan ballet flats.
Another great accessory is the plaid scarf. Especially since a great plaid scarf will have black and tan in the same pattern, making it extremely versatile.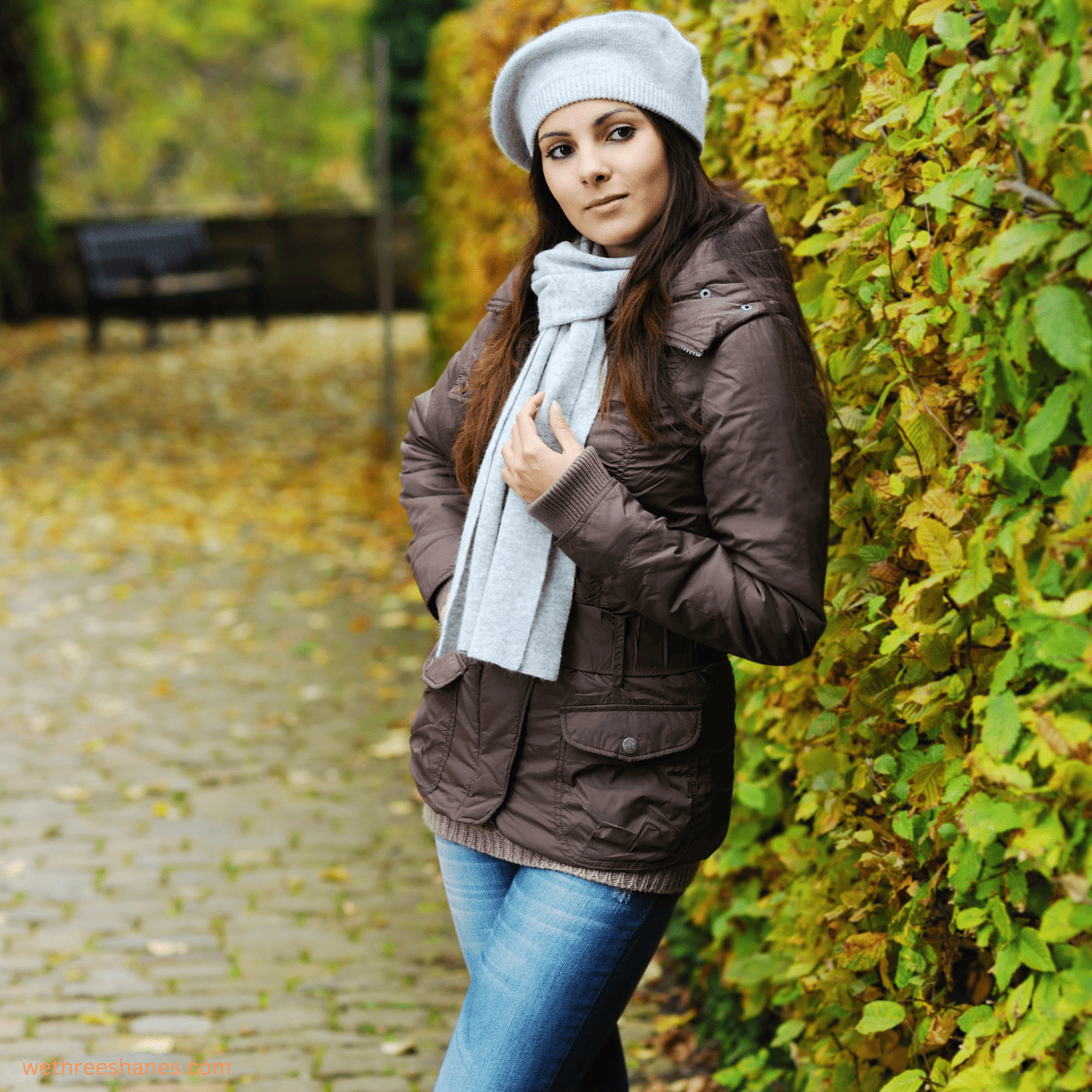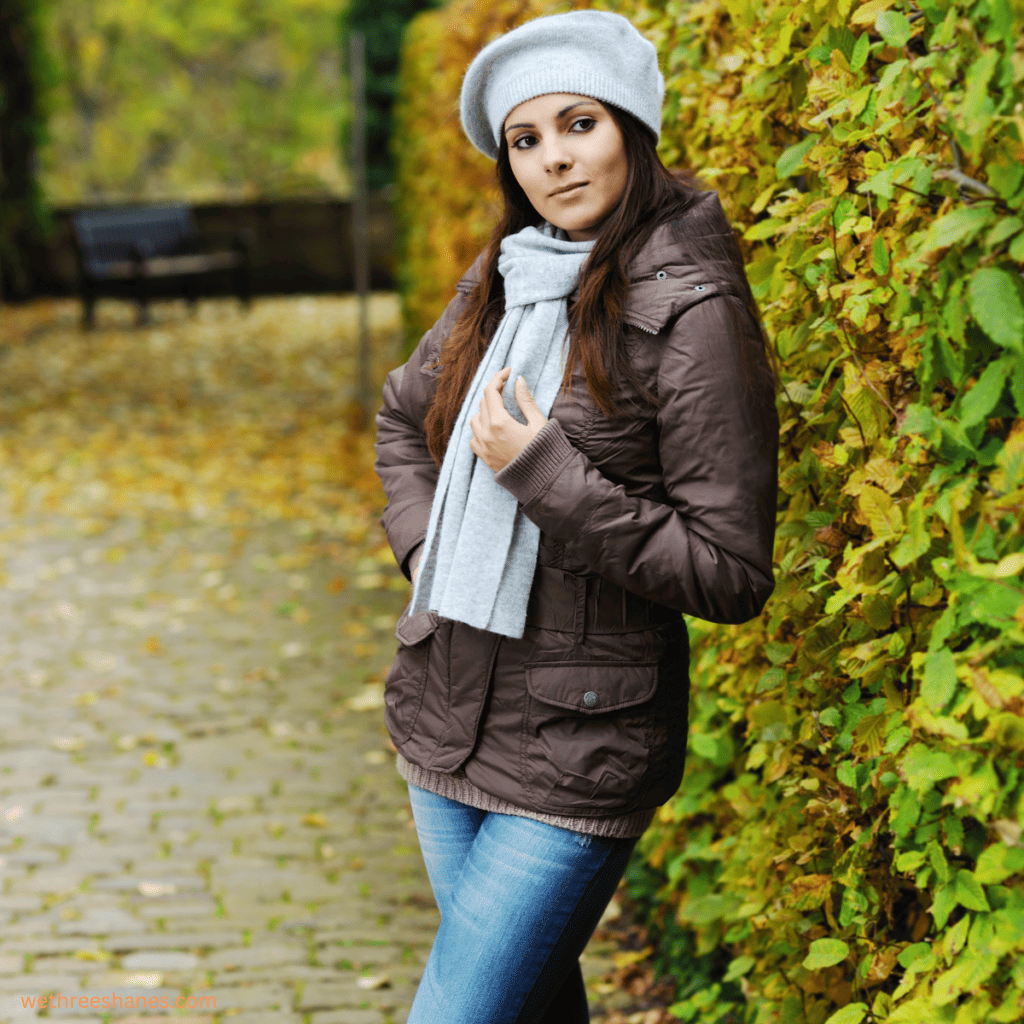 And don't forget about the hats! Beanies are relatively inexpensive, so getting a few beanies in neutral colors can be great for mix and match outfits. But also don't forget the popular brown fedora for fall.
What Classic Pieces Should You Consider for Your Ultimate Fall Capsule Wardrobe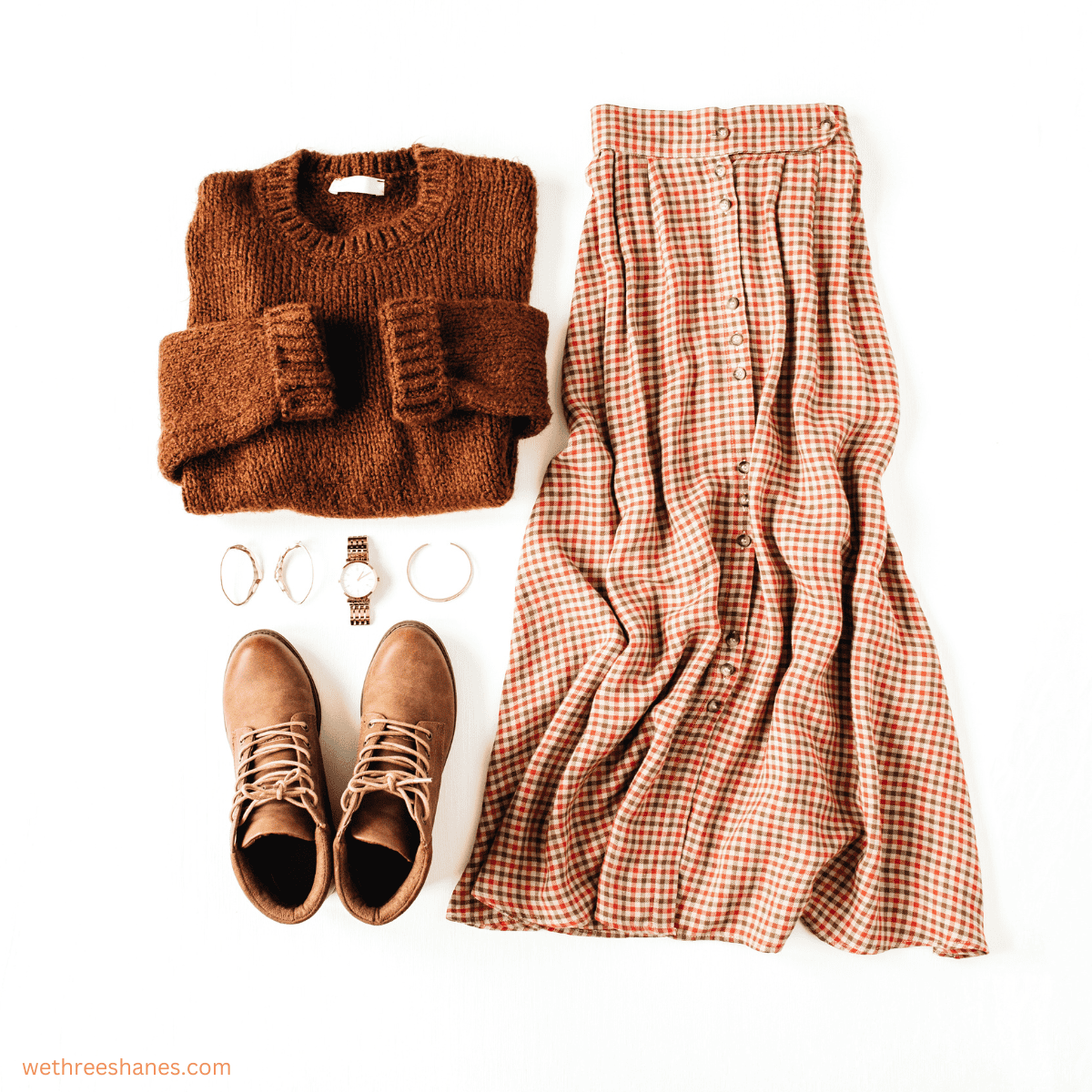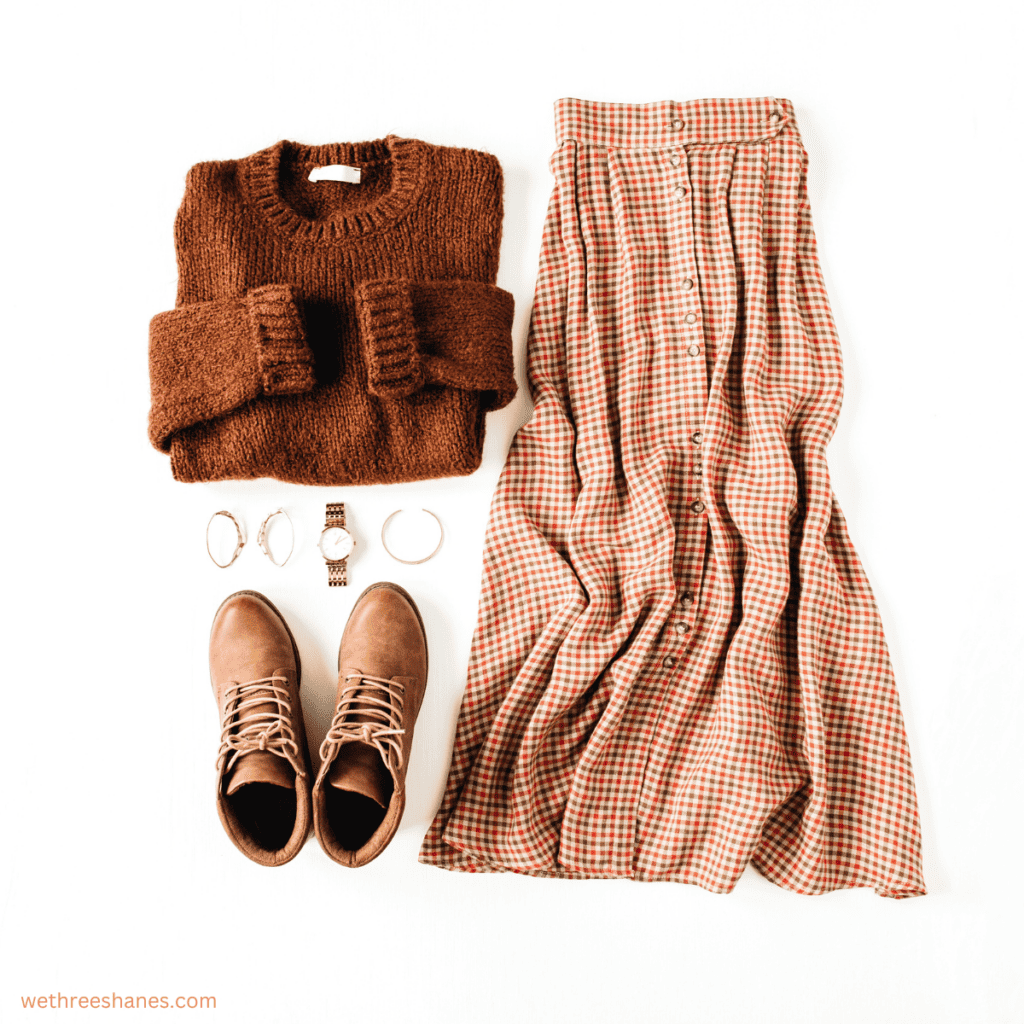 ​Here is a "wish list" of minimalist capsule wardrobe essentials that you might want to curate over time to make an easily workable fall wardrobe. These are what would be considered minimalist wardrobe essentials that make it easier to have different looks, but with fewer clothes. We will go over minimalist basics, but also your investment pieces where you should spend a little more money.
The Basics
These are the more basic timeless classics that you will find in a minimalist wardrobe year round. These are your everyday wear, that can be dressed up or layered when needed. While they can be tailored for the seasons, they are usually more neutral pieces that are great options when layering or mixing and matching to make new outfits.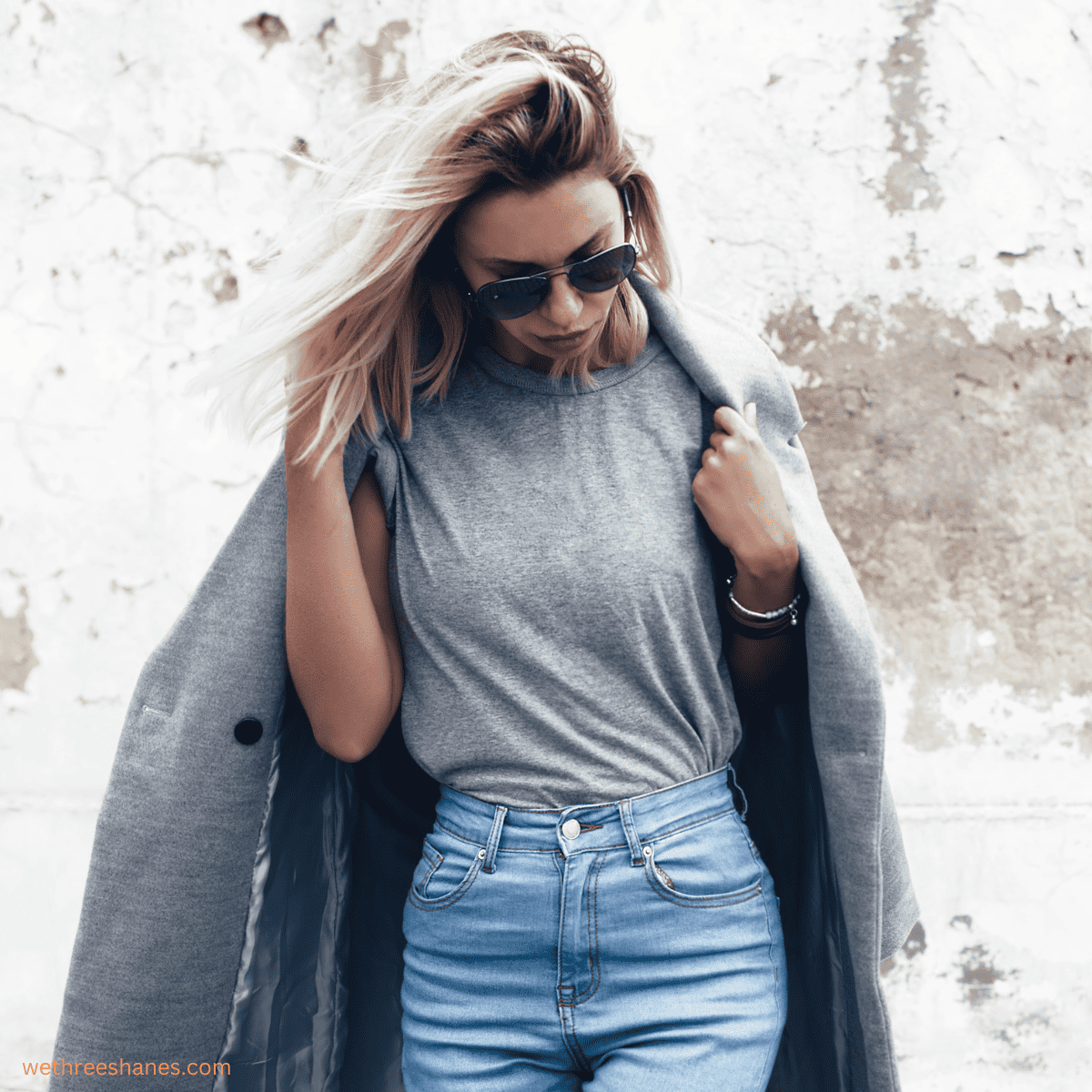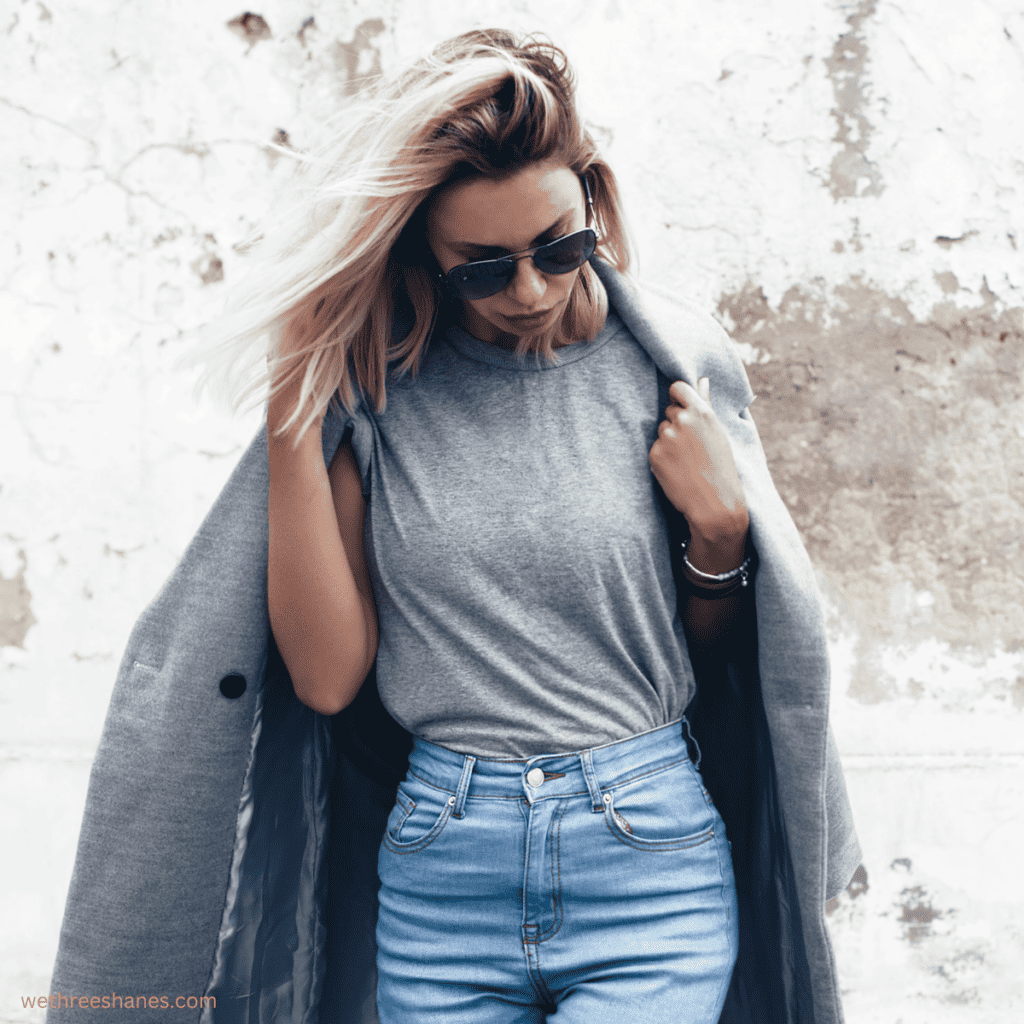 ​Plain T-Shirts – Basic tees are always a good idea, and should be part of any season for a base layer or a day at home. And don't just get the plain white t-shirt (although you do need at least one). T-shirts are versatile pieces in any neutral color. These are great for the fall when there are those warm weather days that still pop into the forecast.
Graphic T-Shirt – A graphic tee brings a pop of fun to mix into your outfits. Go for one that works all year or try a fall theme for fun.
A Striped Shirt – Have at least one of these in plain black and white. They are great to have in the mix.
Long Sleeve T-shirt – This is a great staple and key piece for layering, and they bring a little more sophistication than a short sleeve t-shirt for those outfits that need an upgrade.
Jeans – Jeans are just a necessity in any season. But they are essential for fall as those colder months roll in. But don't just rely on the classic blue jeans! A pair of black jeans, or a bold warm color are great for mix and match outfits in the fall.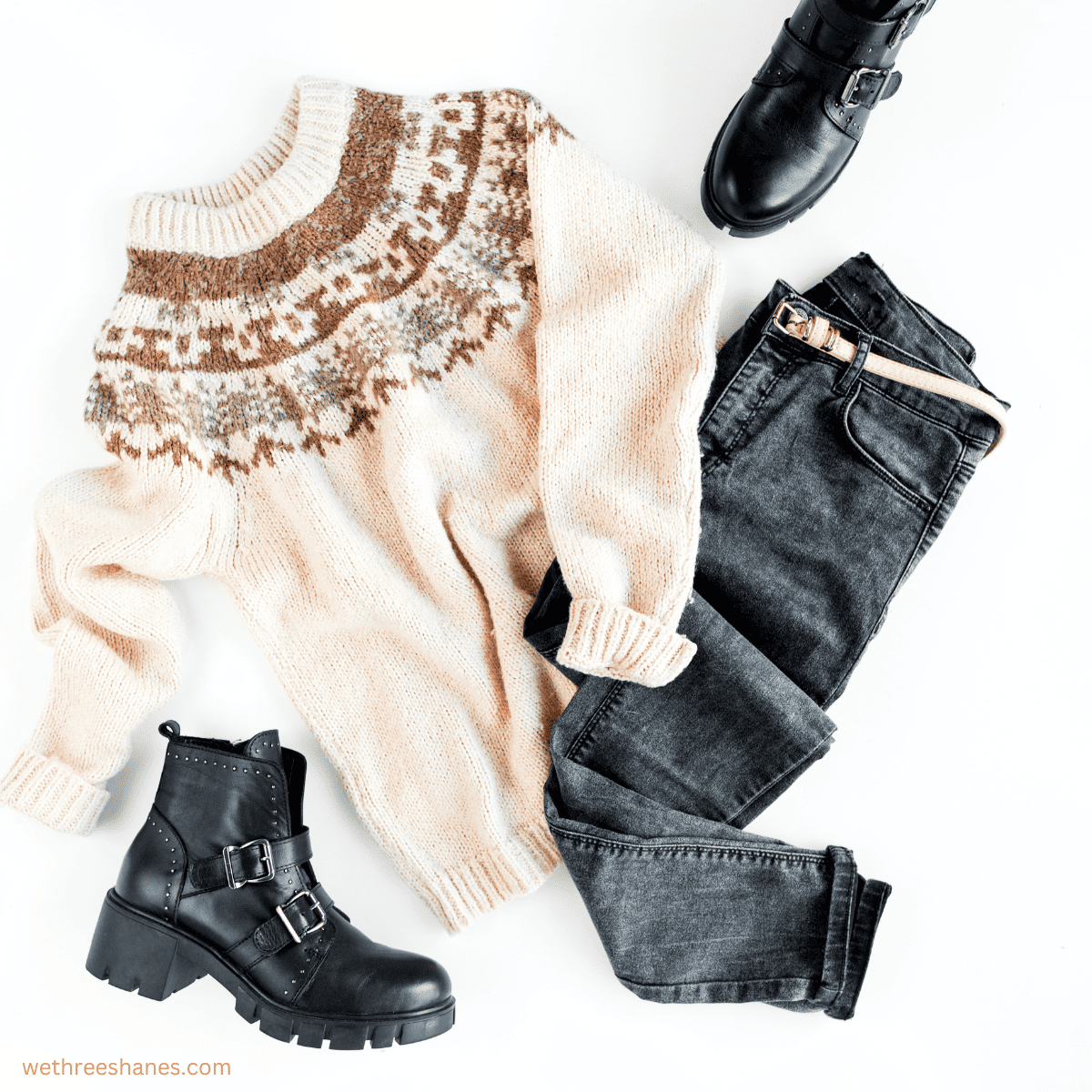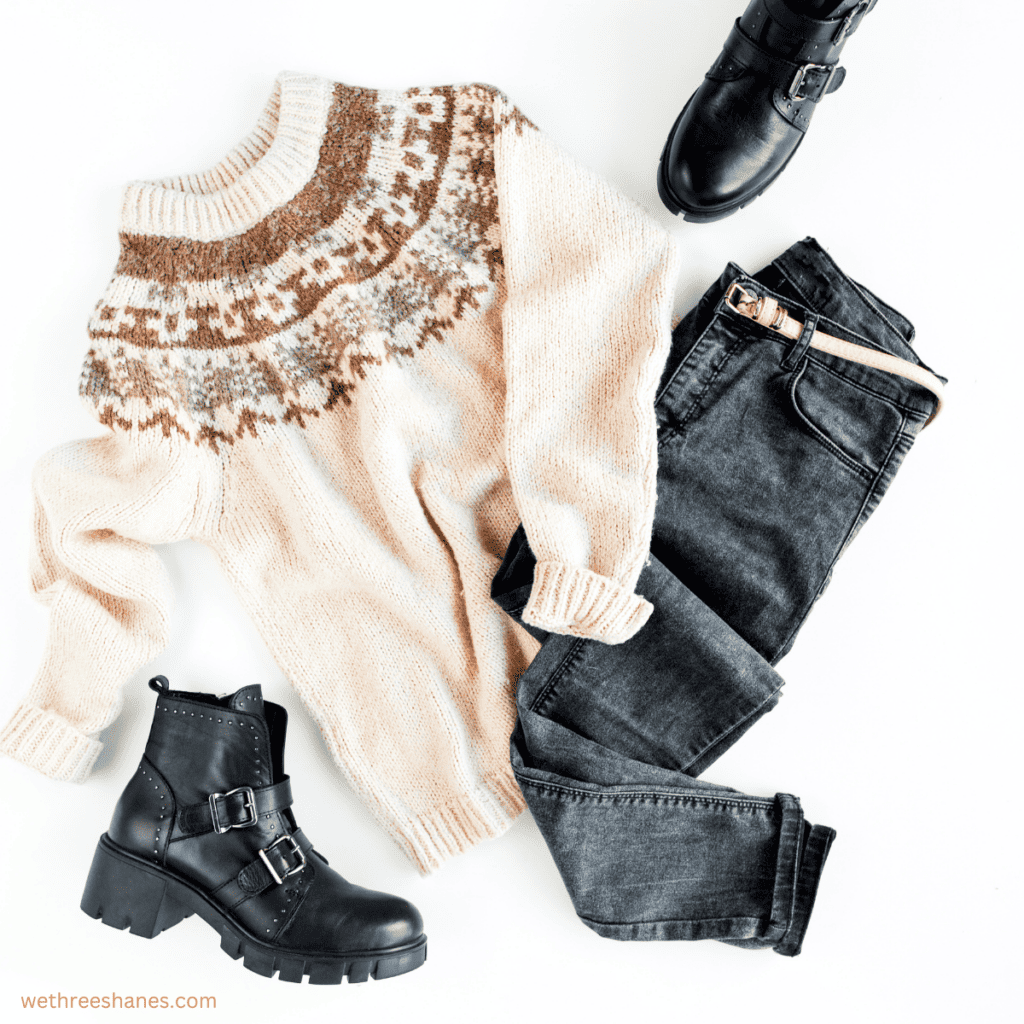 Black Leggings – The perfect layering piece as the temperature drops.
Denim Jacket – A denim jacket is another great piece that can be layered over a t-shirt or dress. They come in different colors, but for fall, I really like it in just the classic blue. It's a good contrast to all of the warmer fall colors.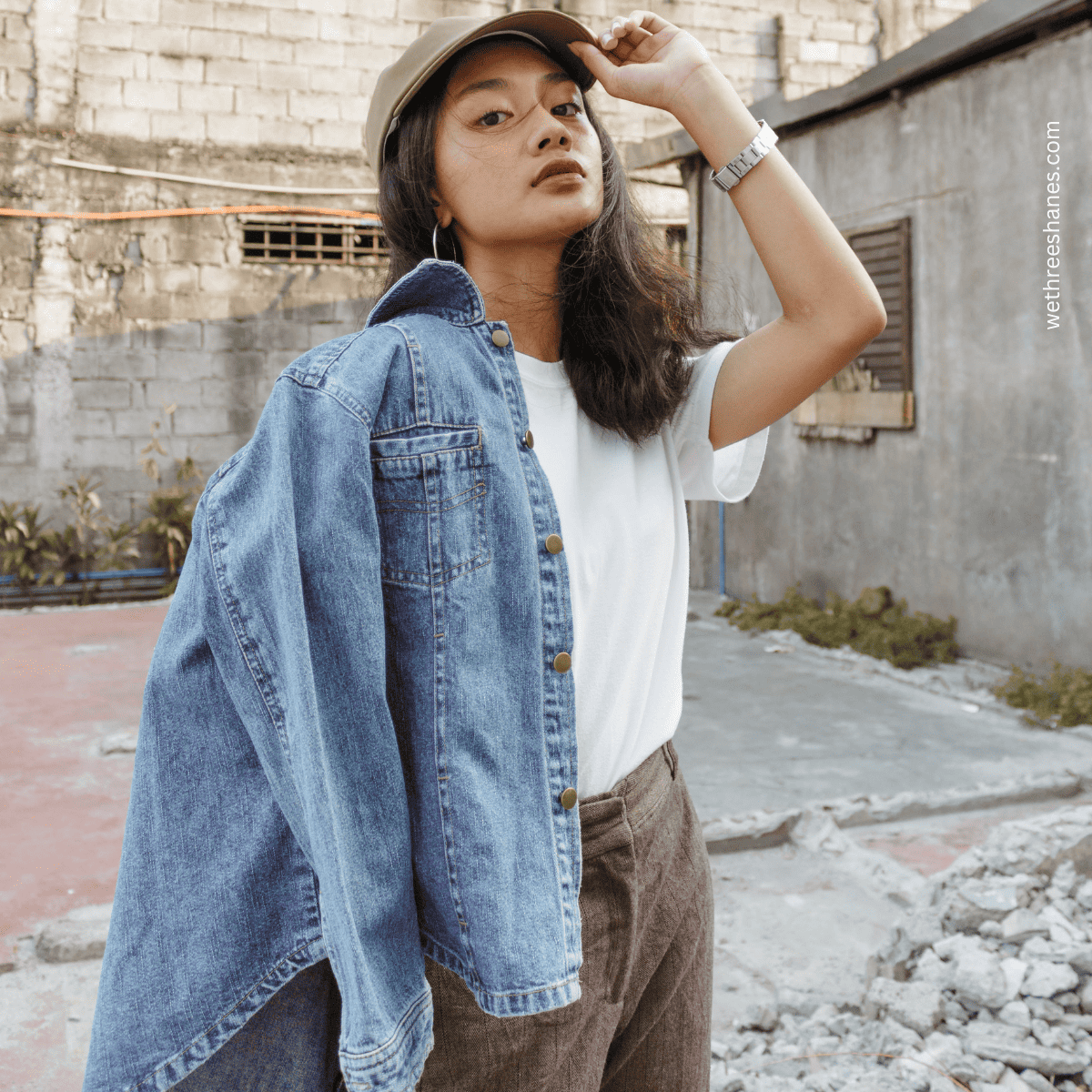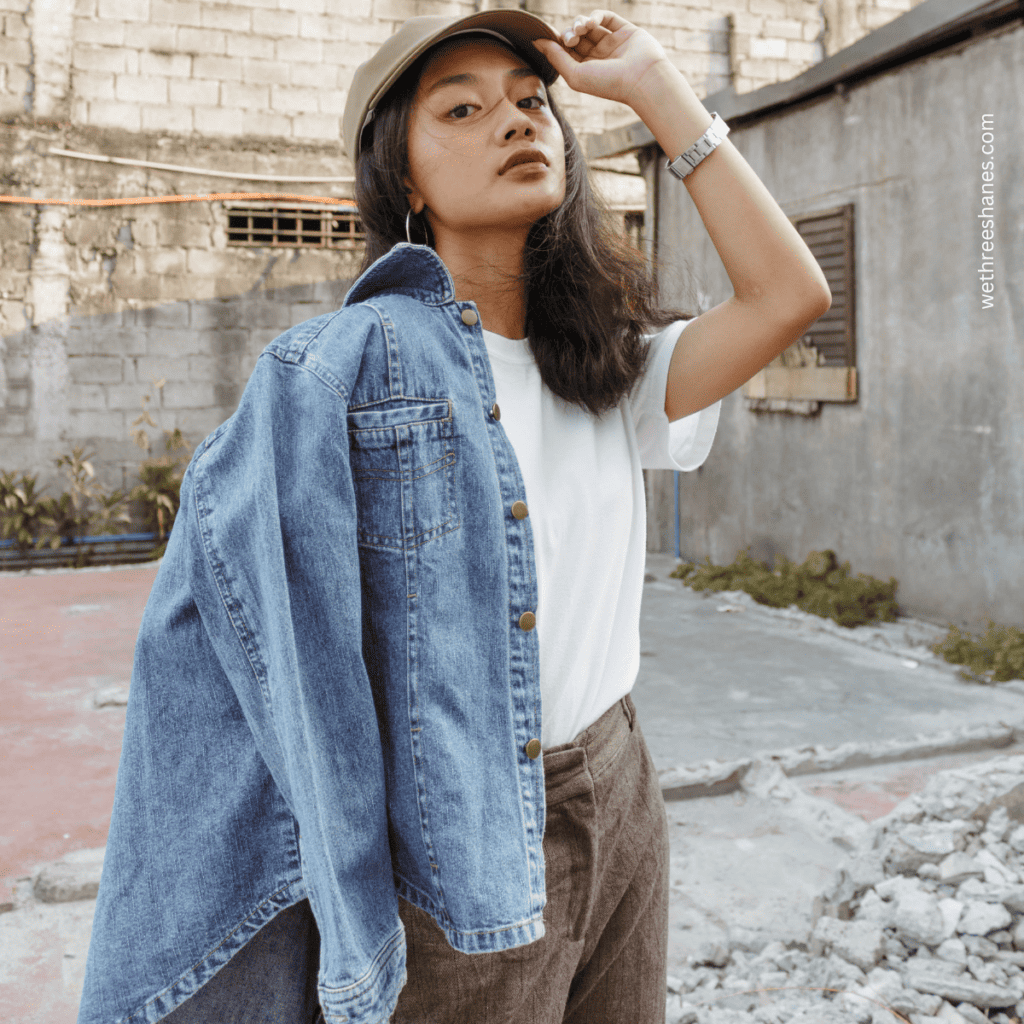 Cardigan Sweaters – I like having one cardigan in a neutral (mine is black), and then one that is a pop of color for mixing and matching.
White Sneakers – this is another piece that should probably be in your minimalist closet year round.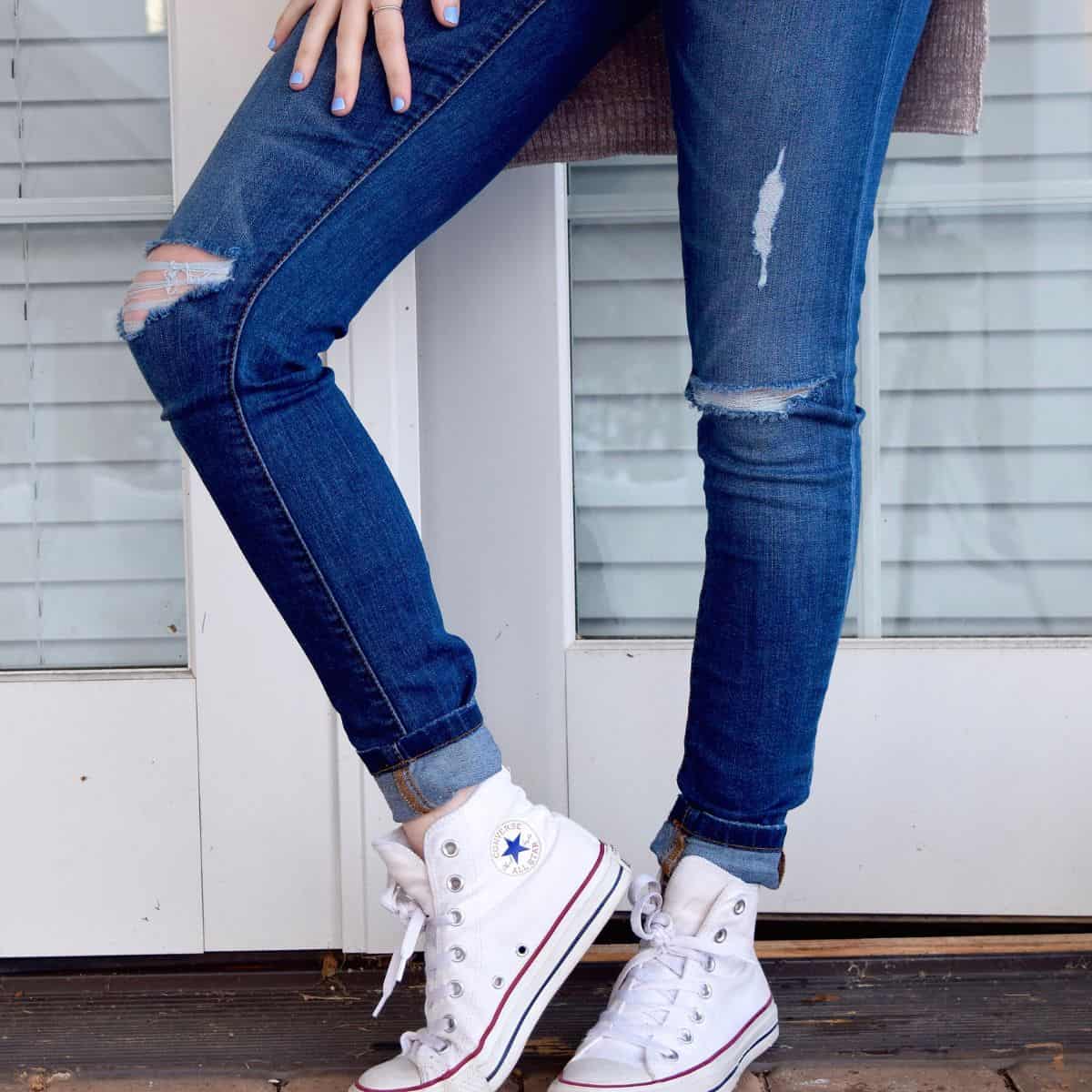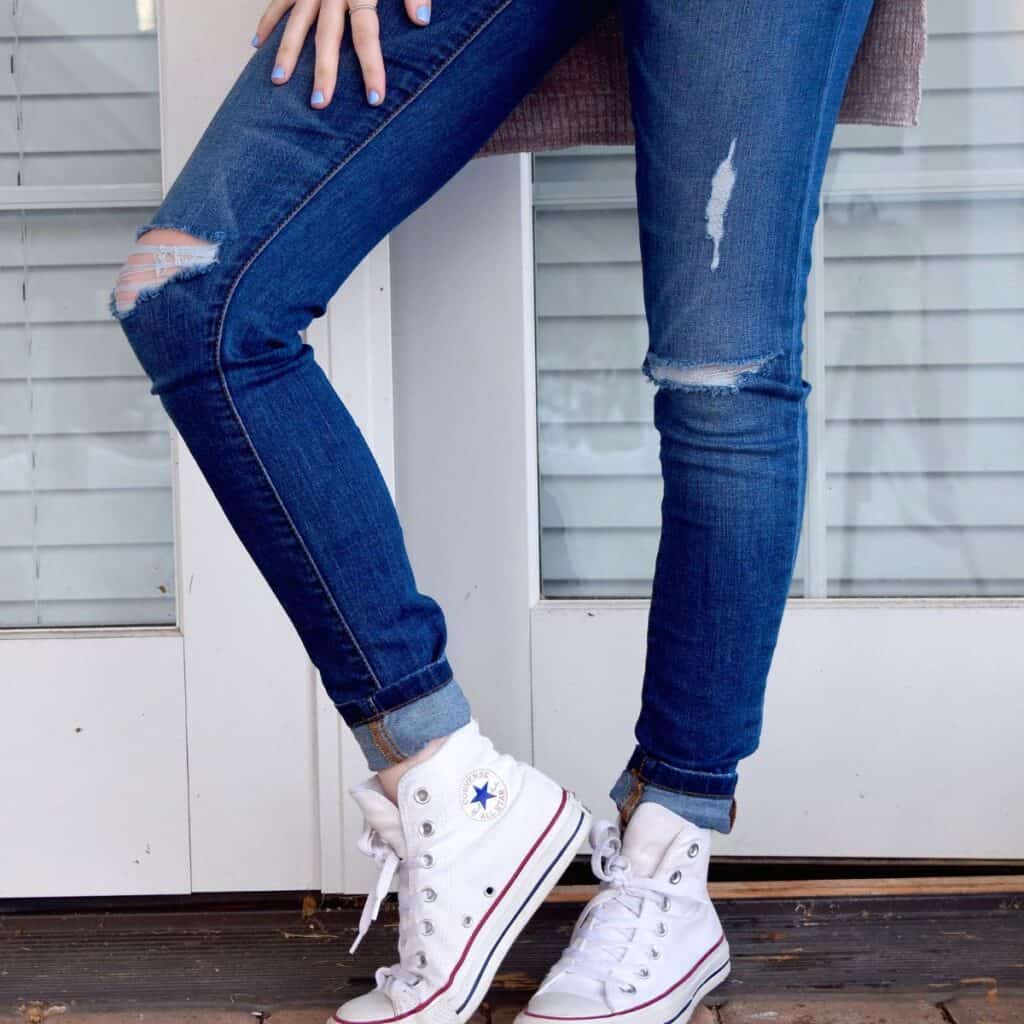 The High-Quality Pieces
These are the higher-quality pieces that we add for specific seasons, or to elevate our basics. They usually come at an extra cost compared to the basics, but they are investment pieces that will last you through the years.
​Sweater Dress – If you are going to get a sweater dress, you want to spend a little money. We have all seen the pilling that can happen on a cheap sweater. A sweater dress is meant to add some va va voom to your wardrobe, so having it look cheap defeats the purpose of having it.
Chunky Sweater – A minimalist fall wardrobe staple! Nothing screams fall and comfort like a good chunky sweater. But just like with the sweater dress, make sure you get your sweaters well made. This way they will hold up to regular washings without looking past their prime.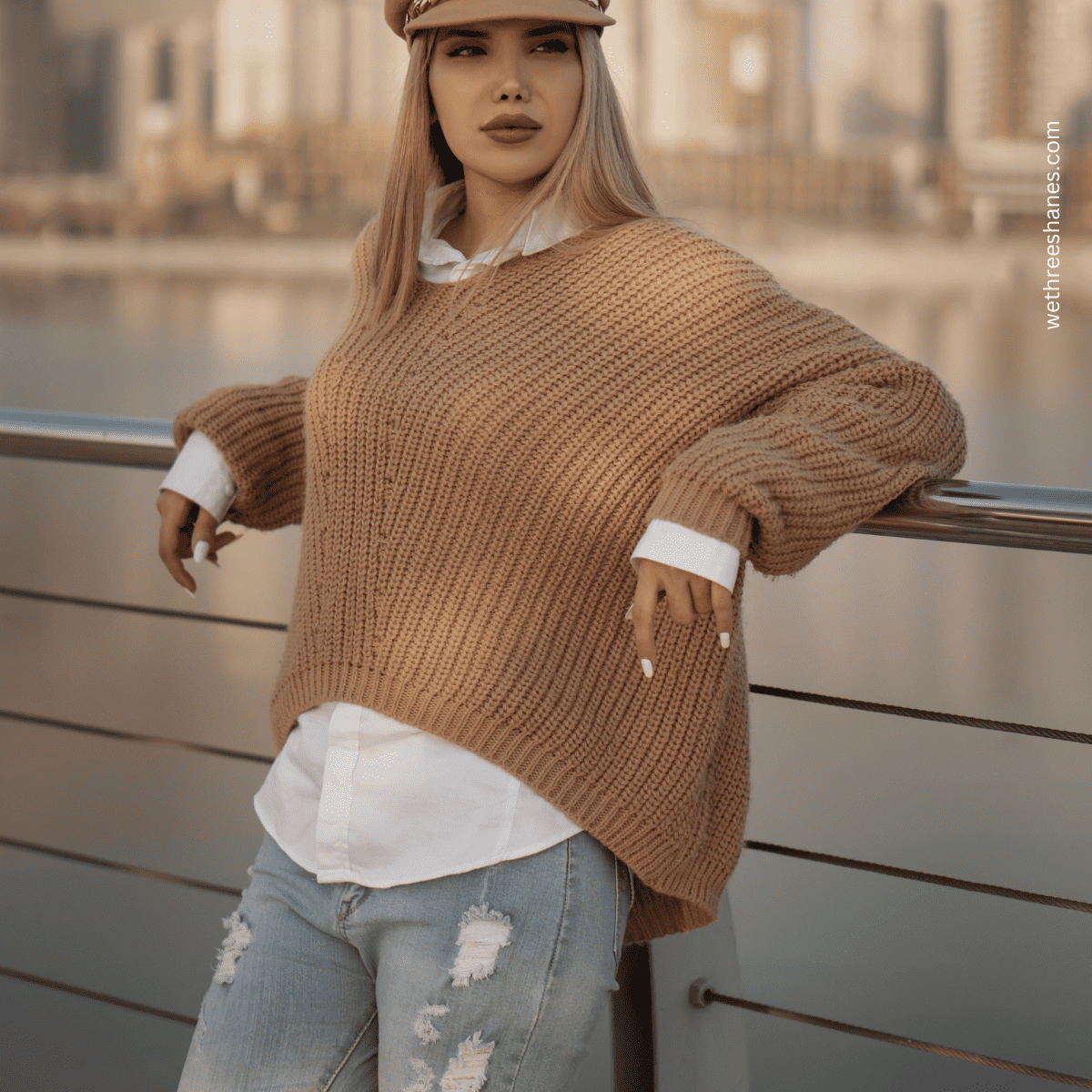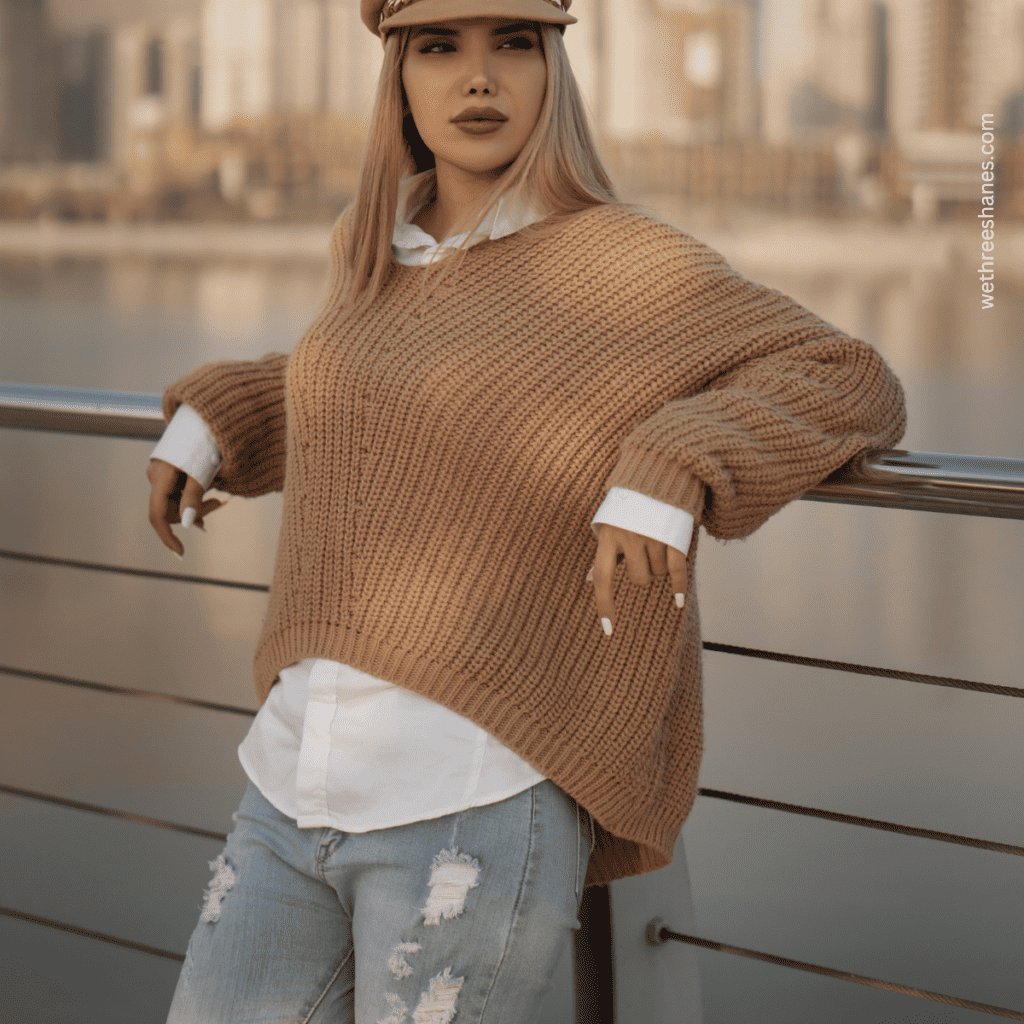 Skinny Jeans – These can be in any color. But spend a little more money on your skinny jeans vs. your straight leg jeans. You want that high-quality stretch that hugs your curves, and doesn't stretch out after just an hour or two of wear (no one wants to be pulling their pants up all day long).
Trench Coat – I think the classic tan trench works best for fall. It is clean and sophisticated without being stuffy. They can be dressed up or down. And they can go over shorter jackets if you have a really cold day where you have to bundle up. In the classic tan, black, or grey, it makes for easy pairing.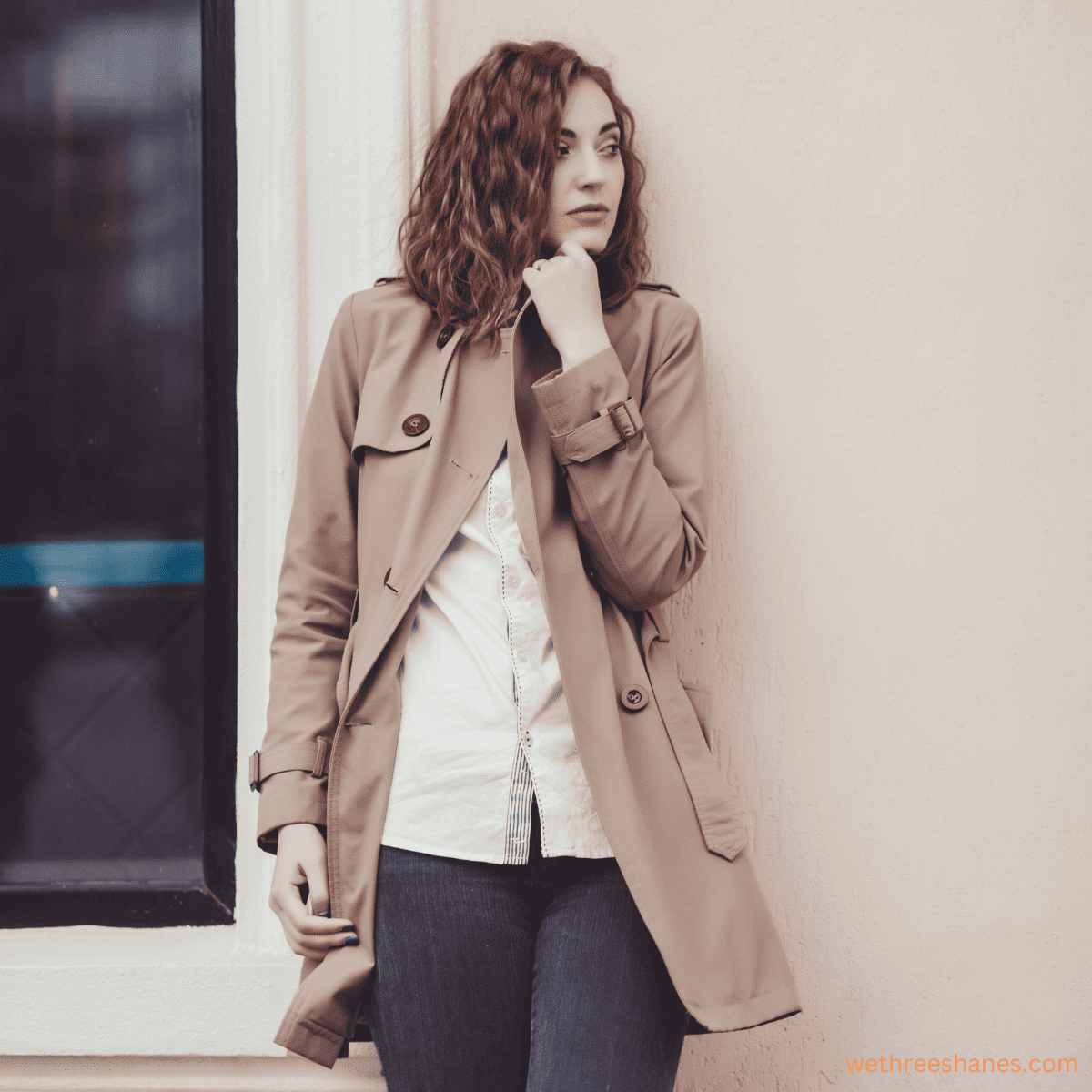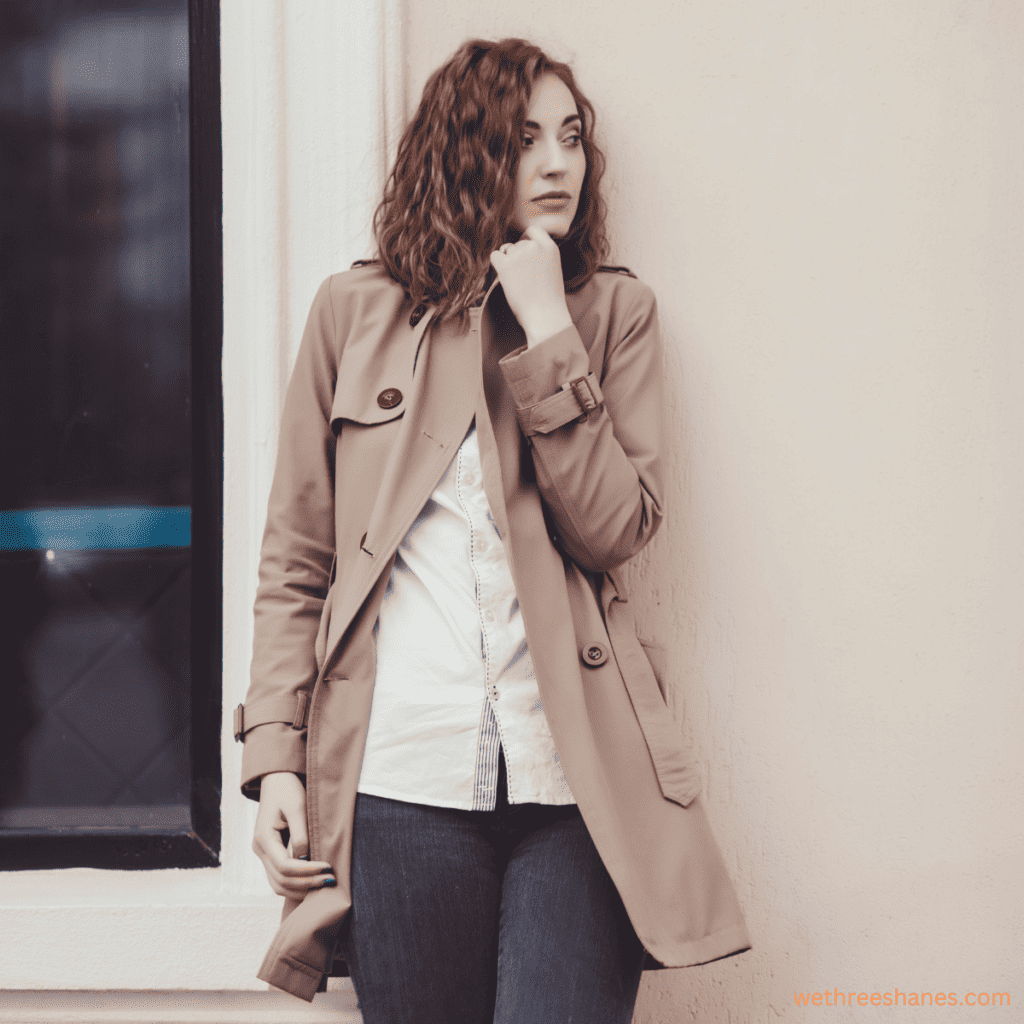 The Classic White Shirt (Button down)- Always spend a little more on your dressy button up shirts so you can get them in a wrinkle free fabric. If a capsule wardrobe is about making our lives easier, and having a grab and go closet experience, then we don't want to have to spend an hour ironing a wrinkled mess.
Flannel Shirt – Button ups should always be in nicer fabrics so they wrinkle less. A flannel can be dressed up and down making it very versatile.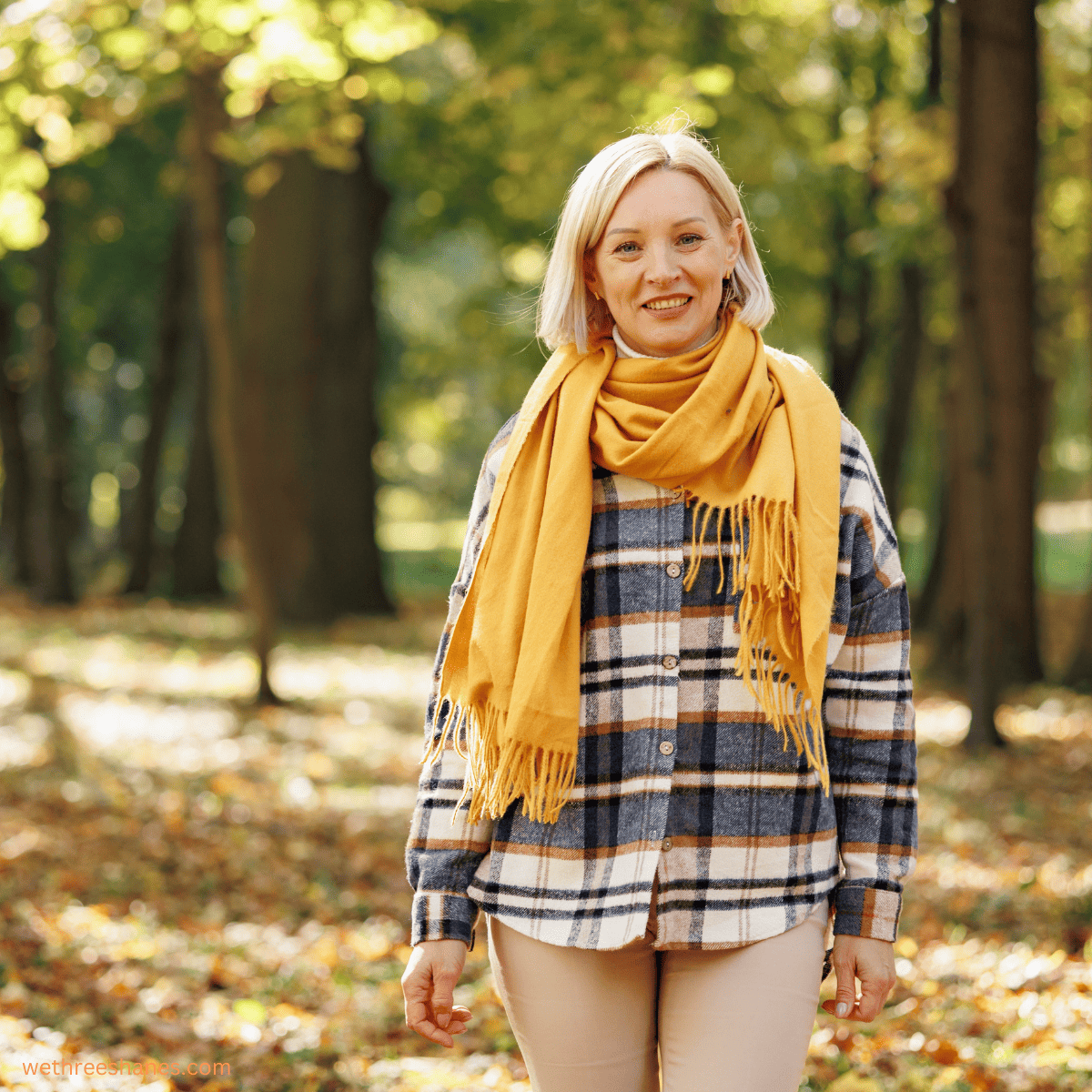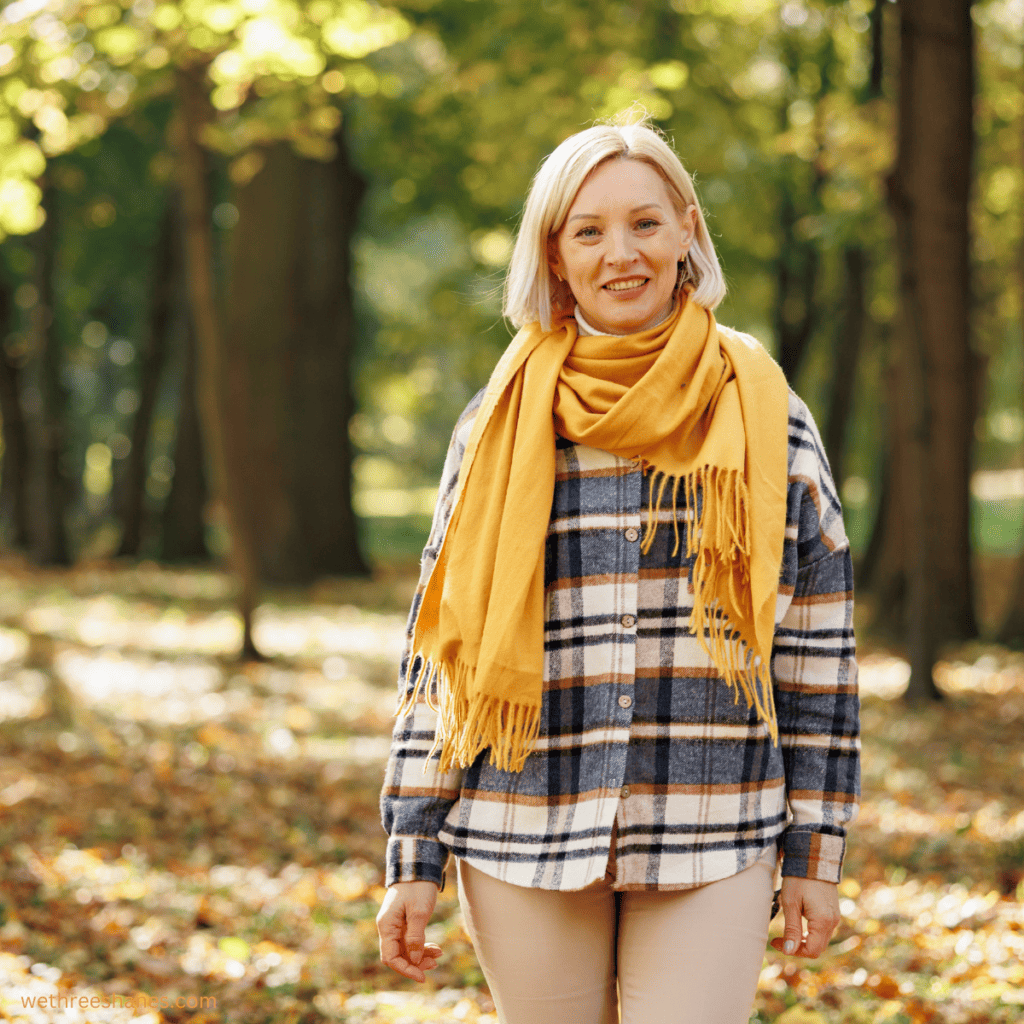 Basic Trouser- The basic trouser is a staple in any minimalist wardrobe. The tan color makes for especially easy pairing in fall.
The Little Black Dress – This is technically a basic, but I put it in the high-quality section, because if you get a nice, classic LBD, then it can last you for decades. In the fall you can wear your LBD with tights, a chunky boot, and a long, open sweater and a scarf for a pop of color.
Ankle Boots – I like to have two, one in black and one in brown or tan.
Knee-high Boots – These can be expensive, so if you can only do one pair, pick black. They can dress-up so many outfits.
Vintage Looking Dress or Skirt – Something that has some movement and color to brighten up and be layered with your basics. (I especially love a jean jacket over this kind of dress.)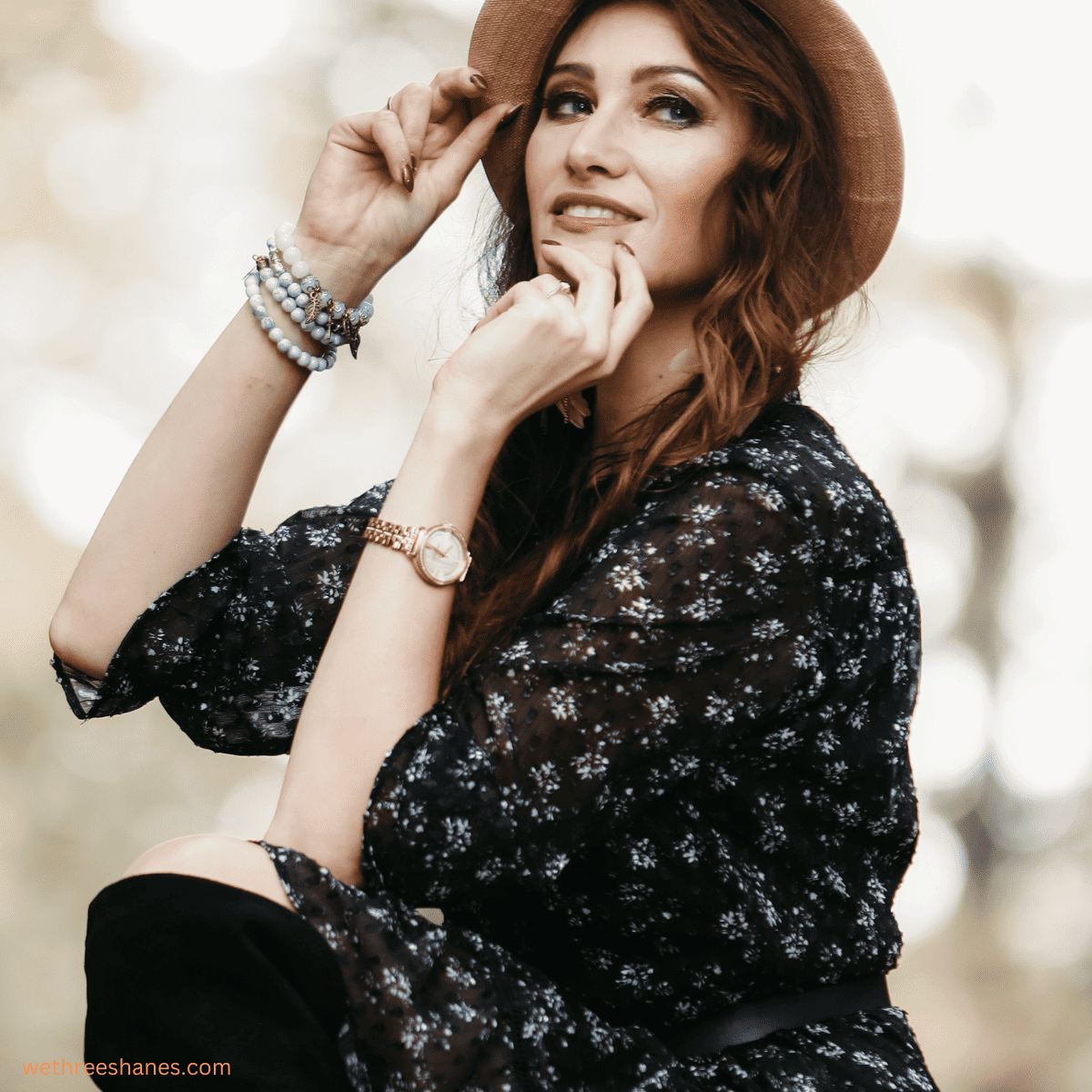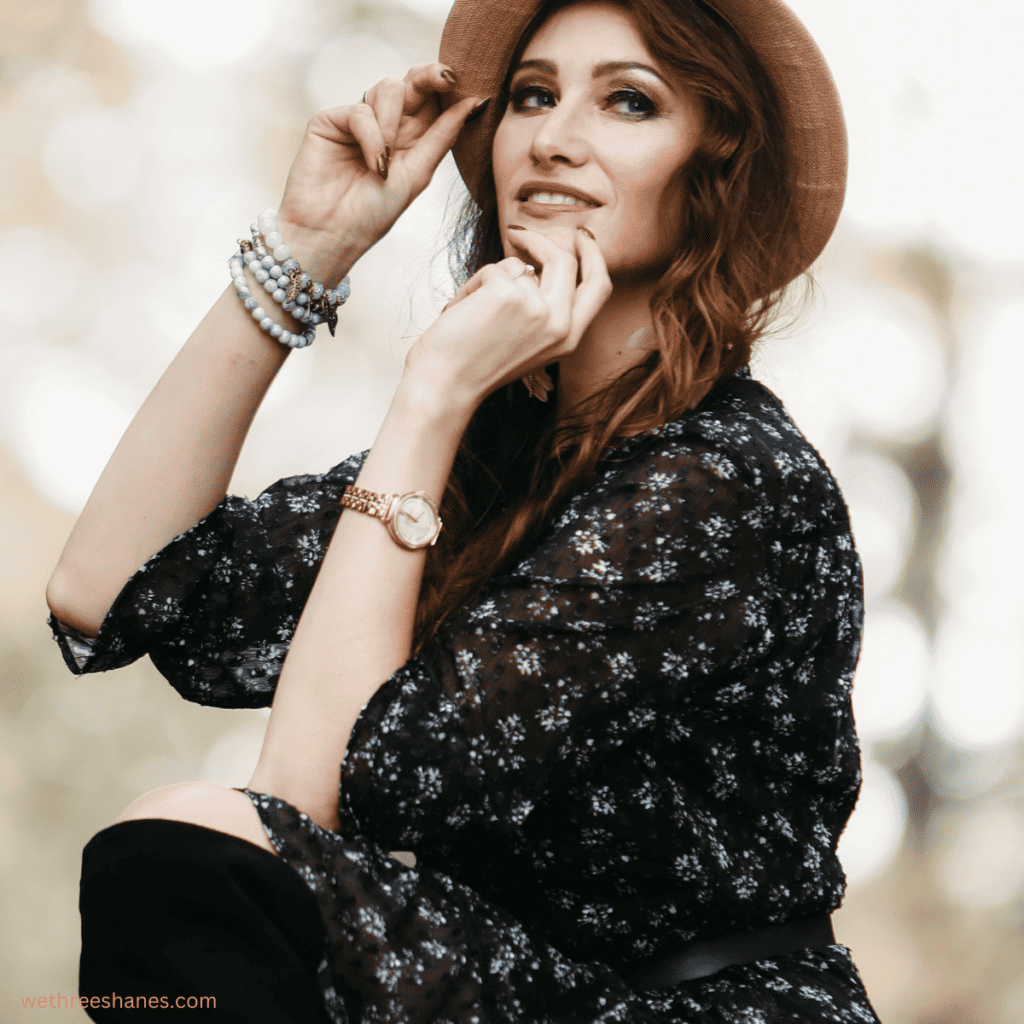 Leather Jacket – This one is a big purchase, so take your time finding just the right one.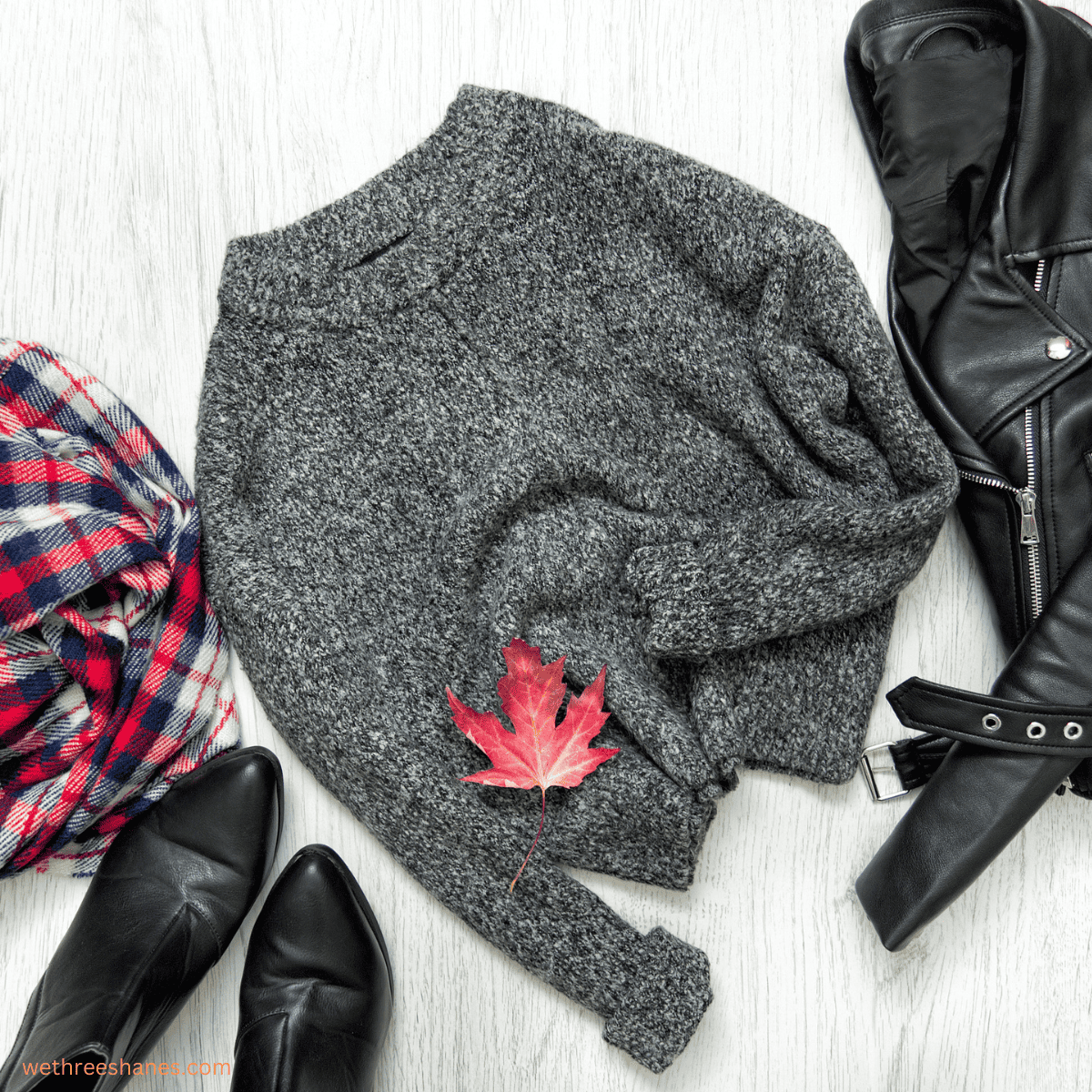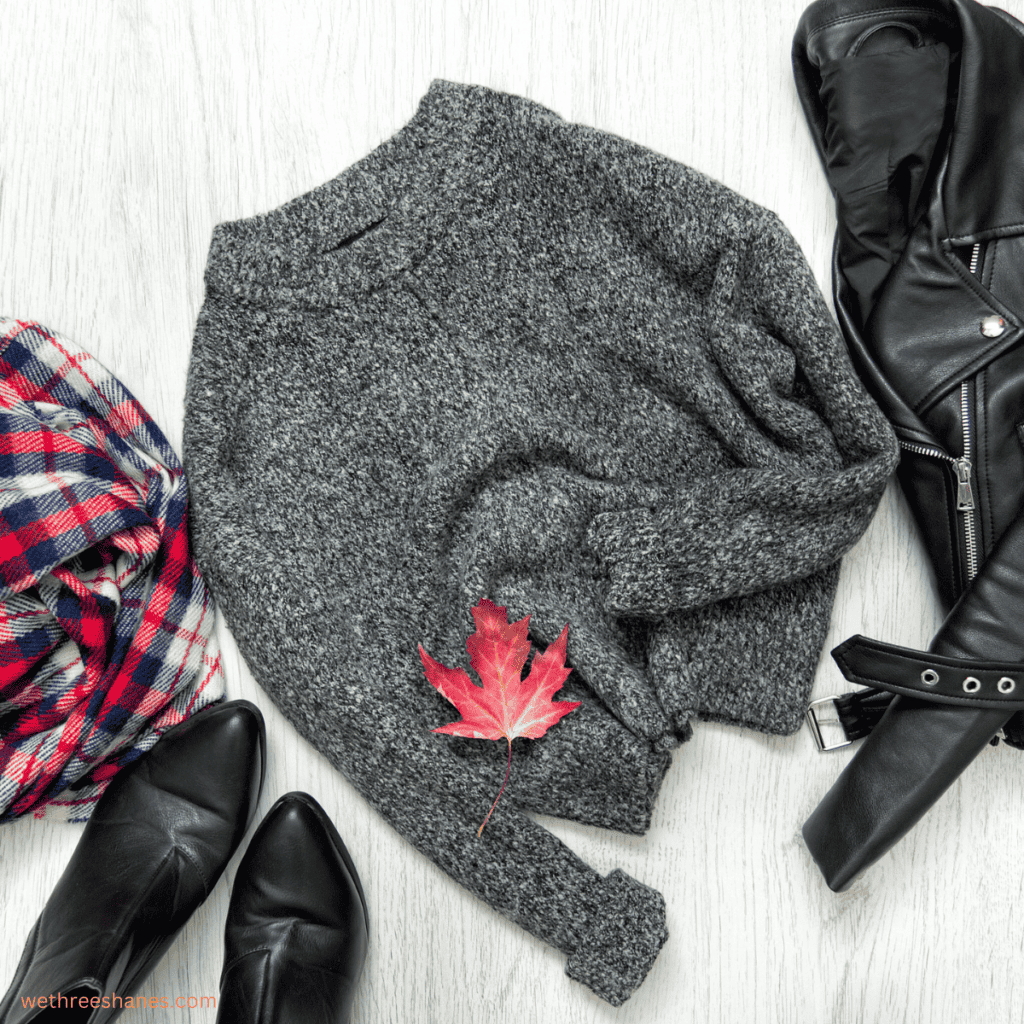 You Can Create a Minimalist Fall Capsule Wardrobe
Now that you know what a fall minimalist wardrobe is, you can create one. Just ask yourself the right questions, work on following our tips, and slowly work on acquiring the pieces we listed for you in this post.
Put your money into higher end pieces and your wardrobe will grow with you, making it easy and enjoyable to get dressed every day.
No longer will you stand in front of your closet saying you have nothing to wear. You will have a wardrobe of amazing mix and match pieces full of interesting outfits without having to waste your money on trends or fast fashion ever again.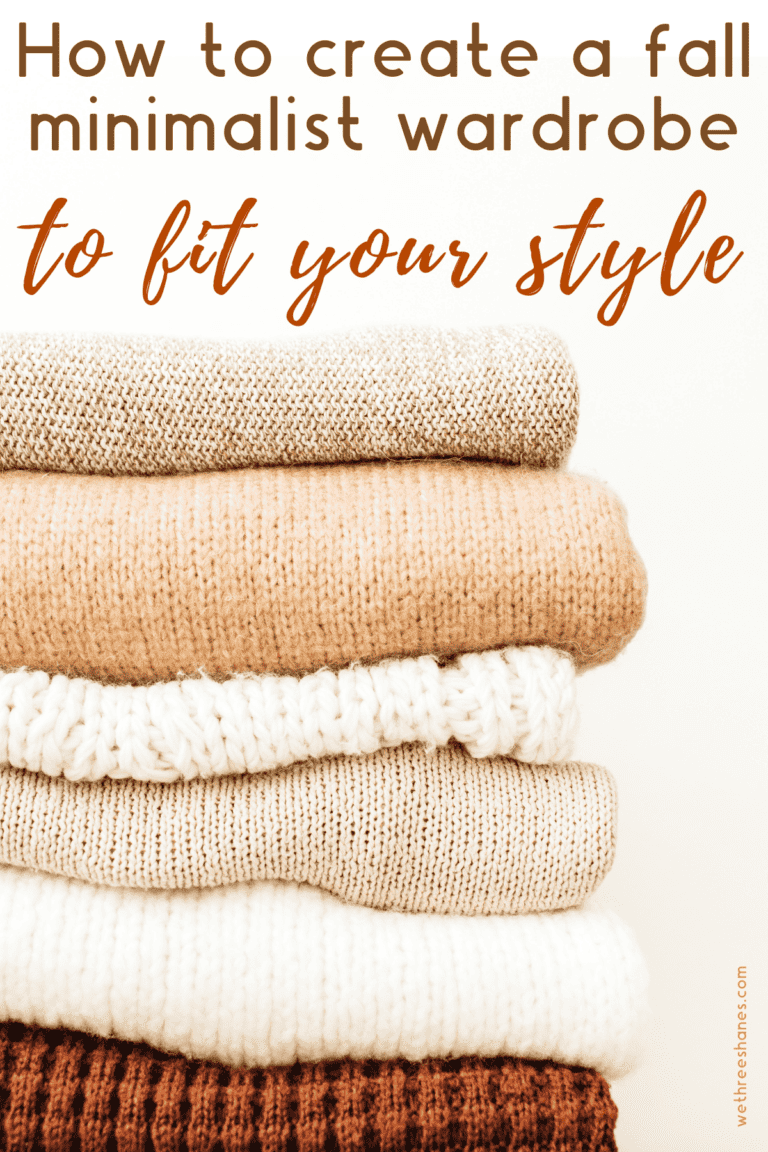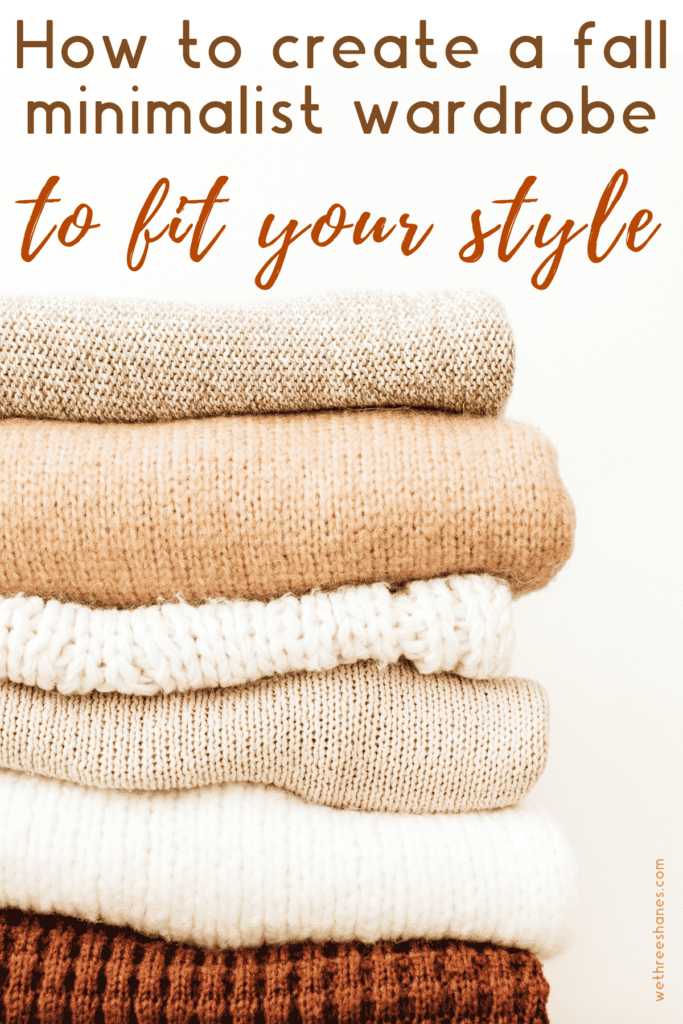 Do you like to have clothes for every season without spending an arm and a leg? Have you ever thought about making a minimalist wardrobe?
Try following some of these suggestions in this post, and see if they help you move towards a capsule wardrobe. Then let us know how it goes in the comments, we love to hear from you!
You Might Also Like: