DIY Ho Ho Ho Picture Frame
Need a Christmas gift for your besties this holiday season? Make this budget-friendly DIY Ho Ho Ho Picture Frame and bring a smile to their faces!
(THIS POST PROBABLY CONTAINS AFFILIATE LINKS. OUR FULL DISCLOSURE POLICY IS LONG & BORING BUT, YOU CAN FIND IT HERE.)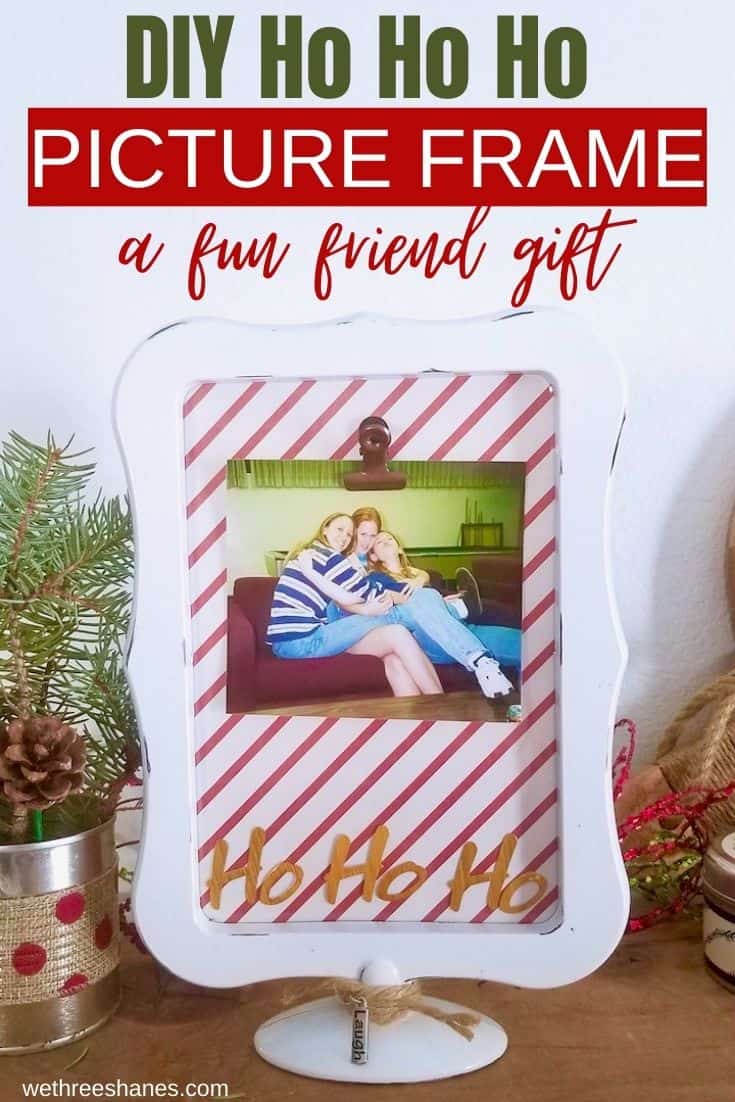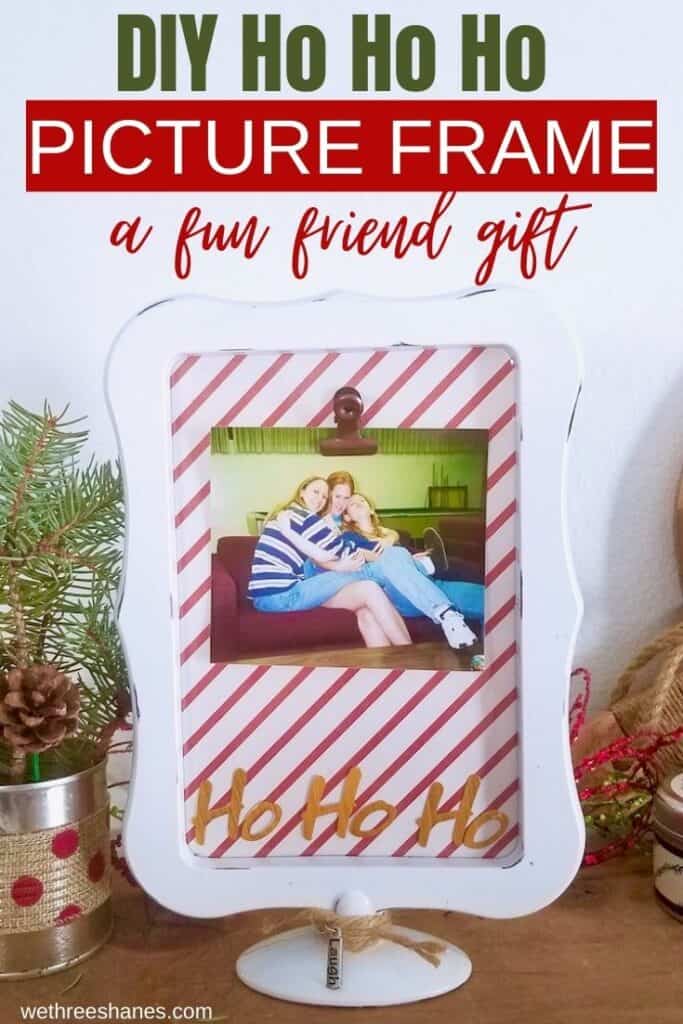 DIY Ho Ho Ho Picture Frame
Us Shane sisters are a little loose with our affectionate names for each other. We call each other hookers and hoes all the time. We always have and always will. So, I've had this DIY Ho Ho Ho picture frame idea in the back of my mind for quite sometime and thought I'd share it with you, incase you're a bit irreverent like we are.
The supplies come from the Dollar Tree and Jo-Anns and cost about two dollars, unless you have to print a photo. Then, it could be a bit more.
The craft itself is a quick one too which I really like because I seem to run out of time during the holidays. You can pick up supplies for this DIY Ho Ho Ho picture frame and have the whole project done in 10 minutes to an hour, if you end up painting something.
I love a personal gift that can make me smile and this photo frame definitely fits the bill. But don't worry if you're not into the Ho Ho Ho idea. This is still a cute gift idea with out it.
---
Supplies Need for Your DIY Photo Gift
I'm going to show you how to make the frame two ways, using two different frames. It's not always easy to find the same products at all Dollar Stores so I'm using two different frames. The Dollar Tree always has tons of frames, so grab the one you like.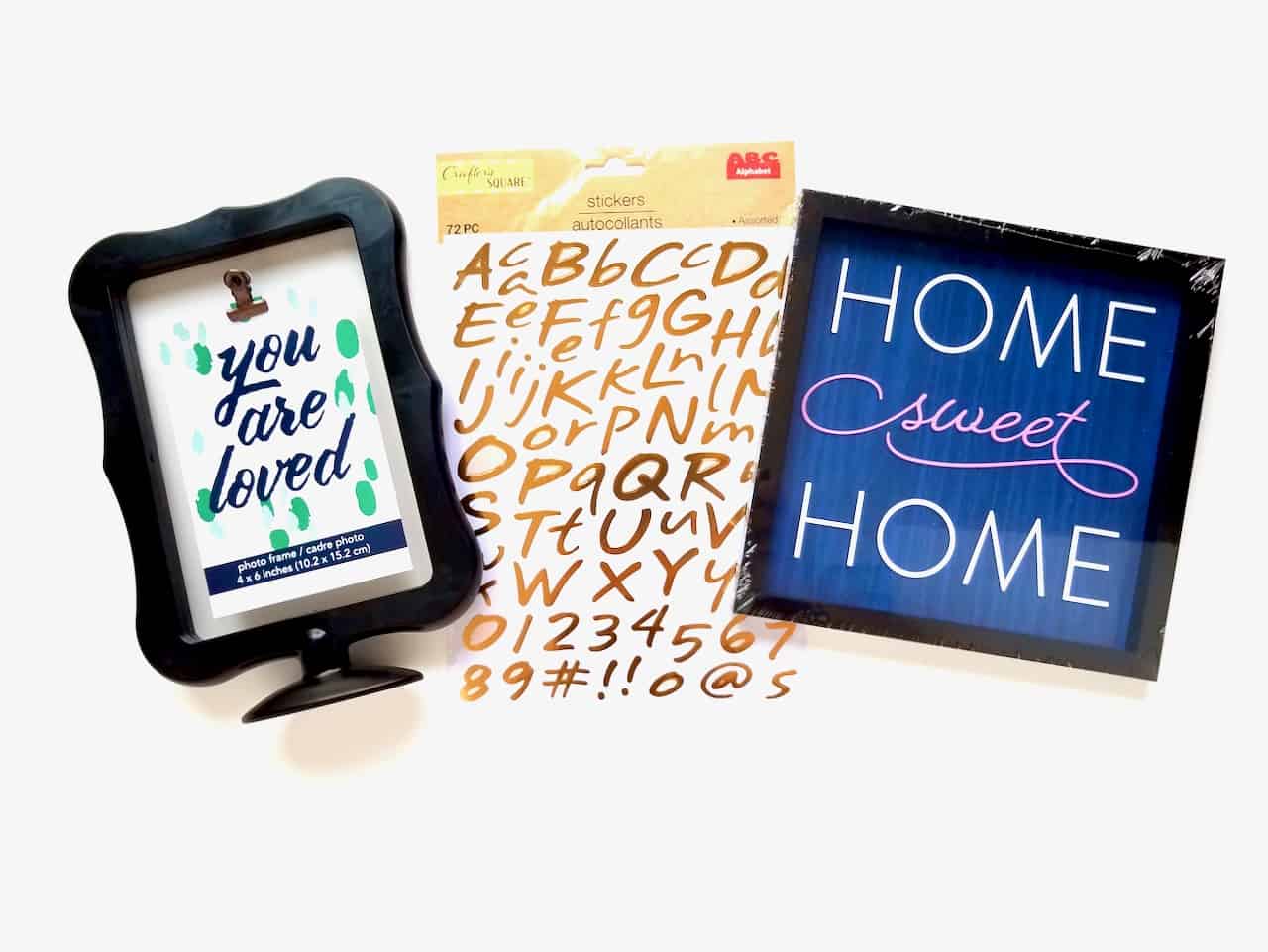 Picture frame
Christmas themed paper – I got mine at Jo-Anns for 20 cents each
Small clothes pin – you can usually find these in the craft section at the Dollar Tree
Letter Stickers
Paint – optional
Extras – like ribbon, twine, bells…these are also optional
Photo of you and your friend/s
Spray adhesive
If you are only making one of these then the cost is a little higher but you'll have leftover materials to use for other crafts. Even then these really only come out to 3-4 dollars, tops.
Check out both designs and then head out to your Dollar Tree to buy the supplies for the version you want to make.
---
How to Make a DIY Ho Ho Ho Photo Frame
We're going to start with the Ho frame. Keep in mind that the frame I used for this isn't necessary. If you can't find these at your Dollar Tree, then you can pick out a different one. The picture frame will still come out super cute.
These stand type frames come in a couple of different colors. They are made of plastic so they do look a bit cheap. For that reason, I grabbed a black frame and then brought it home, pulled it apart and painted it white, using the 99 cent spray paint from Walmart.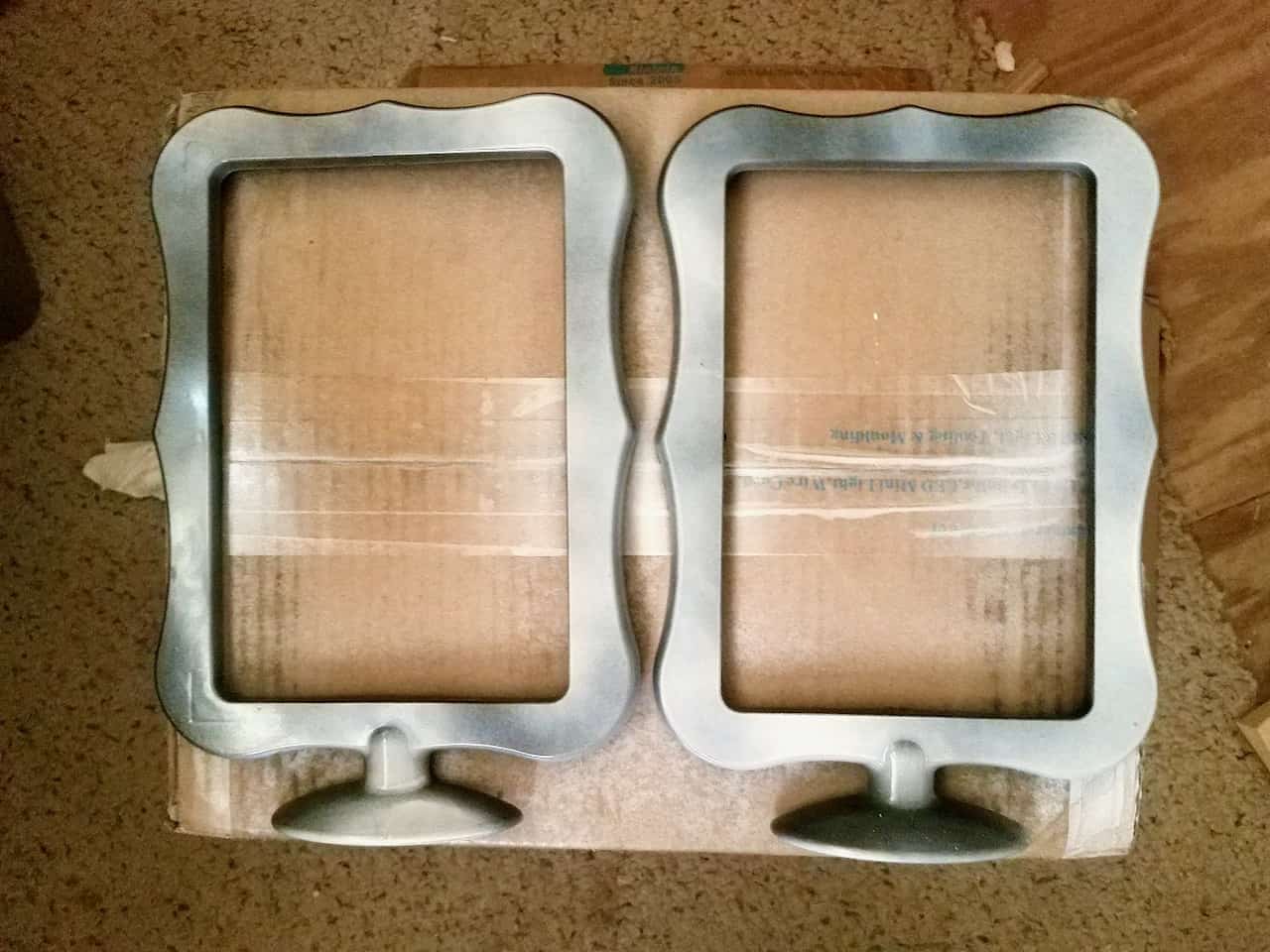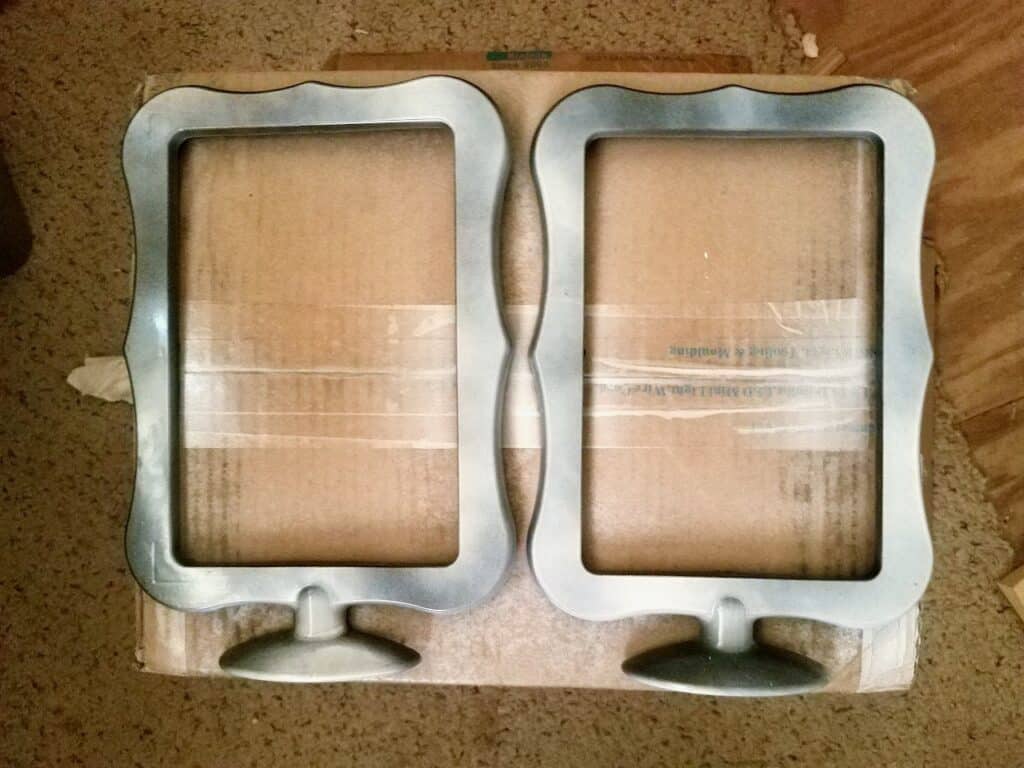 The paint changed the look and feel of the piece so it felt sturdier and less cheap. With the black color underneath, I was also able to sand away the white paint here and there to give the piece a farmhouse look. You can paint it any color and use a black sharpie to add the farmhouse look instead of sanding.
I added the letters to spell out Ho Ho Ho while the plastic was out but if I was making this again, I'd do this step later, once the plastic was back in the frame so it lined up well.
Next, you'll take the clear piece and line it up on the Christmas paper you chose. Trace it and then cut it out.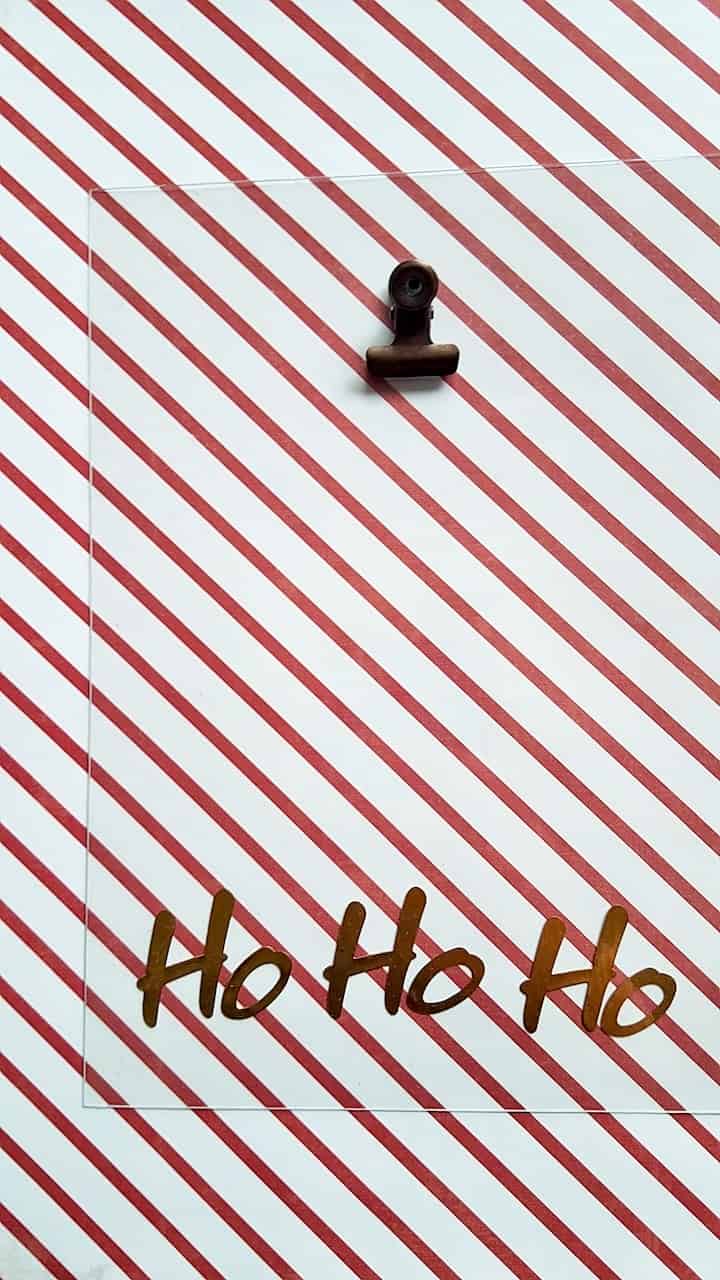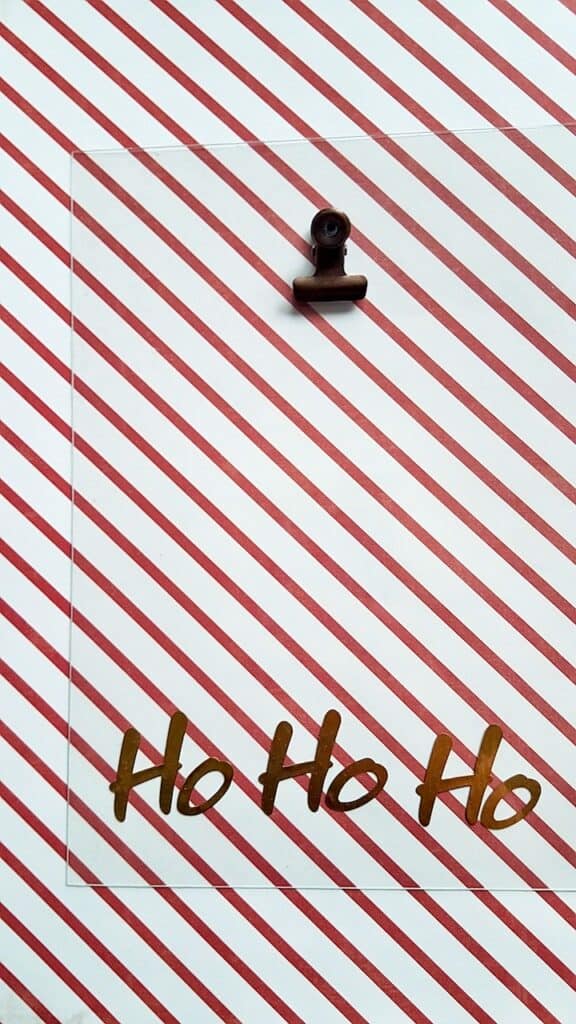 Once the frame is dry, you can put everything back together. Line the Christmas paper up behind the clear piece and then pop the top piece back on. You can use a bit of glue on the pegs so that the frame stays together a bit better.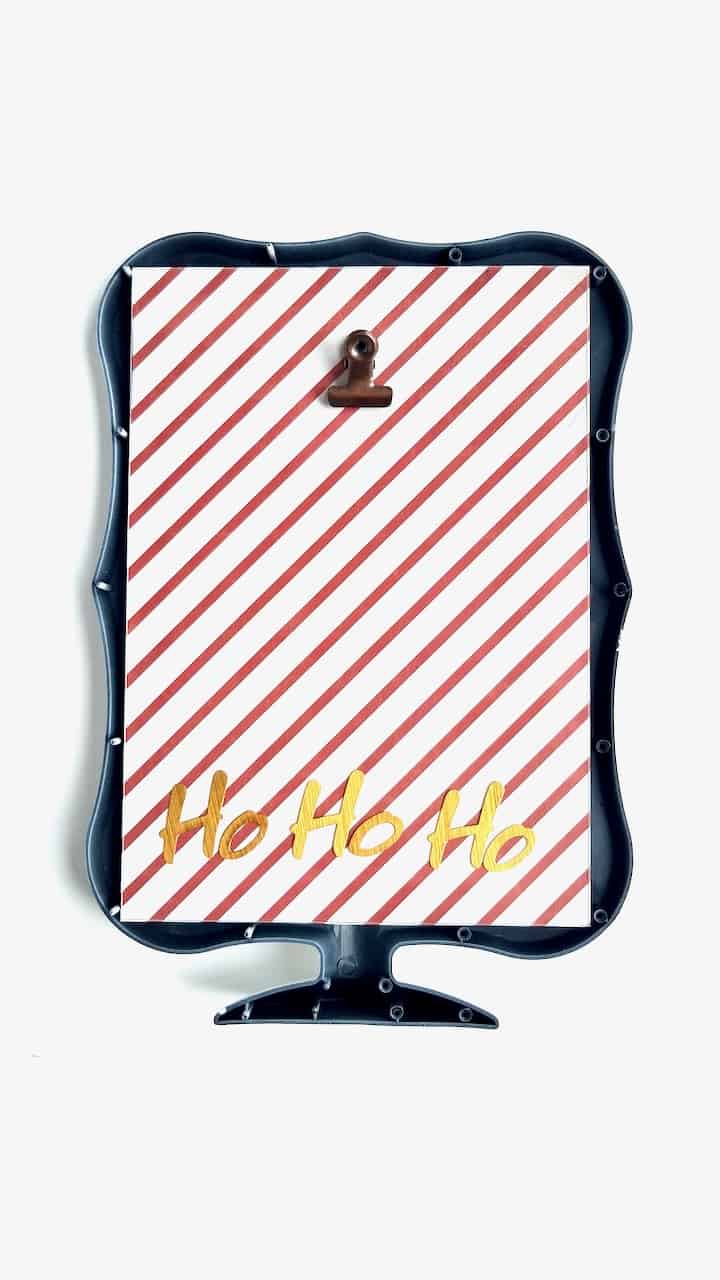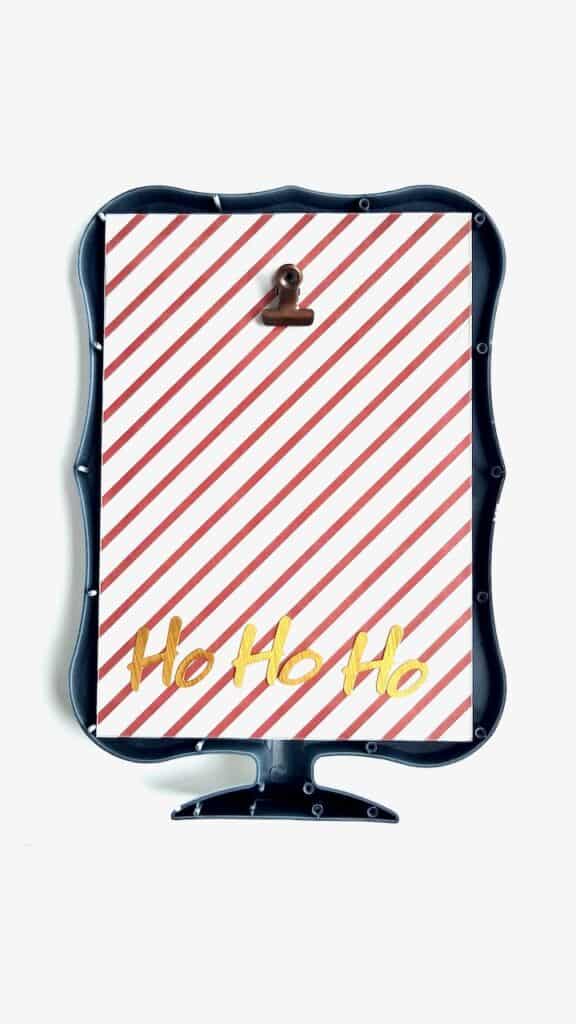 All you need to do now is add some flare, if you want, and then pick out a fun picture of you and your friend/s. I wrapped some twine around the base and added a little charm that says laugh, to remember all the good times we've had together. Now, pop it in a gift bag and give it to your favorite hoe!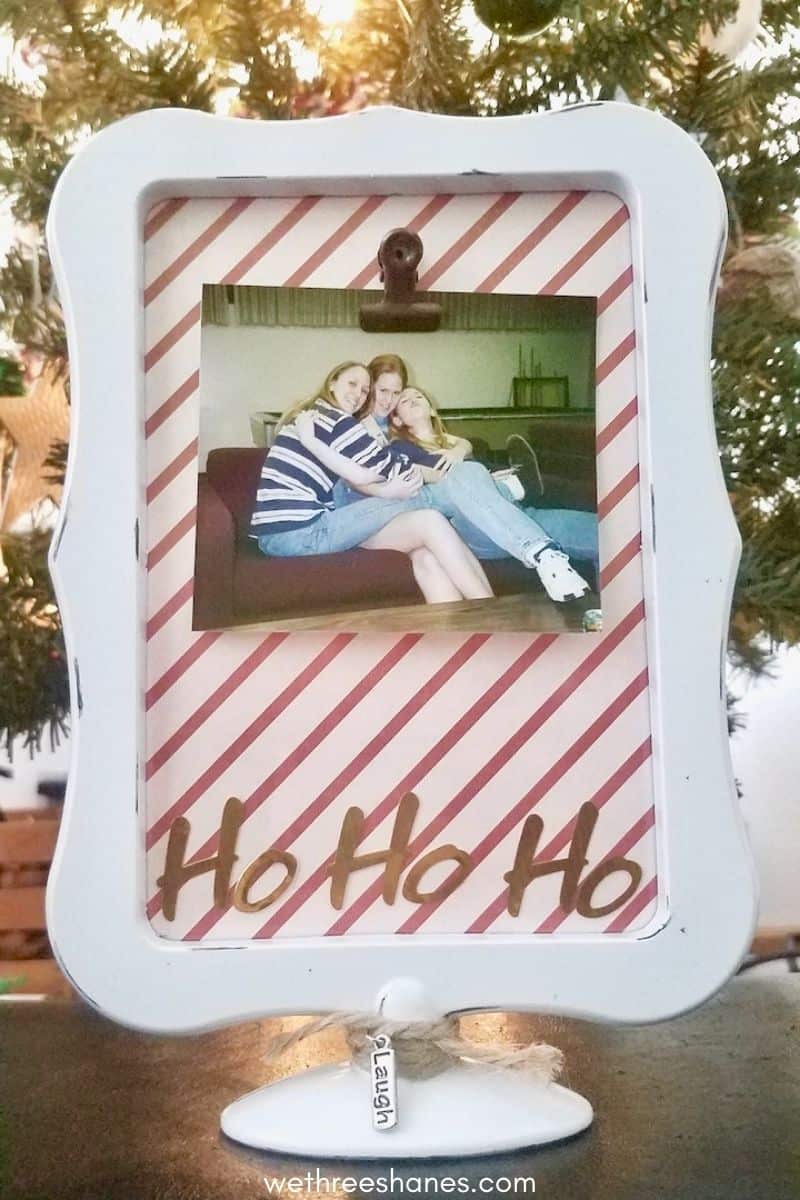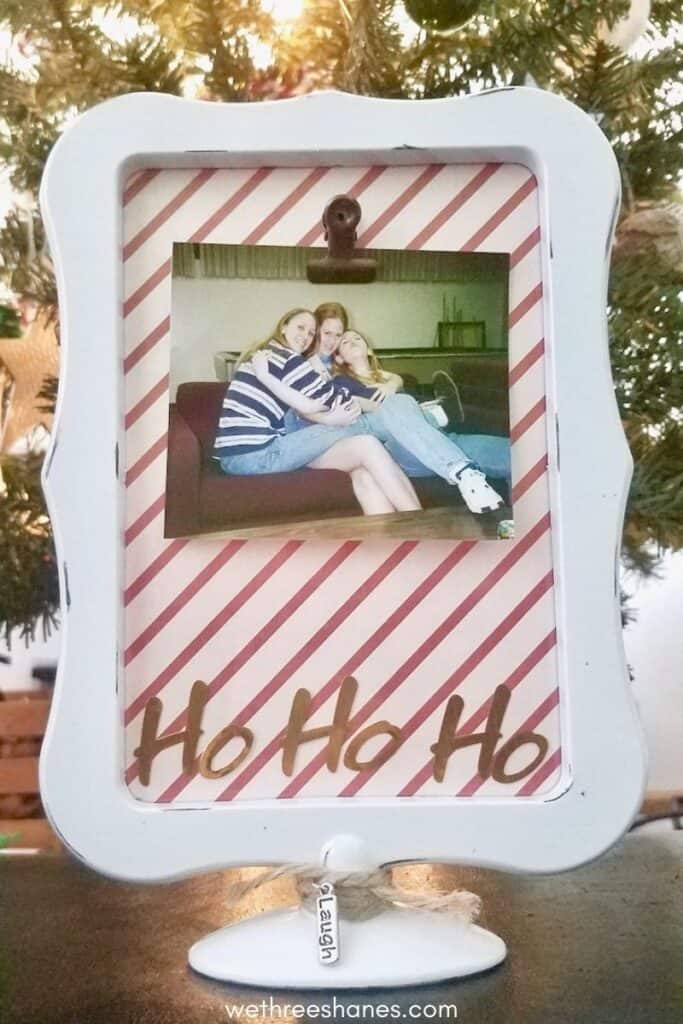 ---
DIY Photo Frame Gift
If you aren't as into the Ho Ho Ho picture frame then we can't be friends. Just Kidding! I have a different DIY picture frame for you that is super cute and even easier.
I used the Home Sweet Home decor frame that you saw in the above photo. This one works great because the back pops off. Once the back is off you can paint the frame if you want but I left mine black.
You might want to consider painting the front of the back piece. Mine said "Home Sweet Home" on it and because my Christmas paper was white the saying showed through just a bit.
This step all depends on the backing and paper you get. Hold your paper in front of your backing to see if anything shows through. If it does then paint it a solid black or white. If it doesn't then you don't need to worry about it.
Next, line the backing onto the Christmas paper you picked out, trace it, and cut it out just like we did above.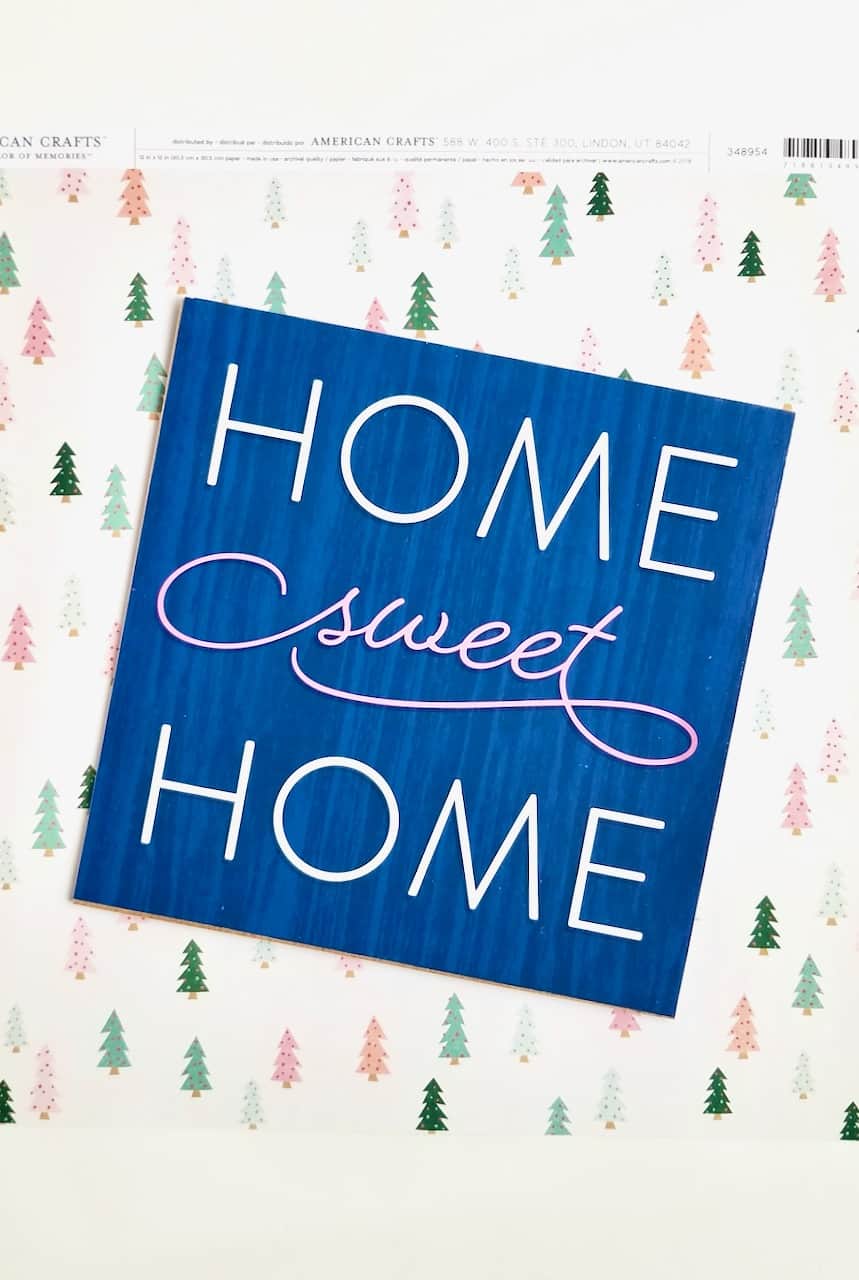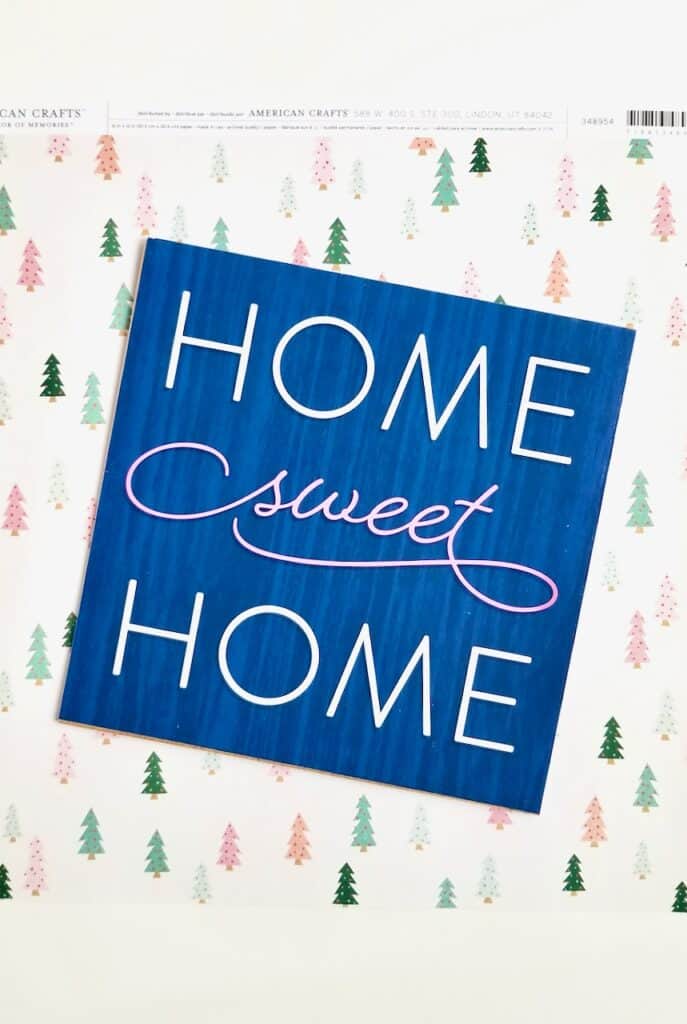 Use some spray adhesive on the back of the cut out paper and glue it over the Home Sweet Home part. Then, pop it back in the frame.
Grab your small clothes pin and glue that to the front in the top, middle. Find a favorite photo of you and your friend and clip it into place once the glue has dried on the clothing pin.
I found this old photo of Katie and me in front of our Christmas tree circa 2001. I don't know if you can see the shiny white eye shadow that Katie is rocking but it's pretty serious stuff.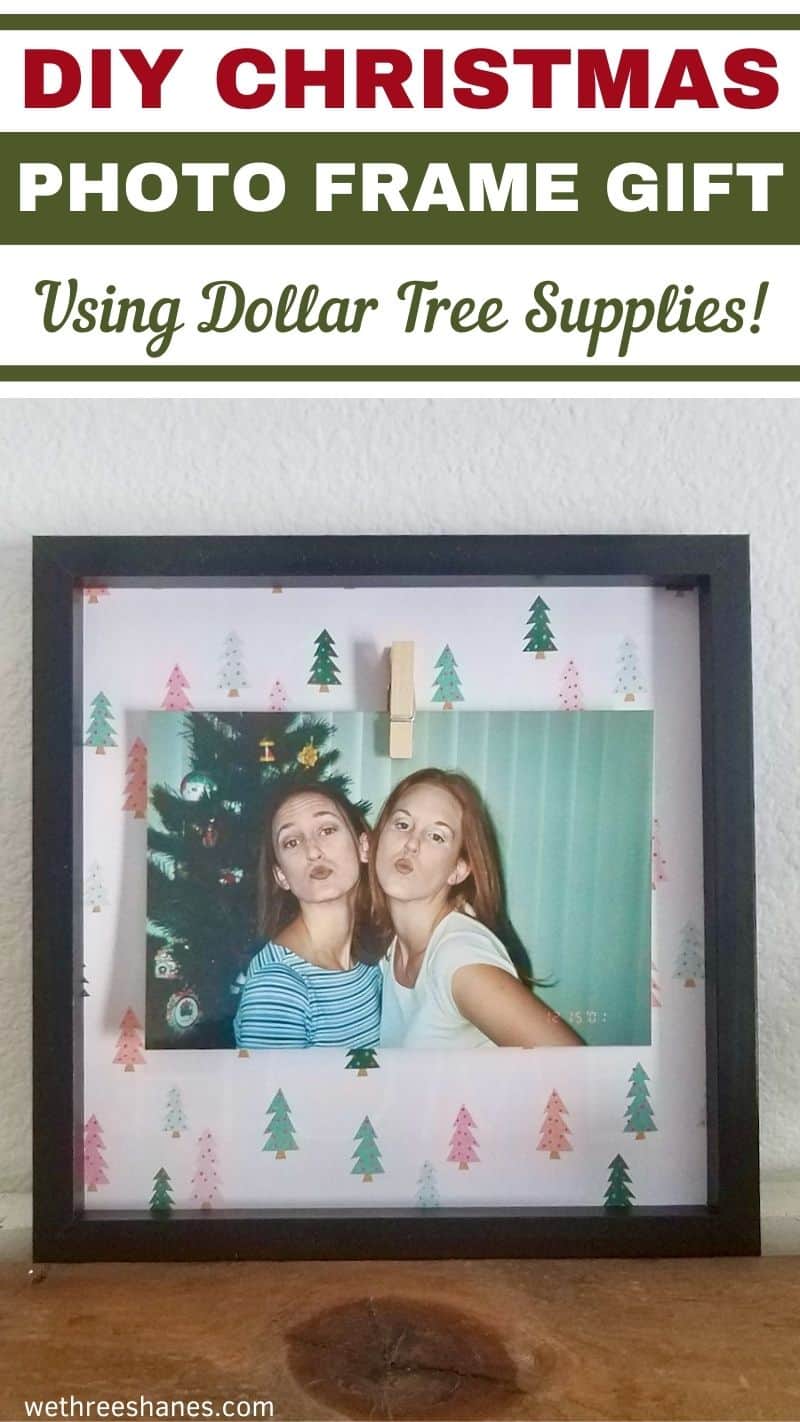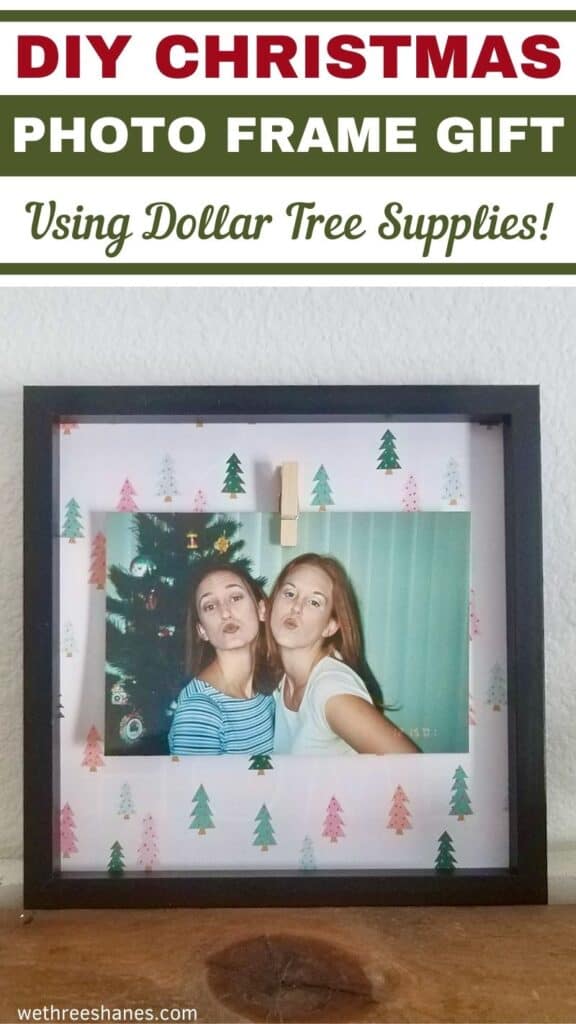 ---
DIY Christmas Photo Frame
Obviously, you don't have to give these away as a gift. You can make one for your home. But I do think it's a fun, personalized gift you can give to your friends this holiday season. These are easy to customize so if you don't want a Christmas theme then chose some neutral paper instead.
If you're making the Ho Ho Ho picture frame then it fits perfectly with Christmas decor and will be fun to display around that time of year. Hopefully, it will help your friend remember all the good times you've had together through out the year.
Are you a ho ho ho frame type of person or the plain frame type? Let us know in the comments below!
---
You Might Also Like:
---