DIY Patriotic Deco Mesh Wreath For Cheap
Learn how to make this deco mesh wreath in a Patriotic theme for cheap. We used all Dollar Tree Items and made this for under $15. It was very simple and took a little less than an hour.
(THIS POST PROBABLY CONTAINS AFFILIATE LINKS. OUR FULL DISCLOSURE POLICY IS LONG & BORING BUT, YOU CAN FIND IT HERE.)
DIY Patriotic Deco Mesh Wreath For Cheap
When it comes to crafting I like three things – fast, cheap and simple. This DIY Mesh Deco Wreath checks all three of those boxes.
All of the wreath items are from the Dollar Tree. I think my total cost was about $13. It looks very festive with its red, white and blue colors and makes any front porch stand out for all those patriotic holidays.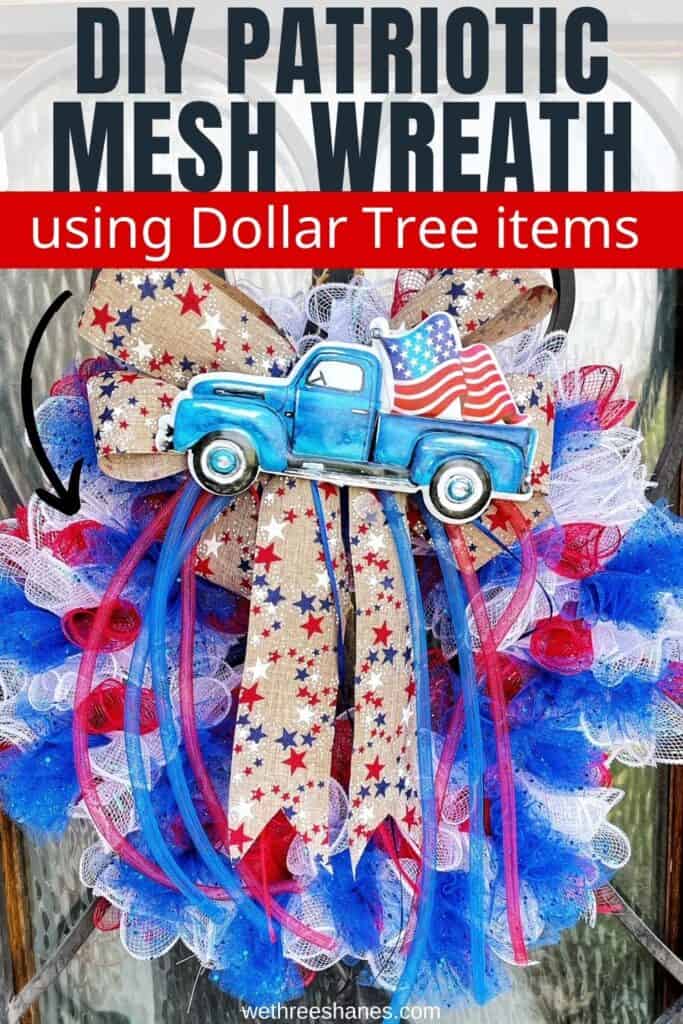 Two Technics To Learn
This was my first mesh wreath. I watched quite a few youtube tutorials before creating this. There were two different techniques I learned that I used on this wreath.
One is to scrunch the mesh. Cut a long piece of mesh about 2 1/2 feet. Starting at one end of the mesh, gather and scrunch it together to create a cluster, just like in the photo below.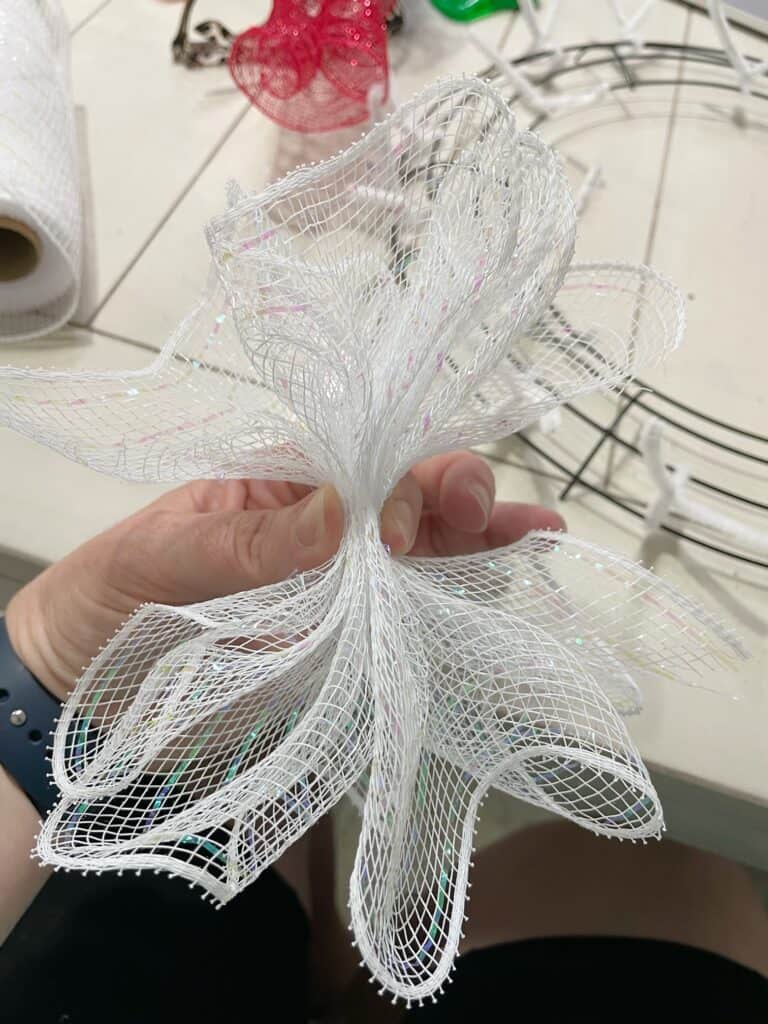 Second thing is to roll the mesh. For my red pieces of mesh, I cut smaller pieces, about 10 to 12 inches long. Then I would hold down the middle and take one side and start rolling it towards the center. Then I would roll the other side to the center. Once both sides were rolled into the middle I would leave it.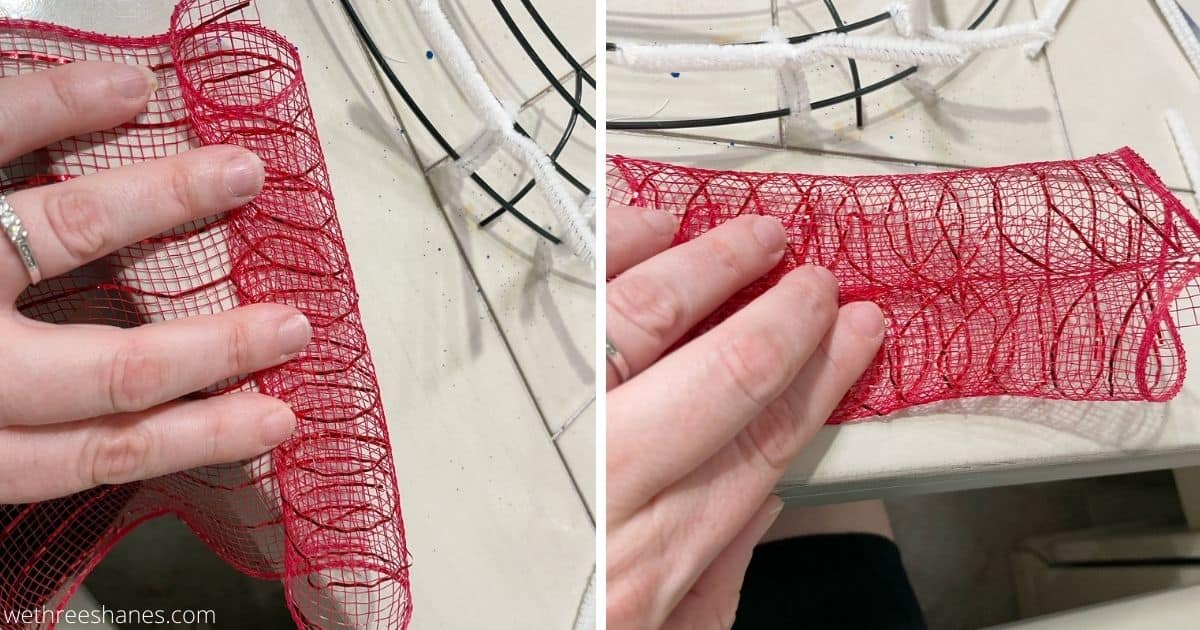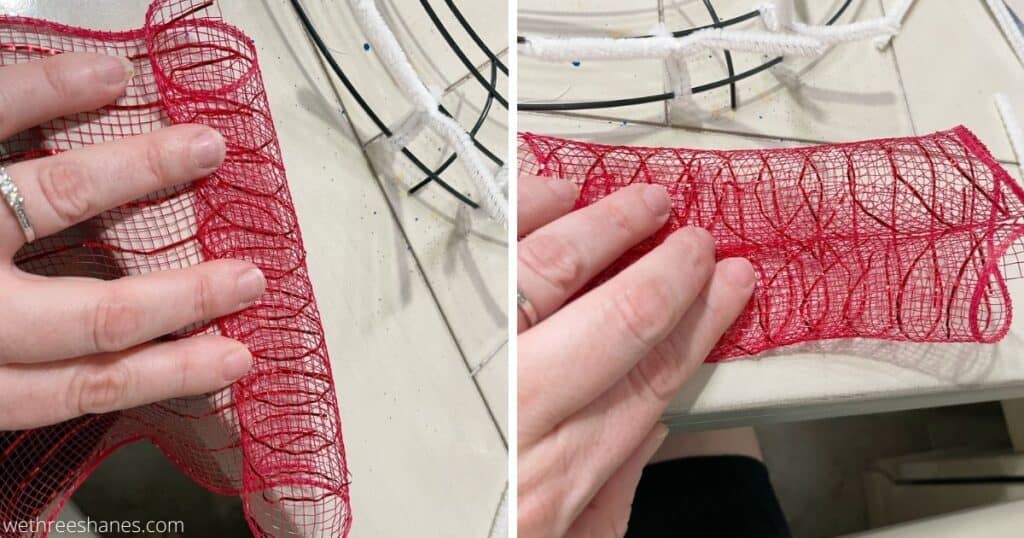 List of Supplies
Here is what you will need from your local Dollar Tree or other craft store to make your wreath. I know I said I got all of the items at Dollar Tree but in case you don't have one by you or just want to order stuff on line, we have provided links from amazon just in case.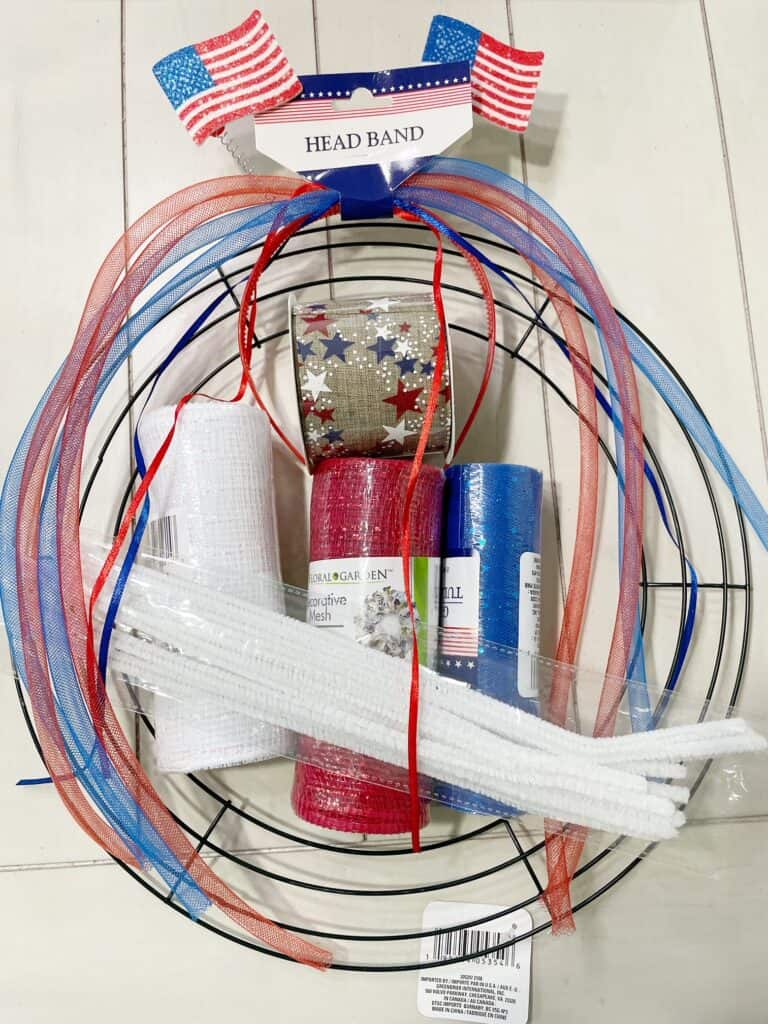 How to Make a Mesh Deco Wreath
Making a mesh deco wreath is easier than it looks. This tutorial will look like a lot of steps but that's because I'm explaining to you and I want to make sure to break it down so it's easy to follow.
Wear to Put Pipe Cleaners on Your Wreath Form
You want to start with your wreath form and your pipe cleaners. If you watch youtube videos on how to make these, everyone calls them chenille stems. That's the fancy way of saying it apparently.
Each wreath form has 6 sections. We are going to use 3 pipe cleaners in each section. You will need 18 in total.
In each section there are 4 metal wires. We are going to use the top two together and then the bottom two together. Check out the photos below. They really help.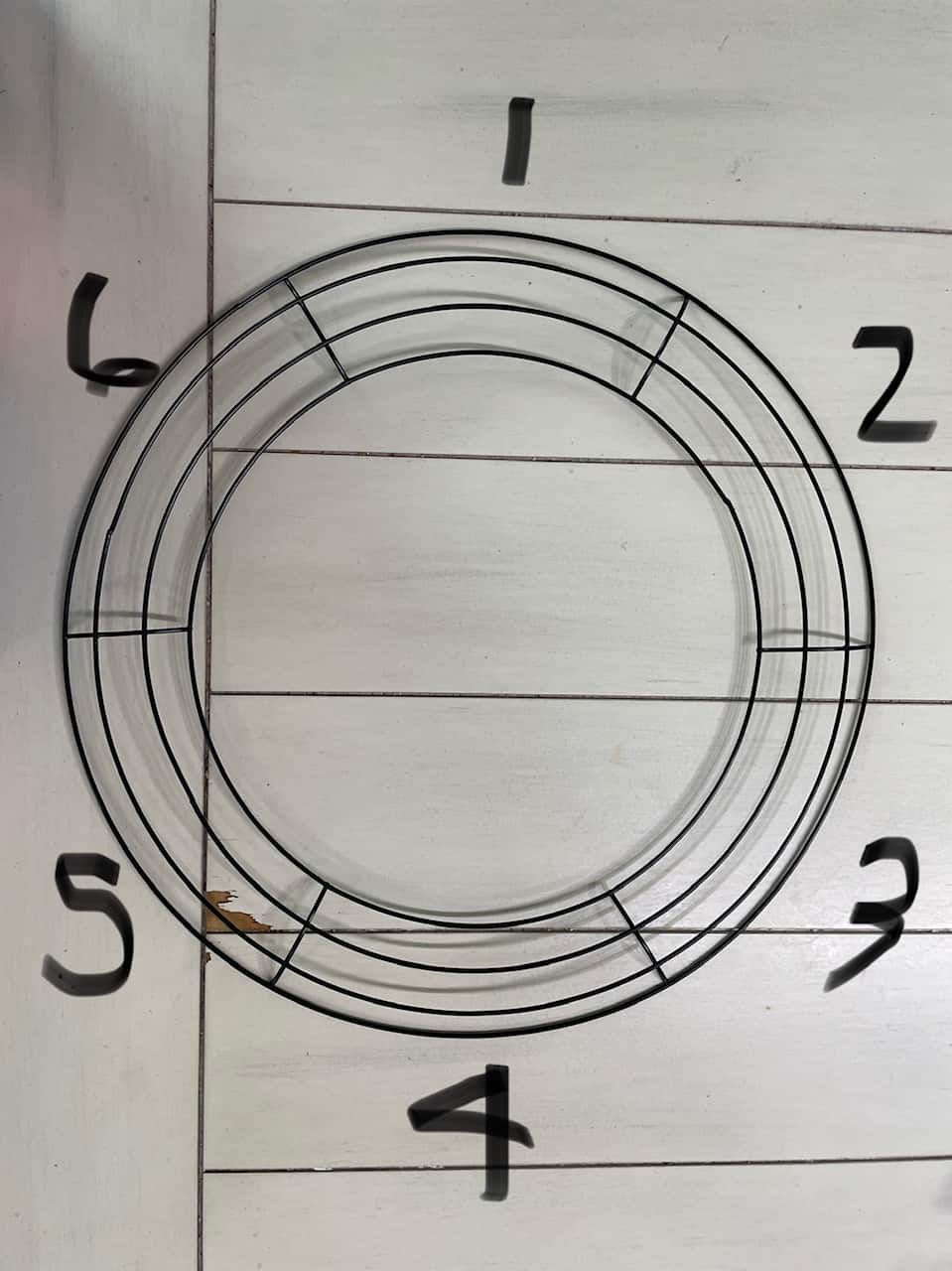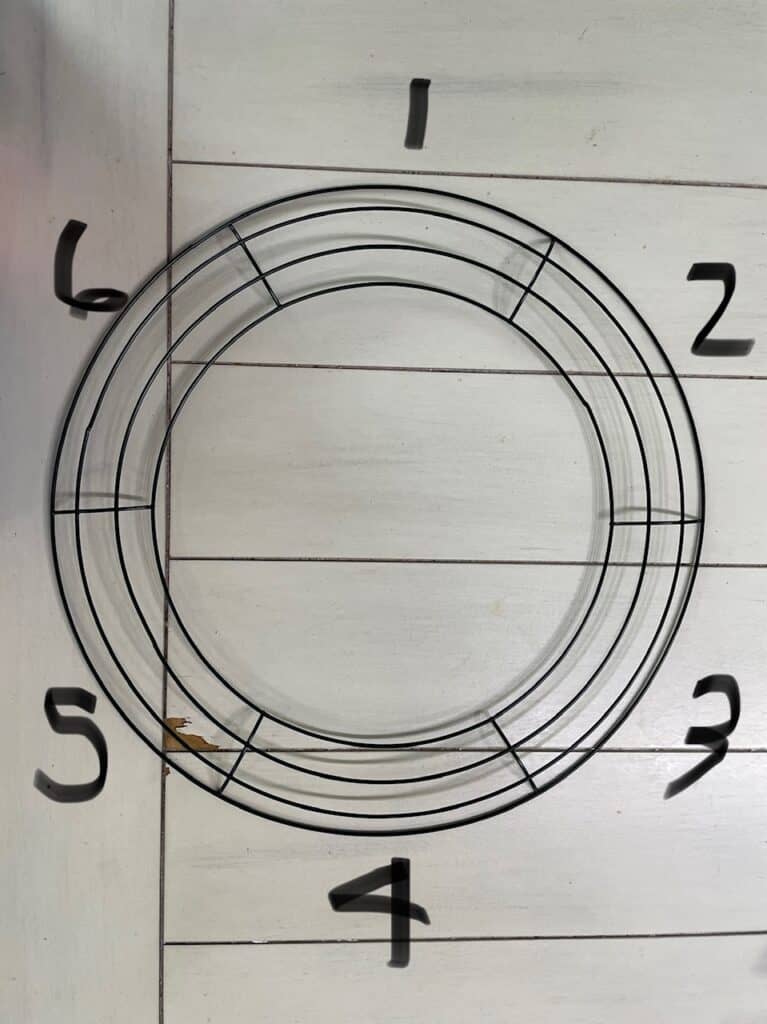 Each section should look like this. We wrap the pipe cleaner around the top two metal wires in the center of that section. You want to wrap the pipe cleaner around and then secure it tight but not TOO tight.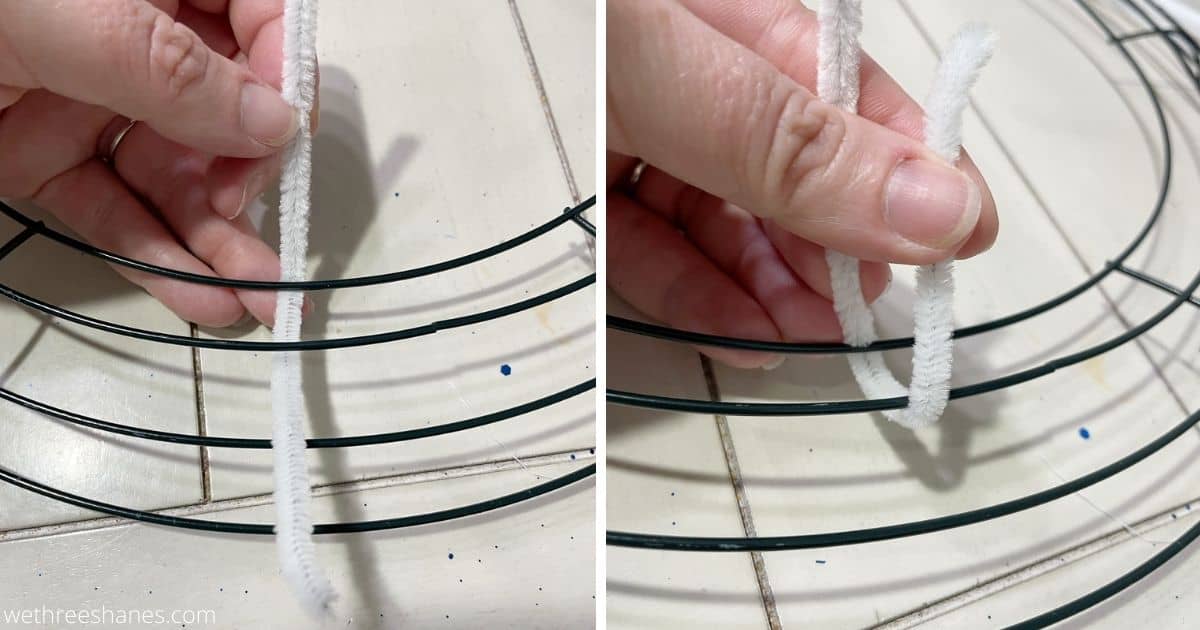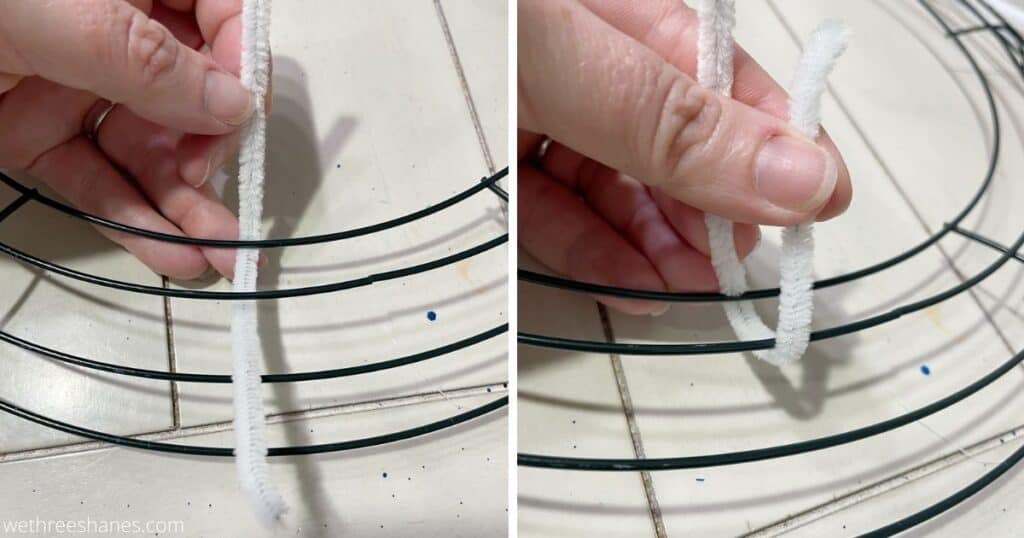 Then use two pipe cleaners on the bottom two metal rings; one in the left corner and one in the right. Then twist to secure. Each section should look like this.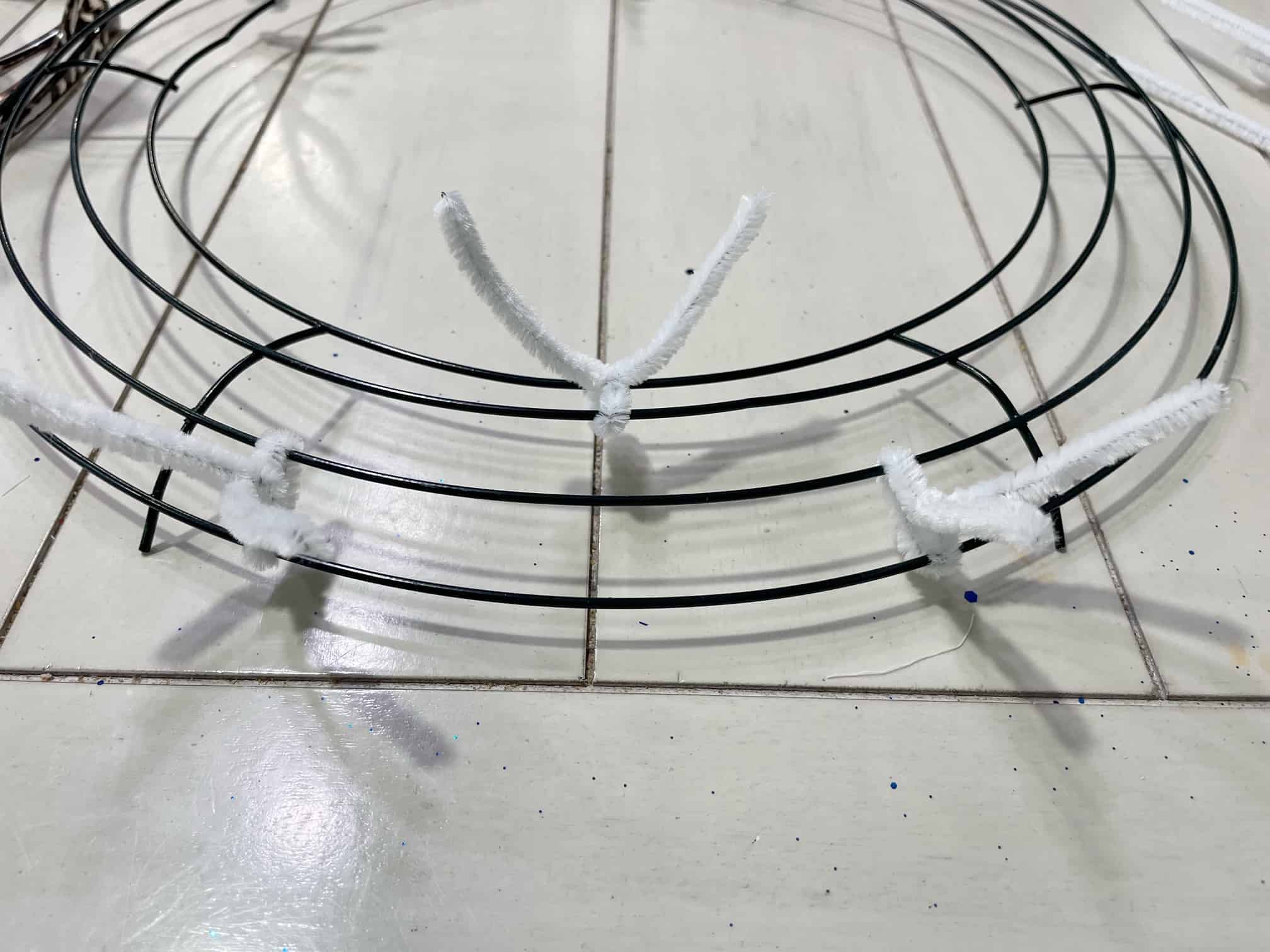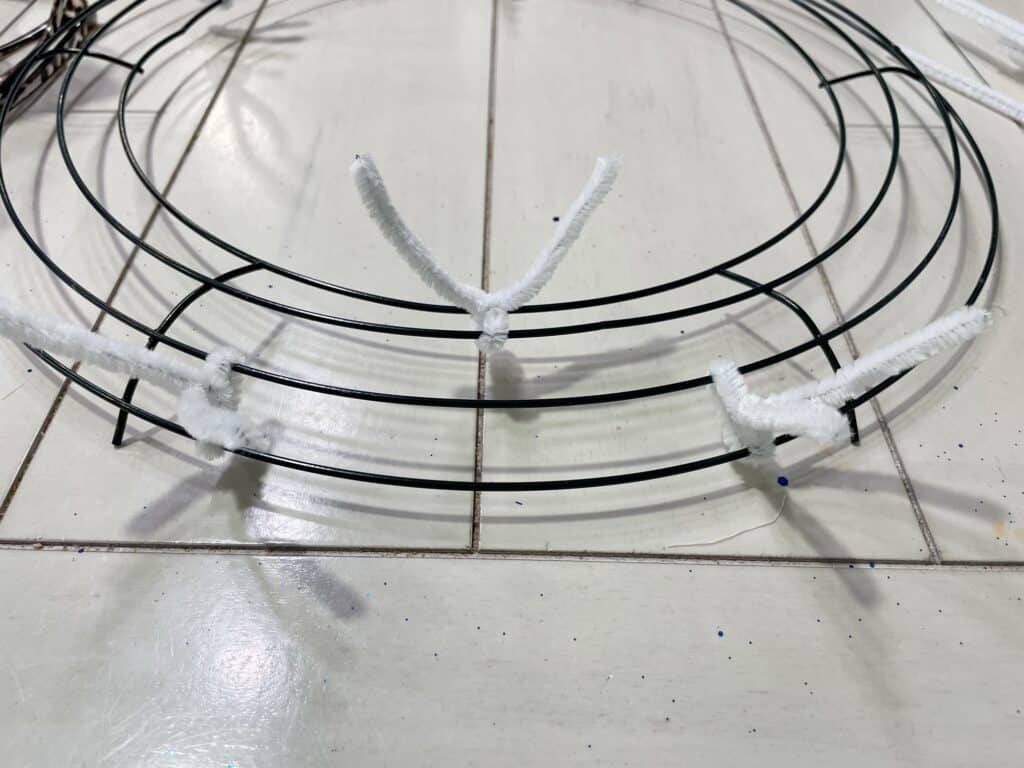 Once all 6 sections are done the wreath should look like this.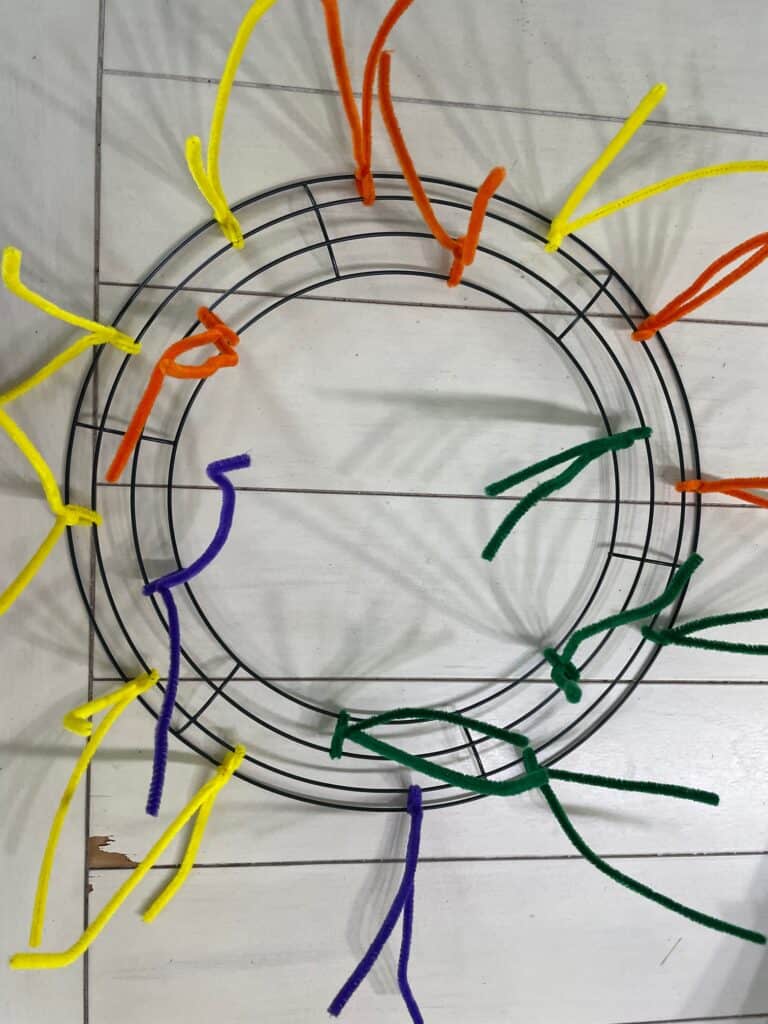 Making the Mesh Bunches
For the next part we will be using the white and red mesh. Remember the two techniques I told you about?
For the white mesh we will be scrunching it and for the red we will be rolling it.
After I scrunched the white mesh I clipped it using a chip clip. You can use a paperclip or cloth pin if you don't have chip clips. This keeps it scrunched while you roll the red.
Then I rolled my red mesh and added it to the middle of the scrunched white to form a white and red section. After that, I added that bunch to a pipe cleaner and secured it to the wreath form.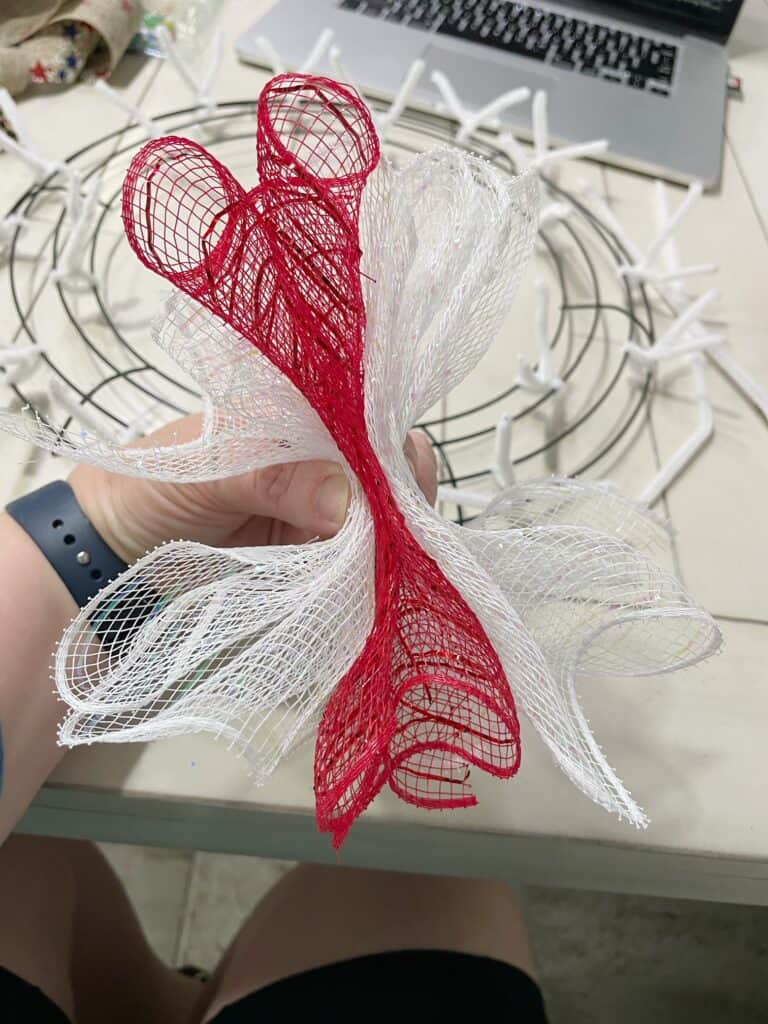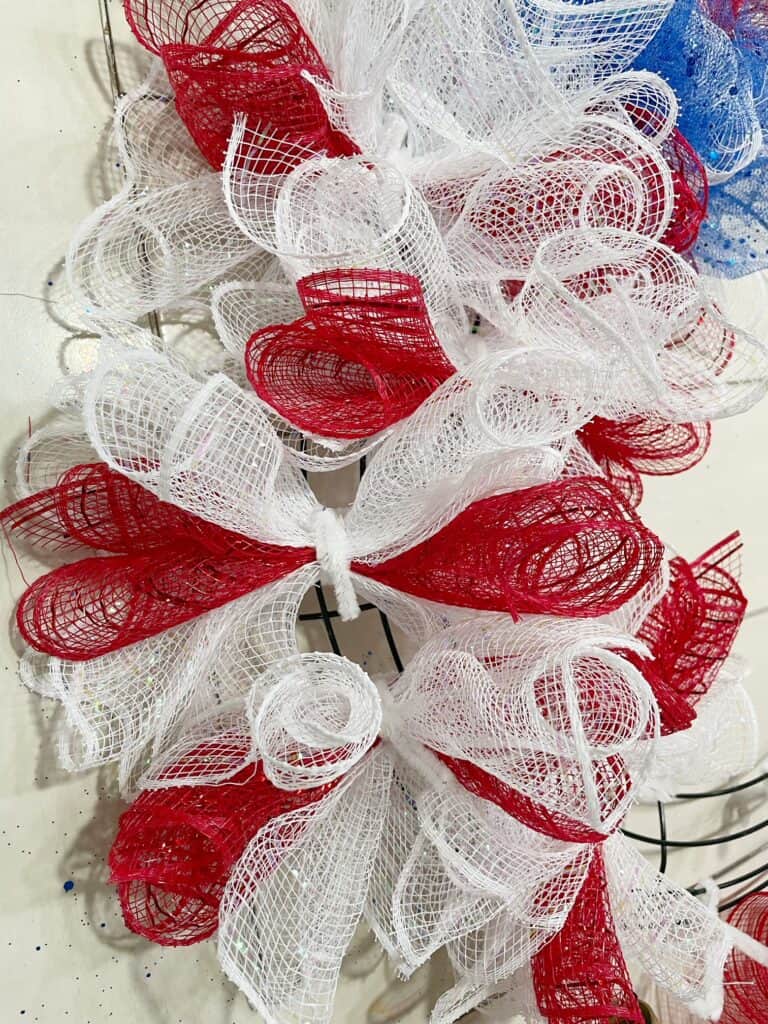 Blue Section
Lastly, we are going to work on our blue mesh. The blue mesh I had was more like blue tulle with glitter. It got glitter EVERYWHERE!
I still have some in the nooks and crannies of my kitchen table. But it looks great on the wreath.
The blue ribbon gets cut about the same size as the white. Also, just like the white section, for this blue I just scrunched it down the middle all of the way down.
Once you do that, you are going to add it on TOP of your white and red section and secure it with the left over ends of the pipe cleaner that's currently holding the white and red down. This completes that section.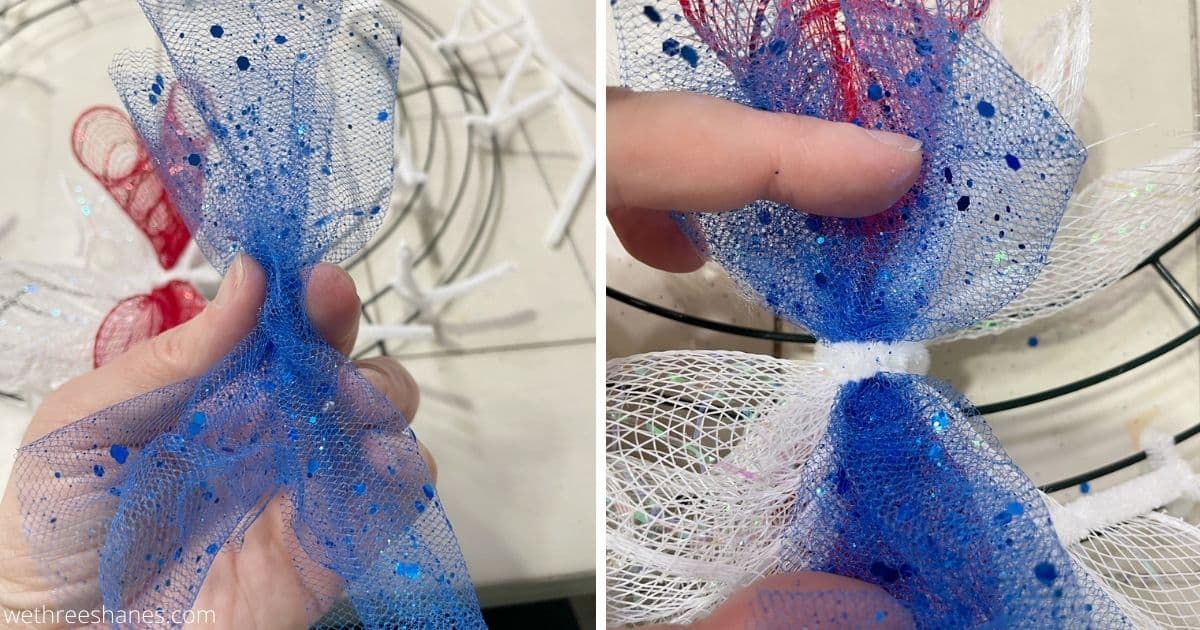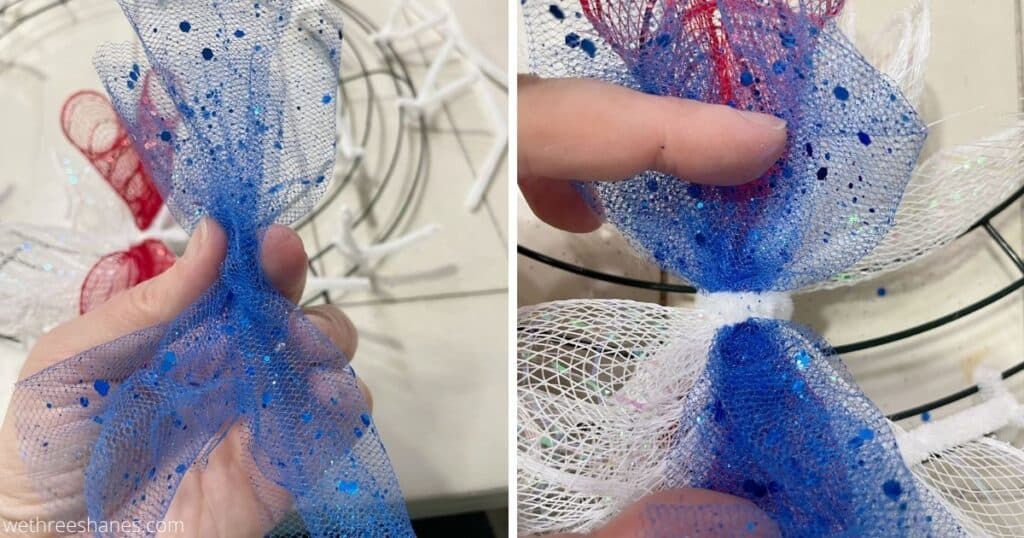 Keep doing this until all 18 bunches are completed. The wreath will look pretty full. I went around and just adjusted things to make them look fuller or better in spots. It should look like this once it is all done.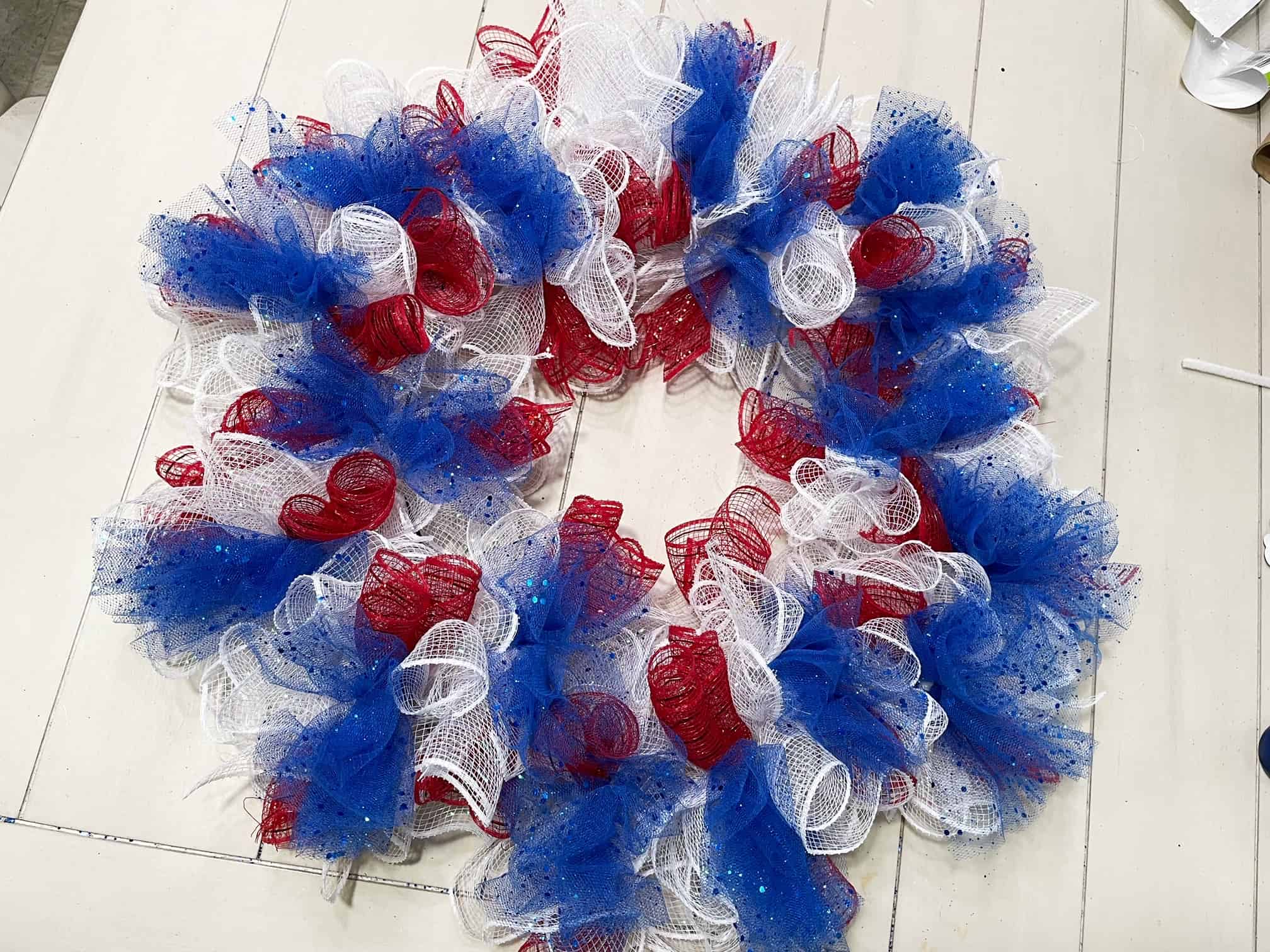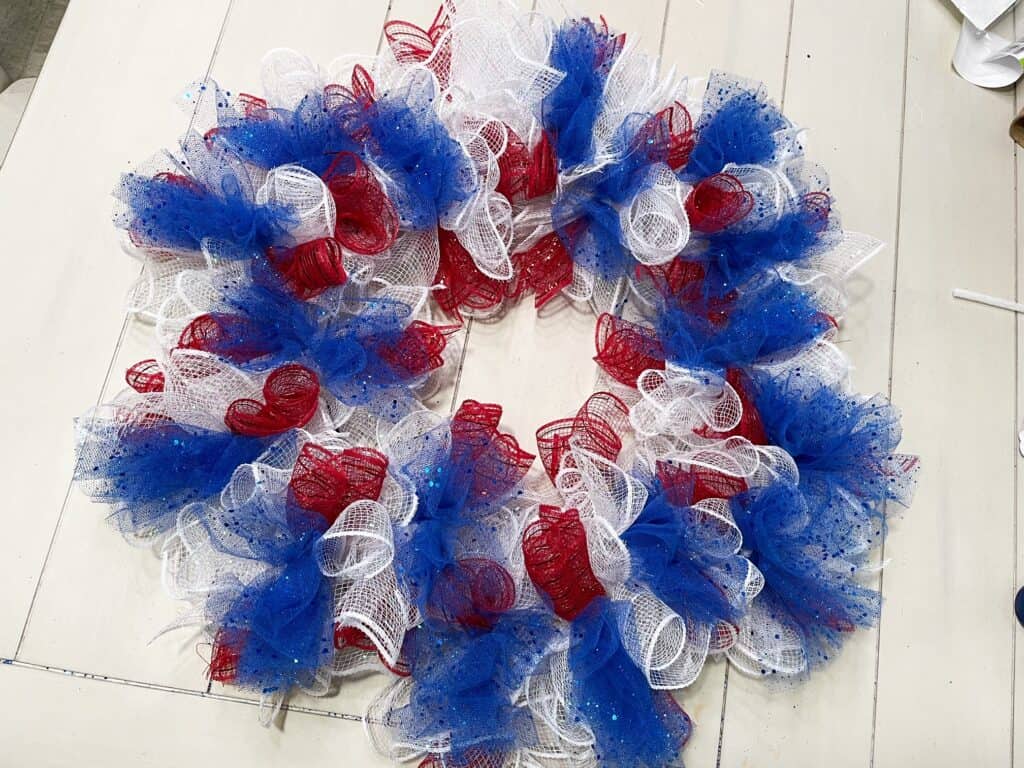 Accessorize Your Wreath
Next, you get too accessorize the wreath! This is where you get to add your own personality and style to your mesh wreath.
For my wreath, I picked out some patriotic ribbon from the Dollar Tree and I made me a big bow. I also bought a headband that had some crazy things hanging off of it that I thought would look good in the middle of my ribbon. I ripped that stuff off of the headband and put the headband off to the side to use for a future project.
I also found that awesome metal blue truck. It's a garden decoration but I knew it would look great on my wreath. I just took it off of the stick and glued it to my ribbon. In was a fun addition.
The point is, look around for accessory inspiration everywhere. I'm sure you'll come up with something great!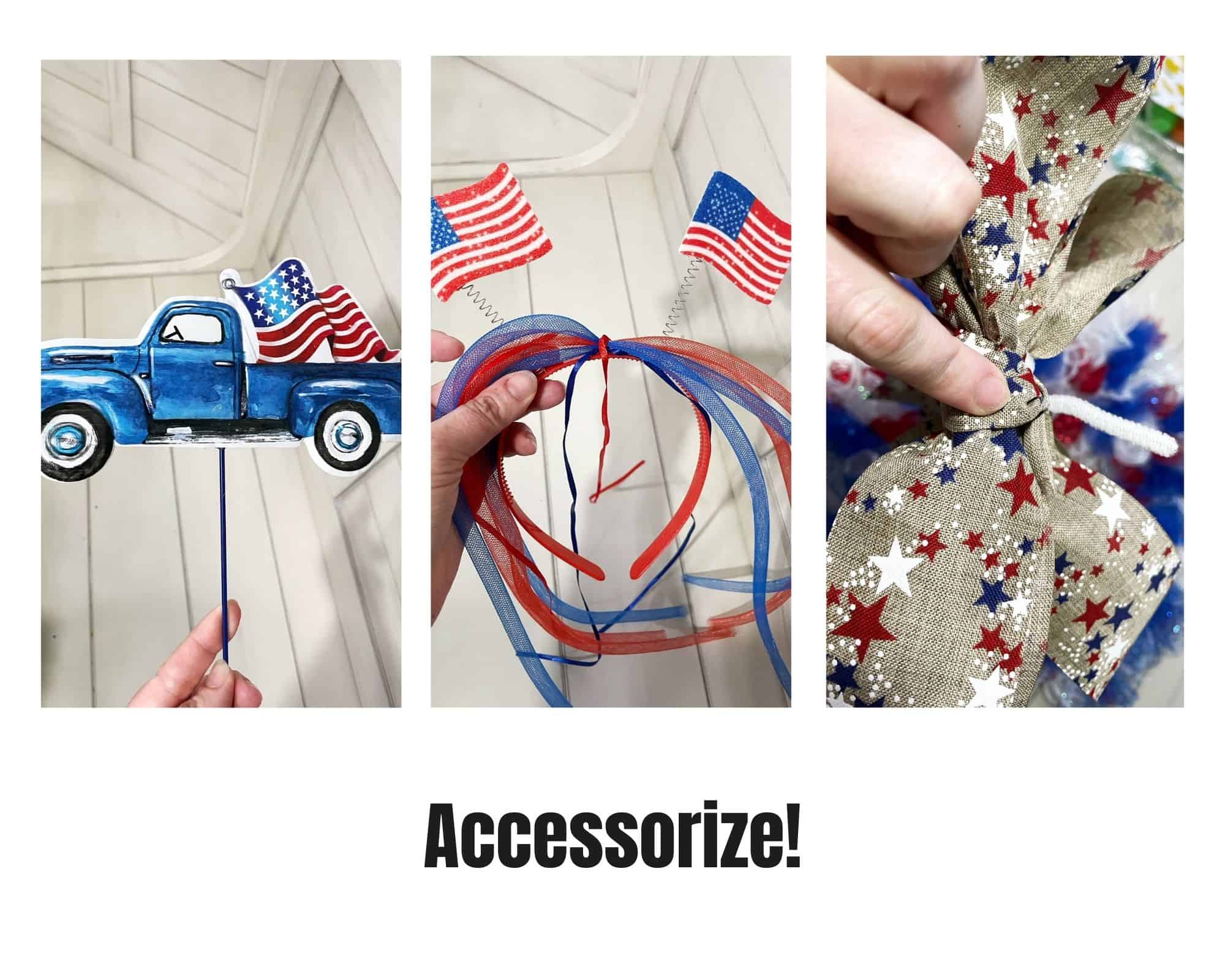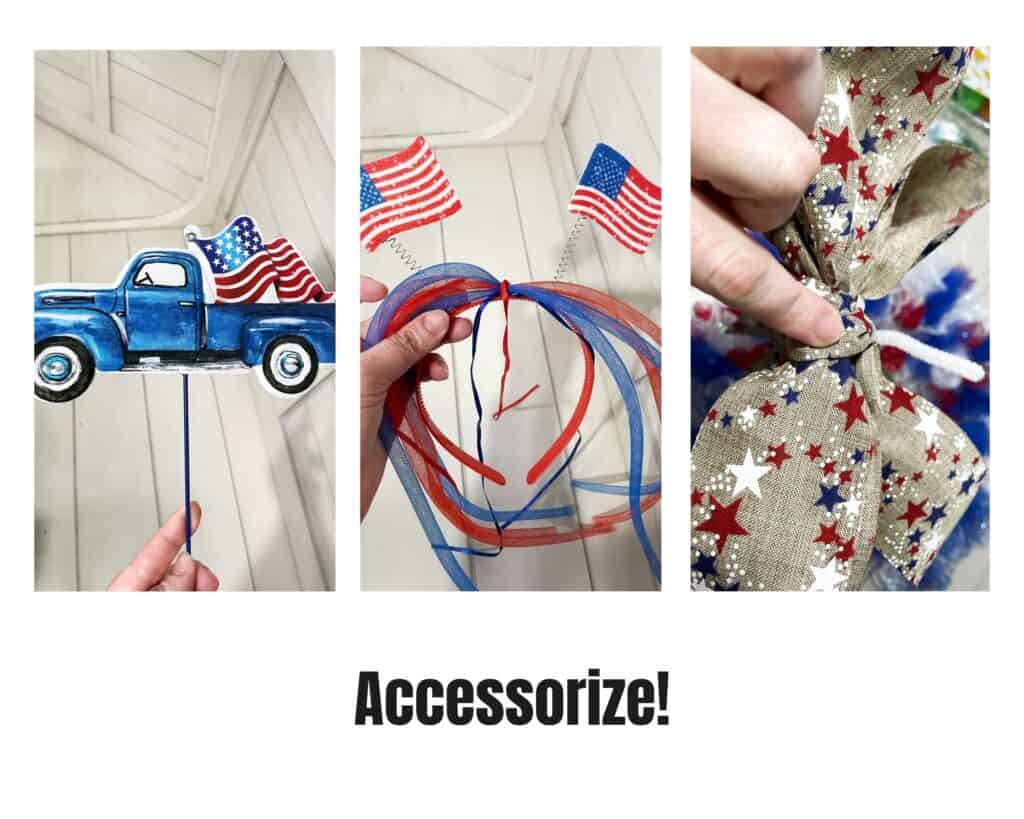 I secured my ribbon on with another pipe cleaner. I hot glued the truck on and was done! You can add what ever you want to. I tried to keep mine somewhat simple because the wreath is already pretty loud for me. But if loud is your thing, keep adding until you are happy.
Homemade Mesh Wreath
Here's a look at how my wreath looks hanging on my door. I tried to keep mine a general patriotic theme so I can use it for multiple holidays. You can definitely customize it to fit for just the Fourth of July if you want.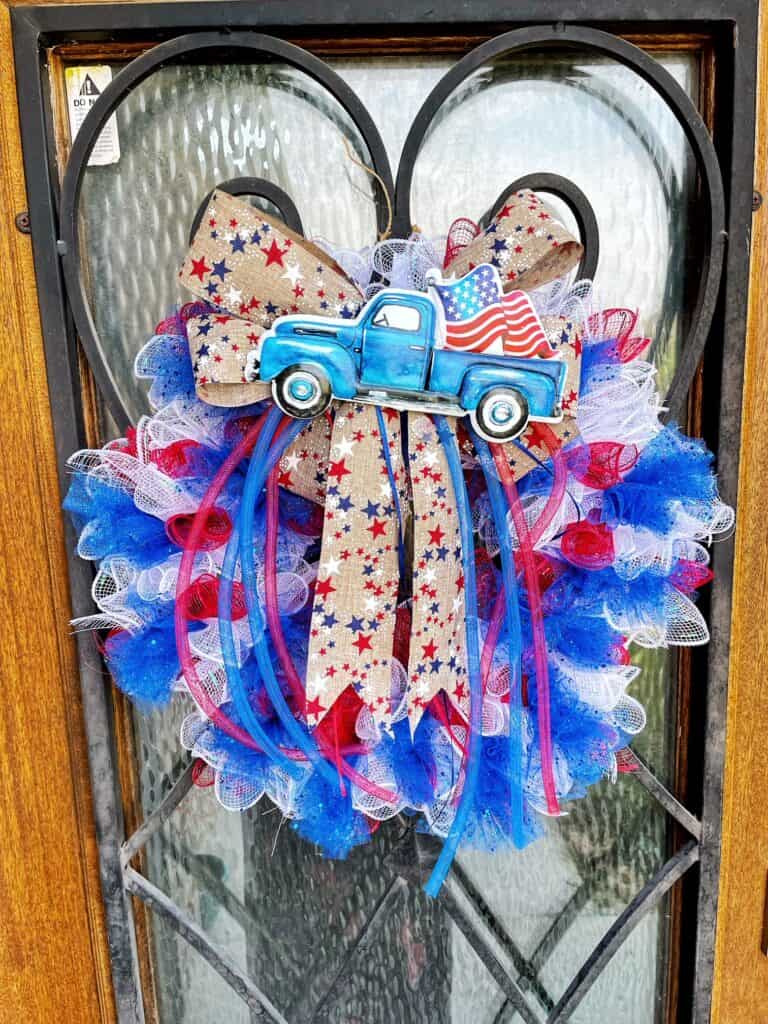 Like I said before, this DIY Deco Mesh Wreath comes in under $15. Can you spend more? Of course. But I think I proved that you can make one for less and still have it turn out great.
Deco mesh wreath can run about $100 on Etsy so making your own can save you big time. Plus, once you see how easy they are to make you can make more for other holidays.
How Did I Do For My First Mesh Wreath? I really enjoyed making it. I think it turned out pretty cute and I love that it was quick, easy and cheap; my three crafting must haves.
You ready to make your own DIY Patriotic Mesh Deco Wreath? Be sure to tag us on social media if you make one and post it so we can see what up came up with.
---
You May Also Like: