Easy Holiday White Chocolate Peppermint Popcorn
3 ingredients is all you need to make the easiest White Chocolate Peppermint Popcorn. This heavenly holiday treat comes together in seconds with no crushed candy canes in sight! It's a lazy gals dream.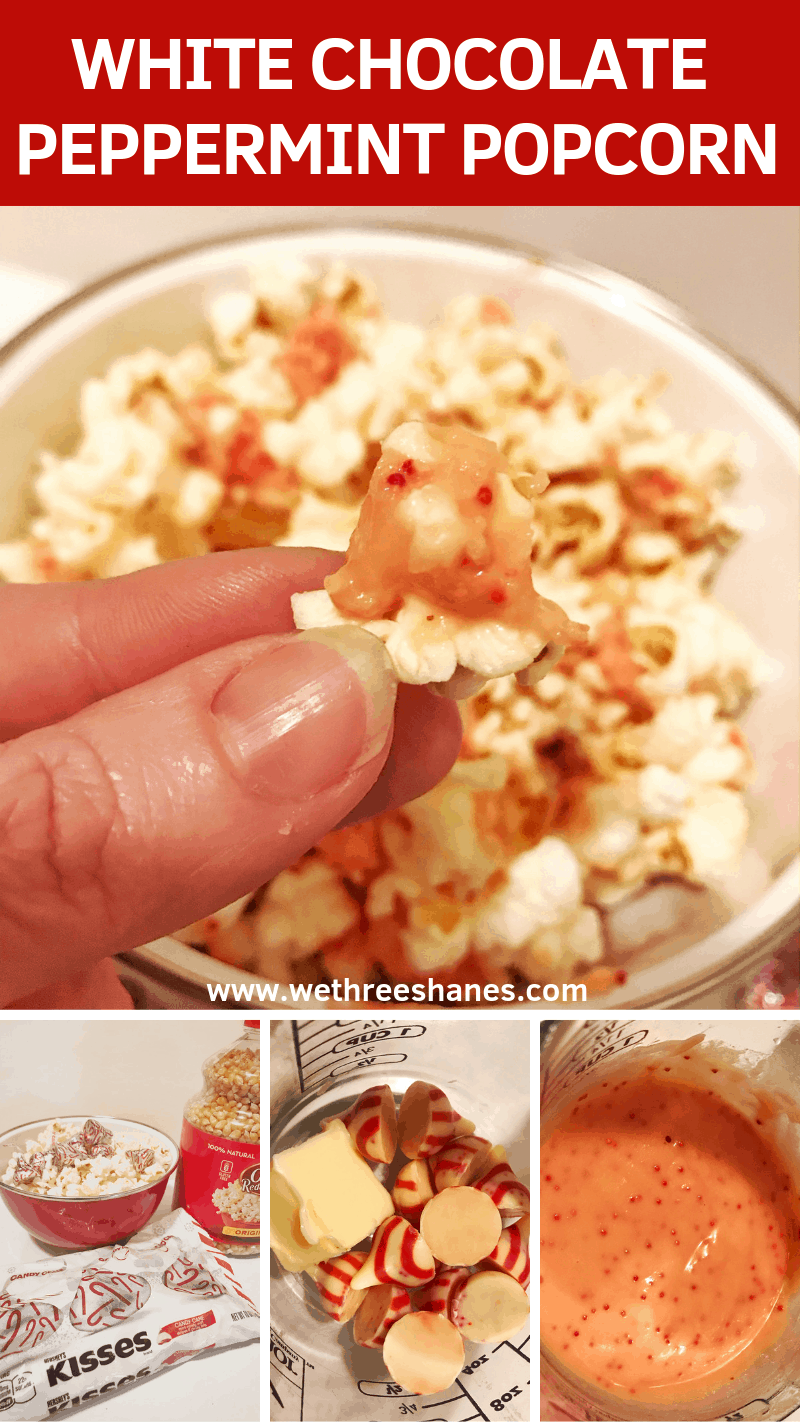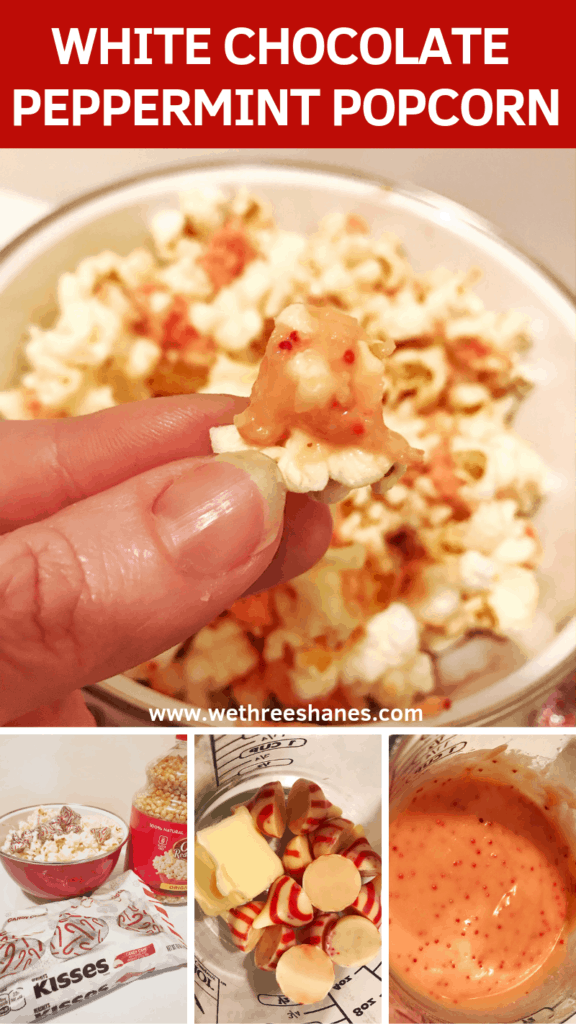 Easy Holiday White Chocolate Peppermint Popcorn
Who loves popcorn? Who loves peppermint? Have you ever tried the two together?
If not then I have a very delicious and simple treat for you to make all winter season long. This really is the easiest holiday white chocolate peppermint popcorn. It's the perfect snack to eat while watching your favorite holiday movies.
I love when Christmas gets close because I absolutely love these candy cane kisses from Hersey's chocolate. They are amazing! It's like peppermint bark without the work.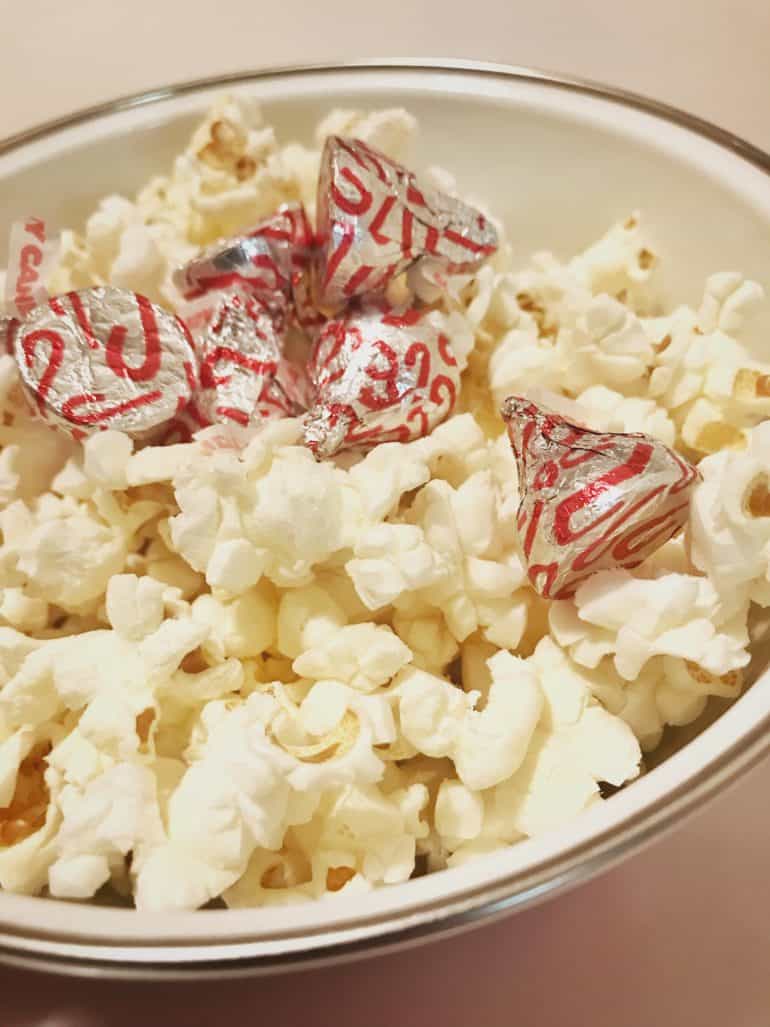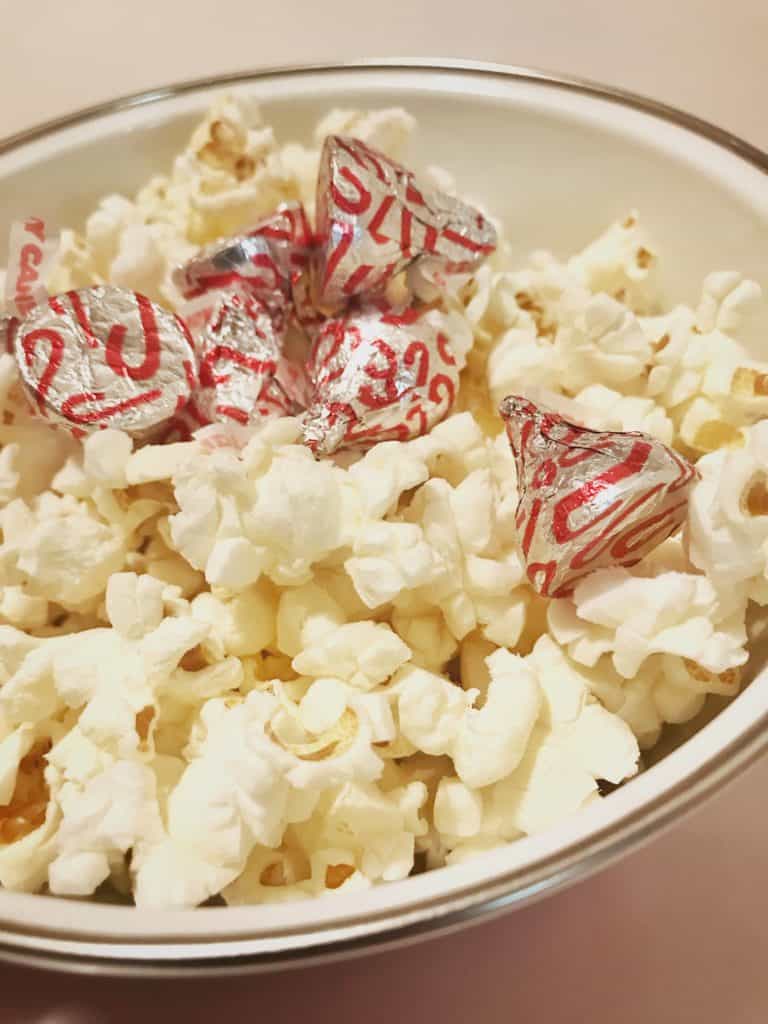 White chocolate is my favorite. I'd choose it over milk or dark chocolate any day.
We also love to make popcorn in my house! It's such a cheap snack to have on hand. I absolutely love my Air Popper and use it ALL THE TIME. It's definitely not one of those appliances that just sits around taking up space.
However, if you are worried about space but still want fresh, homemade popcorn then you should definitely pick up one of these microwave popcorn bowls.
They fold down to take up less space. Plus it conveniently still uses the microwave to pop the kernels. Kim has one and loves it.
(THIS POST PROBABLY CONTAINS AFFILIATE LINKS. OUR FULL DISCLOSURE POLICY IS LONG & BORING BUT, YOU CAN FIND IT HERE.)
---
Ingredients for White Chocolate Peppermint Popcorn
Like I said before, you only need three ingredients to make your holiday popcorn.
Popcorn – 1 bag of microwave or 5 – 6 cups fresh popped
Holiday Candy Cane KISSES
Butter – 1-2 tablespoons
Pick up a couple bags of the candy cane kisses the next time you're at the store. Don't just buy one bag. You're going to want to make this candy cane kiss popcorn all season long so you might as well have a couple bags of kisses on hand.
In fact, I stock up on these kisses so I can make white chocolate peppermint popcorn through out the year. The candy cane kisses are only around for the holidays so plan ahead.
---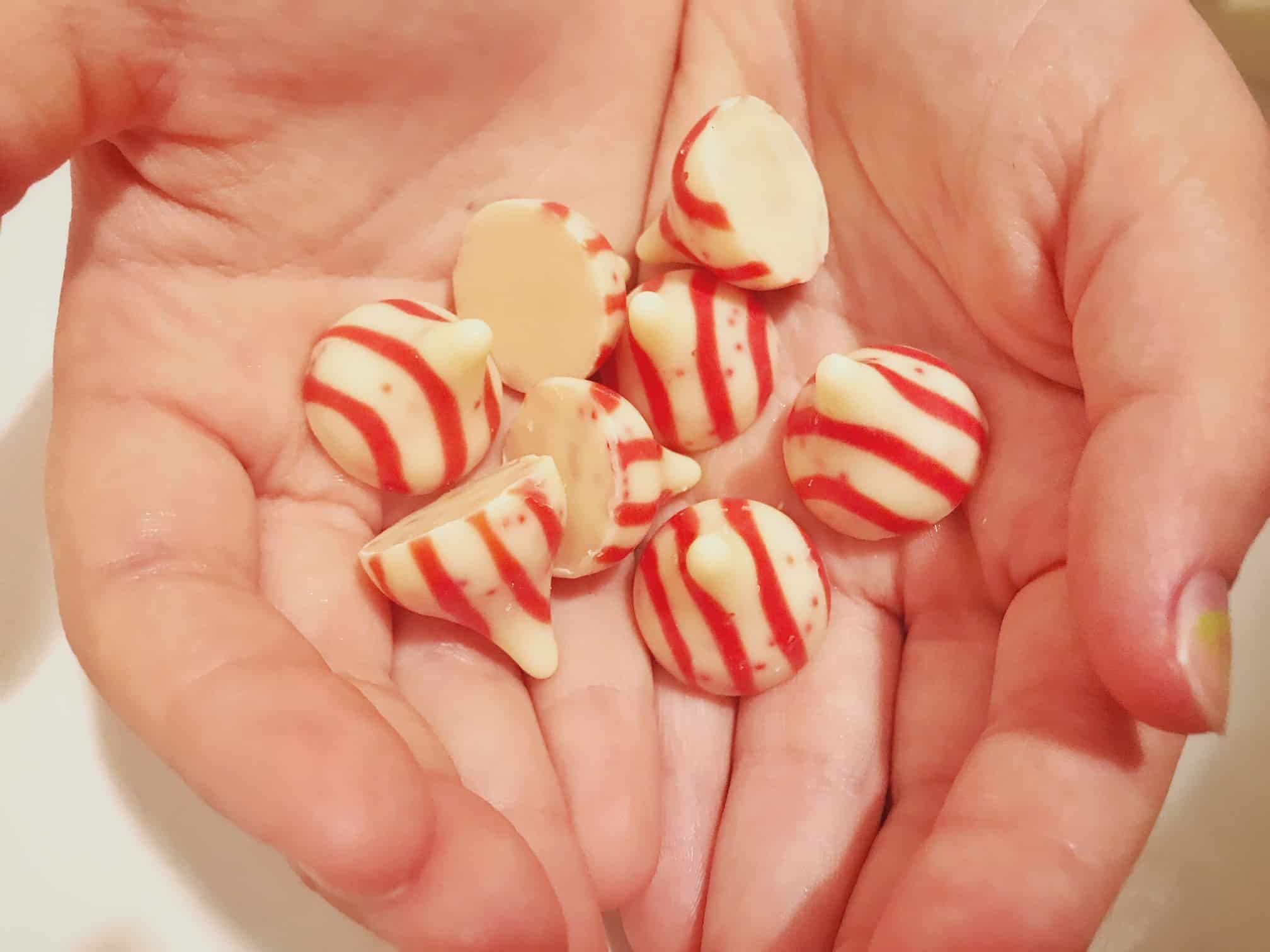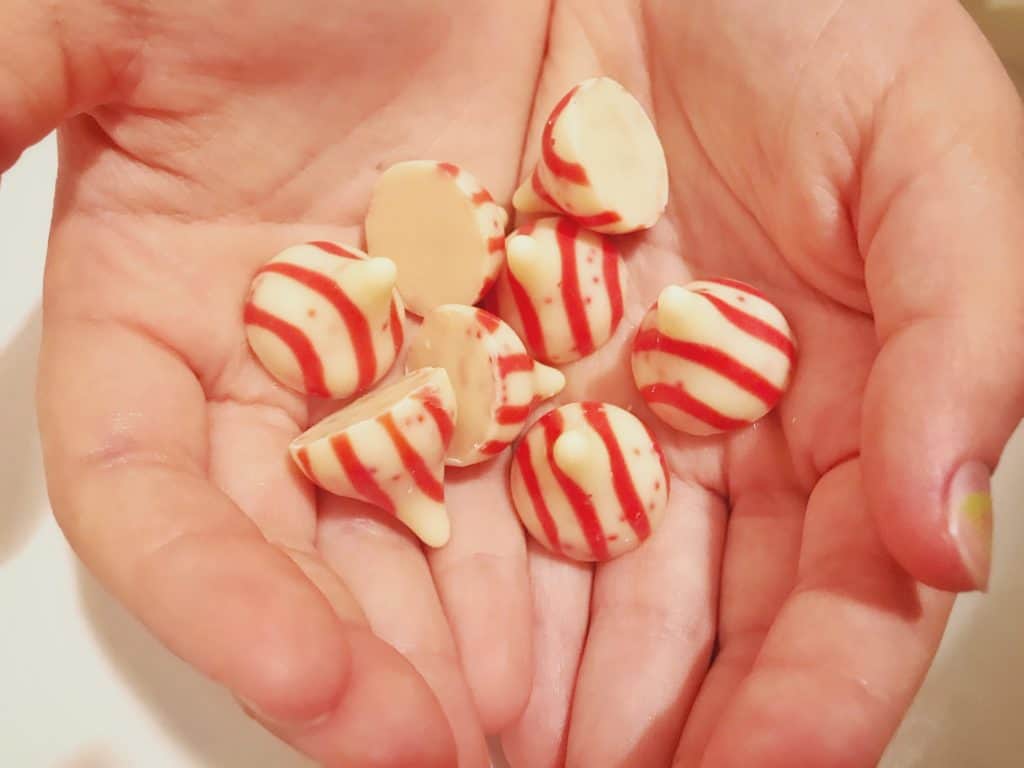 How to Make White Chocolate Peppermint Popcorn
Enough talking about the yummy stuff. Let's actually make it! So here's what you need to do.
First, pop some popcorn.
While the popcorn is popping, be sure to unwrap about 25 to 35 candy cane kisses. That probably sounds like a lot but trust me, you want a lot!
Throw those unwrapped beauties in a microwave safe bowl. I like to use my Pyrex one.
Add 1 to 2 tablespoons of butter to your kisses.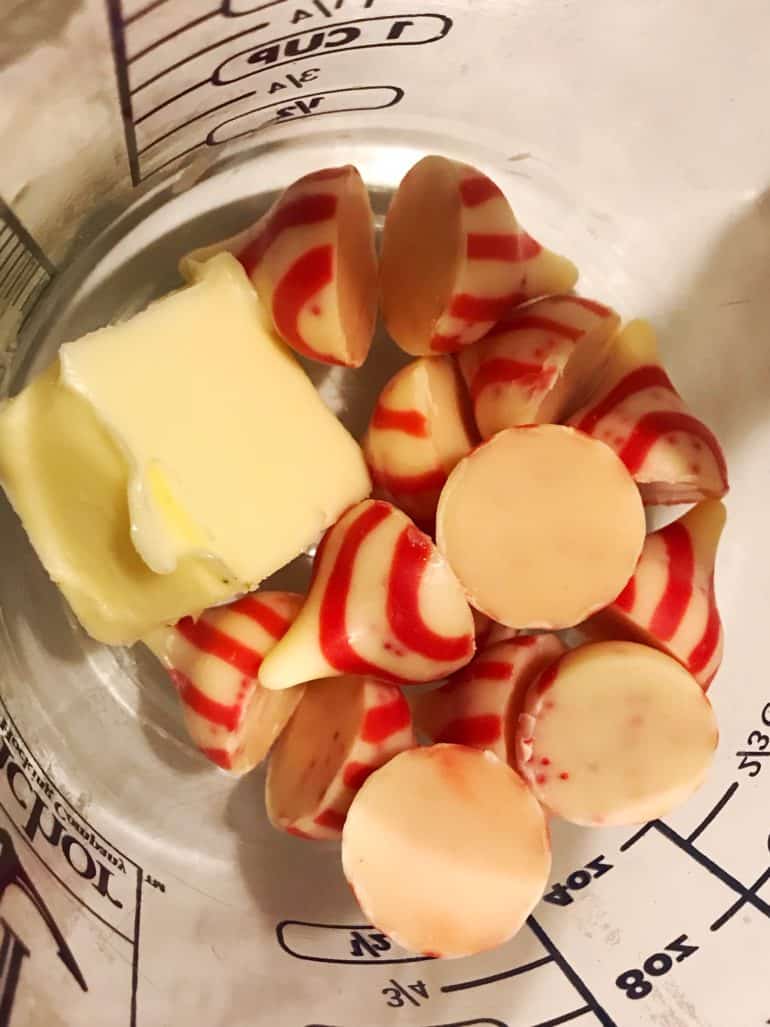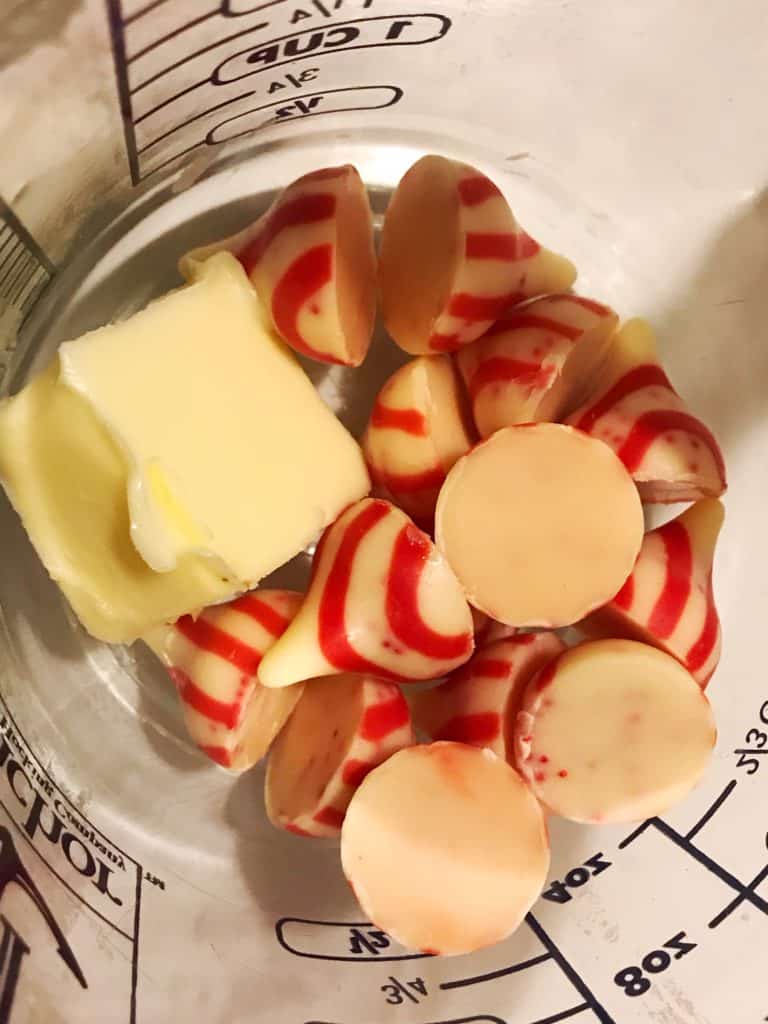 Pop that mixture in the microwave for 30 seconds.
Take it out and stir it, then do another 30 seconds until it is nice and runny.
If it's too thick, you can add more butter.
Now, take this mixture and dump it all over your popcorn and stir.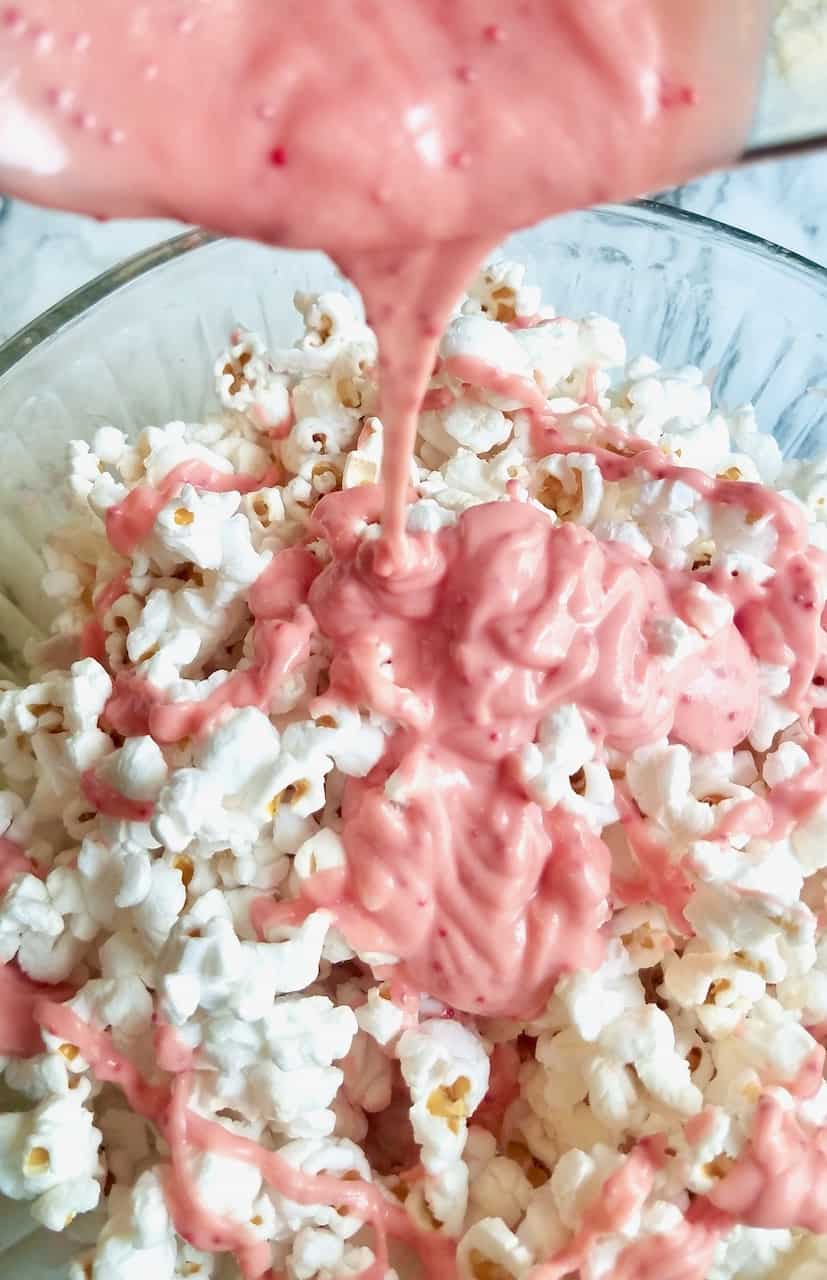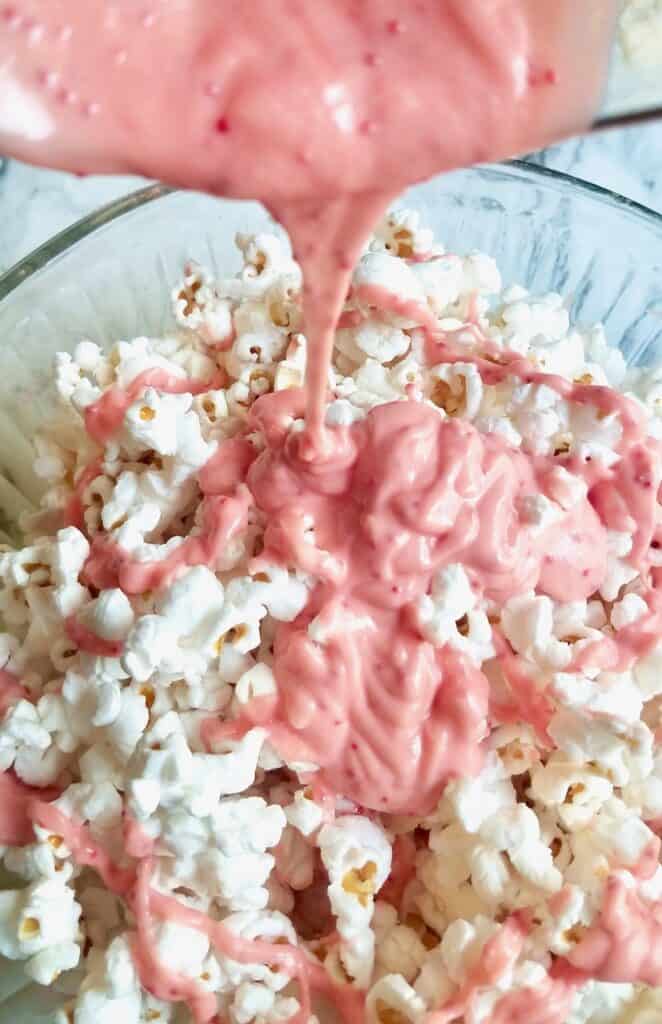 You CAN put your popcorn on a cookie sheet to help get an even coat of white chocolate and peppermint yumminess all over the popcorn. But guess what?
I hate doing dishes and that just dirties more stuff! So, I'm lazy and use a spoon and mix everything up right in the popcorn bowl.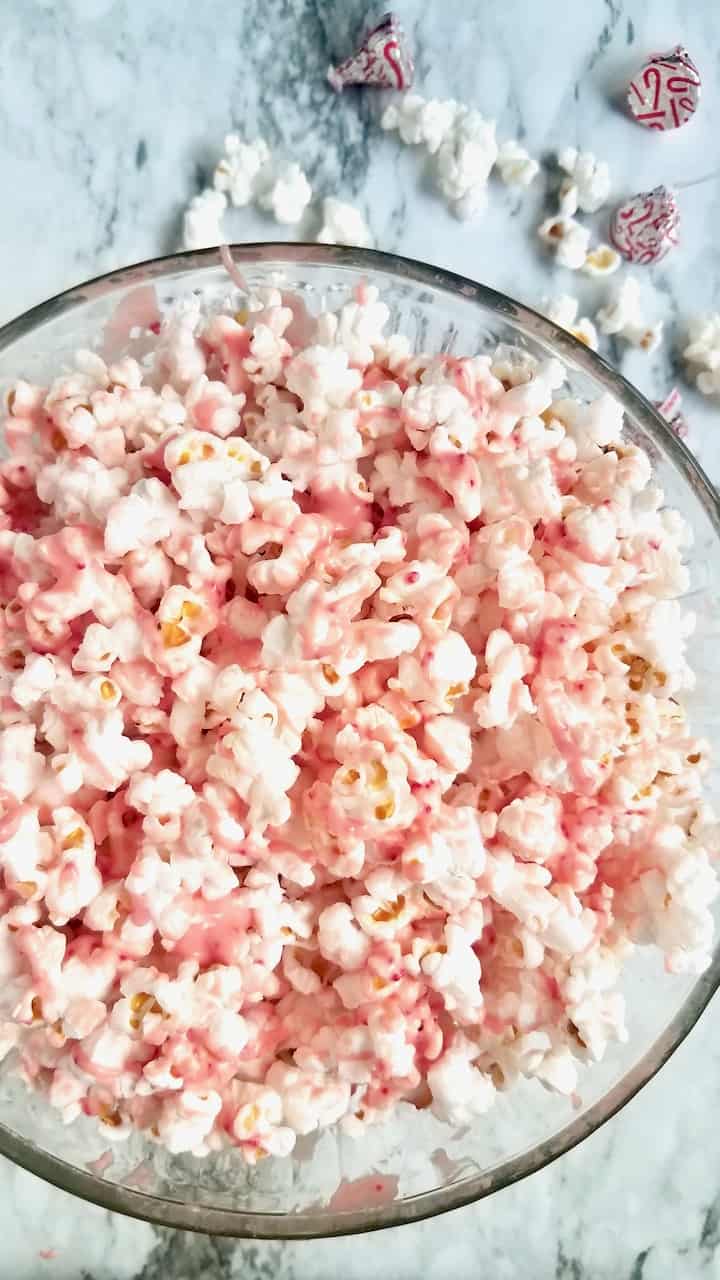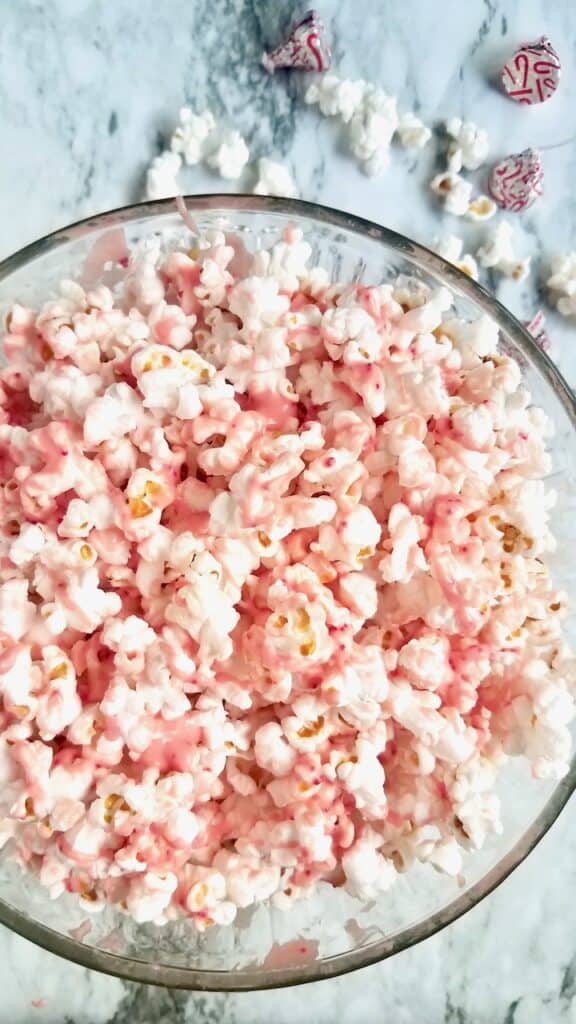 LOOK AT IT! Doesn't it look absolutely delicious? It's the perfect holiday treat for all those Christmas movie nights.
You can vary this up a ton! Add some mini chocolate chips, more white chocolate chips, sprinkles….. Whatever your little heart desires. But this right here, with just the butter and the melted kisses is perfection to me.
Christmas Popcorn Makes a Great Gift
This also makes a great Christmas treat gift. You just need to put the popcorn in the fridge to set for a couple of minutes. This will make the white chocolate less gooey. Then grab a decorated treat box or container and fill it with popcorn.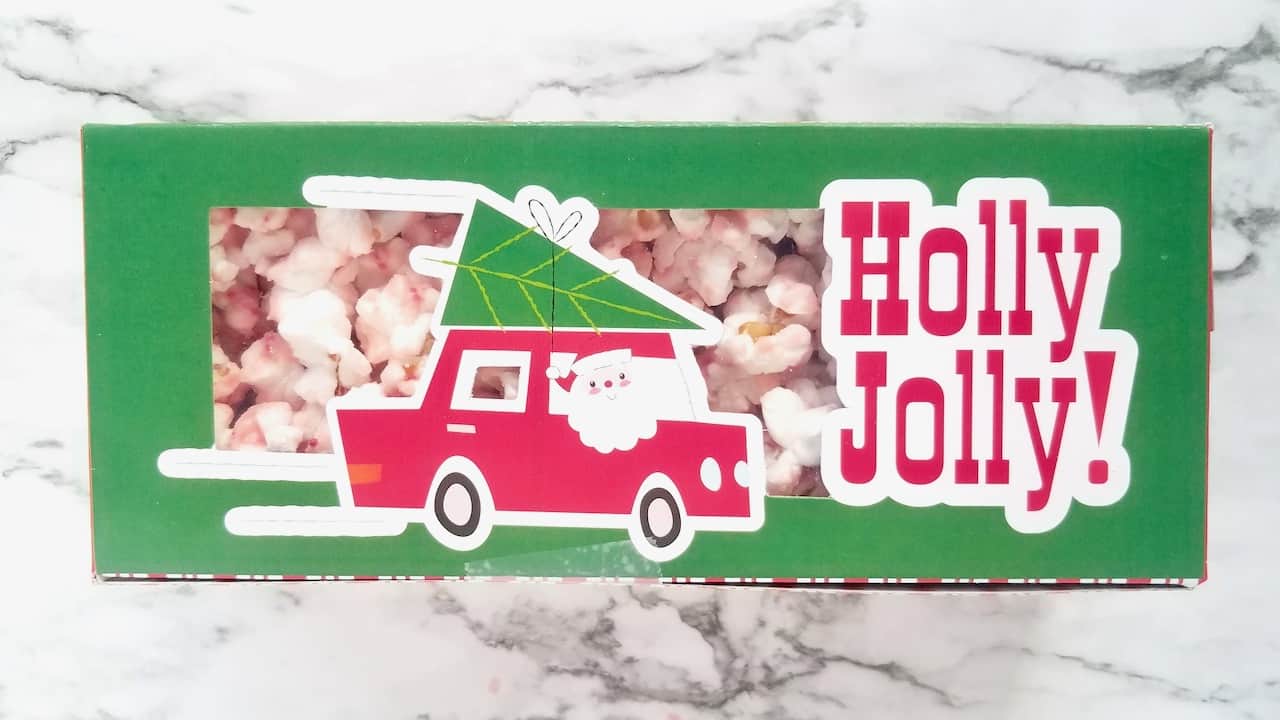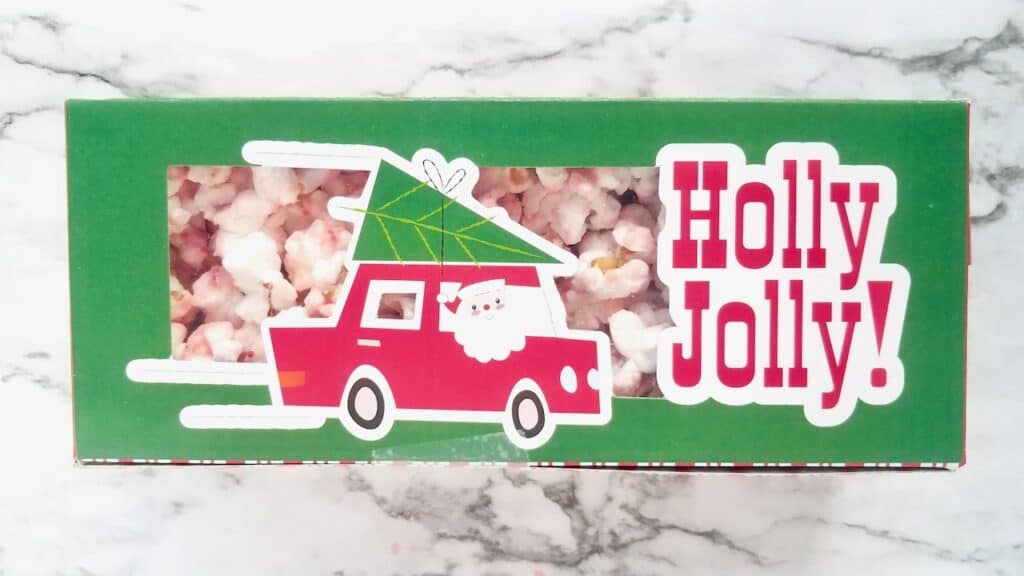 Buy a favorite movie from the 3 or 5 dollar bin at Walmart and you're all set. A holiday treat and movie is always a fun gift to get because it's a treat and an activity for the whole family.
Plus, the popcorn seems like it's tricky to make and people will think you went through a lot of trouble to make it for them. They'll be super impressed until they ask for the recipe. Haha!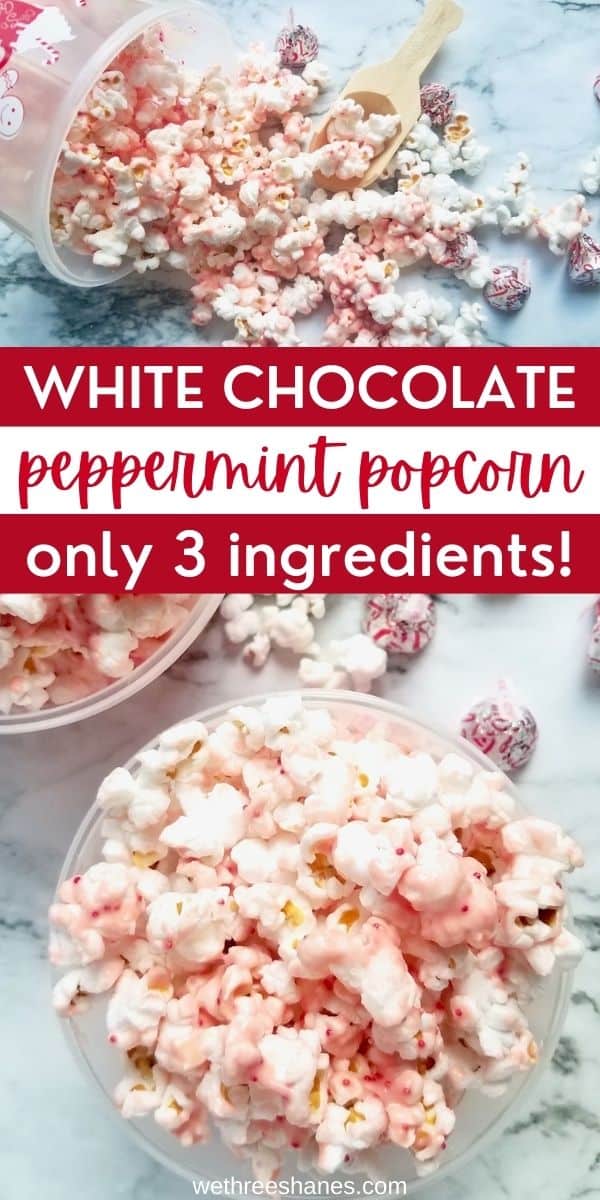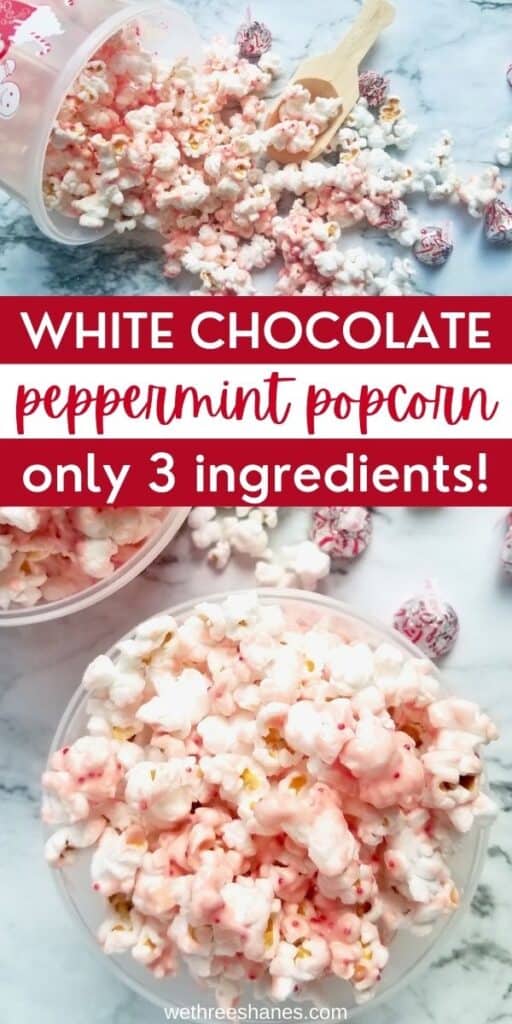 If you make some Easy Holiday White Chocolate Peppermint Popcorn, come back and let me know what you think. Honestly, I seriously think it's the best!
---
You Might Also Like:
---