29 Delicious Hot Chocolate Recipes to Try This Winter
Who doesn't like to make hot cocoa during the cold winter months? We've got tons of fun and delicious hot chocolate recipes the whole family will love!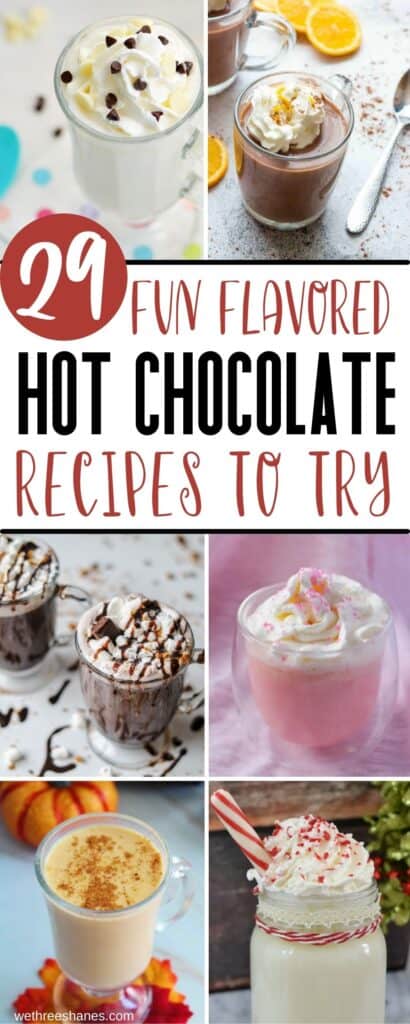 Hot Chocolate Recipes
There are so many different ways to make hot chocolate. Normally, I keep some packets on hand because they are so easy to make. If I want a flavor boost I add some holiday flavored creamer and call it a day.
This year I thought it would be more fun to try some homemade hot chocolate recipes. I rounded up 25 new recipes to try that range from healthy to decadent so there's something for everyone.
Homemade always taste better, in my opinion, so the plan is to pick a handful of recipes to try that the whole family will like.
It's a good thing I live in a pretty cold area because there are too many hot cocoa recipes to choose from. We'll be trying out these hot chocolate variations for the next couple of months just to fit them all in.
Let's start out with some fun flavored hot chocolate recipes. Then we'll get into some classic hot chocolate recipes and some that work for different dietary needs.
We'll end with some mixes and bombs to keep on hand for homemade cocoa any time.
(THIS POST PROBABLY CONTAINS AFFILIATE LINKS. OUR FULL DISCLOSURE POLICY IS LONG & BORING BUT, YOU CAN FIND IT HERE.)
Flavored Hot Cocoa Recipes
Classic hot chocolate is always welcome at my house but it's also fun to try new flavors.
I've found that flavored hot chocolate recipes don't necessarily mean a ton of extra work. Besides, any extra effort is always worth it.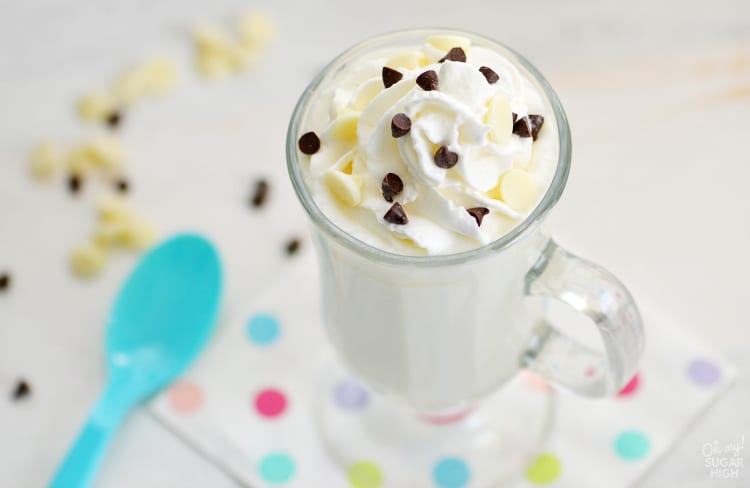 Easy White Hot Chocolate – This homemade white hot chocolate is a delicious way to warm up on a cold day! by Oh My! Sugar High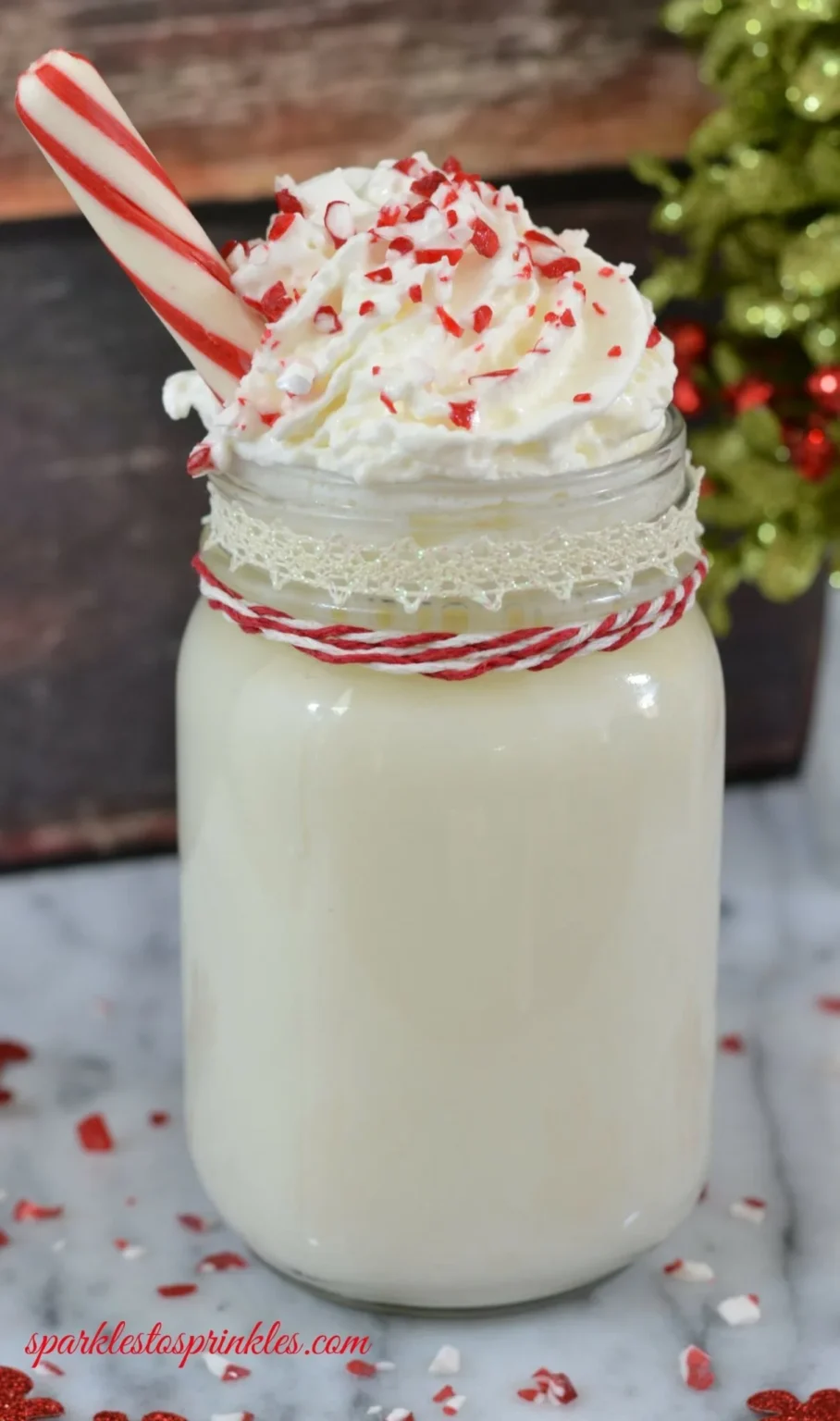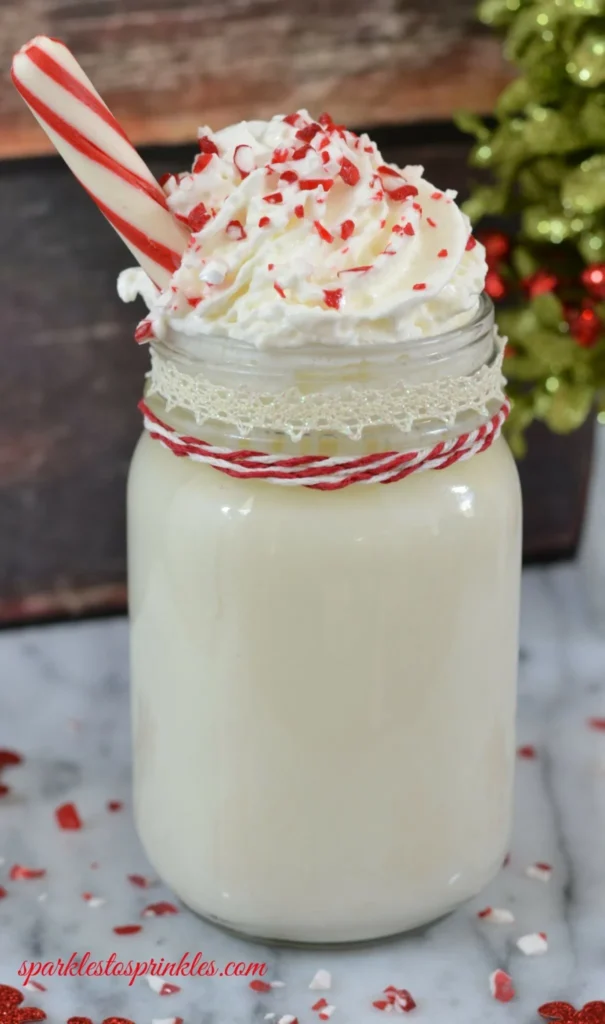 Peppermint White Hot Chocolate – Peppermint White Hot Chocolate is the perfect way to warm up on a cold winter day. Baby, it is cold outside and this peppermint hot chocolate is incredible. Whip this up for a homemade hot chocolate for your family and friends. by Sprinkles to Sprinkles
Crockpot Pumpkin Spice Hot Chocolate – Warm up with a glass of crockpot pumpkin spice hot chocolate. Keep on warm in the crockpot when you have guests over and enjoy. by The Six Figure Dish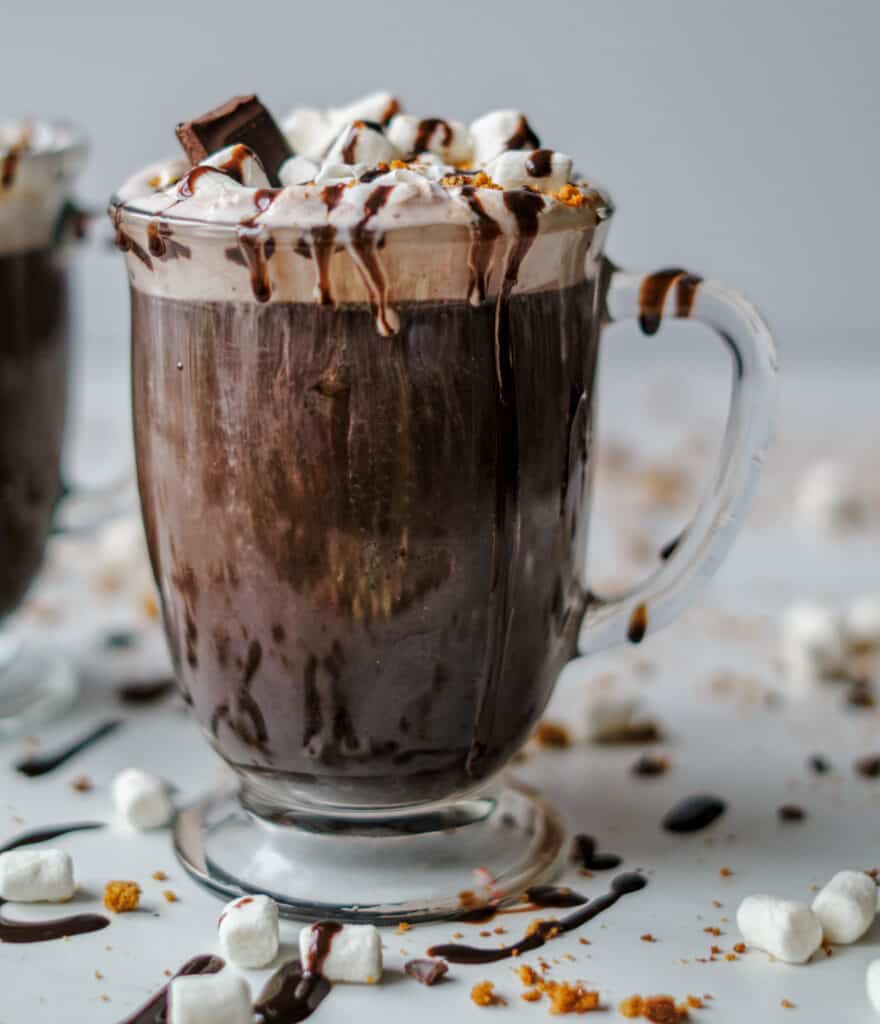 S'Mores Hot Cocoa – This S'Mores Hot Cocoa is a perfect hot winter drink that is ideal for kids and adults alike with chocolate, marshmallows and graham cracker crumbs! by Powered-by-Mom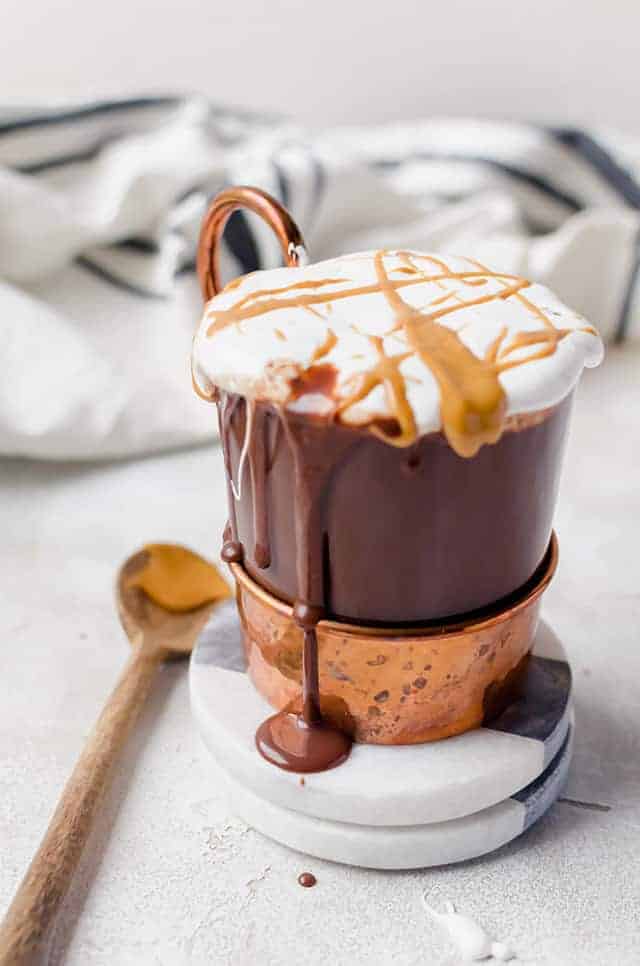 Fluffernutter Cocoa – is rich, thick and creamy. This recipe is perfect for peanut butter lovers! by Cookie Dough and Oven Mitt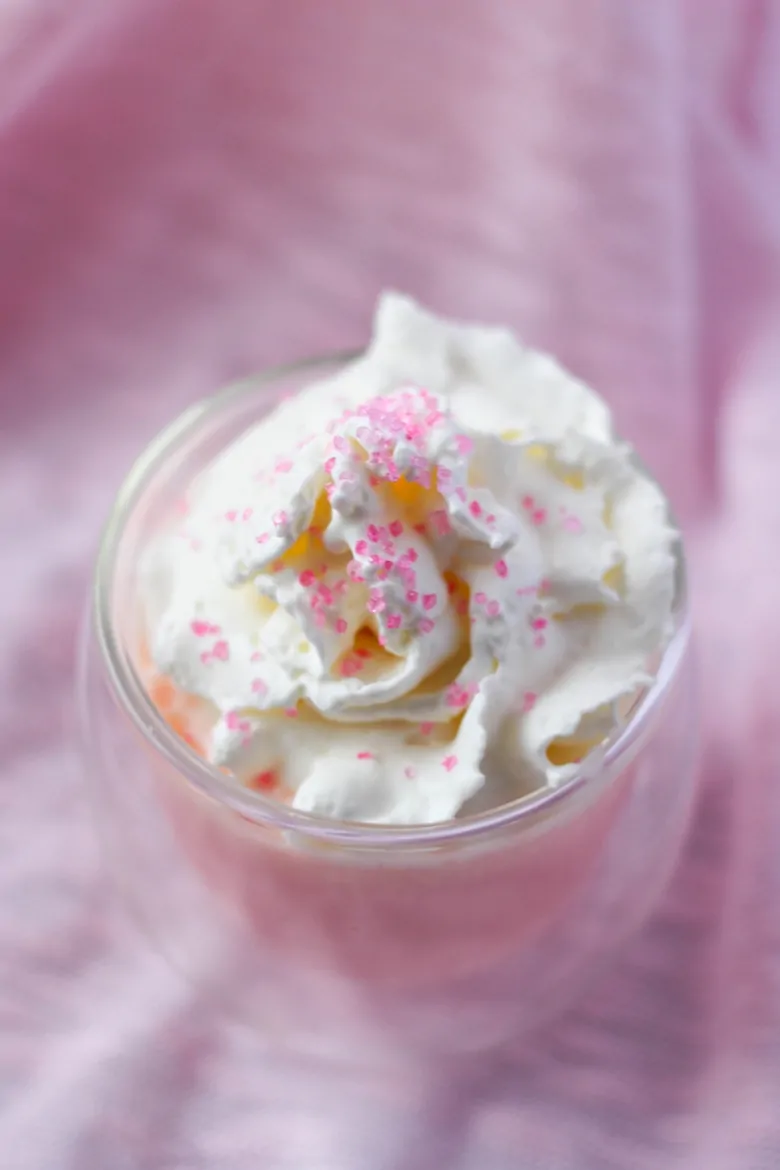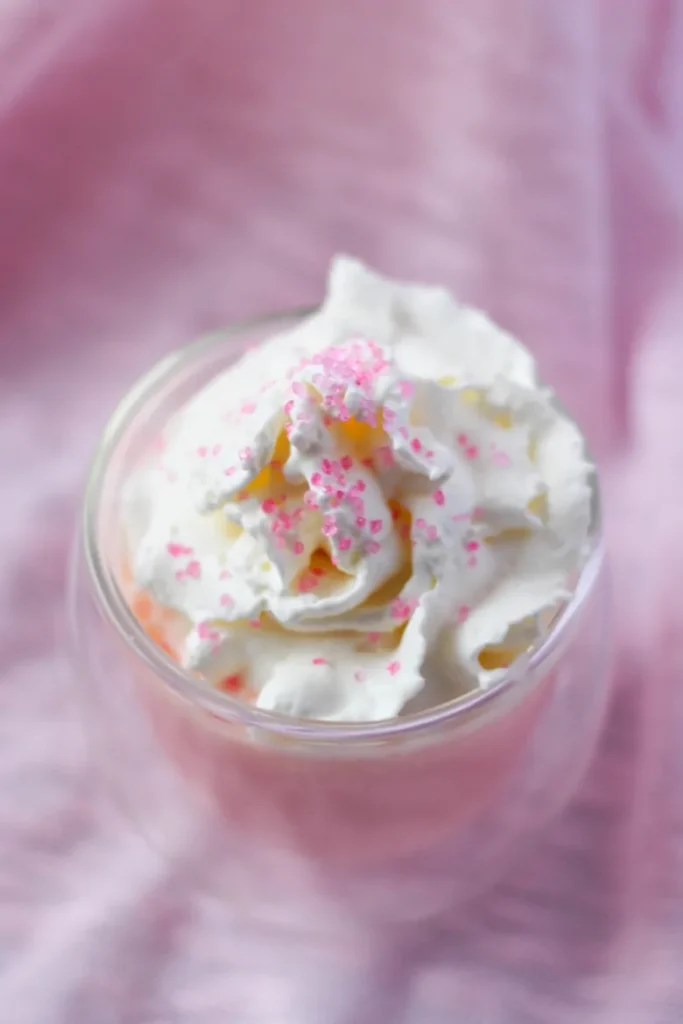 Pink Velvet Hot Cocoa – I am not sure whether the best thing about this hot chocolate is how rich, sweet, and creamy it is or if it's the drinks beautiful pink color. by Crayons and Cravings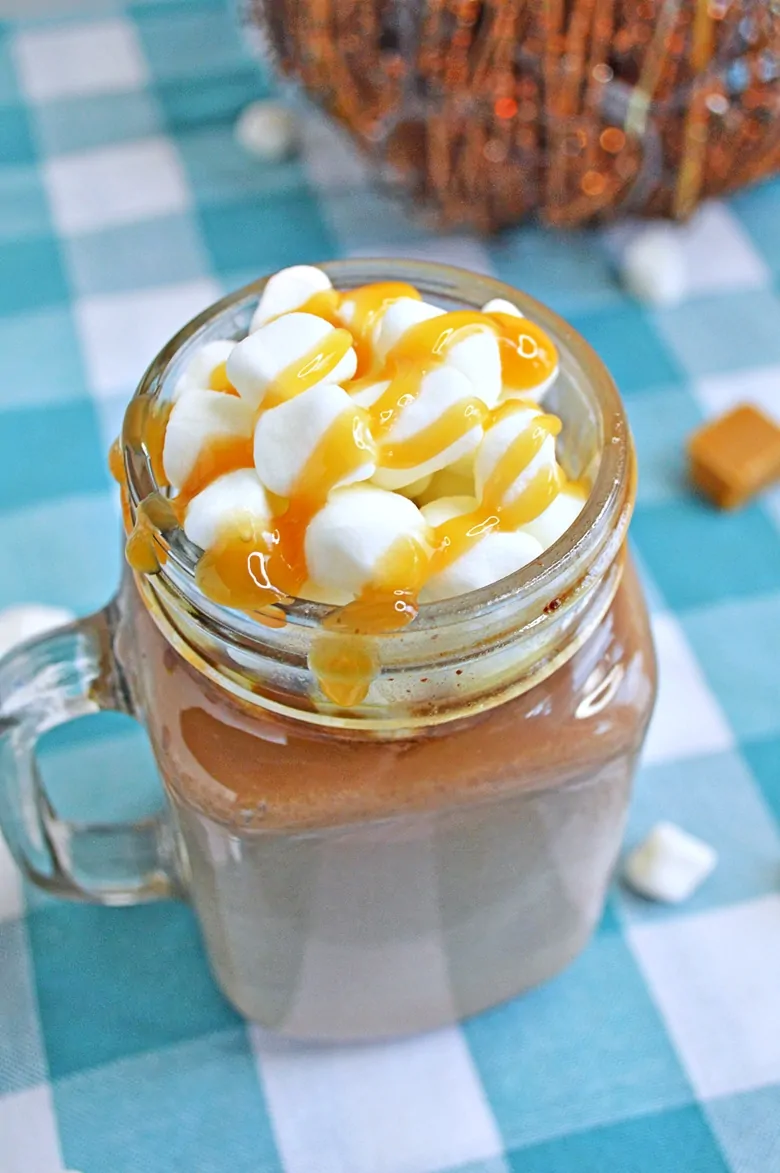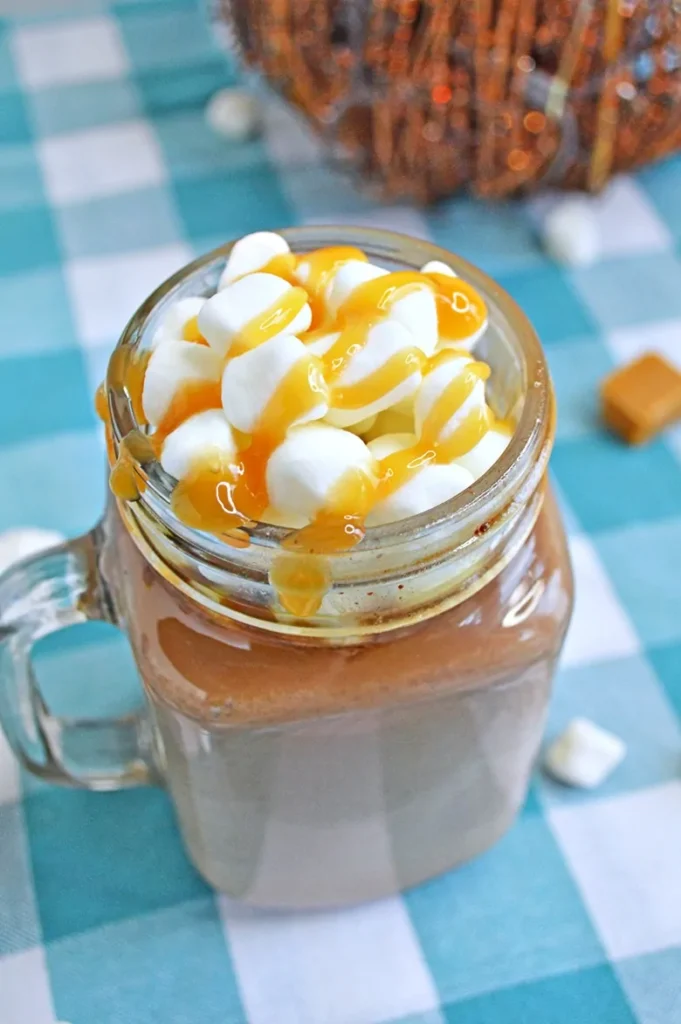 Salted Caramel Hot Chocolate – A rich and creamy slow cooker salted caramel hot chocolate recipe that will warm up your bones on those chilly Winter nights. by Crayons and Cravings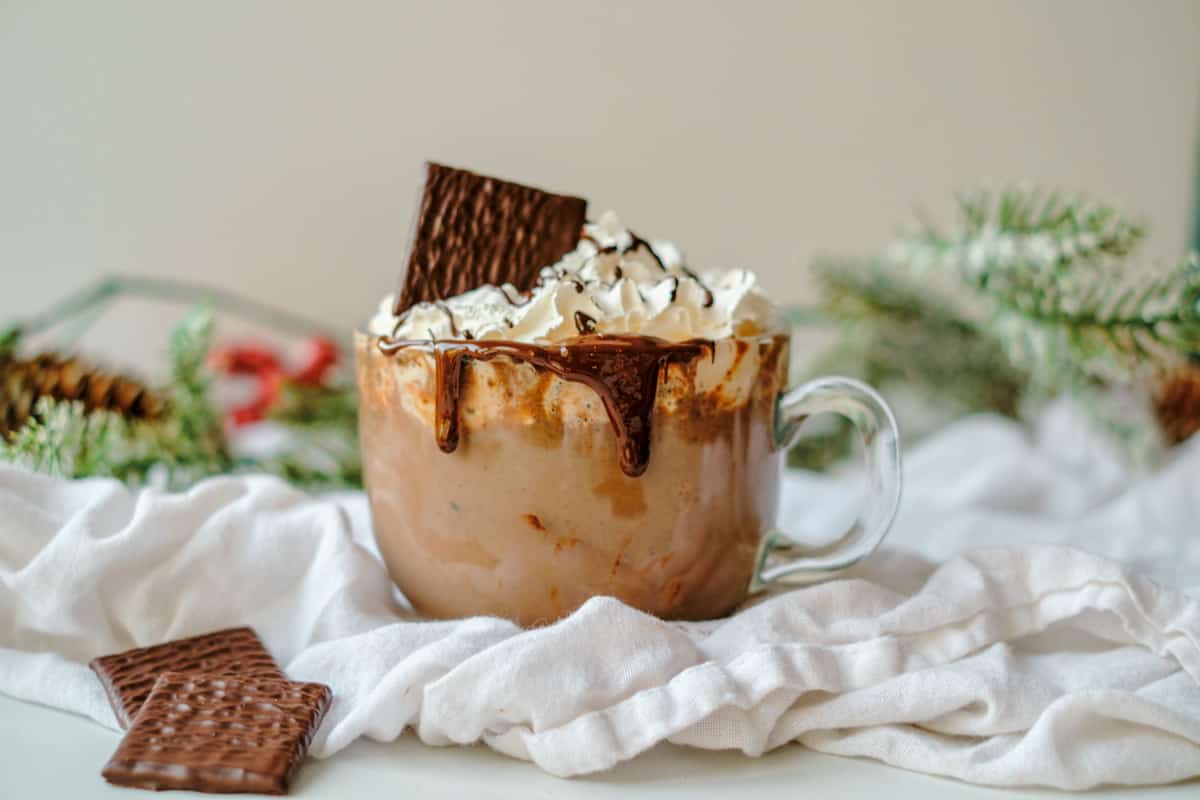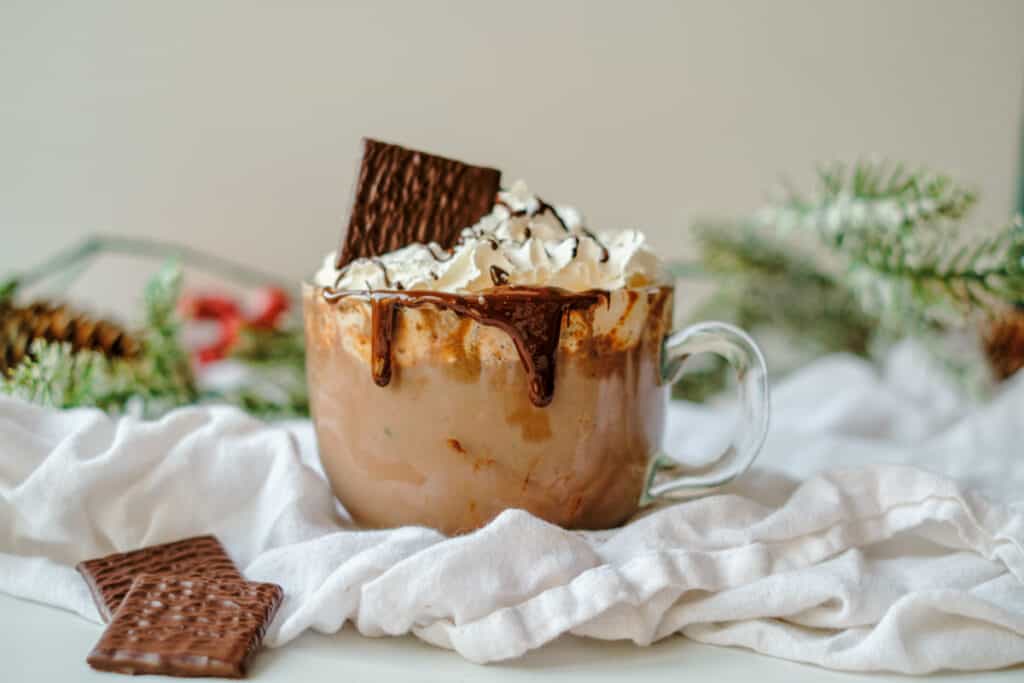 After Eight Peppermint Hot Chocolate – Make this rich and creamy After Eight Peppermint Hot Chocolate as it's the ultimate decadent chocolate drink. It also has pieces of the After Eight chocolate on top for a delicious hot beverage! by Powered by Mom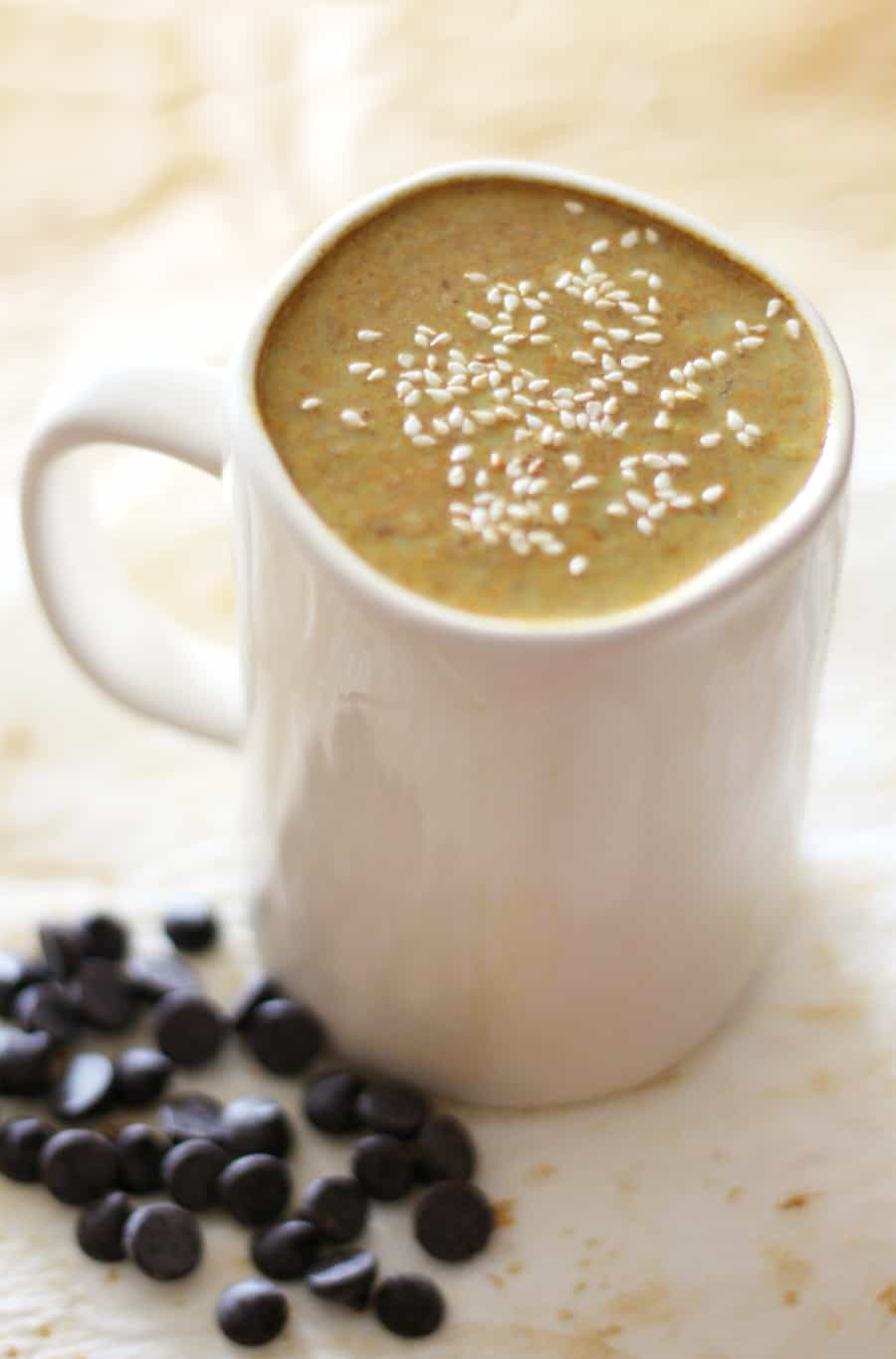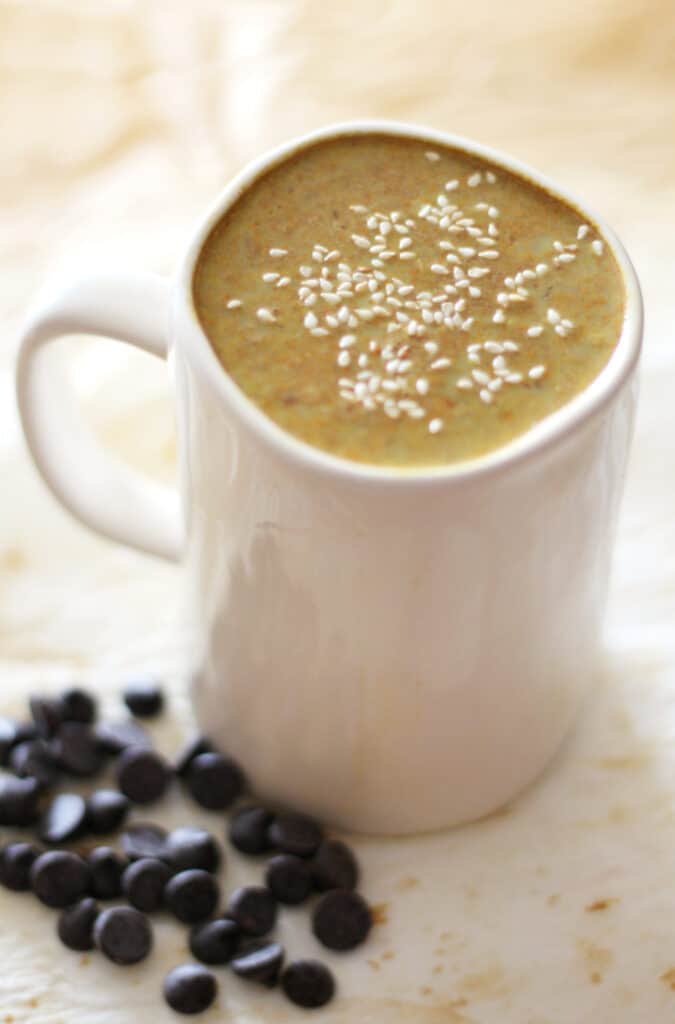 Healing Tahini Hot Chocolate – On those blustery winter days, cozy up under a warm blanket with a good book and a mug of Healing Tahini Hot Chocolate. This healthy cocoa recipe is gluten-free, vegan, paleo, and top 8 allergen free. This winter beverage with healing spices like turmeric will warm the body, mind, and soul! by Strength and Sunshine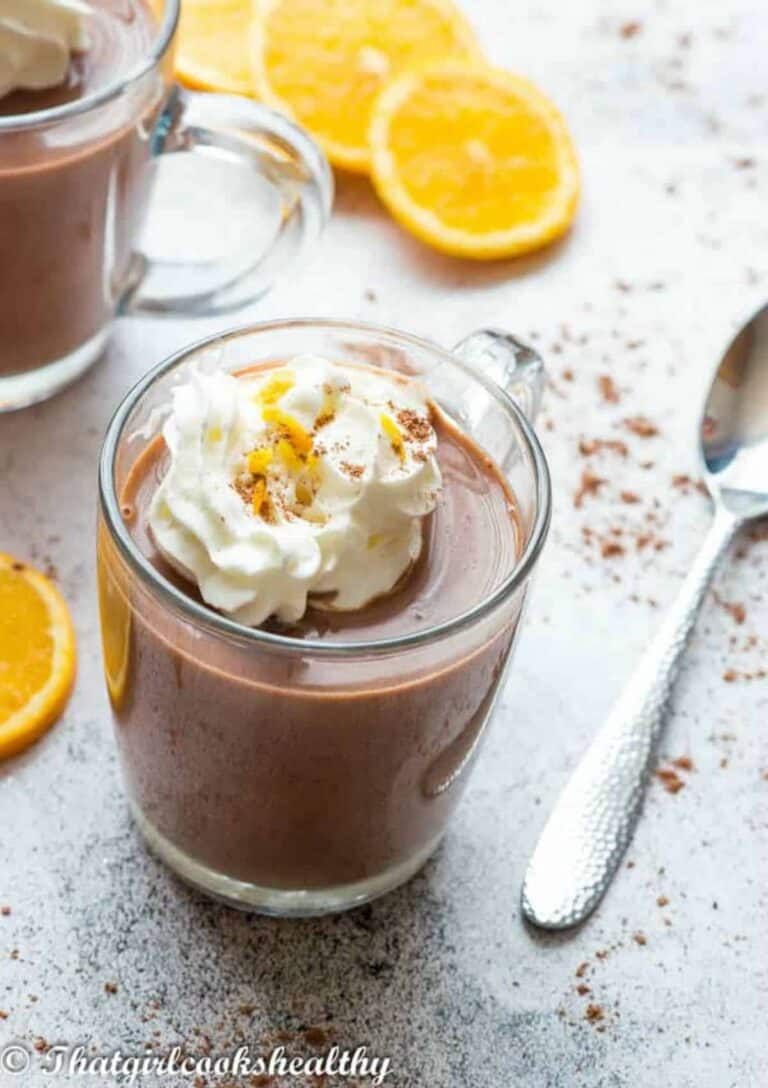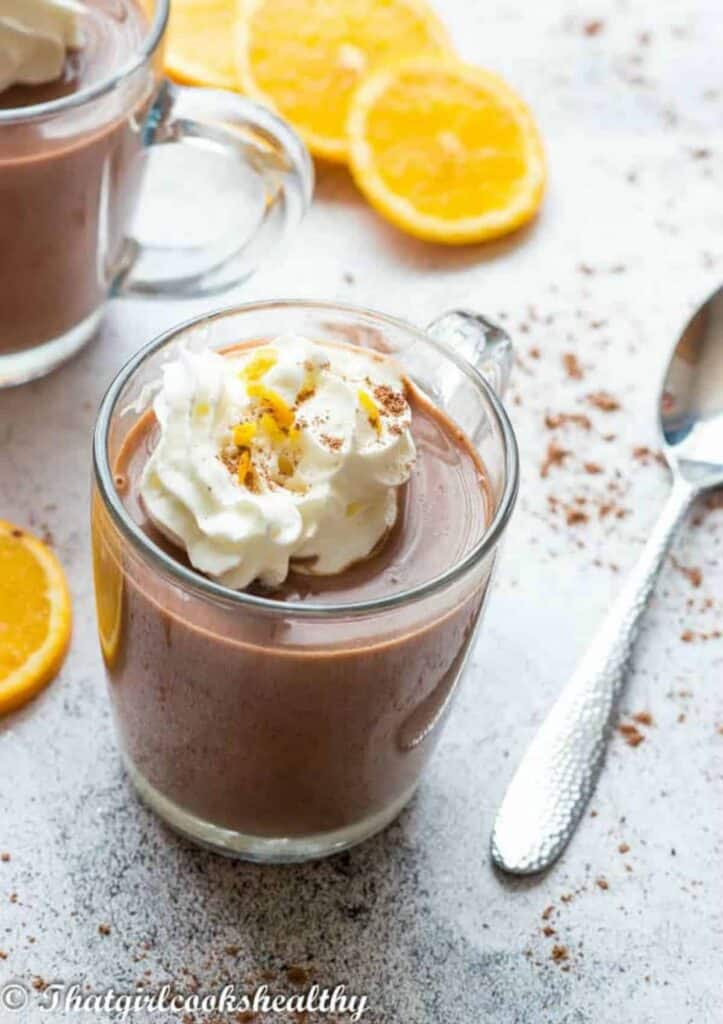 Vegan Orange Hot Chocolate – This hot chocolate recipe is totally vegan made from almond milk, with a squeeze of orange juice, the peel and raw cacao powder. A drink that is guaranteed to warm you up on a cold winters day. by That Girl Cooks Healthy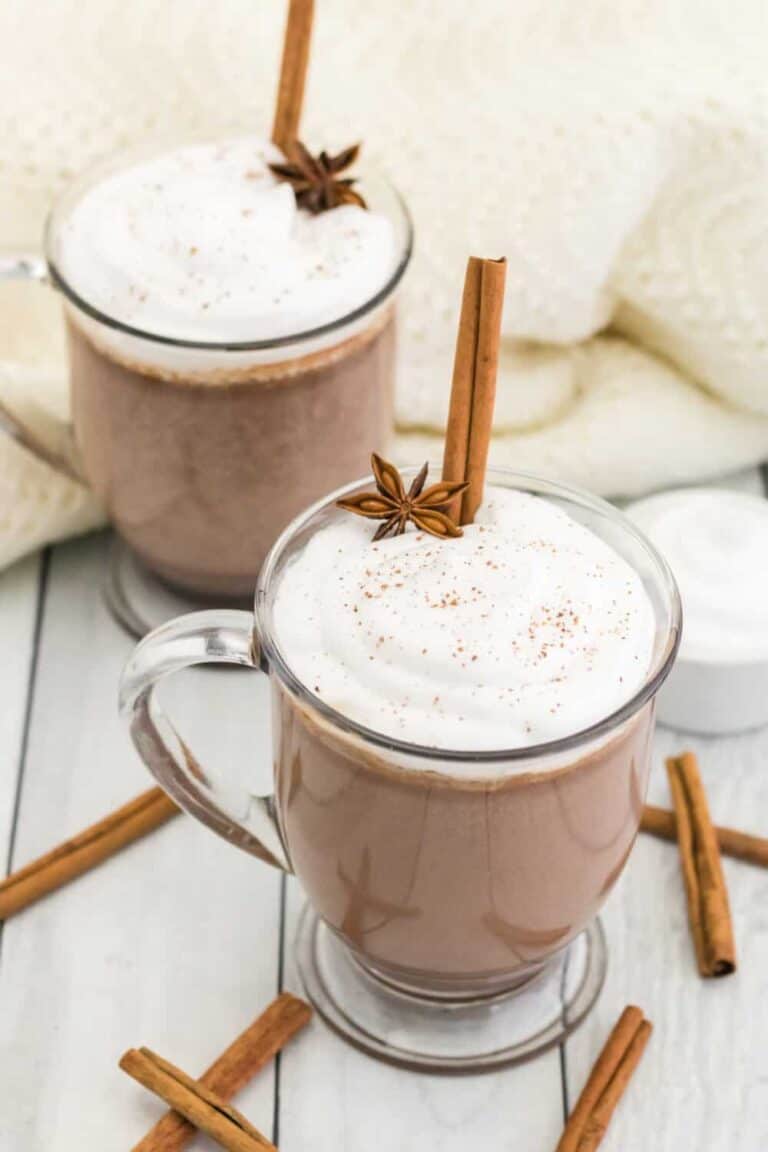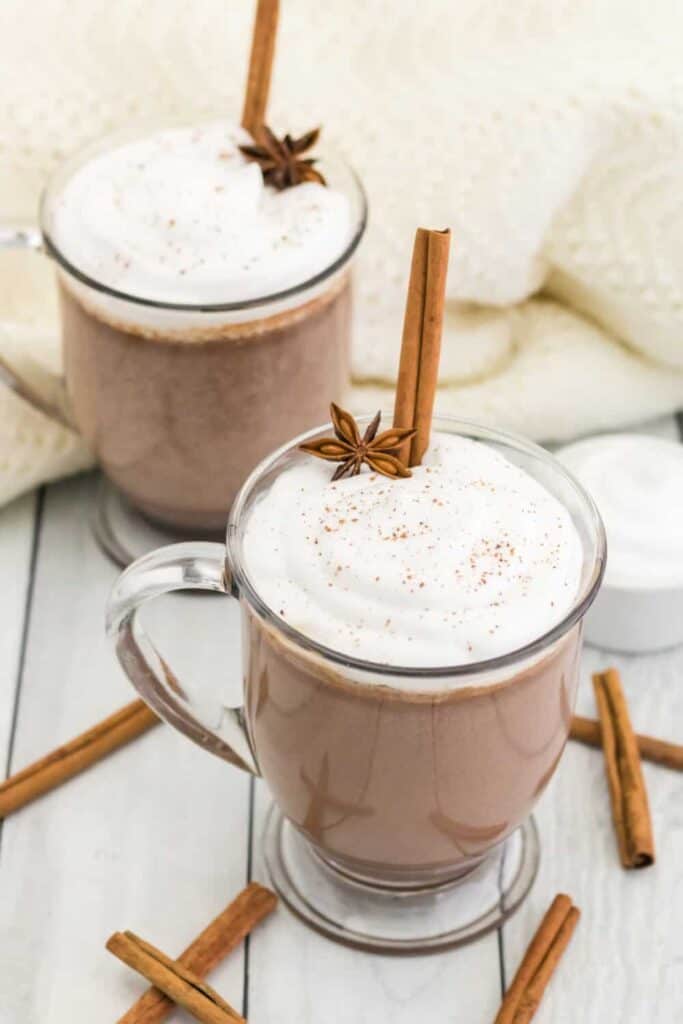 Cinnamon Hot Chocolate – This cozy and sweet warm winter treat is a creamy blend of cinnamon and chocolate. Serve in a mug topped with whipped cream, star anise and cinnamon sticks. Ready in 10 minutes! by Simply Stacie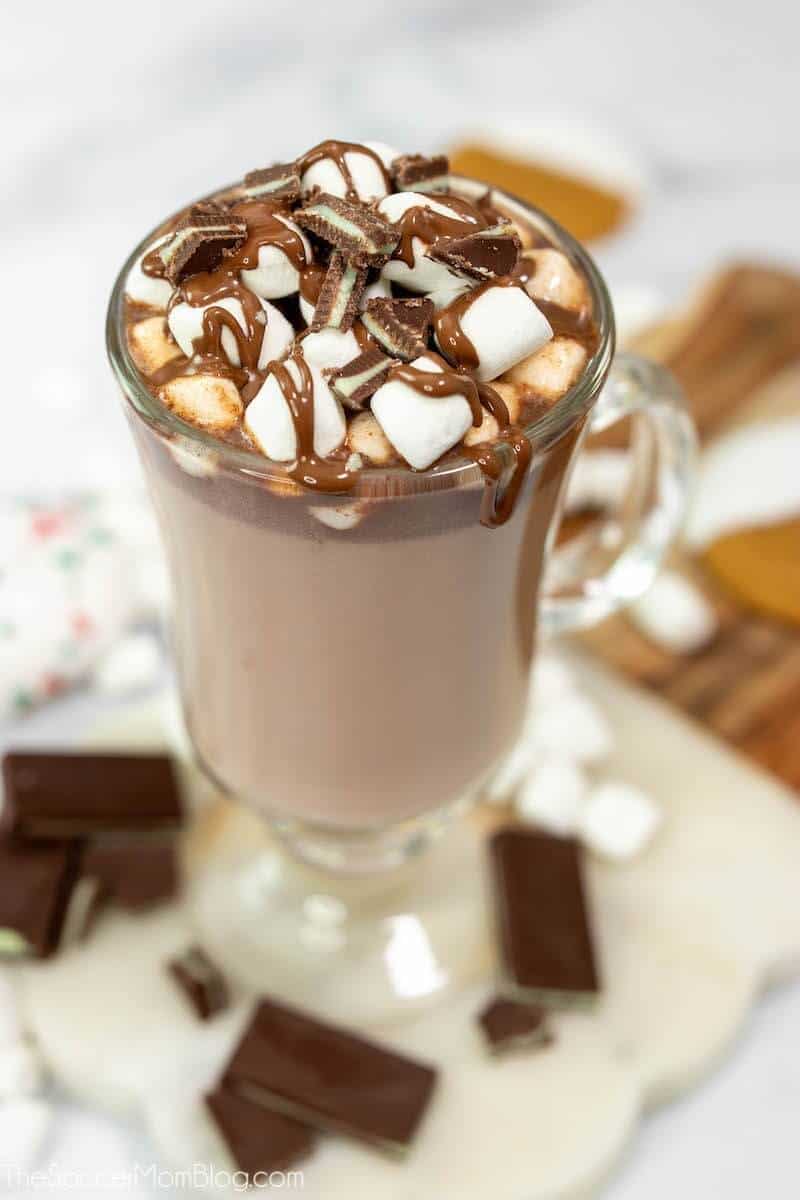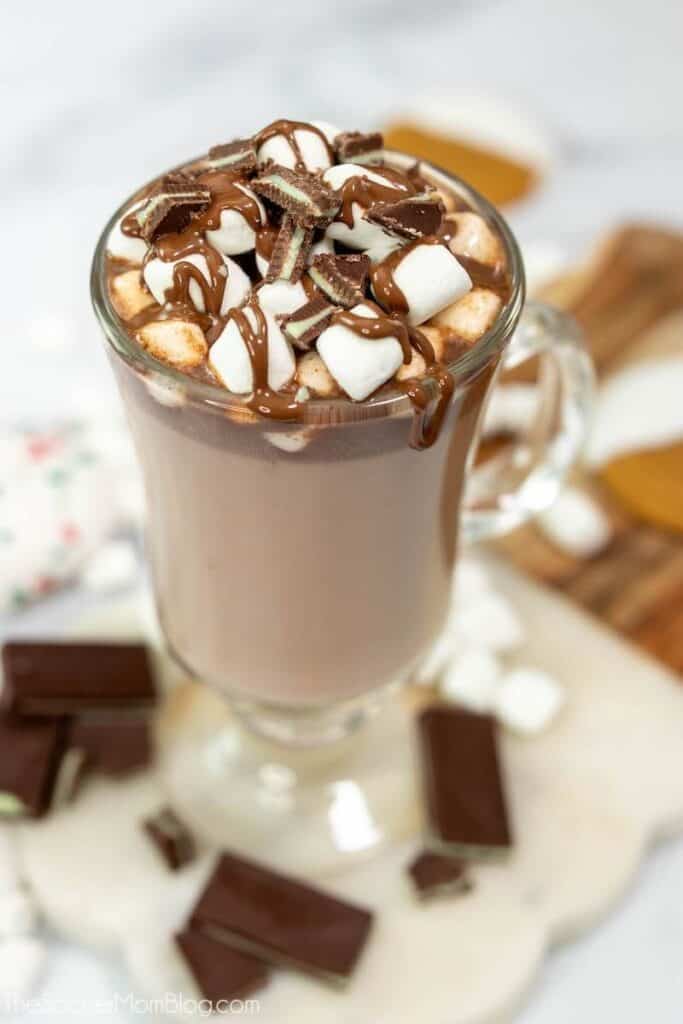 Andes Mint Hot Chocolate – Creamy and chocolate-y, with a hint of mint, this Slow Cooker Mint Hot Chocolate is the perfect winter warm up! Stays warm all day so you can enjoy a hot mug of cocoa anytime! by The Soccer Mom Blog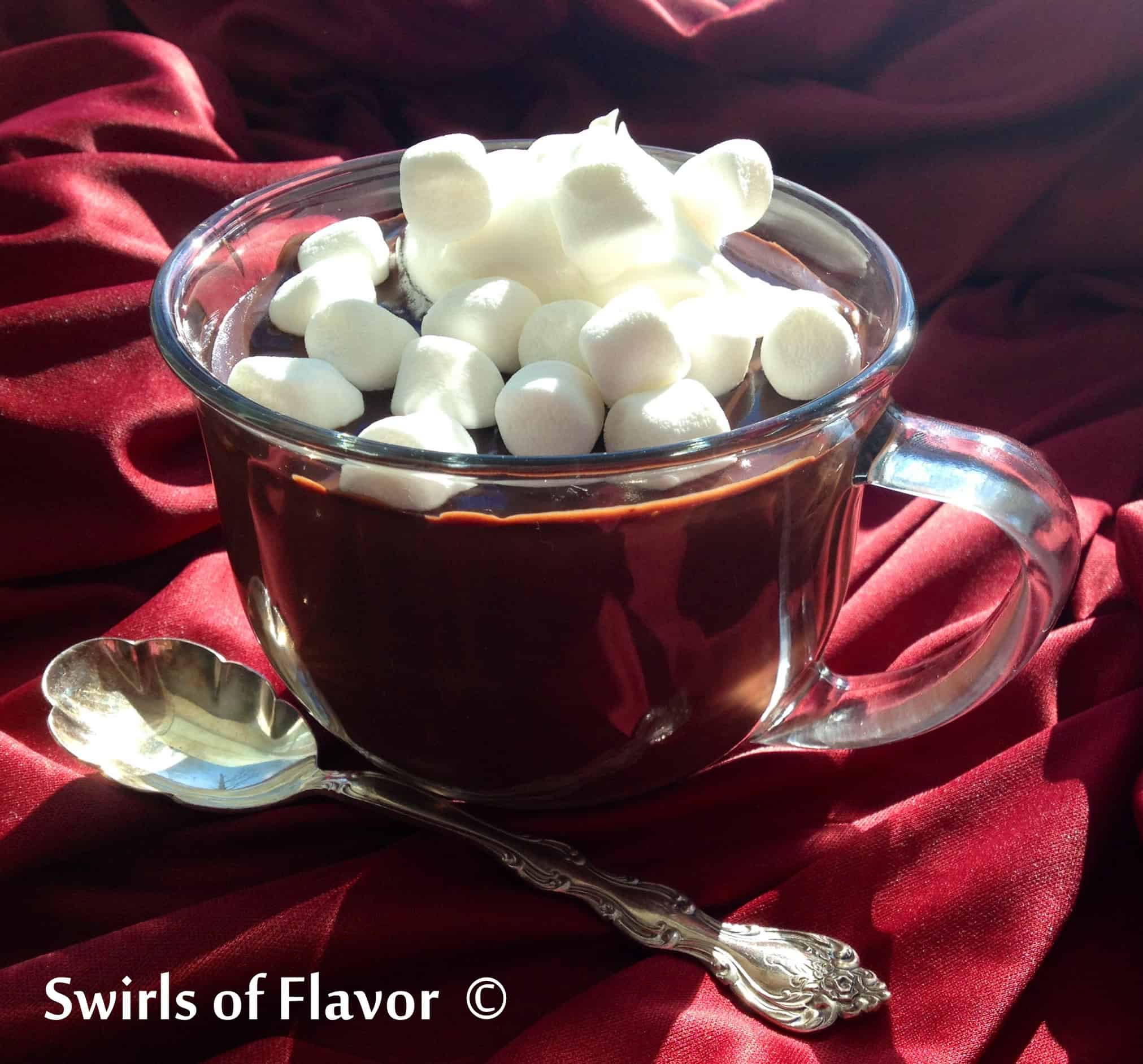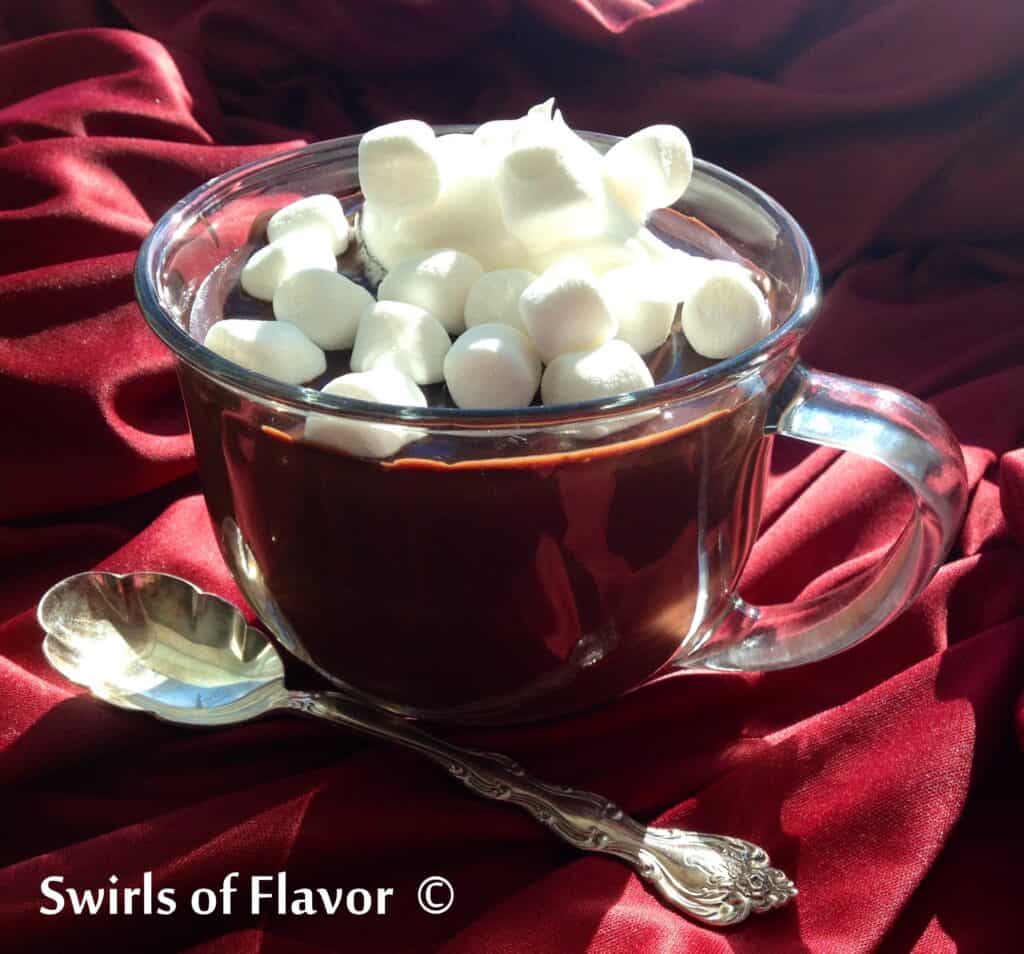 Italian Hot Chocolate – A rich chocolate that is thick, creamy and silky smooth, you'll need a spoon to "drink" this Italian hot chocolate. by Swirls of Flavor
---
Hot Chocolate Variations
Let's start off with some regular, old hot chocolate recipe. There are tons of options when it comes to plain old, yet delicious hot cocoa.
Homemade Hot Chocolate – The best Homemade Hot Chocolate to warm you from head to toe! A dollop of peppermint whipped cream adds the finishing touch to the creamy hot cocoa. by Shugary Sweets
Crockpot Hot Chocolate – Warm up with a cup of this delicious crockpot hot chocolate! Super creamy, chocolate, and comforting. by Cooked by Julie
Whipped Hot Chocolate – It's the latest whipped drink craze. Rich whipped chocolate sits atop a mug of warm (or cold) milk for the richest cup of hot chocolate! by Boulder Locavore
Dark Chocolate Hot Cocoa – is the most delicious and decadent hot cocoa you've ever had. It is a perfect indulgence for a cold snowy day. by Coffee by Us 3
The Polar Express Hot Chocolate Recipe – A creamy, sweet treat to whip up and drink while you watch the Christmas classic with the family. by Movie Nights at Home
---
Hot Chocolate Recipes For Dietary Needs
When it comes to hot chocolate there are plenty of recipes out there to accommodate everyones preferences and dietary needs. Choose the recipe that works best for your family and give it a try.
Keto Hot Chocolate – Delicious hot chocolate made with all clean ingredients. Also sugar free and low carb! by Healthy with Jamie
Sea Salt Keto Hot Chocolate – This frothy keto hot chocolate is the ultimate indulgence! A touch of sea salt brings out the chocolate flavor for an extra rich treat! by How 2 Do Keto
Vegan French Hot Chocolate – Discover French traditional hot chocolate. Nothing will comfort you and warm you up like this delicious paleo and vegan hot chocolate. by Go Healthy With Bea
Slow Cooker Vegan Hot Chocolate – This hot chocolate is made in the slow cooker and tastes great vegans and non-vegans alike! by Platter Talk
Dairy-Free Hot Chocolate – This healthy hot chocolate is rich, creamy, low in carbs & calories, & dairy-free. It's the perfect vegan cocoa recipe for a chilly night in. by The Oregon Dietitian
Low Carb Hot Cocoa – This recipe for low carb hot cocoa mix is perfect for a hot drink that is keto friendly. This homemade hot chocolate is made with almond milk, whipping cream and cocoa powder. by Small Farm Big Life
---
Make & Keep on Hand Hot Chocolate
While making a fresh pot of homemade hot chocolate can be a fun experience, it can take some time. Once it's gone, it's gone.
Try making your own hot chocolate mix or bombs to keep on hand so you can have homemade hot chocolate on hand and ready to make when you feel like it.
Homemade Hot Chocolate Mix – is not just a winter staple, but a perfect last-minute-simple-homemade-holiday-gift. It's made with very few ingredients, this rich and tasty treat is perfect to hold on and sip during frosty cold weather. by Curry Trail
3-Ingredient Vegan Instant Hot Cocoa Mix – A super simple 3-Ingredient DIY Vegan Instant Hot Chocolate Mix you can whip up in a flash! Sugar-free, gluten-free, paleo, and top-8 allergy-free, this healthy hot cocoa mix recipe is perfect for holiday gifts or stocking the pantry with a quick a cozy drink to warm the soul! by Strength and Sunshine
Hot Cocoa & Mexican Hot Chocolate – Start with hot cocoa or kick it up a notch some extra spice in this Mexican chocolate mix recipe. by Amanda Wilens
Hot Chocolate Truffles Five Ways – Hot Cocoa made from truffles means your next mug of cocoa is decadent and rich. Great to give as gifts as well. By Sense & Edibility
Lindor Truffle Hot Chocolate – Don't feel like making your own hot chocolate truffles? Grab this recipe for the EASIEST hot chocolate Lindor bombs and the rich hot chocolate! by Julie Measures
---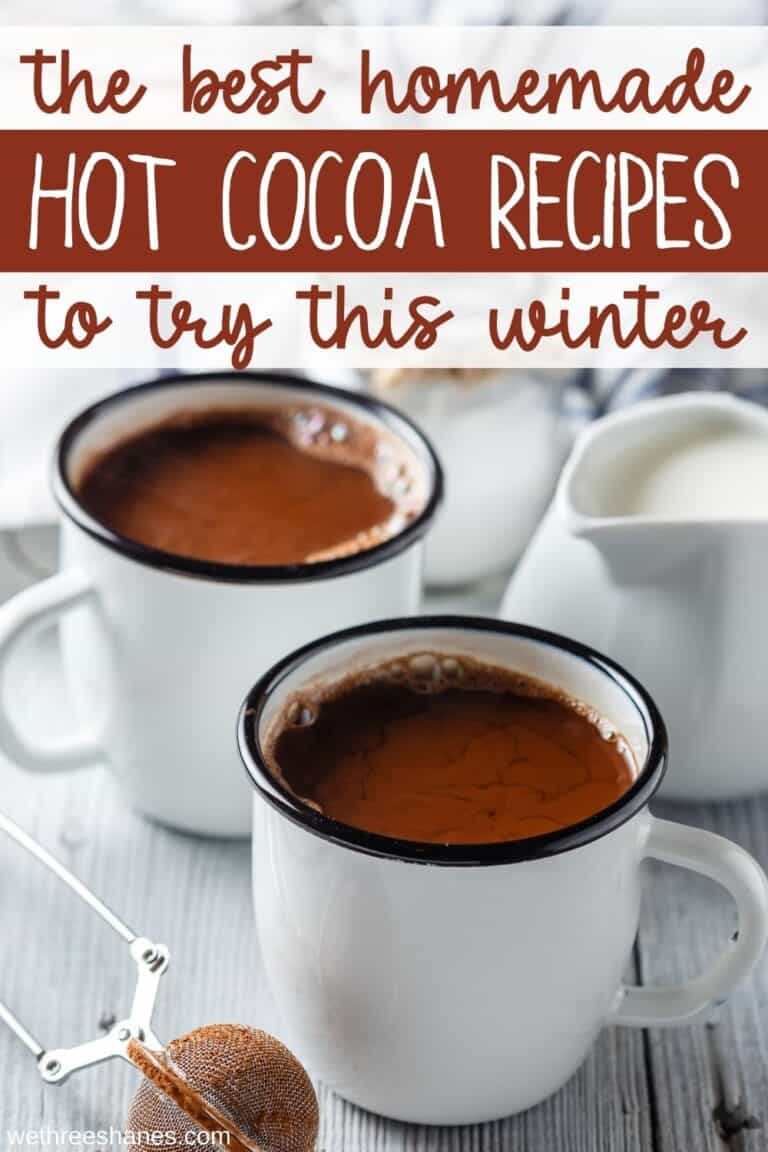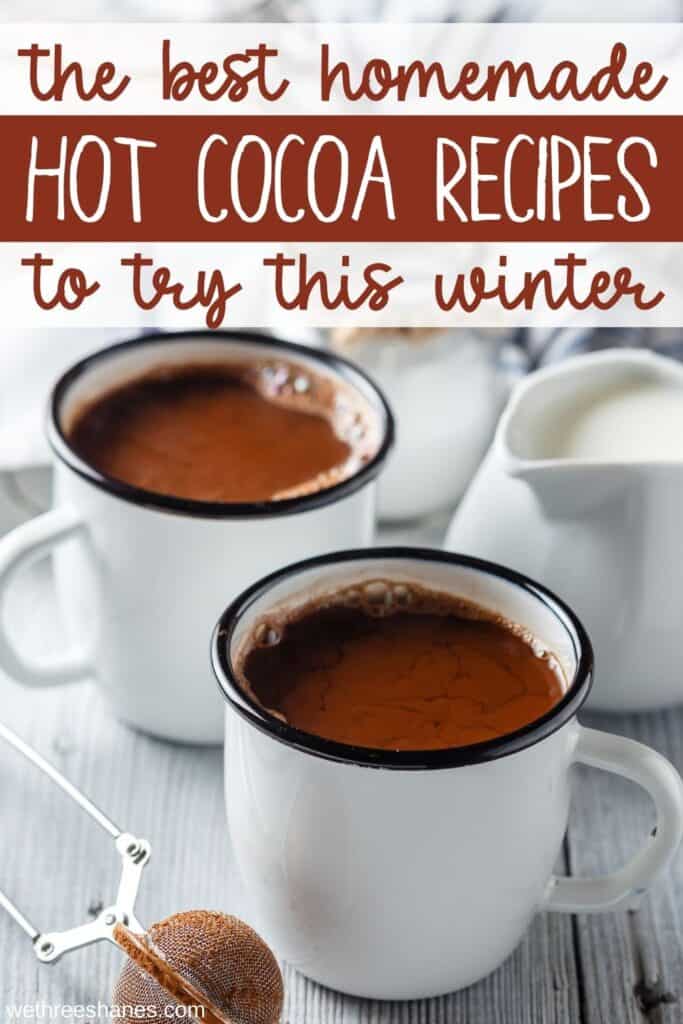 Hot Cocoa Recipes
I don't know about you, but I can't wait to try some of these hot chocolate recipes. My kiddo and partner love peanut butter so I know the fluffernutter will be a huge hit with them. White chocolate and salted caramel are two I can't wait to try.
Plus, I'm always looking for ways to cut down on the amount of waste my family produces so making our own hot chocolate instead of using the packets sounds like a good plan for us.
Which hot cocoa flavor will you try first? Let me know in the comments below.
---
You Might Also Like:
Easy White Chocolate and Peppermint Popcorn Recipe