The Top 30 STEM and STEAM Toys for Girls and Boys
Give the gift of learning with these fun and engaging STEM and STEAM toys, both girls and boys love. Peak your kids interest and develop important skills in Science, Technology, Engineering, Art and Mathematics while they play.
This post contains affiliate links. You won't pay any extra for making a purchase through these links but we earn a commission for purchases made through links. This helps keep the blog running which we really appreciate! You can read more about it in our full disclosure.
*This post has been updated for 2021 to make sure all toys are still relevant. We have added a couple of new toys for this year so the list of STEM and STEAM toys has gone up just a bit. We try to keep toys in their correct price categories but Amazon prices do change from time to time so please keep that in mind.
The Top 30 STEM and STEAM Toys for Girls and Boys
Every year kids receive presents for birthdays and holidays. So why not give them gifts that are not just fun but will help them learn and spark interest in the skills they need to flourish in this tech heavy world they live in.
STEM stands for Science, Technology, Engineering, and Mathematics. Art has more recently been included in this educational approach as well. It's important for kids to work on problem-solving, experimenting, building, critical thinking, creativity and imagination skills. The toys on this list will help kids develop these abilities through play.
Items on this list include STEAM and STEM toys such as coding toys, robots, engineering toys, puzzle games, building toys and more. The toys are for girls and boys alike and go from as young as 3 months to adults.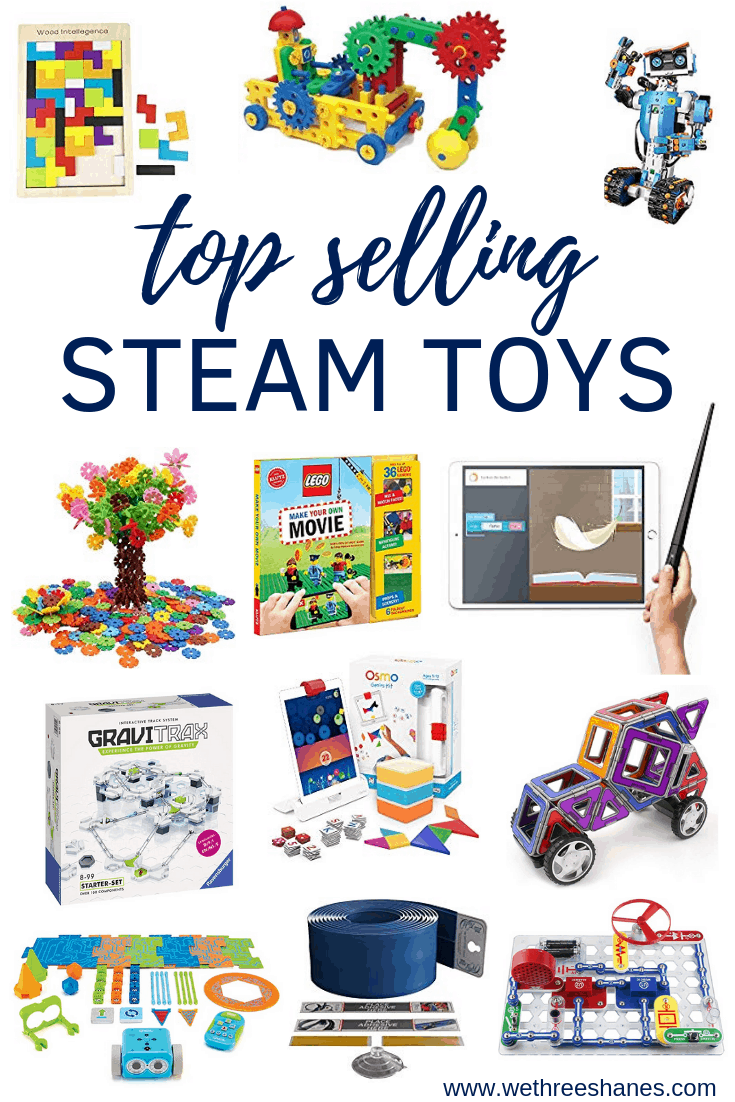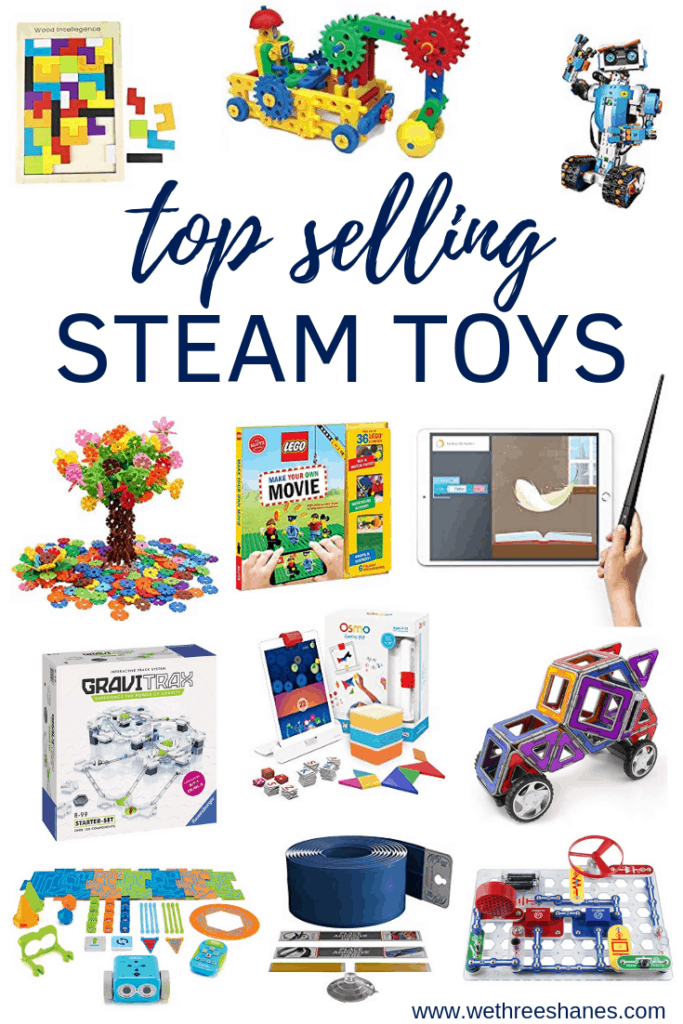 What I really like about most of the items on this list are the years worth of fun kids can have with them. I hate when my kiddo gets a gift he plays with once or twice and then he's out grown it.
He has several of the toys on this list and has played with them for years. Lots of these toys he still has fun with to this day. 
I love to get kids outside too so check out these sports gifts for boys to go with your steam gift.
*Prices of toys may change at any time which could put them into a new price category.
---
STEM and STEAM Toys Under $25
Educational Insights Kanoodle – Brain Twisting Solitaire Game recommended for children 7+
Challenge your kiddos or your noggin with this best-selling, award-winning, brain-twisting, solo game. Construct 2-D and 3-D puzzles using the 12 colorful puzzle pieces. Perfect for developing problem solving and strategic thinking skills.
My son has this and loves it! It's great because he can do the challenges himself or someone else can. He also loves to create his own challenge to see if dad or I can figure it out. It's small so it's great for keeping him busy on trips.
Wooden Tetris Puzzle – recommended for children 4-8
This bright and colorful, Tetris style puzzle improves children's thinking IQ levels and overall cognitive skills, and encourages children to work on complex problems.
The Drawing Book for Kids: 365 Daily Things to Draw recommended for children 6-12
This drawing book gives kids 365 things to draw every day – animals, objects, food, plants, vehicles, sports, holidays and more. Every mini drawing lesson is broken down into easy to follow step by step instructions.
ThinkFun Clue Master Logic Game recommended for children 8+
Clue Master is a Sudoku style, fun logic game that develops the skill of deductive reasoning. It's a single player game but you can work with your child on the harder challenges. The board is small and magnetic so this is a great stocking stuffer and travel game.
ThinkFun Code Master Programming Logic Game recommended for children 8+
Code Master is another fun single player game that helps kids learn programming logic through fun gameplay.
ThinkFun Swish – A Fun Transparent Card Game recommended for children 8+
This fast-paced, award winning game is designed to accommodate a variety of skill levels so that adults and kids can play together. The brightly colored hoops and balls are printed on transparent cards that can be stacked to form multiple matches in a single turn. Use your spatial-recognition skills to see matches by stacking cards even if you need to rotate or flip the card to make the match work.
Klutz Book of Paper Airplanes Craft Kit recommended for children 7+
Includes a 56 page instructional book with Klutz certified crystal-clear instructions. Kids can make 10 different planes using the 40 sheets of custom-designed paper.
Creativity for Kids Origami recommended for children 7+
My son loves origami and I love mess free art. This is a beginner set but some can be a bit difficult. The kit comes with 60 colorful patterned pieces of paper plus embellishments to help bring creations to life. Repetitive motions in origami boosts fine motor skills, hand eye coordination and cognitive development.
Brain Flakes 500 Piece Interlocking Plastic Disc Set recommended for children 5+
Kids love to play and build with Brain Flakes. Every jar comes with a booklet that shows some basic designs but kids have a great time coming up with their own projects to build. With 500 pieces in a jar, multiple kids can play with them and not run out. Bonus, if you step on a piece it doesn't hurt!
Bloxels Build Your Own Video Game recommended for children 8-13
Kids can watch their game world come to life as they create and animate play spaces, characters and objects because they are the artist, game designer, storyteller, programmer, publisher AND player! It comes with 320 blocks in 8 colors for endless possibilities.
Once you have finished adding blocks to your board, snap a picture with the "in-app camera" (app is free) to digitize your creation. Go from blocks to "bloxels" instantly! On-screen test your game, edit layouts and change the colors of your art assets. The process of building the game is easy to follow, with instructions and tutorials to help beginners.
Tot Tube Playset recommended for children 18 mons – 8 years
Have you ever given your kid a tube to play with once the wrapping paper was gone? Ya, it's like that. The Tot Tube can be taken apart quickly and stored away. There's a fun clear part in the middle of the tube so kids can see their items roll down the tube.
The tube can be carried around the house and propped on couches, chairs or whatever your child comes up with. The tube works with most brands of small cars your kids already have. Balls and marbles can be fun to roll down the tube as well. Buy two and kids can race cars or build a larger tube for extra fun.
Klutz Lego Make Your Own Movie Kit recommended for children 8+
This is a Lego guide to stop motion animation. This comes with an 80 page book that explains the process of stop motion with easy to follow descriptions and photos. The kit also comes with mix and match lego pieces to create tons of characters, prop legos, a base and backgrounds.
Snap Circuits Jr. recommended for children 8+
We can't have a STEM toy list with out including Snap Circuits on it. There are many different snap circuit sets but this is a great started set. It will give kids a great introduction to how circuits work through 100 exciting projects using 30+ snap together parts.
Fat Brain Toys Squigz Glow in the Dark Set recommended for children 3mons+
These are cute little suction cup builders in 8 versatile shapes and glow in the dark. The little guys suction to each other to build creative sculptures. They also stick to tons of flat surfaces. Kids have fun figuring out different places to stick these. They're a great bath toy too.
My kiddo and his cousins like to throw them on the wall to see who can get them to stick the highest up and also to see who's squigz sticks the longest. Us adults totally get in on the action too.
Sometimes we also stick a couple squigz together and then throw them on the wall to see who can get the biggest sculpture to stick. The kids can do this for hours for days on end.
Crayola Light-up Tracing Pad recommended for children 6-10
I love this light up tracing pad because of the extras that come with. It comes with 10 tracing sheets that help kids mix and match all kinds of fun accessories to make their own creation. Honestly, the video on amazon does an awesome job at showing off this product so head over there to check it out.
Q-bitz recommended for children 8+

Q-bitz is a quick game that stimulates the brain by using spatial reasoning and memory skills. Practice your symmetry, visual dexterity, and competitive nature in this fun, quick thinking game.
Each game play contains three rounds, each round with a different card. Players have to recreate the patterns on the game cards using their set of 16 cubes. The first player to match the pattern wins the card. The player with the most cards, wins the game.
This is a great game to play with others but my kiddo likes to match the cards all by himself too.
Mosaic Mysteries Puzzle recommended for children 8+
Let your kids creativity run wild with this mosaic puzzle. It comes with plenty of design ideas that kids can copy or they can come up with their own ideas. Kids can create puzzles on their own or with a friend/sibling.
---
STEM and STEAM Toys Under $50
BluTrack Starter Set Toy Racetrack recommended for children 3+
I can't say enough about BluTrack! I have sold many a friends on this thing. It's such a simple concept but it creates hours of fun.
You get a 15 ft, flexible, 2 lane race track with a suction cup on one end. Stick that suction cup to a flat surface and you're ready to race. The track is light weight and rolls up so it's easy to store and carry with you on playdates. No batteries required!!!!
The flexibility of the track makes it easy to change the track by adding loops, twists and curves to it. Kids use their imagination to change the tracks by stacking things underneath it, curving it around furniture, propping up loops with books.
I have video of my kiddo and his friends laying underneath the track and cracking up as the cars race over them. It's fun to see all the crazy ideas kids come up with.
They do have accessories you can buy like ramps to help hold up loops but I like the original concept of using things from around the house to help prop the track. Kids use their imagination more that way.
Kids learn about physics in such a fun way. It seriously provides hours of fun again and again. My kid loves to take his track to his grandparents house so he can race things down the stairs. We've had our BluTrack since he was 3 and he still uses it now at age 11.
Robobloq Battery-Operated Smart Coding Toy Train recommended for children 36 months – 6 years
This coding train comes with stickers kids can place on the train tracks. When the train rolls over the sticker it does the command. There are tons of fun commands like speed up, reverse, play music, which way to turn and more.
The train is compatible with other train tracks like Ikea and Thomas and Friends which is great if you already own those.
Gravity Maze Marble Run Logic Game recommended for children 8+
Gravity maze is a marble run and logic game mixed into one. There are 60 challenges from beginner to expert. Basically you have to figure out how to get a marble through the track based on the challenge prompts given.
Each challenge card gives you a starting and finishing tower on a specific spot. You then have to build a path that will get your marble from the start position to the end tower.
This is another great game kids can play on their own or you can figure out the paths together.
Laser Maze Logic Game recommended for children 8+
Don't want to mess with marbles? Try Laser Maze. It's the same basic concept as the marble run game above but with lasers. How fun is that? Each little piece has a mirror on it that guides the laser to the finish mark. Place the pieces on the game based on the challenge card prompts. This one does require a battery but it comes with.
PROGRACE Water Proof Action Kids Camera recommended for children 4-9
This durable action camera can mount to kids bikes, skateboards and more. Use it to take photos, videos, time-lapse photos, and stop motion videos. Comes with fun filters, frames, and photo effects. Its waterproof case is perfect for taking photos and video up to 6 feet under water. This is great for family vacations, waterparks, sledding and more.
K'NEX 100 Model Building Set recommended for children 7+
You are going to see a ton of connector toys on this STEAM toys list. In fact there's already one in the $25 and under category. They all do something a little different so it really just depends on what you want. Kids simply use the pieces to create whatever they can think of.
K'NEX is a very popular set with over 860 pieces to build with. It comes in its own suitcase for easy storage. K'NEX creations can actually move making them unique compared to other connector toys.
Kids can build a car to drive around or spin the blades of the chopper they created. This set comes with a booklet that shows kids how to build 100 different models but of course kids can come up with their own ideas as well.
Thames & Kosmos Kids First Boat Engineer Science Kit recommended for children 3+
Use the 52 colorful blocks to build 10 different boats. The set comes with a story book that follows young engineers who build different types of boats to solve the problems they encounter. Not only are kids building, they are also learning about the types of boats they build. Everything comes in a storage case. The boats can really float making them fun for bath time or water play outside.
Magformers XL Cruisers Set Magnetic Building Blocks recommended for children 3+
Magformers are another connector building set. They are plastic shapes with magnet strips inside. They stick together to build all kinds of fun stuff. Kids can arrange magformers laying down and then pull them up to create 3-D structures.
I love Magformers! This is one of those toys that I like to play with myself so when my kid wants me to play with him I grab these. There are tons of Magformers sets so look around to find the best one for your gift receiver. This set is for making different types of cars but you can get a set of magformers to make just about anything. They always come with booklets that show kids through photos how to build lots of different structures.
Blocks & Gears Building Set recommended for children 4-7 (again my 11 year old still plays with his on occasion)
Sometimes it's just fun to build with bigger objects. This set comes with 109 high quality, colorful blocks, gears, pegs and screws for creating endless projects. My kiddo can play with these for hours and always comes out of his room, project in hand and huge smile on his face. He can't wait to show me what he's created.
This is one of those toys that will be used for years. I have seen my son grow in confidence as he figures out how to build whatever is currently in his mind. It always takes a bit of trial and error so he's practicing patients as well.
---
STEM and STEAM Toys Under $100
Osmo Creative Kit recommended for children 6-10
Osmo anything is just the coolest! Technology is here to stay so kids need to get comfortable handling it. I would much rather have my kid creating on Osmo than only playing video games. This kit comes with the Osmo base that works with all Osmo games, plus the art supplies. You do need an iPad or fire tablet to play.
The creative kit comes with 3 smart games; Monster, Masterpiece, and Newton.
Monster Mo is a Pixar type of character that collaborates with your child. Mo asks your kid to draw different things and then they appear on screen for Mo to interact with.
Masterpiece turns any picture into an easy to follow outline. Use pictures from the ready to draw collection or snap your own photo to draw. Easily send drawings from the app so grandparents can enjoy them too.
Newton is a physics and problem solving game where players use any object to bounce on-screen, falling balls at a target zone. Creativity is also a big part of the game since you can use hand-drawn objects or things from around the house to guide the balls to the target.
Botley the Coding Robot recommended for children 5+
How adorable is Botley? Botley helps your child learn early STEM skills while playing and having fun. He teaches kids to code with active play that's promotes critical thinking and problem solving skills. Botley is completely screen free so no phone or tablet necessary which I love.
He comes with a 77 piece activity set full of coding cards, obstacle building pieces, detachable arms and more. Kids can program Botley to go through an obstacle course, pick up objects, follow paths and looping commands.
Gravitrax Starter Set recommended for children 8+
Gravitrax is a super cool marble run slash roller coaster race course. At least that's how I describe it. The interactive track system allows kids to design and build their own race tracks and experiment with gravity, magnetism, and kinetics to propel their ball to the finish. Check out the video for this set because I can't begin to explain how cool this thing is.
Build a track together as a family, pick a color marble and see who wins! Kids will have tons of fun playing on their own as well.
Q-BA-MAZE 2.0 Rails recommended for children 6+
Another marble run hits the list. We always loved our marble track growing up. In fact, my kid plays with the same set now. While I love the original tracks, there are some really cool new ones out there now. Q-BA-MAZE is one of those.
Colorful clear cubes slide together to make a track. Because of the shape of the pieces kids can make sculpture tracks -animals, shapes, buildings, robots – which ups the coolness and creativity factor in my opinion. The cubes open on two sides making the track unpredictable. Kids can guess where the marble will come out next.
There are bonus kits to add on stunts, lights and colors as well. So if your kiddo loves this kit you can easily grow the run by adding more and more tricks to it.
Osmo Genius Kit recommended for children 5-12
Our second Osmo kit hits the list. This kit is $20 dollars more than creative kit but it's totally worth it. I think you get more bang for your buck with this one. The Genius Kit comes with Osmo base, Masterpiece, and Newton just like the Creative Kit. But this set also includes Words, Numbers, and Tangram.
With Words you use the photo on the screen to guess and then spell the correct word. Kids can play by themselves, against another player or against an Osmo character. You can also build your own word lists so you can pop in weekly spelling words kids need to practice or even other language words your kid might want to learn.
Numbers will help your child count, add, connect and multiply numbers. Kids can work their way through the game to increase math skills or start on the level they like best. There are different ways to solve problems so this really helps kids think and also helps vary game play.
Tangram is my son's favorite. Mix physical game pieces to match the shape found on screen. There are over 500 puzzles to play at varying degrees of difficulty. Kids complete puzzles to unlock more.
Little Tikes Big Waffle Block Set recommended for children 2+
I had never seen these before but my sister-in-law still has her set from when she was a kid. My nephews play with these on a daily basis and my son loves to play with them when we visit. In fact my nephews like to combine these with their BluTrack they got after having so much fun with my son's track.
They love to build tunnels and bridges with their waffle blocks and have the BluTrack run through or over their waffle creations. Kids can build all kinds of things with these huge blocks. Play in the house or outside with them. They are big so they take up a good amount of room making storing a bit difficult.
---
STEM and STEAM Toys for $100 and Up
You're going to see a lot of coding toys at the end here. Coding is a great skill for kids to get started learning. It's important for kids to learn about the technology that is so prevalent in their days. Mastering coding at a young age opens up a world of opportunities for kids in such a high tech realm.
Thames & Kosmos Kids First Coding & Robotics Kit recommended for children K-2 grades
Sammi gives kids an unplugged introduction to the fundamentals of coding and robotics. Kids will lay down coding cards and Sammi drives over the cards and scans them. Then Sammi records the scans as a program and will then run that sequence on map cards. Kids can program Sammi to light up, turn in different directions, pick things up, play sounds and respond to function cards.
Kids can also build other models with the same base unit. They can run a mouse through a maze or put out a fire with the fire truck they build. There is a 60 page booklet that comes with the kit to help kids through 30 building and coding exercises. Check out the video to see everything this cute little robot can do.
LEGO Robot Building Set and Educational Coding Kit for Kids recommended for children 7-12
This kit includes 847 lego pieces that can be rebuilt into 5 multifunctional models; Vernie the Robot, Frankie the Cat, M.T.R.4 (Multi-Tooled Rover 4), the guitar4000, and the AutoBuilder. Each model has their own unique features and commands.
With the downloadable app kids use the icon-based coding interface to complete an array of exciting activities designed for each model. Kids can learn about loops and variables, develop their STEM skills, and creatively solve problems in endless play possibilities!
---
Things to Remember when Buying STEAM Toys
We've finished off our list of STEM and STEAM toys. I have to say my kid was glued to the computer as he watched me compile this list. Pretty much everything he didn't have already, he asked for. There are a couple of things on the list that even have me excited to try out.
Just remember when picking out STEAM toys that promote Science, Technology, Engineering, Art, and Mathematics you're looking to build skills like:
coding
problem solving skills
creativity and imagination
expand stereo type roles
independence
but also team work
spacial reasoning
critical thinking
planning skills
builds confidence
encourages trial and error
and much more
You really can never go wrong with a STEAM toy!
Is there a STEAM or STEM toy that your kid loves that's not on the list? We'd love to hear about it in the comments and why your child enjoys it.
---
You Might Also Like:
---