The Less is Now Challenge, 30 Days to Change Your Life
Take the Less is Now Challenge and get rid of 465 items in 30 days. That might sound like a lot but you can totally make it happen with these helpful tips.
(THIS POST PROBABLY CONTAINS AFFILIATE LINKS. OUR FULL DISCLOSURE POLICY IS LONG & BORING BUT, YOU CAN FIND IT HERE.)
Minimalism is catching on. A lot of us feel like we have lost ourselves in our stuff. Two guys known as The Minimalist are expanding the movement everyday with their blog, podcast, and documentaries. The Less is Now Challenge is their latest call to action. It has the power to send you on a journey that just might change your space, and life.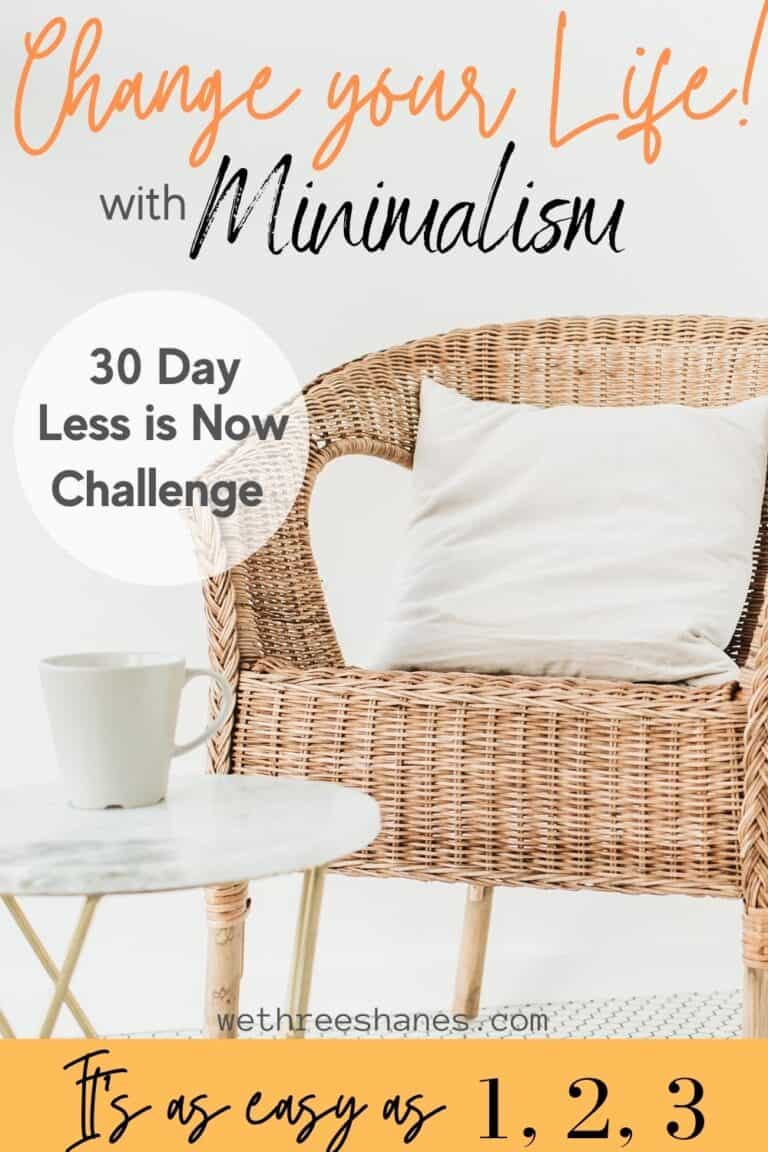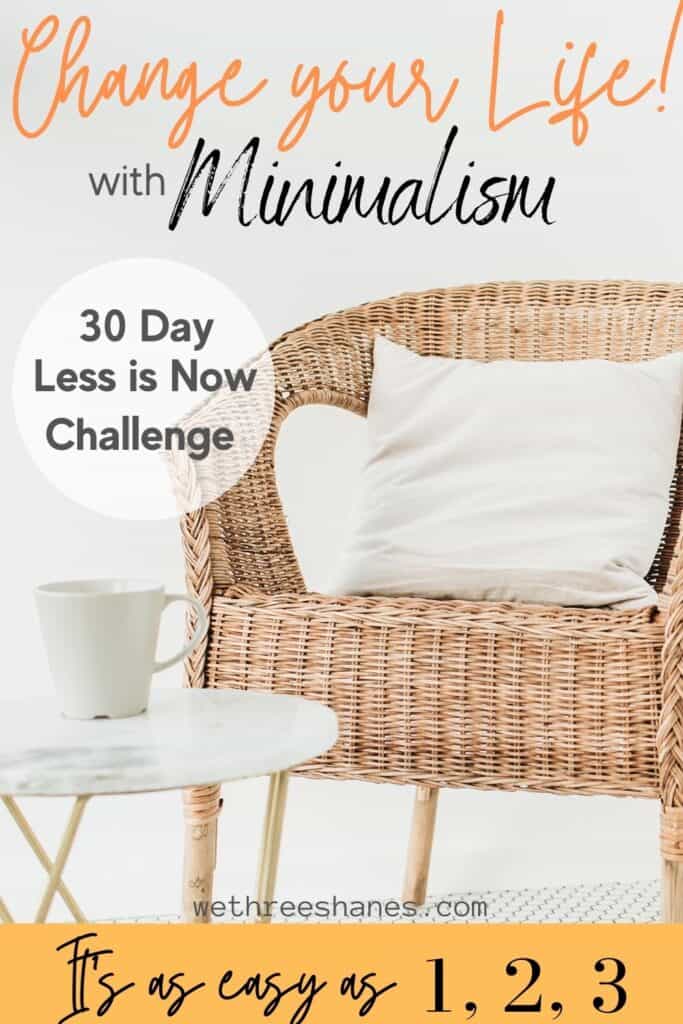 Who are The Minimalist?
I have posted about minimalism before on this blog, so you know it is something I am passionate about. One of my first, and biggest influences in this movement are The Minimalist.
The Minimalist are Ryan Nicodemus and Joshua Fields Millburn, and they have a new way to jump into the world of minimalism, called the Less is Now Challenge. But before we get onto the challenge, lets first introduce you to The Minimalist and explain how they changed their lives with minimalism.
Ryan and Joshua started the blog at theminimailist.com, and wrote about their own personal journeys to minimalism in their book, Everything that Remains. The tour they went on to promote their book eventually became their first documentary, The Minimalist, which is available on Netflix.
This introduced them to a whole new audience. Now, hoping to bring their message to even more people, they have a new special, The Minimalist: Less is Now on Netflix. It further delves into their journey with minimalism, and introduces us to The Less is Now Challenge.
So, what is Minimalism?
The Less is Now challenge helps us enter the world of minimalism, but what is minimalism? Ryan and Joshua define minimalism this way,
Minimalism is the thing that gets us past the things so we can make room for life's most important thing-which actually aren't things at all.

Ryan & Josh
Here are a few startling facts that might help you understand why minimalism is becoming a way for people to gain a sense of freedom in their lives.
The average home in the United States has over 300,000 items in it.
We are subjected to about 5000 advertisements a day.
In the United States, our homes have three times more room than houses did in the 50's, yet we still have an over 2 billion dollar a year storage facilities business.
Joshua was the first one to become a minimalist, and then shared the success he was having with Ryan. Joshua has stated when he first started to minimize his possessions he would ask himself, "Does this thing bring value to my life".
I think this is a great question to get anyone started because it is subjective to you and the way you live. Minimalism isn't one size fits all, but it has the ability to affect everyone in a different, yet positive way.
---
What exactly is the Less is Now Challenge?
The Minimalist, Less is Now is the most recent documentary to be made by the team of Joshua, Ryan, and their director Matt D'Avella. The first one being titled, The Minimalist. Again, both can be found on Netflix.
I highly recommend you watch them when you get the chance. The Minimalist, Less is Now is only 56 minutes, and well worth the time. At the end of the show is where they present the Less is Now challenge., also known as the minsgame.
First, you pick a partner. This can be anyone you like; a friend, spouse, co-worker, or you can also do the challenge with us this month (Feb 2021) on our Facebook page.
You take the next 30 days to get rid of items that no longer serve you. On day one, you get rid of one item. On day two, you get rid of two items. Then on day three, you get rid of three items, and you go on like this for the rest of the month.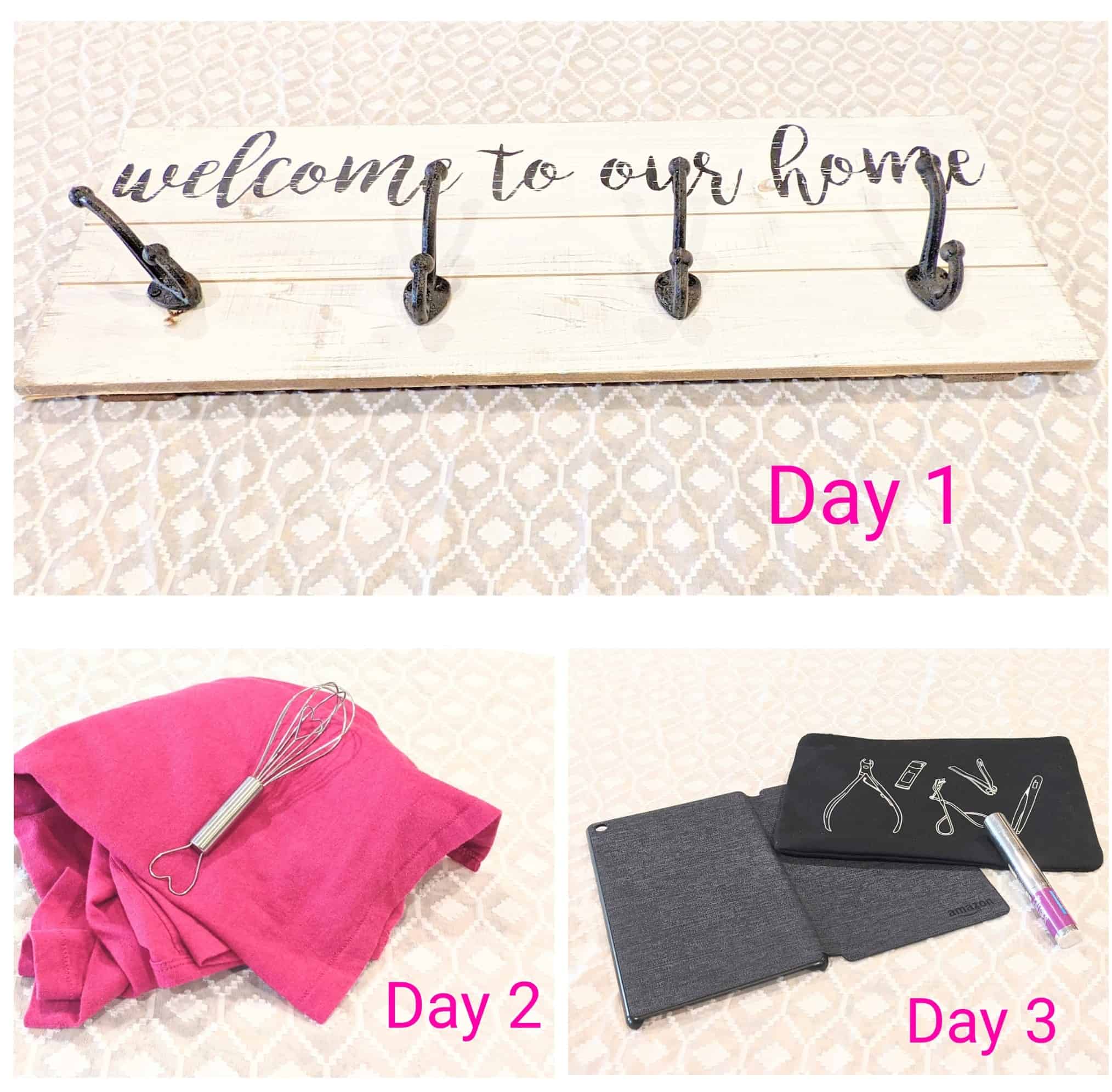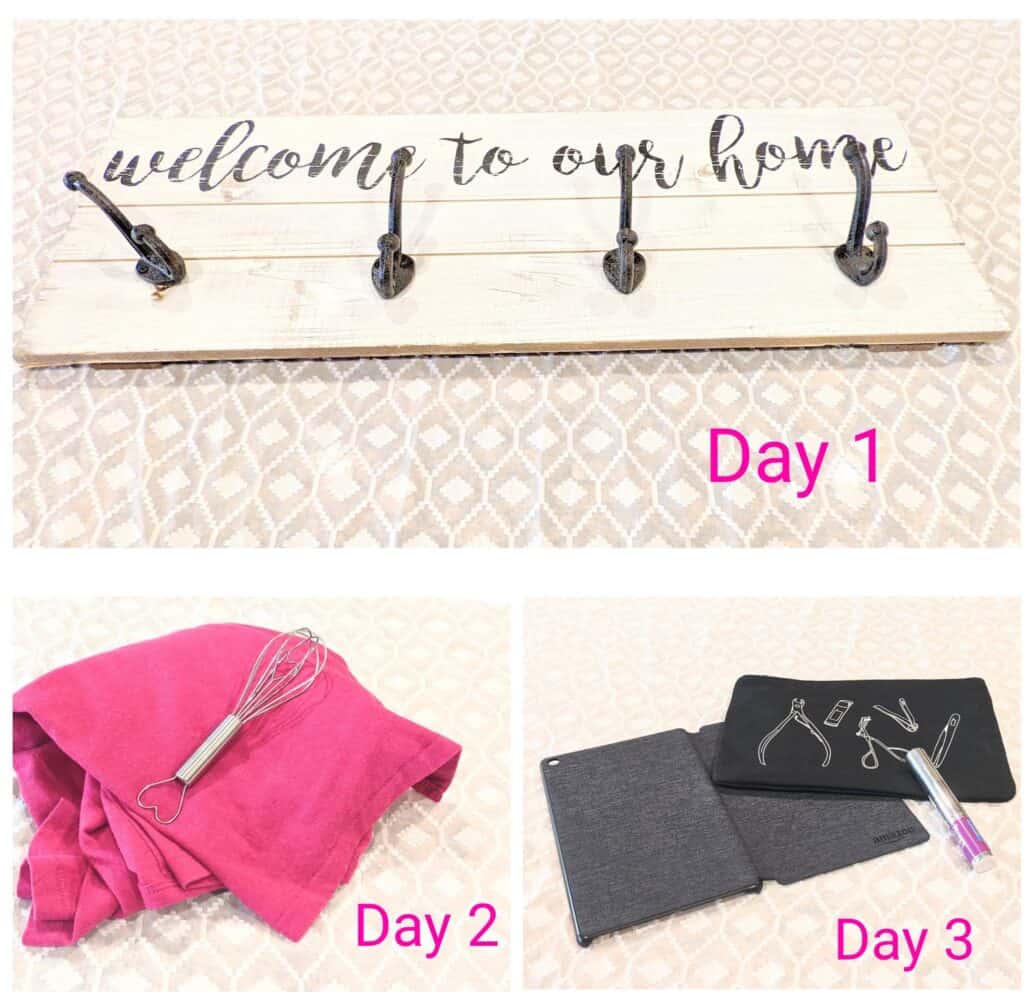 When the 30 days are up you'll have gotten 464 items out of your home. These items can be anything that is taking up space in your life. It can be clothing you don't wear, kitchen items you don't use, old make-up you need to throw out.
This can be the moment you finally give yourself permission to get rid of that project you know you will never finish, or that item you meant to repair a year ago…that hasn't happened. It can be as simple and small as that pile of junk mail on your desk you still haven't gone through.
---
Tips to Help You Get Through the Less is More Challenge
The challenge is a great way to jump into minimalism because you start off small. Then as the minsgame gets harder, you're already gaining momentum and seeing results. I'm not saying the less is more challenge is easy though, so here are some tips to help you get through it.
Tip 1: Grab a friend
I know I already said that before. It's actually step one of the challenge. But it's so important to do this challenge with a friend and here's why:
You need someone to check in with and to make sure you're actually doing the challenge every day.
It helps to be able to talk to someone who is doing the challenge that understands how hard it can be to get rid of stuff.
To give encouragement when the challenge gets hard.
You can bounce ideas off of each other when you're not sure what to get rid of next.
Watch the movie together before you start the challenge. This will help get you motivated to start the minsgame.
Tip 2: Set Some Rules
Once you have a friend or two to do the challenge with, take some time to set up your rules. Are you going to send a photo a day as proof? Will you talk each week about the challenge and how it's going for each of you?
How about celebrating with a lunch date when you complete the challenge? What if one of you completes the challenge and the other one doesn't? Does winner buy lunch?
Think about what will motivate you both to finish the challenge. Talk about each of your expectations about the challenge. Set your rules and then kick things off!
Tip 3: Know Where Your Decluttered Items Will Go
As you start to get rid of items you don't need, they will start to pile up. The amount of decluttered items can get overwhelming fast if you don't know what to do with them.
Have some supplies ready. Sturdy boxes might be good for items going to the thrift store. Extra strength garbage bags are useful for items going in the trash. Recycle what you can.
Make sure your local thrift store is taking items right now. You can also consider donating items to a women's shelter. Many women leaving abusive relationships leave quickly and don't have time to grab items. Clothing and decor is always useful for them.
As long as you have a plan in place you'll be good to go. Once your donate pile gets big take things over. Don't wait until the end of the month when you have so much stuff that you get overwhelmed.
Tip 4: Get the Family On Board
If you live at home with your family then it helps to have them on board for the less is more challenge. You can even do the challenge as a family and plan something special at the end of the challenge to celebrate.
You need to get permission from family members before getting rid of their items. That's why it's best to do the challenge as a family. However, if they don't want to participate then you need to stick to your own items.
Don't go through your husbands clothes with out him there. Don't go through kids toys with out them there. It's not fair to them. You can motivate them to get rid of their own items but doing it for them can cause big problems.
Tip 5: Use #Lessisnow and #minsgame
Use the lessisnow and/or minsgame hashtags to keep track of the challenge and to encourage others to join. You can also search the hashtags on Facebook, Instagram, and Pinterest to see how other people are handling the challenge and to get ideas on what to get rid of next.
Tip 6: Start at the Beginning of the Month
It's a lot easier to keep track of what number of items you're on when you start the minsgame on the first of the month. If it's the twelfth of the month then you know you need to get rid of 12 items.
Tip 7: Use or Free Tracker Printable
You can also use this helpful printable to keep track of where you're at in the decluttering process. It's super motivating to see all those circles being colored in as you go along. It gives you a visual of the items leaving your home.
It's also a great to keep track of your progress, especially if you start in the middle of the month.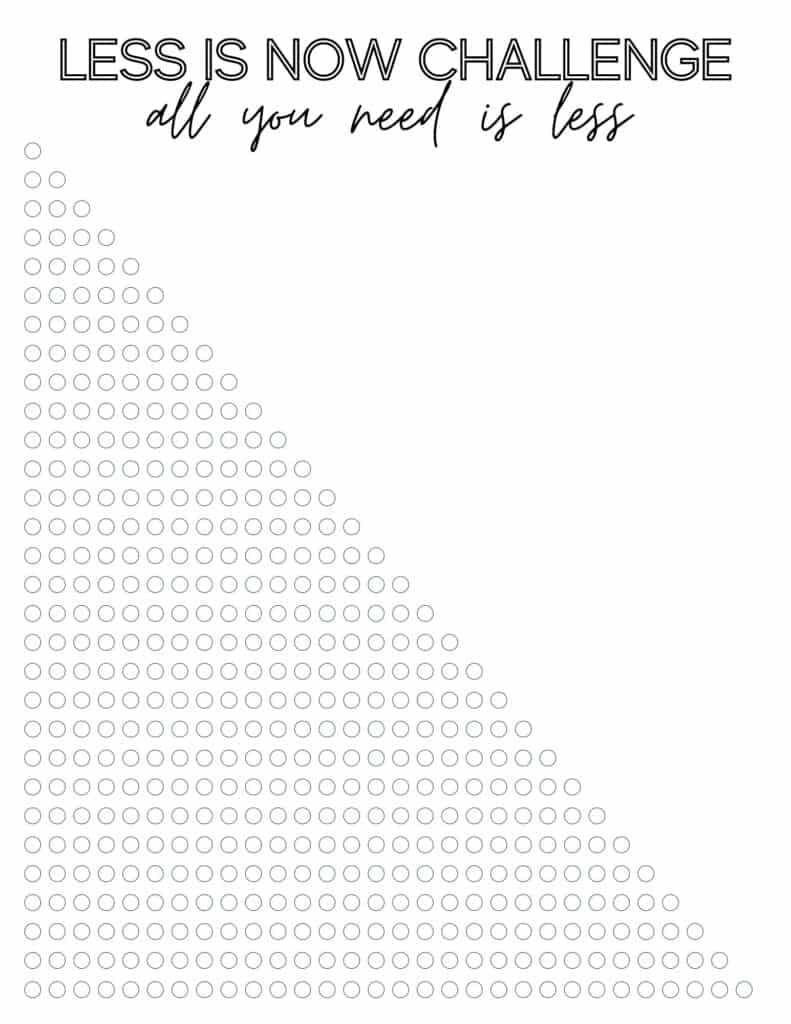 ---
Inspiration and Motivation
There is lots of inspiration out there to help you stay motivated on your journey through the Less is Now Challenge. The Minimalist introduced me to the world of minimalist on YouTube. I first heard of Joshua Becker on their documentary. I checkout his YouTube channel and have been hooked to it ever since.
Then after watching Joshua Becker's channel and The Minimalist channel, YouTube started to recommend more channels to me. Some of my favorites are Sarah Therese, Natalie Bennett, Ashlynne Eaton, The Minimal Mom, Gabe Bult, and the director of The Minimalist Movies, Matt D'Avella.
Now, all of these channels don't just talk about minimalism, but they all use the principles of minimalism in their daily lives, so it comes up a lot. But, you can always go to their channels and just look for their minimalism exclusive videos if you wish. They are all very inspiring, mostly positive people.
If you want some added inspiration or tips for helping you decide what to declutter each day, I found the book The Life Changing Magic of Tidying Up by Marie Kondo to be very helpful. She goes over how she holds items in her hands and questions to ask to help you decide what is important to you. She also has a show you can watch on Netflix as additional inspiration.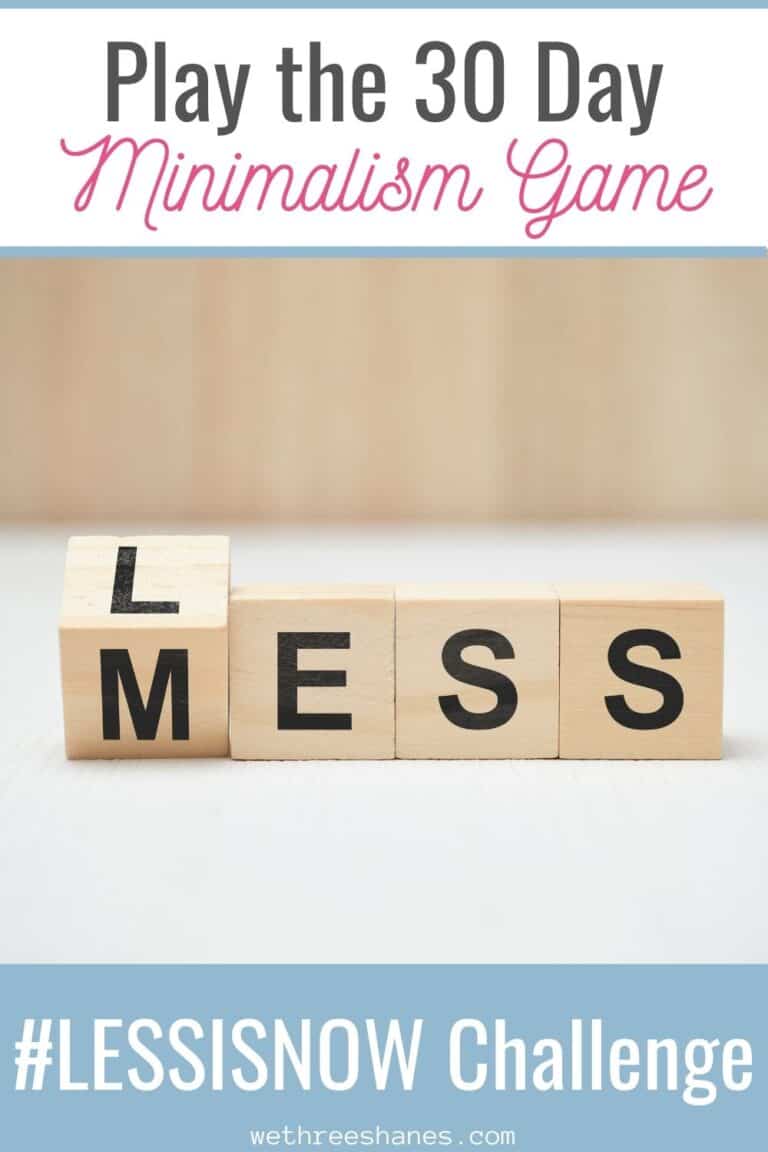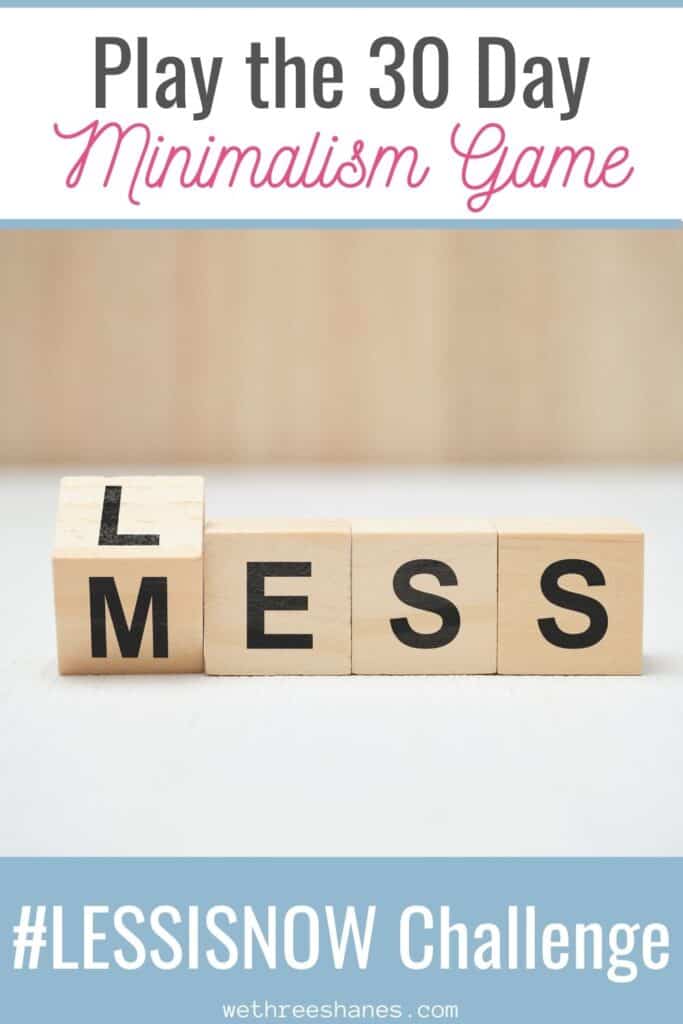 Do you think minimalism could change your space and benefit your life? I challenge you to do the Less is Now Challenge with us this month.
Come join us on our Facebook page and post about your experience or progress. And be sure to let us share in your accomplishments here in the comments as well.
---
You might also like: