Declutter Faster with these Tips and Tricks
We all want to declutter faster, but it took years for us to make our clutter, we can't expect decluttering to take minutes. However, there are lots of things we can do to speed up the process and stay focused. Use these tips and tricks to declutter faster and become a decluttering master.
(THIS POST PROBABLY CONTAINS AFFILIATE LINKS. OUR FULL DISCLOSURE POLICY IS LONG & BORING BUT, YOU CAN FIND IT HERE.)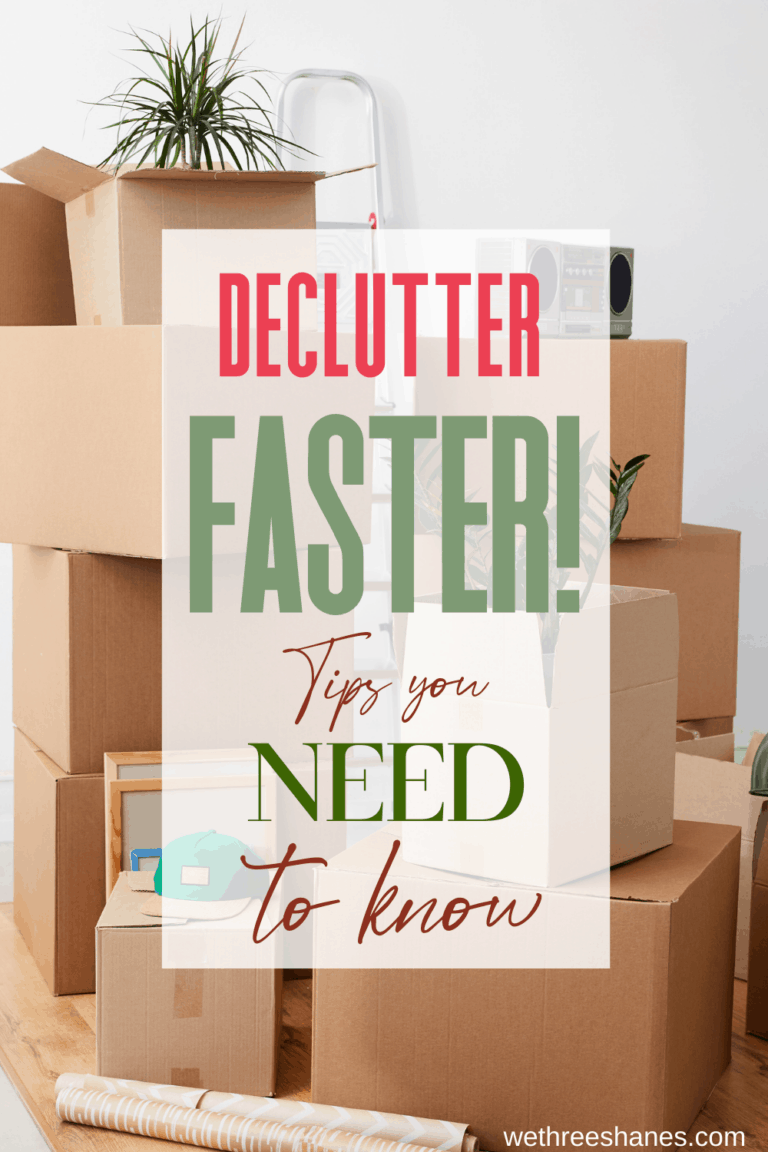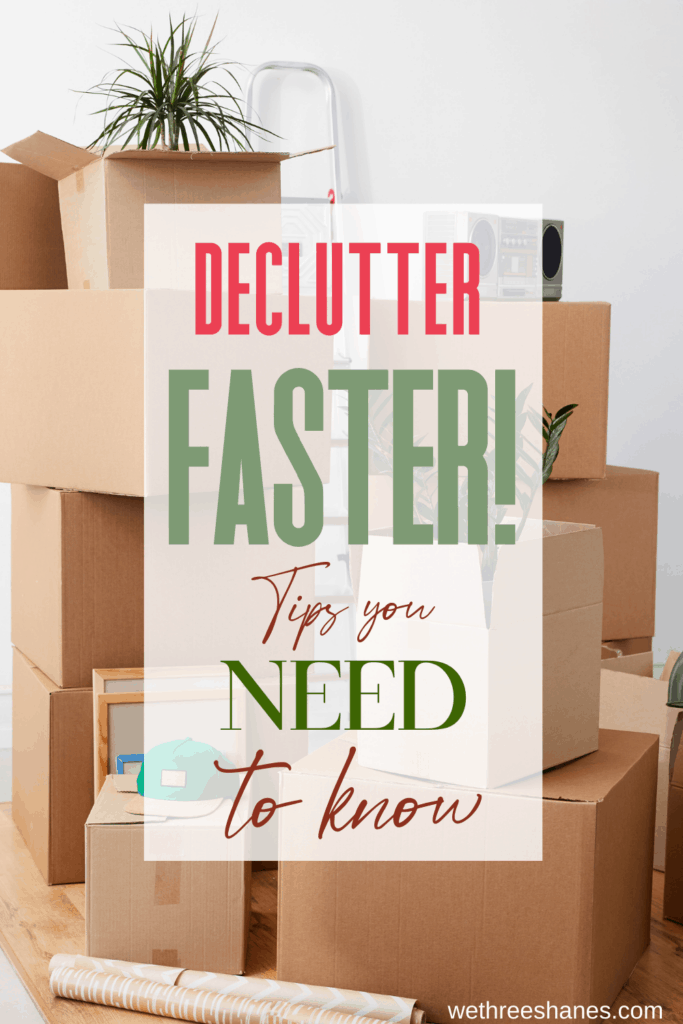 Have the right tools before you start decluttering
Nothing can put the brakes on a goal to declutter faster than not having what you need to get the job done. Here are some recommendations of what to have on hand before you get started.
Cardboard Boxes. You could put decluttered items in any container really, but I think cardboard boxes are best. This makes it easier to take the items directly to your favorite donation location without the additional step of transferring them to a new container. And you can write right on the boxes for easy labeling. The moving boxes with handles that you can get from home improvement stores are great. They stack well, and are easy to carry.
Markers. Markers help you label your cardboard boxes so categories are clear.
Trash Bags. When we declutter faster, we need to have a ruthless mindset. This usually means a decent amount of items will need to go in the trash. Have enough bags on hand to get the job done. I would suggest using black trash bags, they are strong, and the black is opaque and makes it harder to second guess what you throw away.
Cleaning Supplies. Having cleaning supplies ready to go makes it easy to clean an area after it has been decluttered so you can move on faster.
Timer. Sometimes you are going to want to switch things up when you declutter faster, and a timer can really help with that. When you are stuck you can do timed drills to get your enthusiasm back up.
---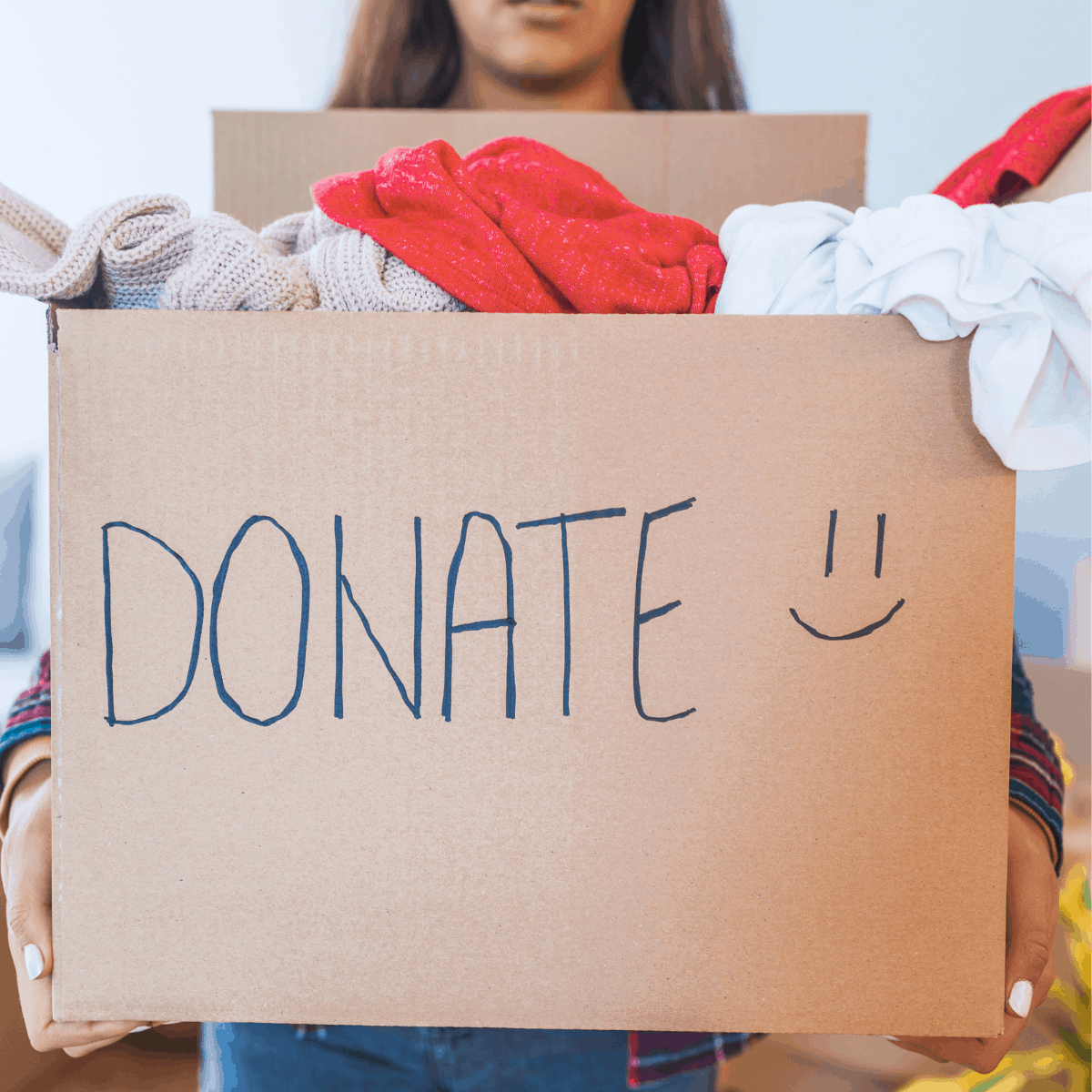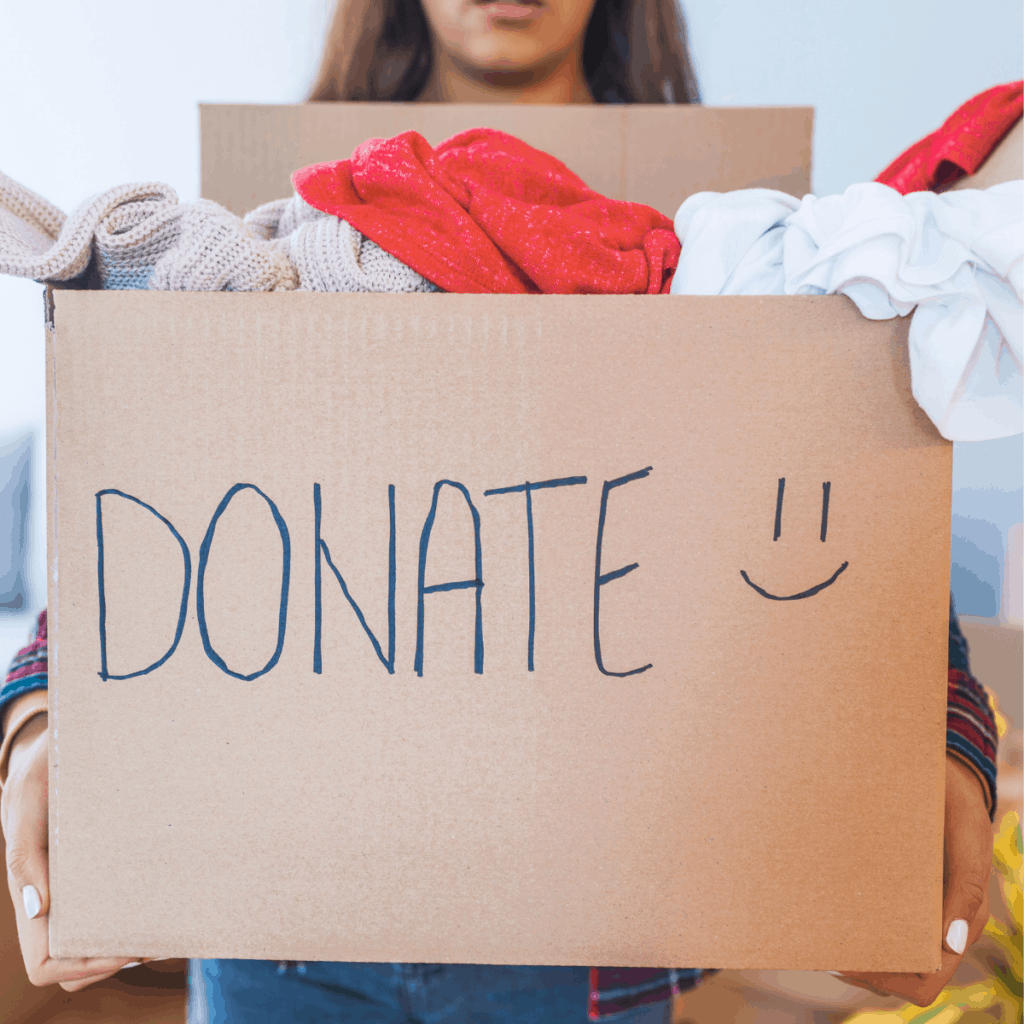 Declutter Faster with a Goal and a Plan
If you want to declutter faster you should just jump right in, right? No. Not having a goal in sight, and plan in place is what causes us to jump in excited, but burn out before we finish. You may be taking a little time to plan up front, but it will save you lots of time as you move forward, and that is what helps keep you motivated.
Clutter is just unmade decisions. Having a goal can help us make those decisions faster. What do you want to accomplish by decluttering? Do you want more piece of mind? Do you want to spend less time cleaning and organizing? Maybe you just want better mental health and a calm home? Figure out what you desire from your decluttering and use that to write your goal.
How to write a plan to accomplish your goal.
Do not start with sentimental items! This one is huge! Sentimental items are usually the hardest decisions to make and therefore they slow us down.
To declutter faster we want to start with something easy where there is little attachment. Once you have been decluttering awhile and you are seeing the positive results, you will be more motivated.
This will make it easier to part with some sentimental items with less slow down. Now that we have that out of the way, let's list some more ways to help you make a successful plan.
Get an easy win.
Start your plan with a smaller project. Completing a small project will get you motivated when you see the big change made with little effort.
A great way to start is a 10 minute whole house sweep. It is quick and doesn't involve the sentimental items we talked about above. Grab your timer and a trash bag.
Set 10 minutes on the clock, and see how much trash you can get rid of in just 10 minutes. Weather it is that pile of mail, some expired products you just haven't ditched, or the food growing mold in the fridge, get it out of there!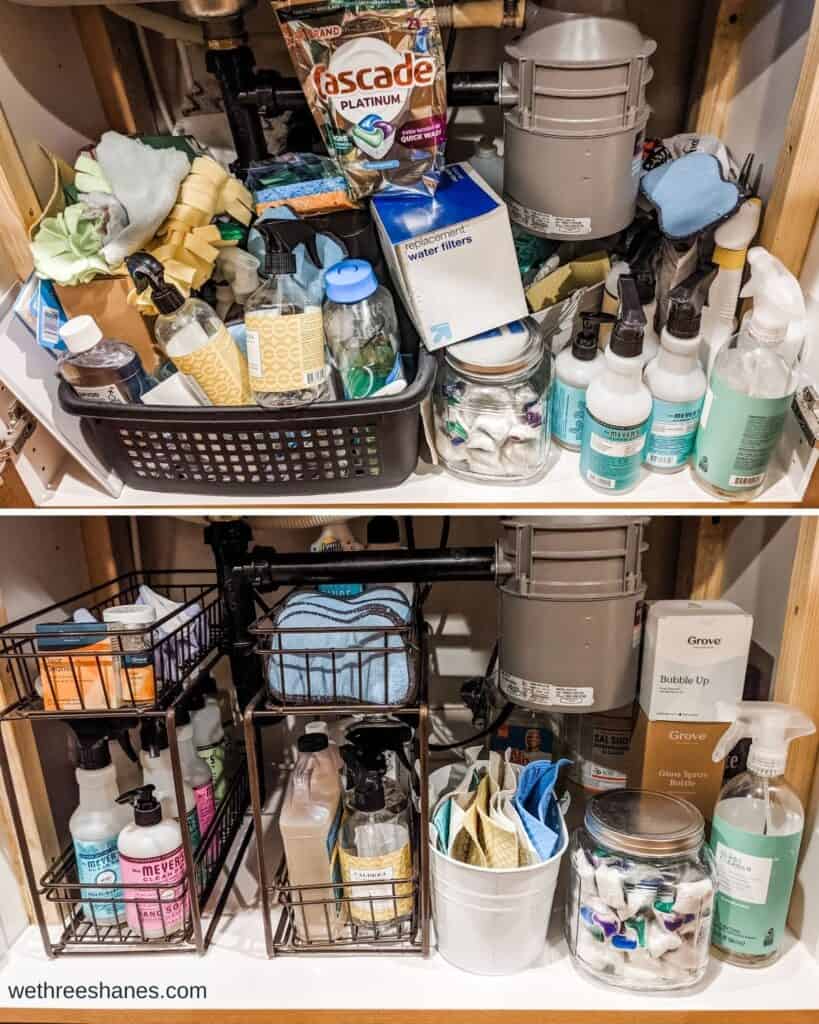 Set deadlines.
Make deadlines a part of your plan, and write them down. If there are no deadlines for projects, it makes it too easy to let other things get in the way of your desire to declutter faster.
Tell someone.
Once you finish your plan and deadlines for accomplishing it, tell a friend or family member about it. This will be your person to share progress with. You can even ask them to check in with you from time to time to hold you accountable.
Write Down Some Pre-made Choices
Pre-make some Decisions. Make some of those tough decisions before you dive in. Will you automatically part with broken items? What about projects you never finished (or even started)? How about those clothing items you haven't worn in a year? Make these decisions ahead of time, and they won't slow down your progress.
Know your "keep" questions. Decide some criteria for the items you will keep in your home. Do you love it? Is the item used regularly? Can I live without it? Figure out what criteria an item has to meet ahead of time, and you won't have to slow your momentum mid-project to figure this out.
---
Tips and Tricks to Declutter Faster While Putting Your Plan Into Action
Once you have the tools you need, a goal and plan in place and you have pre-made your important decisions, you want to get your head in the game. If you want to declutter faster you want to have a ruthless mindset. Clutter is the enemy to accomplishing your goal, treat it as such.
Going Through Your Stuff
Trash should leave immediately. Once you have decided something is trash, don't give yourself or someone in your household the chance to second guess your decision. Get the trash into your black trash bag, and as soon as that bag is full, it leaves the house.
Have a container or basket for relocation. When you declutter faster, you want to stay on task, and moving items to other rooms is a good way to get distracted. Stuff that is staying in your home, but that needs to be relocated to a different spot goes in the basket for now. Relocate it only once you are finished with your task.
The 3 box system. What about the stuff that isn't trash, but is not staying? Label your boxes in 3 ways; sell, donate, quarantine.
Sell. Selling items is much more time consuming than donating items, so limit the items that will go into your sell box. Do this by setting a dollar amount the item would have to make for it to be worth your time to sell, like $25.
Also set a time limit. Give yourself one week to get the item sold, if it is not sold in that week, the item would be donated. Write your dollar threshold and time limit right on the box.
Donate. Decided ahead of time where you are going to donate items. As soon as a donate box is full, place it in your car. This makes it harder to change your mind, while making it easier to donate those items since they are already in your car when you are out running errands.
Quarantine. This box give you a place to quickly place items that you are not ready to make a decision on. Set an amount of time that items will be allowed to stay in quarantine (example, 6 months) and write the finishing date on the box. Once you hit that date, if you have not needed or missed the item, it gets donated.
Staying Focused
Use these extra tips and tricks to stay focused and motivated while decluttering your home quickly.
If you keep an item it must have a set place. An item you want to keep not only has to pass your keep questions, it must have an exact place in your home. If you can't make it work, it probably shouldn't stay.
Don't let your clutter distract you. Now is not the time to look at all the photos in the box you just found and reminisce, save that for once you have reached you goal.
Find motivation. I like to listen to music or a podcast when I am doing busy work. Find what works for you. I would just recommend it be something that is not visual since that can be distracting instead of motivating.
Use mini sessions. Here is another time when that timer will be helpful. If you are having a day where you are just not motivated or you lack a large amount of time, do a mini session. Set the timer for 15 minutes and make it a game to see how much you can declutter in that set time. This is a great thing to do with family members, since the competition element can make things fun, but also very productive.
Let go of guilt. One thing that can get us stuck is the idea that we wasted money on the items we want to declutter. The money is already gone, don't let the item now steal your time and sanity too.
Schedule breaks. Don't get so obsessed with the idea of decluttering fast, that you don't take breaks and burn out. Remember to hydrate, eat, sleep, and have some breaks.
Make a reward part or your plan. Once you have accomplished your goal give yourself a reward that involves an experience instead of another item you don't need.
---
Don't Backslide
Your goal has been reached, now what? Start by appreciating your work and less stressful space. Enjoy it, let it breath.
Now, set some rules for your new space. If you want to bring a new item in, maybe you have to get rid of one item in exchange. Hopefully seeing your space decluttered will help you stay motived to keep on track.
But because we do need things, and things don't last forever, decluttering will still need to happen from time to time. Look for items to declutter in daily routines.
As you apply makeup, pay attention to items you aren't using, or that may be nearing their expiration date. When you get dressed, notice if clothes are just not getting used. As you do laundry, look for items that are starting to get holes or look threadbare.
When you notice these things, don't be afraid to just toss them.
---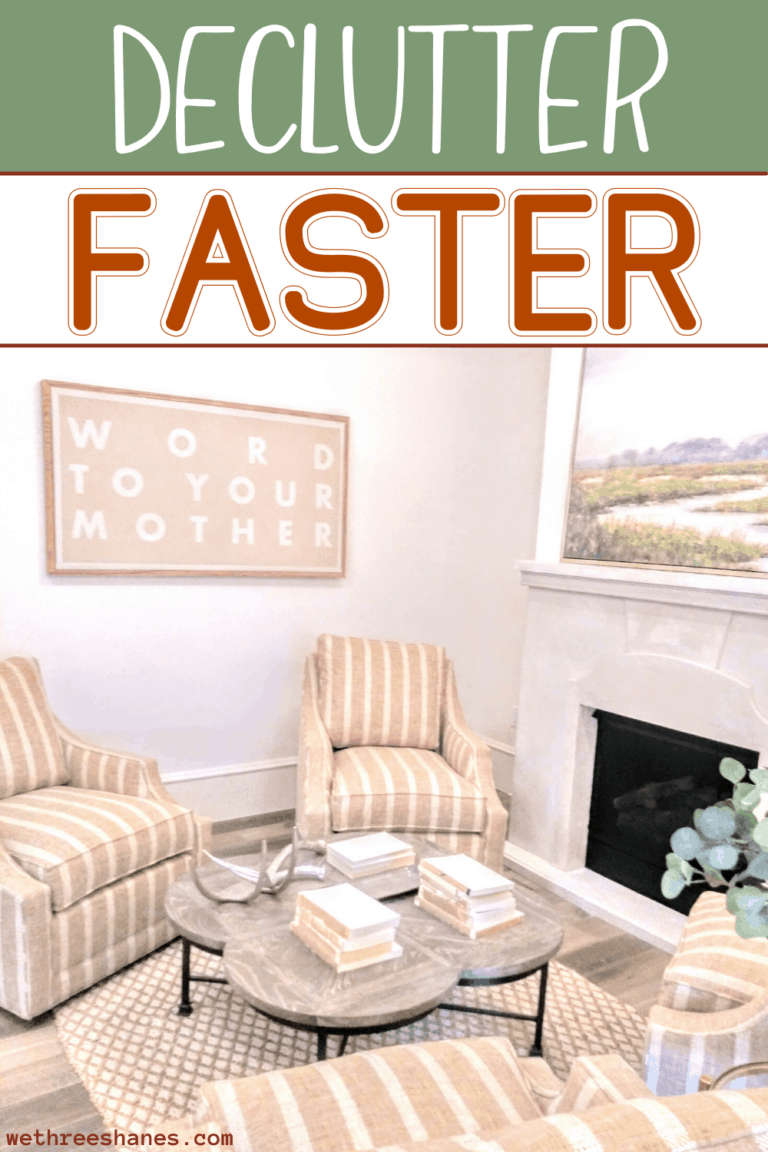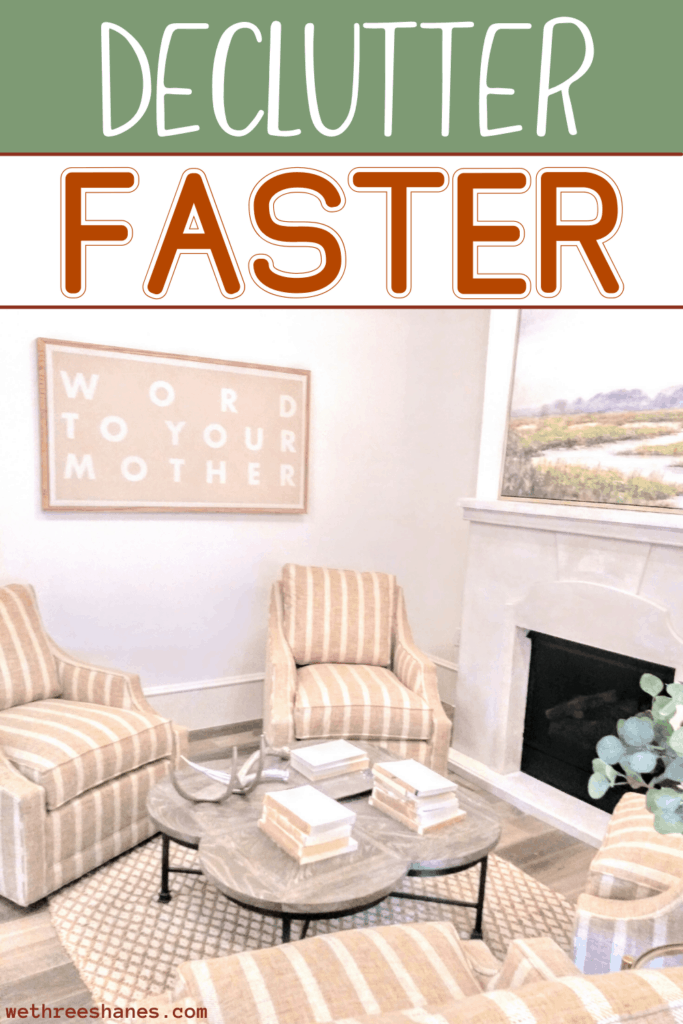 When we do some planning we can declutter faster! What goals do you have for your space? How would your space and your life benefit from having less clutter? What tip are you for sure going to try to declutter faster? Let us know in the comments.
---
You Might Also Like: