Simple Living Porch Ideas Halloween Edition
When decorating your porch for a holiday it is easy to go over board. But to keep with that simple living life style, sometimes less is more. In this post we will show you some fun, cheap and easily changeable halloween decor for your front porch.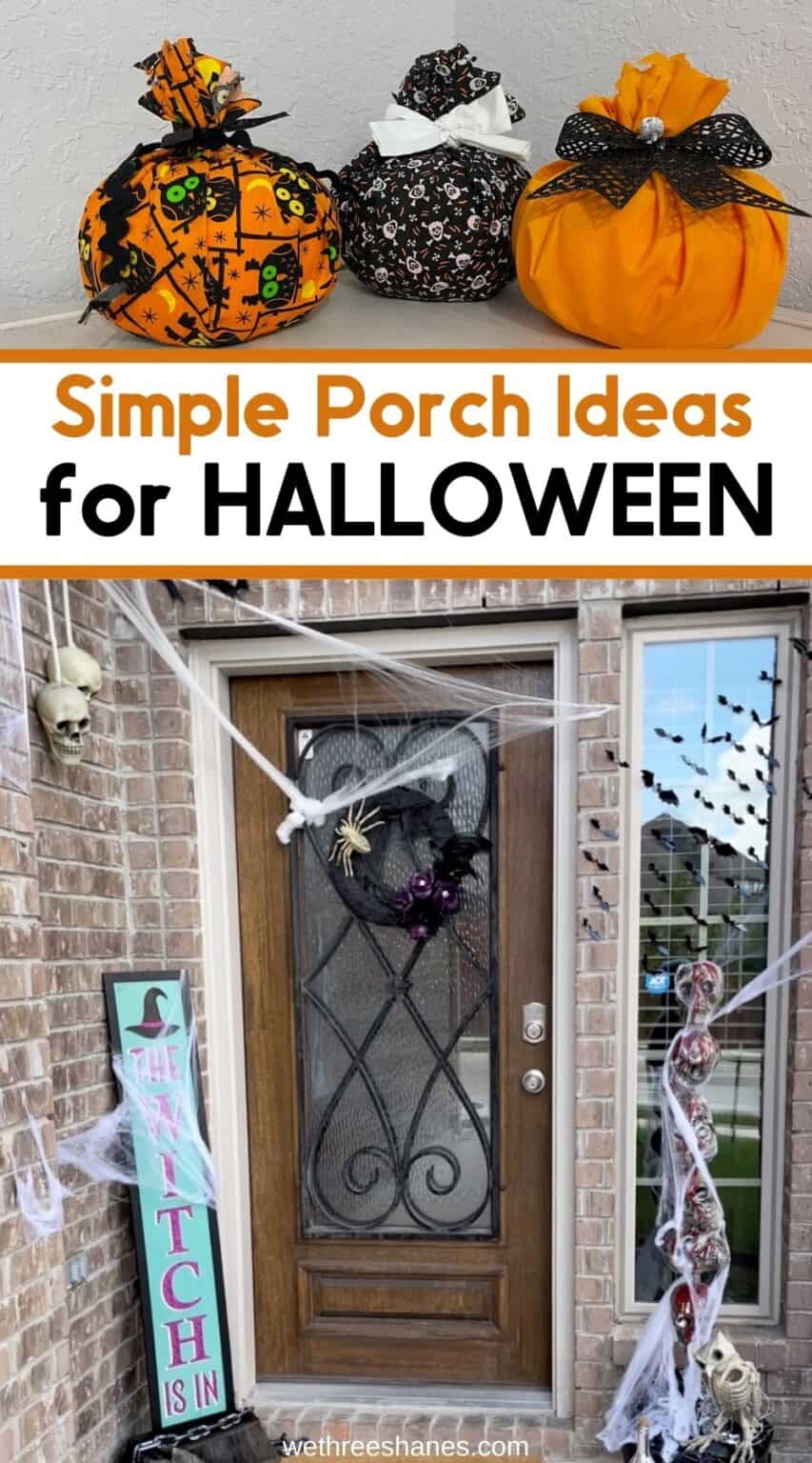 (THIS POST PROBABLY CONTAINS AFFILIATE LINKS. OUR FULL DISCLOSURE POLICY IS LONG & BORING BUT, YOU CAN FIND IT HERE.)
Simple Porch Ideas For Halloween
Have you noticed on social media, all of the overboard Halloween decorating going on with people's front porches? I'm constantly being shown that if I do not spend $300 on my porch for each holiday, I am not doing enough.
Well I am here to tell you that you can very easily decorate your porch for ALL year long for $300 or less. Simple living isn't just about spending less money and having less things, but it is also about doing less.
I will be the first to admit these porches I've been seeing are gorgeous! And if you budget for it, and it makes you happy then great! But most people don't have that kind of budget for holiday decorations.
They also don't have the necessary storage space that everything takes up. Have you seen the 14 foot skeleton going around this year?? Where do you put that afterwards?
Where does that leave us then? I have found several cute and practical ideas for dual decorations. I'm also going to show you some creepy halloween decor and some cute kind because let's face it.
Not everyone is in the same stage of life. I am finally to the point where my kids are older and creepy stuff is fun. When my son was younger, we couldn't even walk passed the halloween section without him having a panic attack.
---
Easy and Cheap Halloween Decor
My secret to easy and cheap decorations comes from two places usually. The Dollar Tree or thrift stores. Most of my halloween decor came from these two places.
Occasionally, I'll order something from amazon or pick something up at Target, Five Below, Ross or a craft store like Michael's or Hobby Lobby. If I am shopping at a craft store I almost never pay full price. Most of those places put decor 40% off a little after the season begins.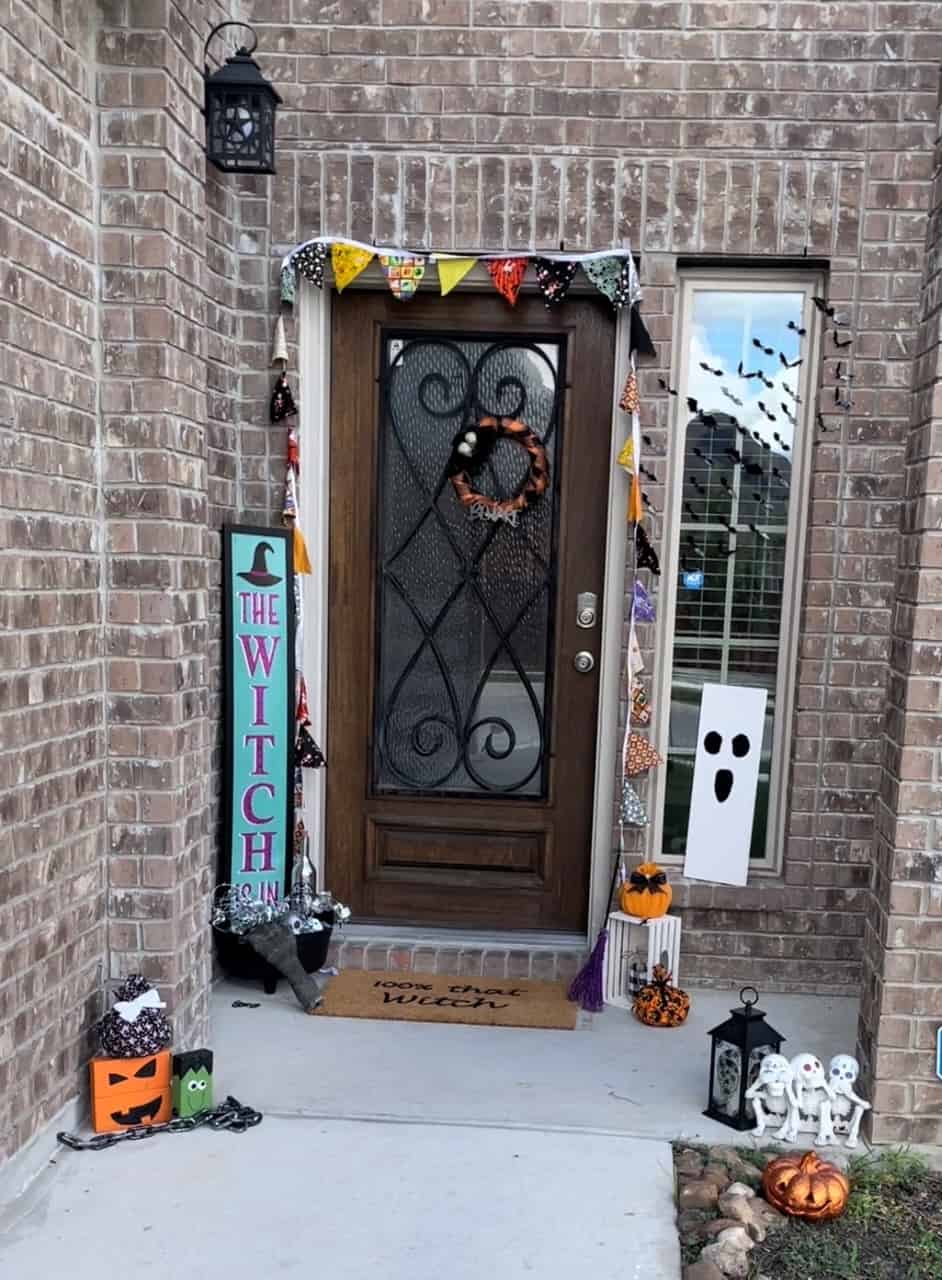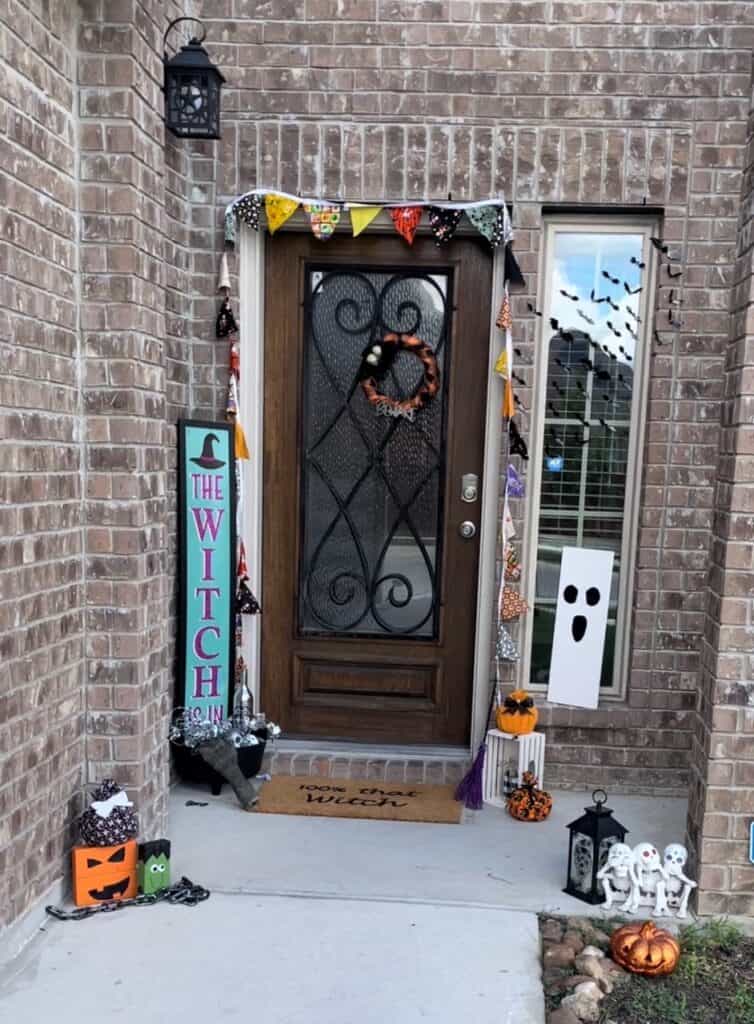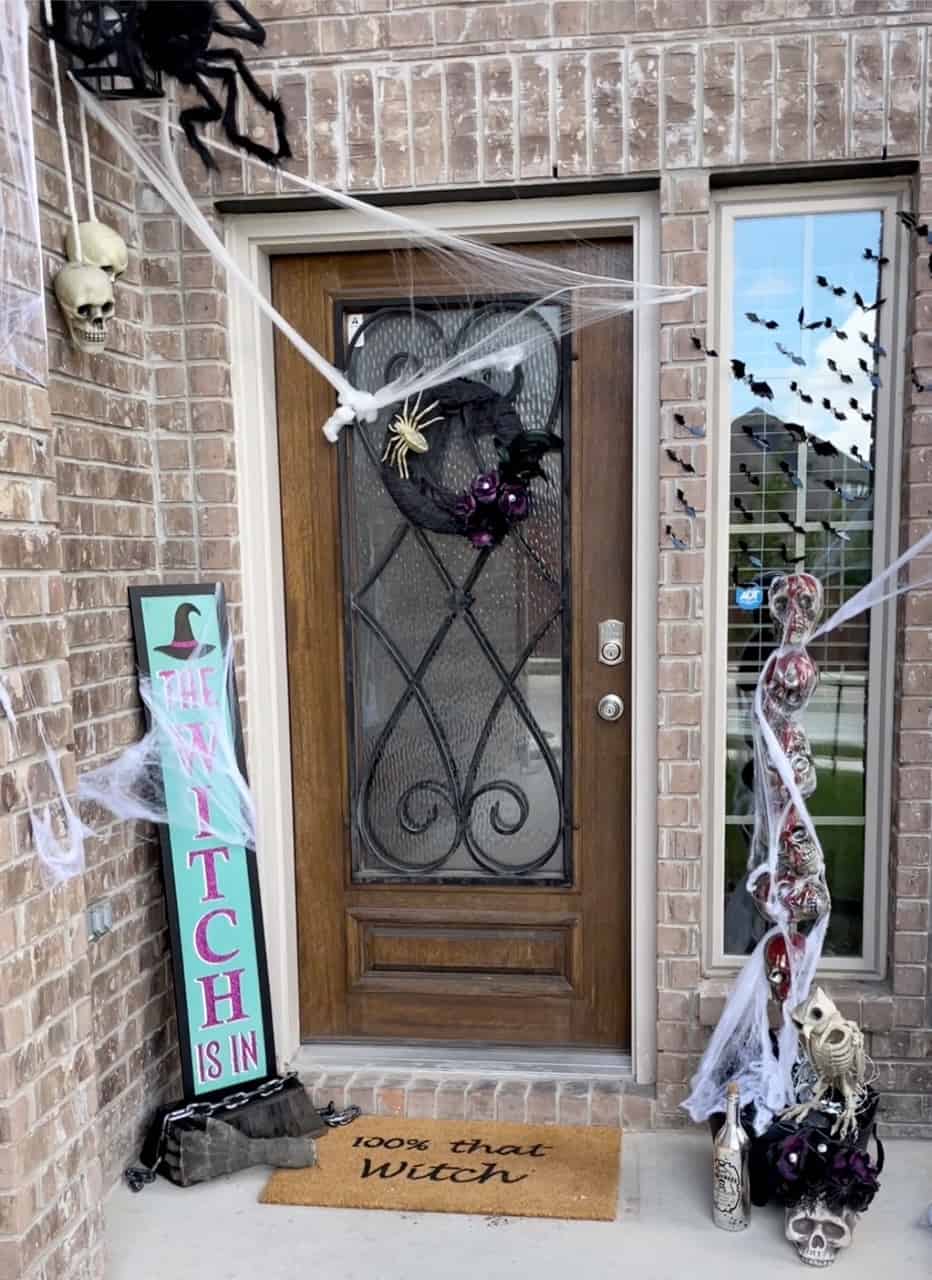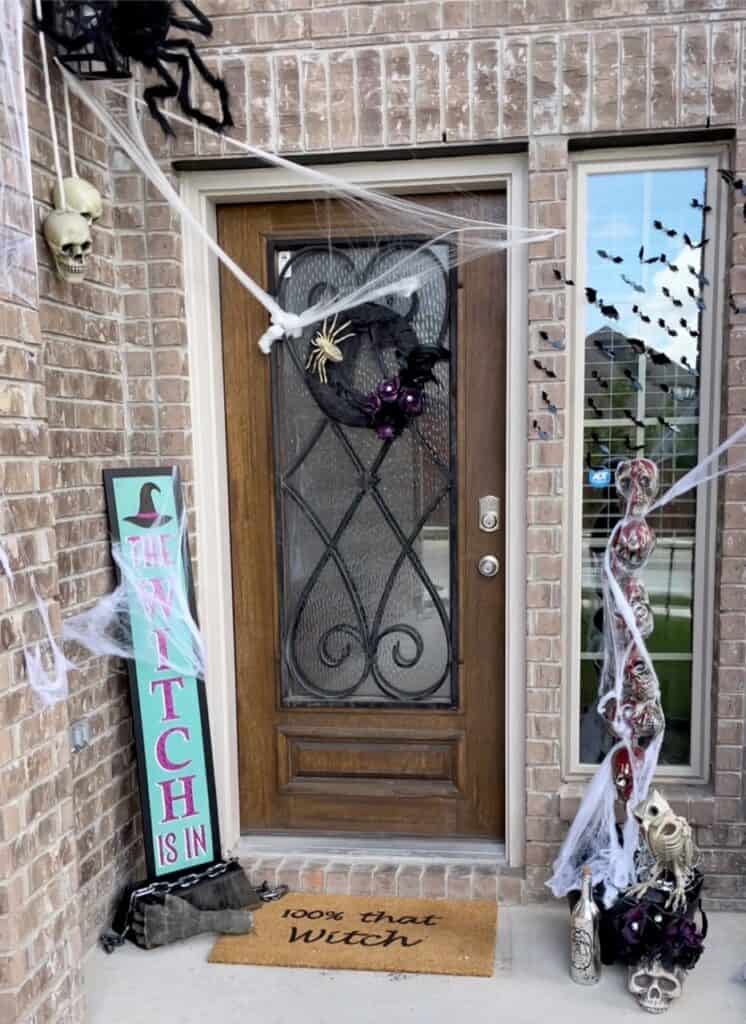 Decorating with Pumpkins
Pumpkins are SO dang cute on porches but using real ones only last for one season. Also, I do not know about you but sometimes I get lazy and forget about them and then they could rot and get smelly or attract bugs. If you do not have room for decor storage they are a great option though.
Personally, I like to use fake pumpkins. Dollar Tree has a bunch of different fake pumpkins. I was able to buy a few of these foam ones and then wrap them in fabric. This makes it easy to change the fabric every year if I want to mix it up and make "new" decor or I could just leave them in the same fabric for several years.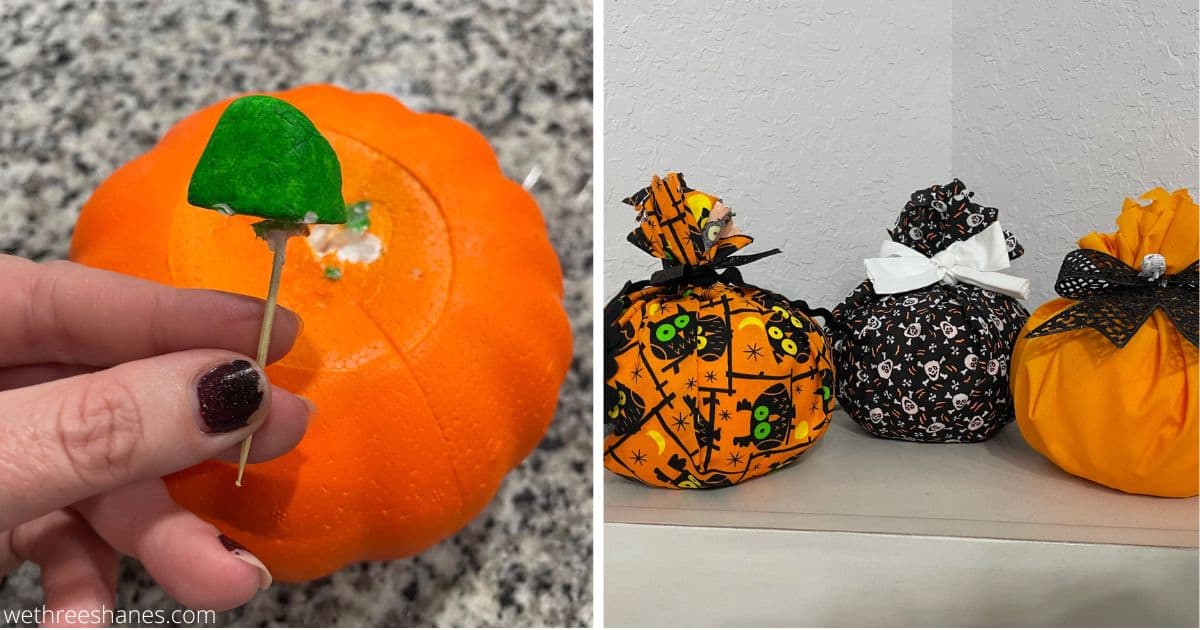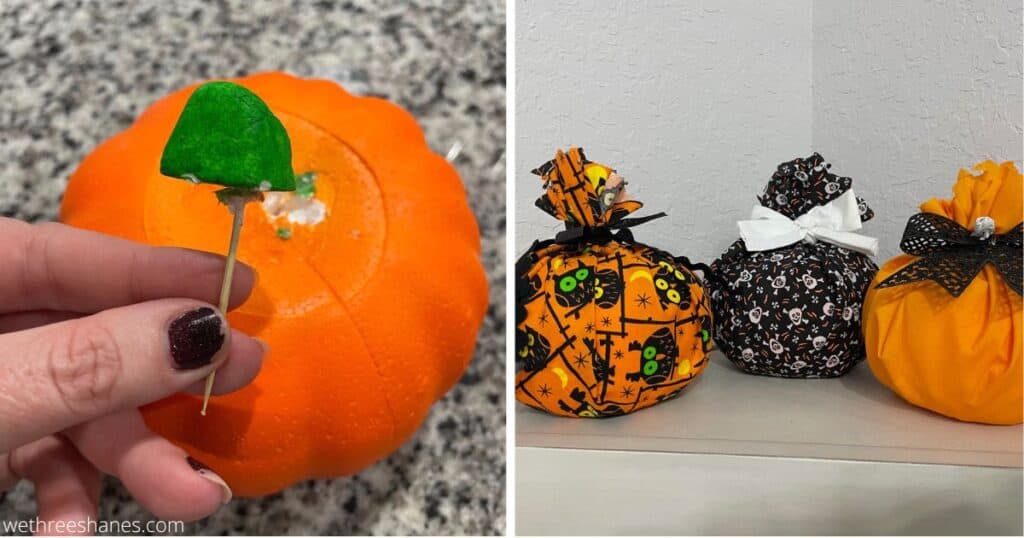 You also can use fake pumpkins year after year by painting them. One year they could be white and the next year you could paint them red. The possibilities are endless and make for a great, cheap and versatile decor option.
You also can make Fabric pumpkins or toilet paper pumpkins as Kim showed us in a pervious post. These would be better suited for a covered porch so the elements don't ruin them.
Decorating with Skulls
Skulls! I have to admit that skulls are year round in my house. There is sugar skull stuff every where, even the super market. I have to be really careful or I go crazy and buy all of the things.
Dollar Tree had some great skulls this year in various prices. I was able to make this creepy skull sculpture using $1.25 skulls, paint, fake spider webs, and a witches cauldron. It was SO easy and looks super cool and creepy. The cost was between $10 and $15 but it has a good impact.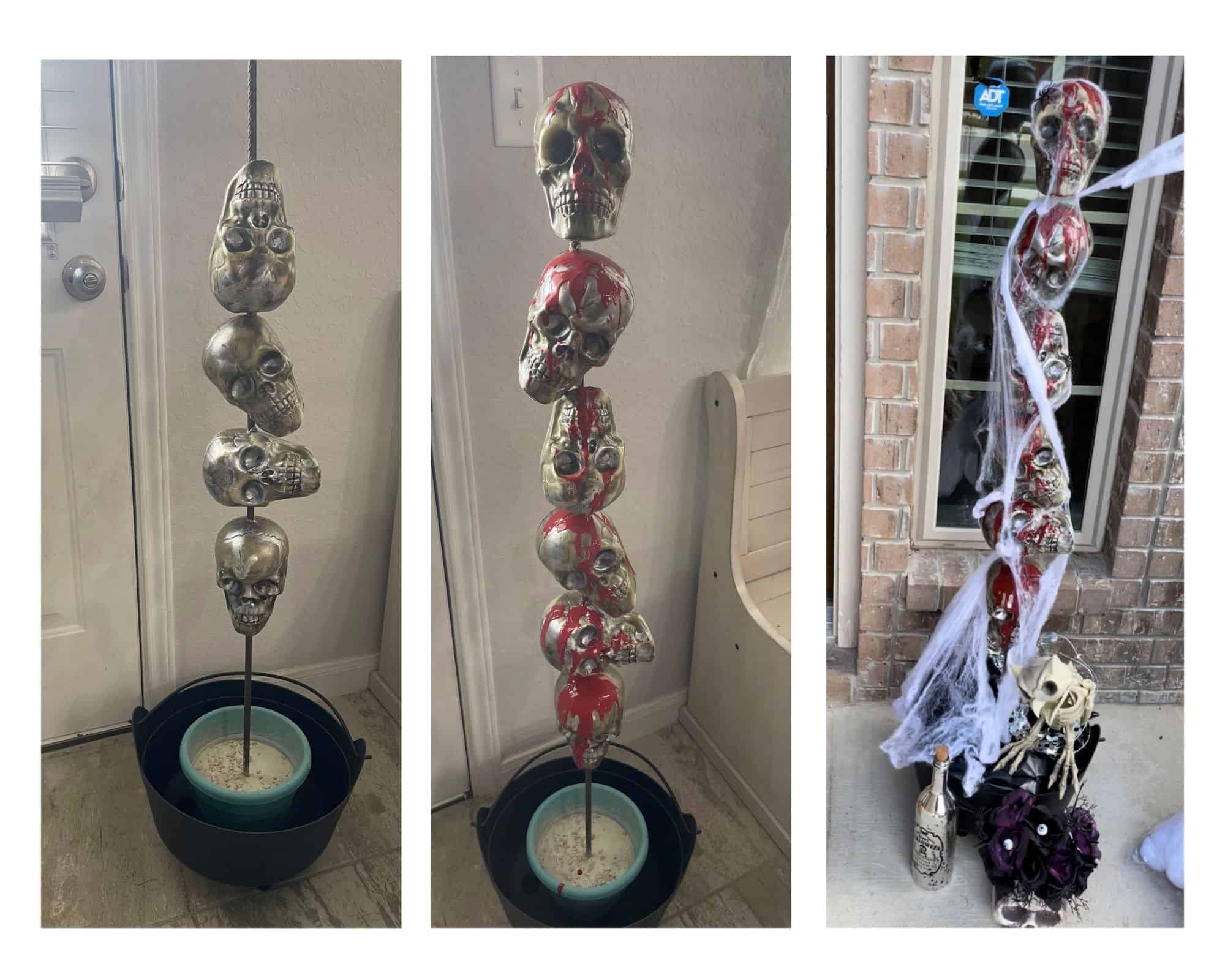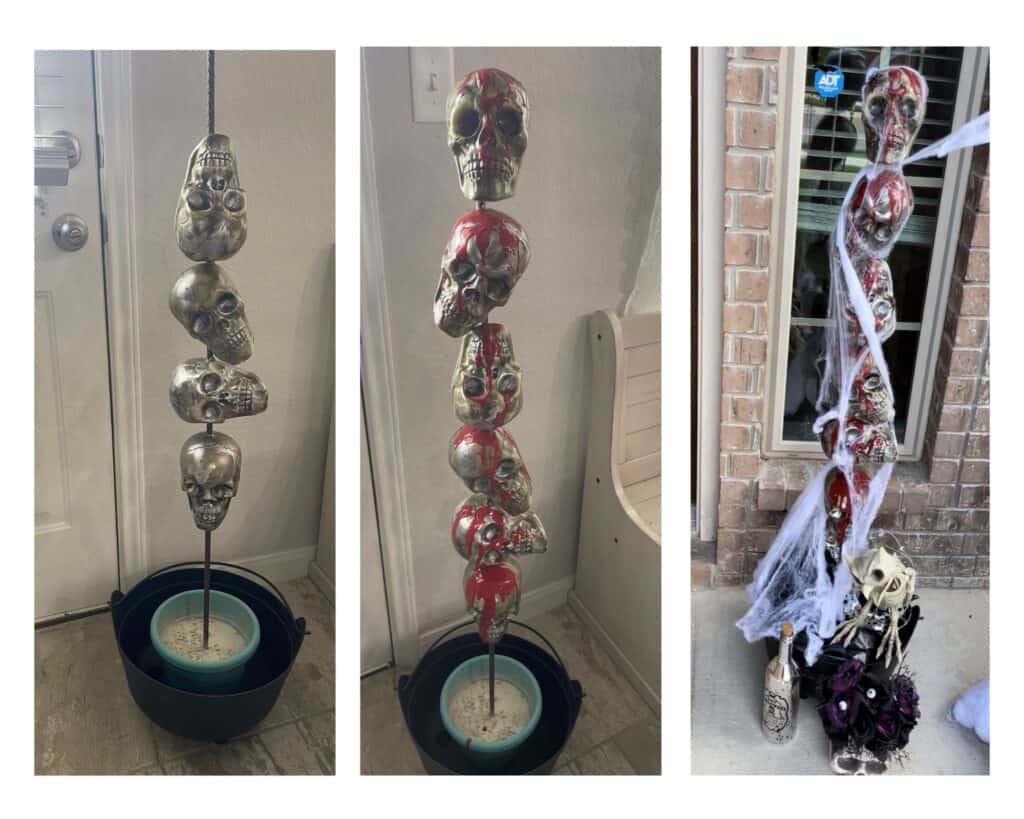 We also have the multiple pretty skull ideas we made for the blog last year. Check out the skull crafts here if you don't remember. These are great for the porch or inside.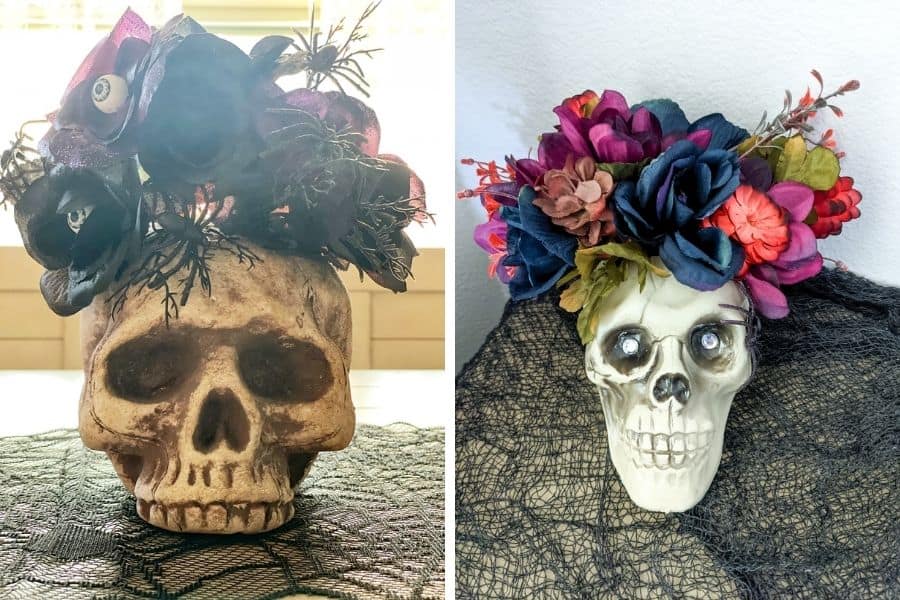 Multi-purpose Decor
One great way to save decor storage space is to have something that serves for two holidays. I have my normal porch sign that is out all of the time telling people that NOPE I don't want you to knock on my door. But if I just flip it around and have a Halloween one on the other side I can leave it out for even longer and not have to store it. Same goes for any kind of wood signs.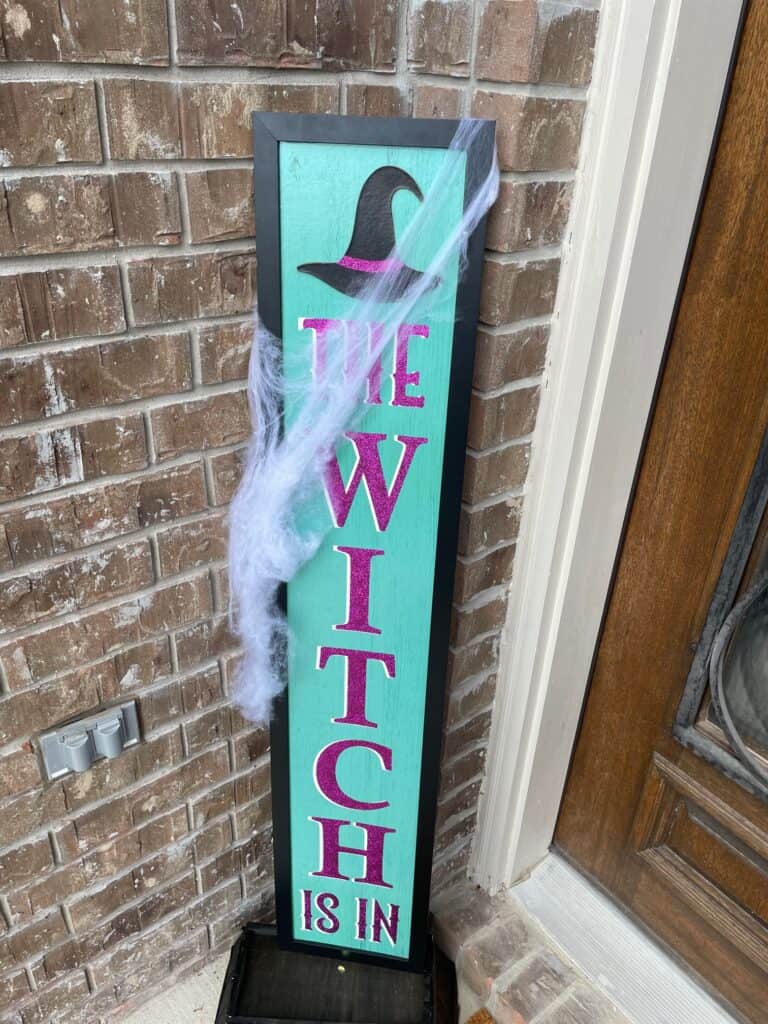 Check out this cute ghost board I made. Took me all of two minutes and can be flipped around and have a fall, Christmas, easter or 4th of July sign on the back. Again the possibilities are great!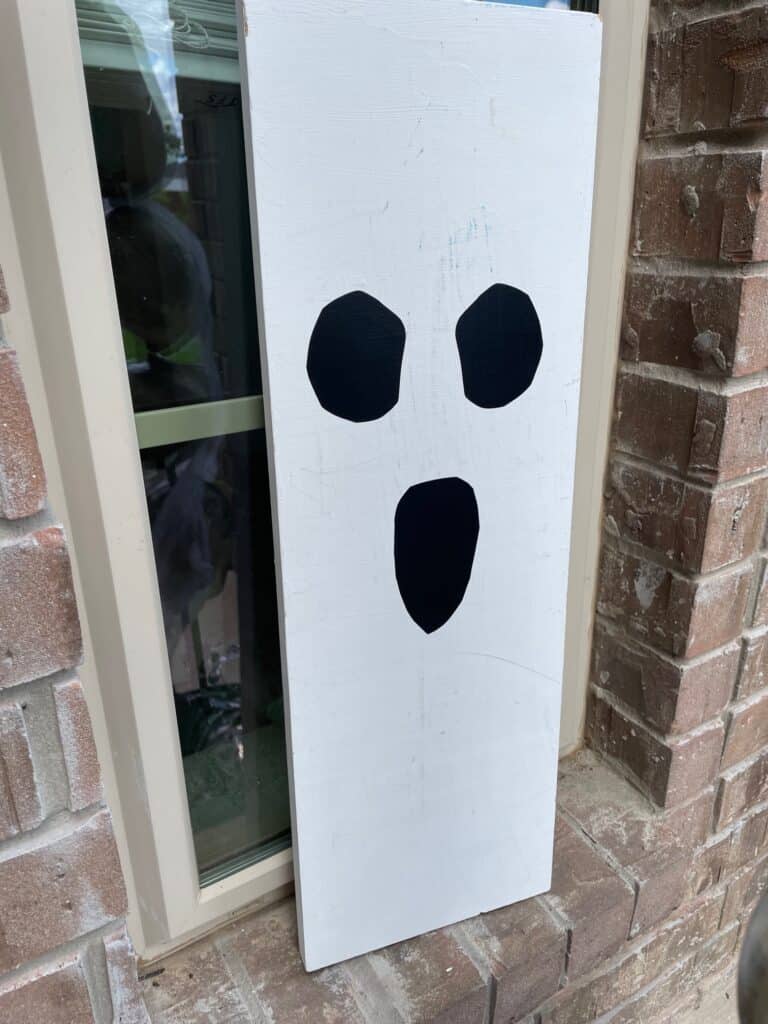 Door mats are a great way to spruce up a porch as well and the good news with these is that they are fairly cheap and can be stacked on top of each other when storing. You also could do a DIY layered doormat looked like we should in another previous post, and switch out the top for different looks.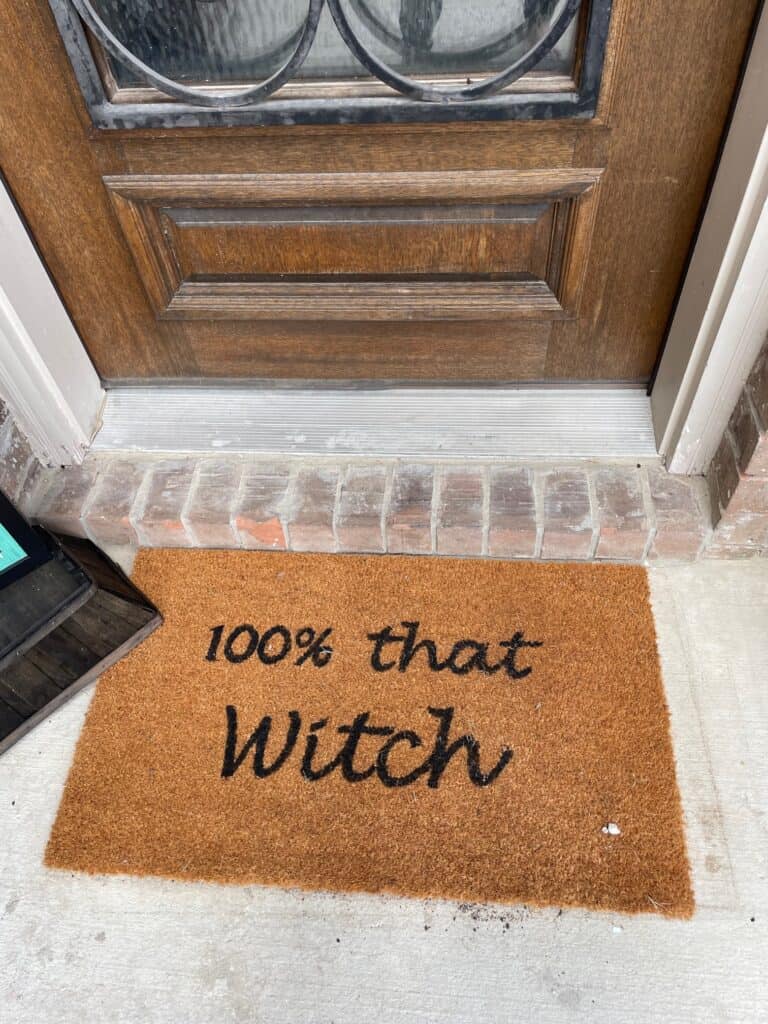 Other Popular Halloween Decor
Fake spider webs are so cheap for a bag and they go a long ways. They are also reusable. I haven't bought a new bag in years and still haven't even touched half of the bag because I never need that many. You can grab some HERE.
BATS! Bats are always so popular. They can be small but pack a good punch. I bought a pack of bats on amazon HERE and they are so cute, come with the sticky backs, fold easily so it looks like they are flying AND they are plastic so if you put them outside and it rains, it won't ruin them.
You can always cut them out by hand if you want to save money. However this is one of those projects that I gladly paid the money for because it saves time, energy and my sanity.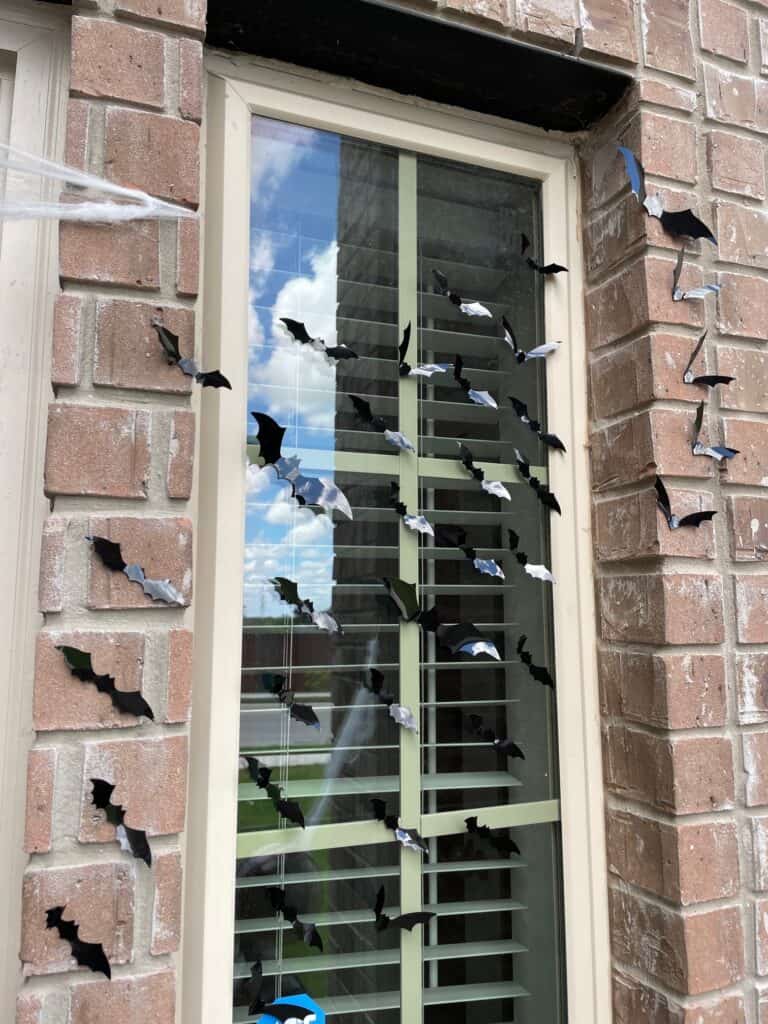 Used bottles can be used to make fake potion bottles. There are tons of tutorials all over the place on how to make these and they come out really cool looking. I was planning on having some come out of my witches cauldron that the skulls are coming out of, but I ended up not using them and will just put them on a shelf instead.
Candles! Dollar tree has great candles that you can dress up to be creepy or cute. Wrap halloween ribbon around one or take a red crayon and melt it over the top of white candle so it looks like it is bleeding. It looks very realistic and cool. Remember Kristy's holiday candle post? You can find that HERE.
Wooden crates are great for halloween and fall decor. The best part about wooden crates are the are great for ANY time of the year and you can store your other decorations in them when you take them down. Or they can be used in the house somewhere else when they aren't being used for halloween.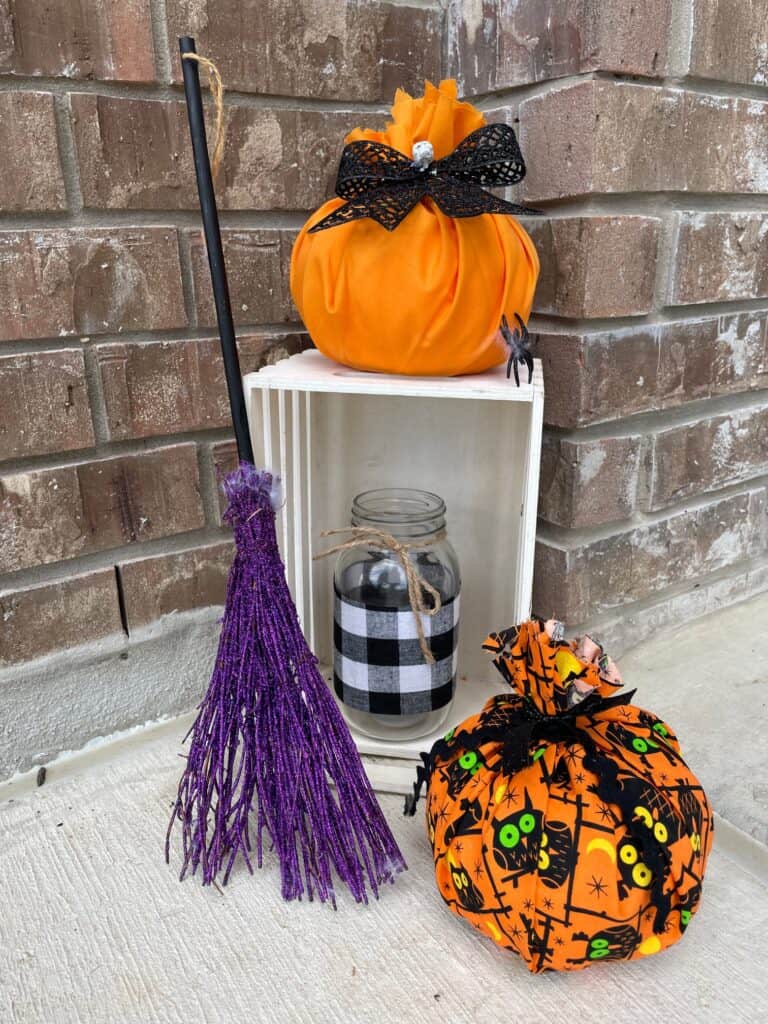 Lastly, a good door wreath is always great. I have one on my door year round. I change it out for the seasons or specific holidays. So I do have a few in storage which does take up a little space. However, the nice thing about wreaths is they are SO easy to make with stuff from the Dollar Tree. The one I have on my door now for Halloween cost me $6 to make and I love it!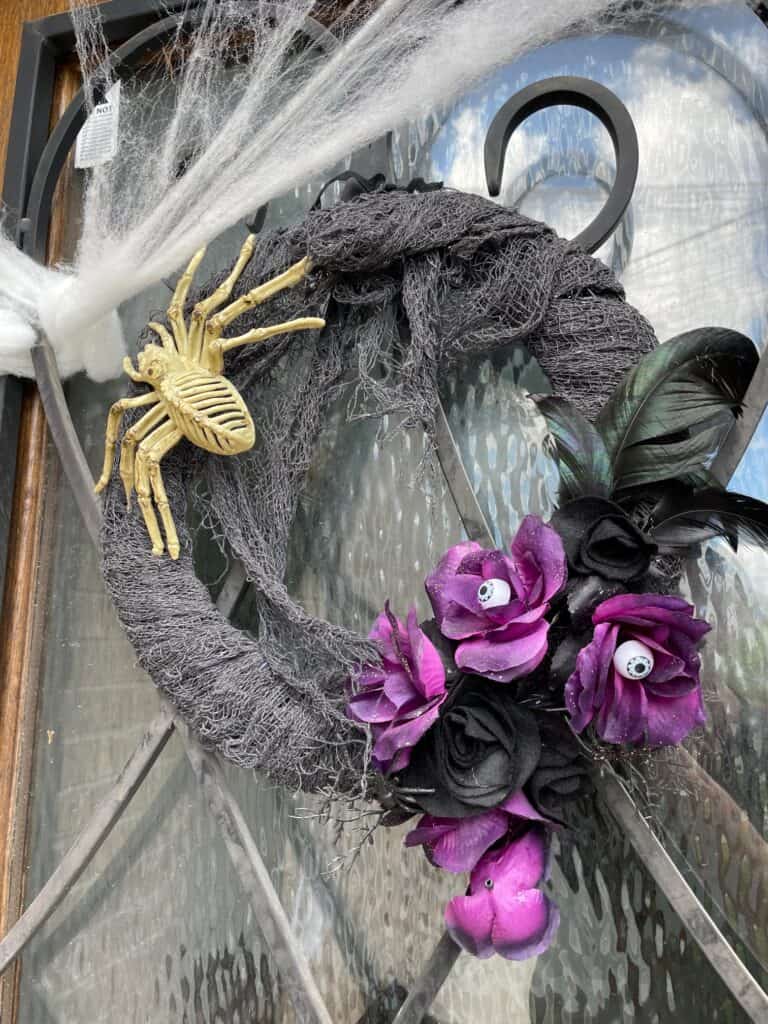 I have only lived in this house for a little over a year. I have noticed our front door takes on a LOT of sunlight whereas my last one didn't get any. When I took my wreath down it was completely destroyed from the sun. But rather than throw it away, I took everything off of it and saved the wreath form for when I need to make a new one. Recycle, reduce, reuse as much as possible!
What Will You Do With Your Porch for Halloween This Year?
What are you planning on doing for your porch this year to save money, time, storage space or your sanity? Let us know in the comments.
Or post picture on Facebook or instagram and tag us in it. We would LOVE to see your porches or Halloween decor. I bought a Black Christmas tree last year so I got it out and made a Halloween tree complete with spider webs, clear bulbs and a skeleton and I am pretty much in love!
---
You May Also Like: