The Always Pan, an Honest Non-Sponsored Review
You have seen the ads on Facebook and on YouTube, but is The Always Pan by Our Place really as good as they say? Can it really replace most of your cookware? Is it worth the $145 price tag? Is there anyone not sponsored who will tell me the truth? We will!
(THIS POST PROBABLY CONTAINS AFFILIATE LINKS. OUR FULL DISCLOSURE POLICY IS LONG & BORING BUT, YOU CAN FIND IT HERE.)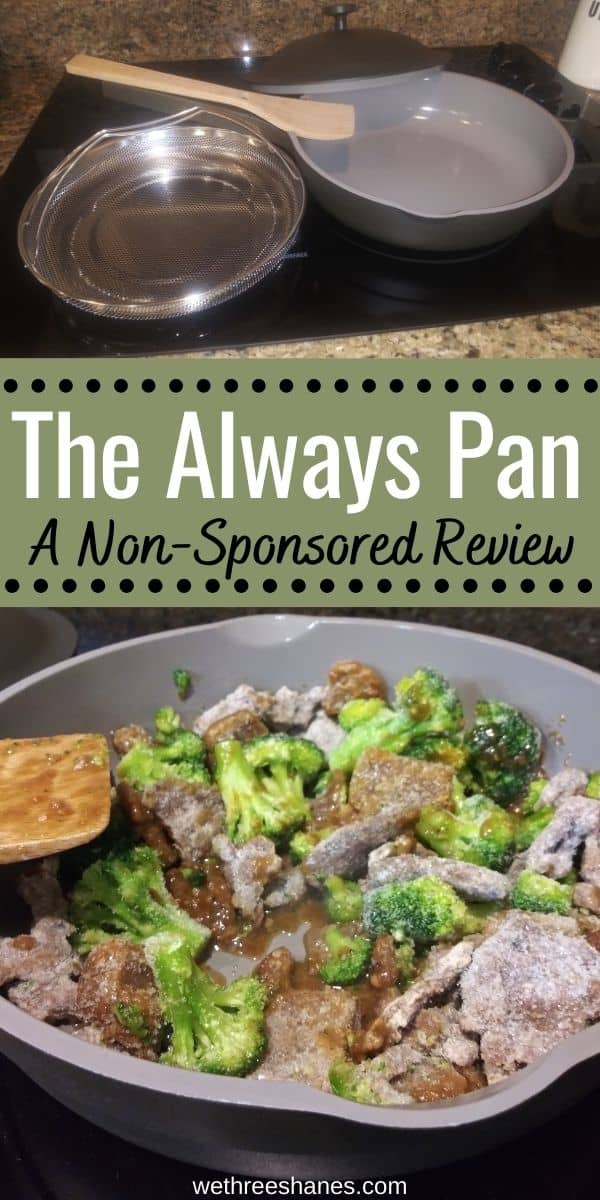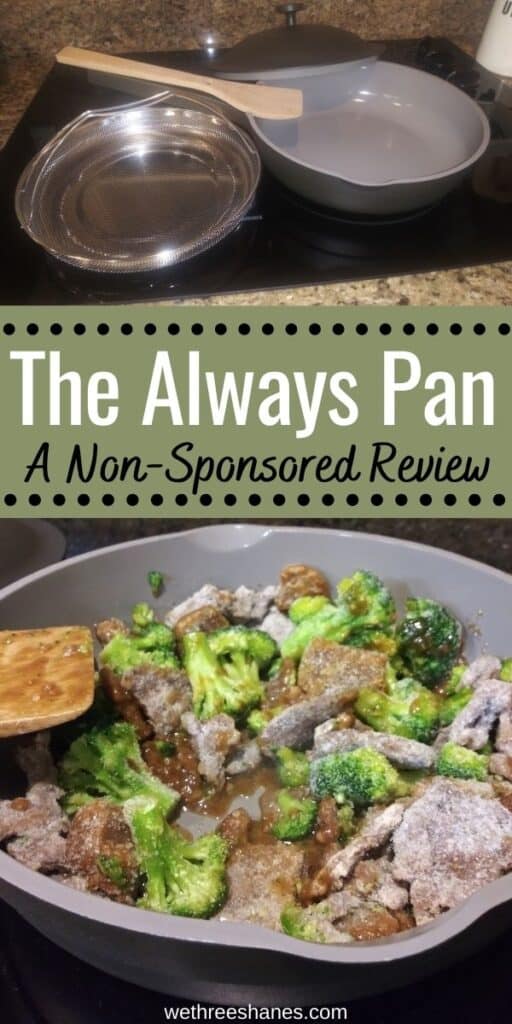 The Always Pan, and Why I am Posting
There I was looking at my Facebook wall or watching videos on YouTube, and the advertisement for The Always Pan would be there stalking me. A pan that can braise, sear, steam, strain, saute, fry, boil, and serve with it's own spatula and built-in spoon rest? That is really non-stick, but without using unsafe products? Can this be real?
I love the idea of minimalism, so the thought of a pan that could replace a lot of kitchen items was intriguing. The idea of a pan that was safer to use than the non-stick Teflon pans we all grew up with was enticing.
I decided to get the pan, and my love for The Always Pan is what makes me want to share it with you. We are not sponsored by Our Place, and I don't even have a discount code to share. I just found a product I really think it great, and want to tell everyone about it.
---
Our Place
The Always Pan is made by the company Our Place. I have researched the company, and I couldn't be more pleased to give them my money.
They believe in ethical labor. All factories are researched before they can make products for Our Place, and they have to provide above a living wage for the area, and benefits.
Our Place takes pride in providing products that are made with safe materials. The non-toxic, non-stick ceramic coating of the pan is made without potentially toxic materials. There are no PFOA's PTFE's and other PFA's. They also don't use lead, cadmium, toxic metals, or nanoparticles.
Their packaging is all biodegradable and recyclable.
They donate to charity. Our place donates money to Feed America, and a local grocer in South Los Angeles that brings healthy foods to low income families who might otherwise not have access.
All these things make Our Place a great company to buy your Always Pan from, but Our Place has other products as well. There is a spruce steamer that can be bought to use with your Always Pan. This is great for steaming things like dumplings or pot stickers. They also recently came out with an Always Pot that can be used in the oven. And they also have dishes, glass wear, and knives.
---
My Experience with The Always Pan
The first thing is, the pan just looks good. I got it in the dark grey color, and I love it's simple design that goes with everything.
Next, I love to use it. I have now cooked many things with my pan. It has a thick aluminum build that makes it so the pan heats evenly, and holds that heat well. But I think it's non-stick performance is most impressive, especially when making eggs, or sticky sauces and glazes.
I was so impressed the first time I made Chinese food in my pan. What would normally be a sauce I would have to soak and then scrub off, just rinsed away. I could not believe it! You let the pan cool a little, run it under warm water and it just comes off!
The next big test was eggs. We make scrambled eggs often, and eggs can really stick to other pans, even when using oil. But that didn't happen with The Always Pan. When I made scrambled eggs (with no additional oil or butter), not only are my eggs healthier this way, but the eggs come right off. I simply let the pan cool, and the eggs peel right off. Any little residue can easily be wiped off with a little warm soapy water and soft sponge.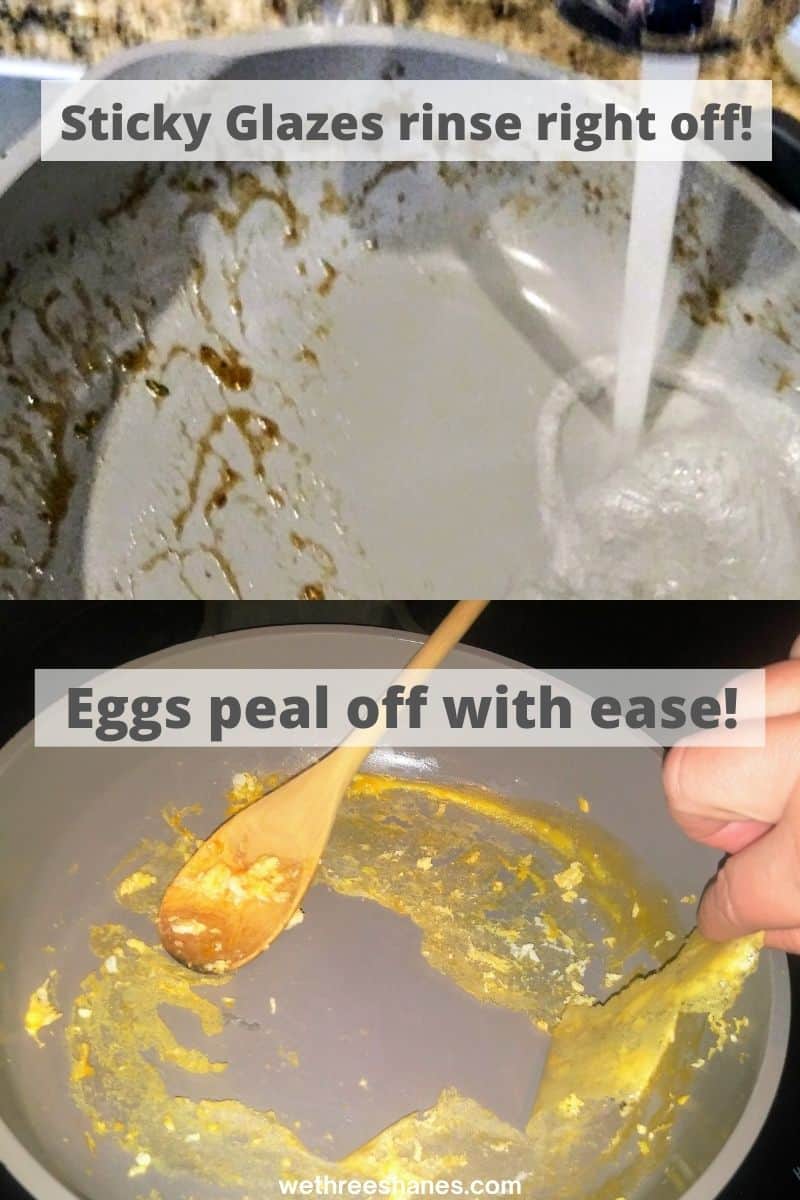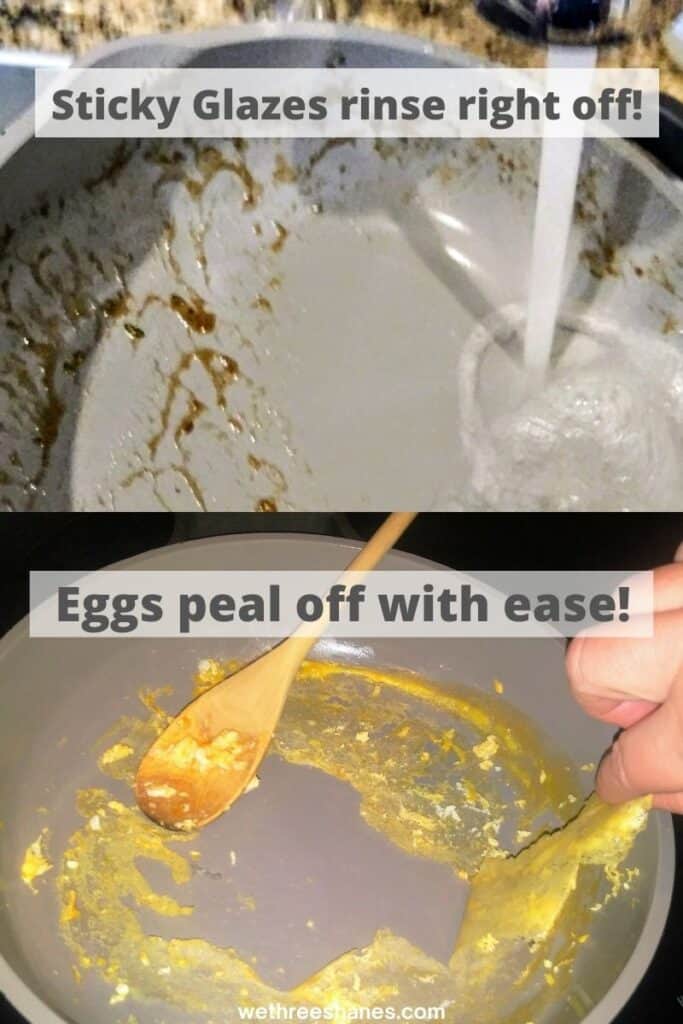 It Comes With Some Great Thought and Accessories
I also love the pan comes with a beechwood spatula and built in spoon rest. You can stir your sauce, place the spatula right on the built in rest, and the sauce that comes off just goes right back into the pan, instead of on the counter, stove, or another spoon rest, I would of had to wash after.
A steamer basket made of stainless steel is a nice accessory that comes with your purchase. It has an easy to use handle, and makes steaming your veggies a breeze.
The design of the rim and lid of the pan are so well thought out. You can use it's spouts and modular lid combo to steam, strain, and pour without extra tools or messes. And you can use it with gas, electric, and even induction stove tops.
Is There a Downside?
Besides the fact that this is a coated pan that will not last forever, was there any other downside? Well, I don't love the price tag, it is more than I would usually pay for a kitchen accessory.
I also would not recommend this if you have a very large family. I can easily make a meal for our family of four, but I think if you were cooking for 6 or more, that would be difficult with it's 10 inch diameter.
One other problem, is if you want the it to last, you need to use some tender loving care when you use it, but I will cover more of that in below.
---
Things to Know About The Always Pan
No coated pan will last forever. The only ones that will last for generations are carbon steel, cast iron, and stainless steel, but if you are an occasional cook who likes to work with a coated non-stick pan, this pan is great!
There are things to know before purchasing. What I found, was that most people that had a negative experience did so because they had not followed the advice on how to take care of their pan.
This pan is expensive so you need to think of it as an investment and take care of it as such. If you want to have a great experience and have your pan perform well for as long as possible there are some things you should do.
Do not use in the oven. The pan has a handle that is made to be cool to the touch, and is not oven safe.
Use on low or medium heat.
Let your pan cool before washing.
Do not use metal utensils. They can scratch and damage your non-stick surface.
Use soapy warm water, and a soft sponge for cleaning. This will give you the best result as scratchy sponges can damage your non-stick surface.
If you want to add oil or butter for flavor, use high smoke oils, and use as little as necessary.
---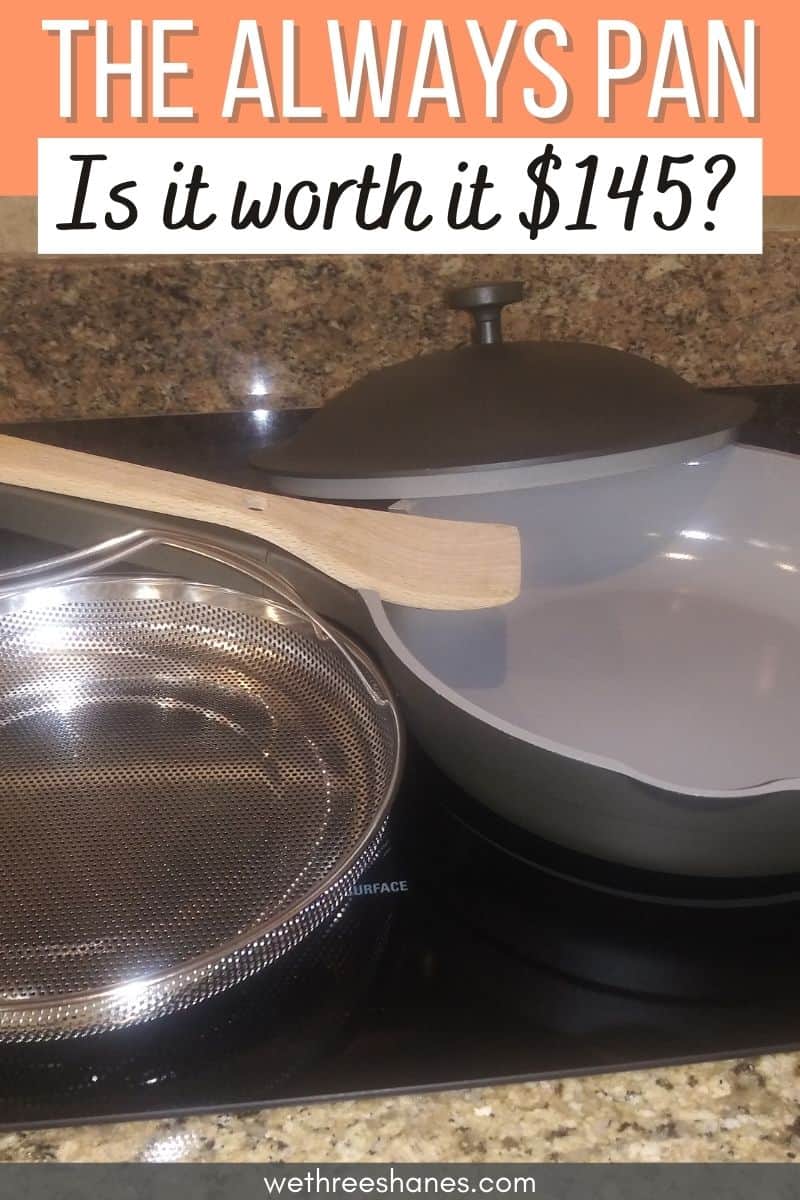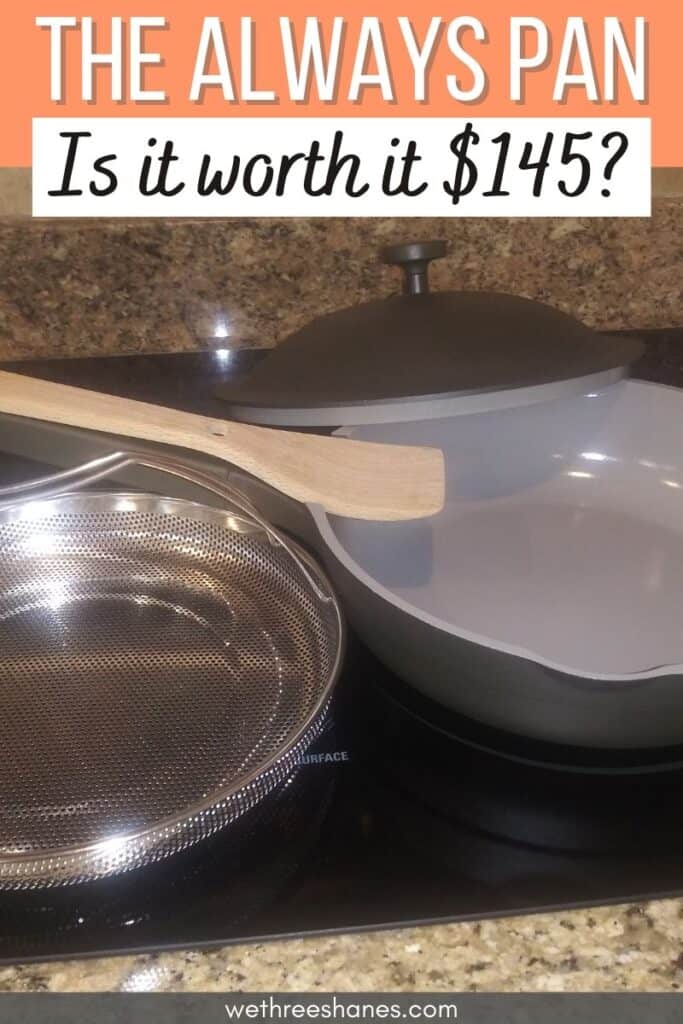 Is The Always Pan Worth It?
For me, it has lived up to the hype, so much so, I am thinking about investing in the matching Always Pot eventually. It really can do all of the things that it says, and in my opinion it does them well.
The trick to being especially happy with you pan is making sure you take care of it. And realizing that you are paying more for a better, safer product from a company that strives to do things as responsibly as possible.
Will this replace everything in my kitchen, no, I will always still use cast iron as well. But it has replaced cheaper ceramic pans, and anything with Teflon for sure.
The other suggestion I would make is to look for sales. From time to time you can get this pan for $99. I think that price is more in line with what I would be willing to pay for this pan since it will not last forever.
You can get The Always Pan and other products from Our Place at fromourplace.com
---
Have you seen the advertisements for The Always Pan and thought it looked interesting? Do you have the pan, and have you had a similar experience? Do you plan on getting one for you or a loved one. Sound off in the comments. We love to hear what you think.
---
You Might Also Like: