How to Decoupage a Birdhouse With Napkins
Ever since I used Dollar Store napkins to do a couple of decoupage crafts, I've been dying to do more. The first couple of mod podge wood projects came out so cute that I knew I'd be doing more this summer. A birdhouse was the first thing I wanted to try to decoupage.
I just loved the garden look of the spring napkins I got from the Dollar Tree. They had cute little hummingbirds and flowers on them that immediately made me think of a birdhouse.
This is a fun and easy craft that adds spring and summer decor to your home. Your decoupage birdhouse will look great on a display in the home on a bookshelf or console table but it also adds some whimsy to your porch or patio as well.
---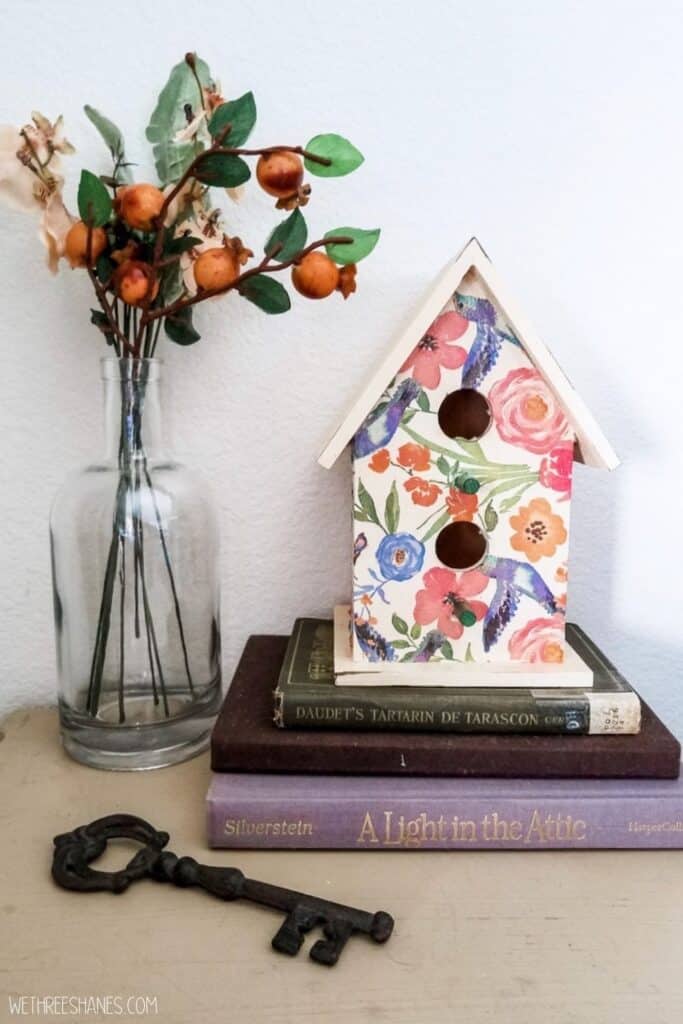 (THIS POST PROBABLY CONTAINS AFFILIATE LINKS. OUR FULL DISCLOSURE POLICY IS LONG & BORING BUT, YOU CAN FIND IT HERE.)
What is Decoupage?
You might be wondering what decoupage is. The basic answer is to glue cut put paper to something. In this project we will use napkins as our paper and mod podge as our glue.
The mod podge is used to stick the napkins to the birdhouse and to seal the napkins as well. When you're done you've got a whole new birdhouse with a new, fun pattern.
You can decoupage all kinds of things but I find small crafts like this birdhouse to be the most fun. They are quick projects that don't cost much and they can be customized to fit your decor needs.
---
Supplies Needed to Make a Decoupage Birdhouse
You only need a handful of supplies to make your garden birdhouse.
Wood Birdhouse
Spring or Summer Theme Paper Napkins
Paint and/or Stain
Mod Podge
Sponge paint brush
A little sandpaper
Scissors
Since I already had napkins, I just needed to find a birdhouse I liked. I found one at Hobby Lobby for $5. They do have birdhouses at the dollar store but they can be a bit small. Shop around because you can usually find them on sale this time of year at lots of craft stores.
The Dollar Tree's selection for napkins can be a bit small but you can use any napkins. I grabbed some from a cute garden store near my house for a another decoupage craft this week. There are tons of garden napkins to choose from on Amazon as well. They're all so pretty you'll have a hard time picking just one set.
I also grabbed some paint in complimentary colors. It's best to paint your entire birdhouse because it helps the napkins stick better with the mod podge. I chose to use a vintage white paint color for the roof and base and a forrest green to change up the perches.
---
How to Decoupage With Napkins
Napkins are great material to decoupage with. They are very thin which means they mold to almost anything you want to mod podge them to, even rocks. (Just a little hint at what's coming up next. Okay it's more than a hint. It's rocks. I'm going to show you how to decoupage rocks.)
First, start your project by sanding any rough edges you might find on your birdhouse. This step might not be necessary for you but it was for my birdhouse.
Technically, the wood doesn't need to be painted but I do find it looks better and helps the napkins adhere better too. If you are using napkins that have white as the background color then you should paint the part of the birdhouse that will have napkin on it, white. It will help the pattern of the napkin show up better.
While your birdhouse dries, you can prepare your napkins. You want to peel the layers apart until you're left with one layer. I find most Dollar Tree napkins only have two layers but other napkins have three.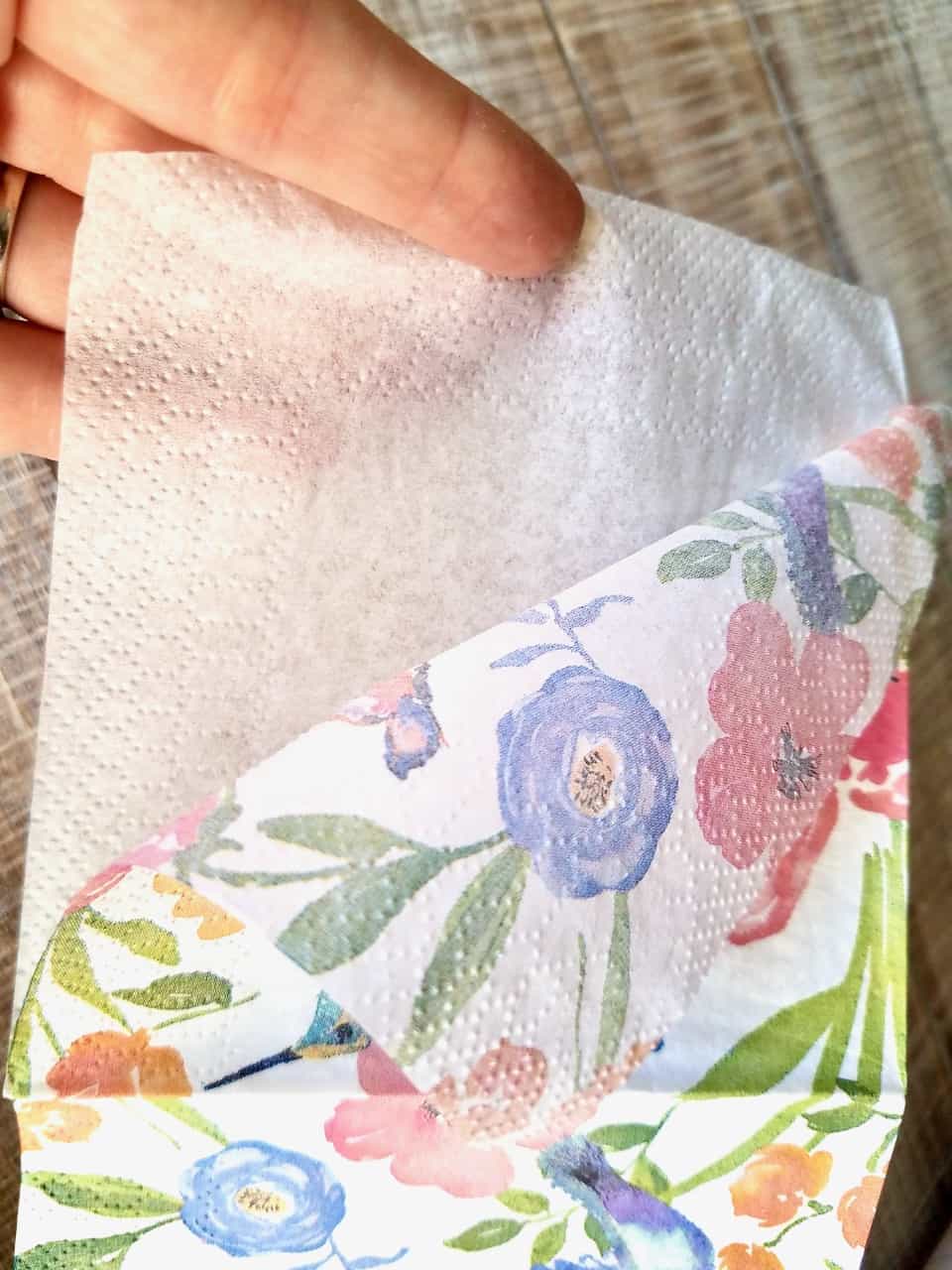 Hold your napkin in place over the bird house and run your finger along the edges where the napkin should be cut. You also want to cut a little snippet for the perch/s to fit through. You don't have to cut the napkins to fit perfectly on the birdhouse because you can sand away any extra.
Repeat this step for the back and sides of the birdhouse, running your finger along to get a close idea of the shape the napkin needs to be and then cutting to size.
Apply a light layer of mod podge to the front of the birdhouse and then slide the napkin over the perch/s and down onto the birdhouse. Use your fingers to lightly smooth out the napkin on the surface of the birdhouse. The napkins are delicate so use a light touch and don't be obsessed with a smooth finish. The creases just add character.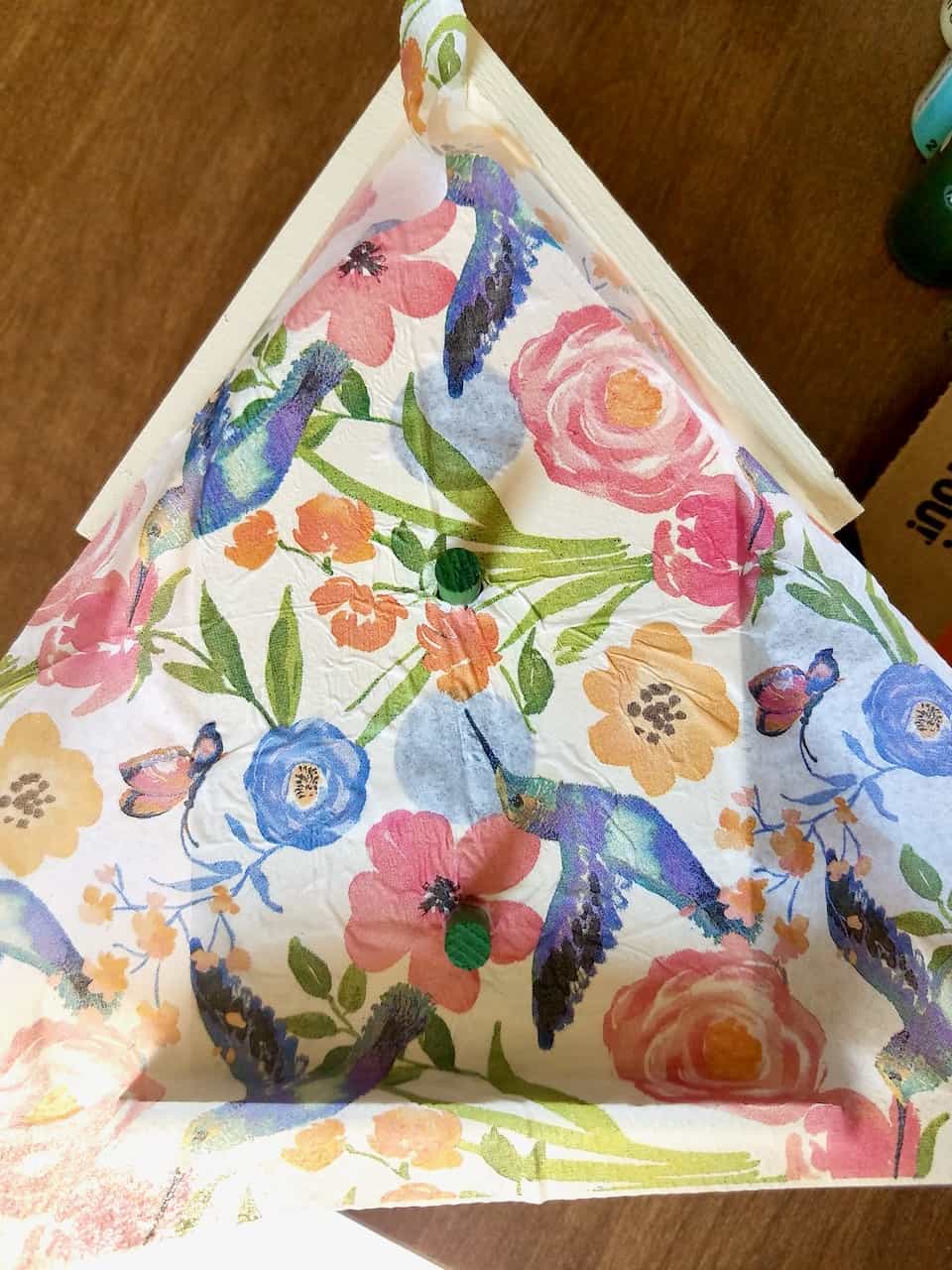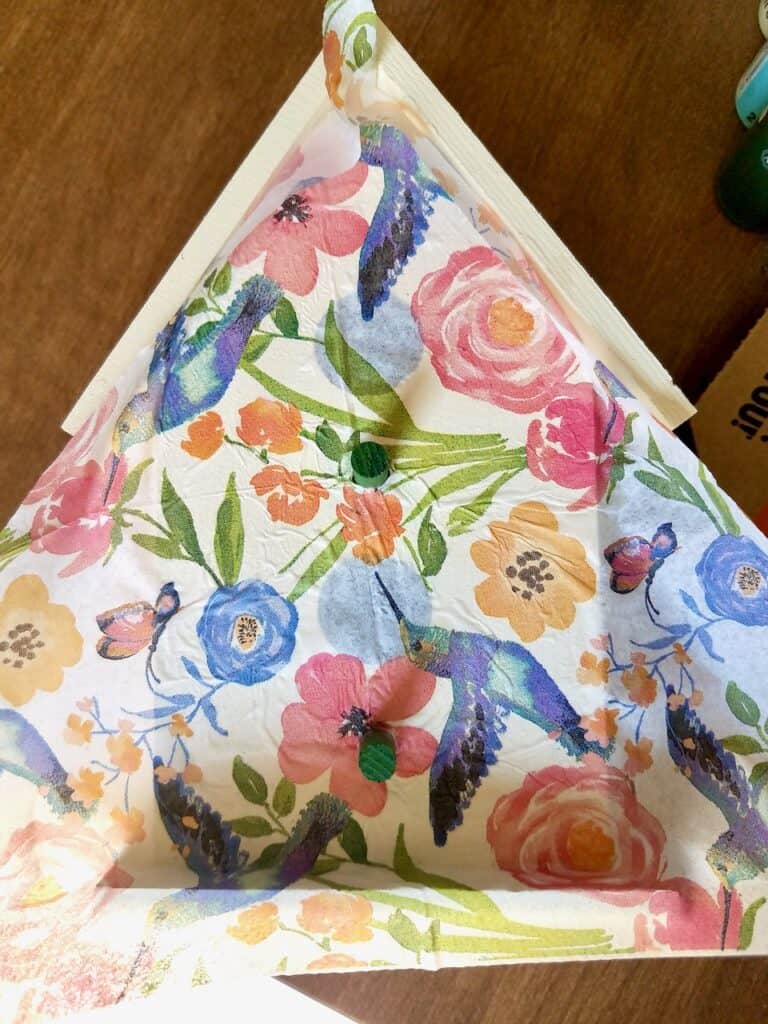 Continue this process until the entire birdhouse is covered they way you like.
Now, set the birdhouse to the side to dry.
Once it's completely dry you can use your scissors, a exacto knife or simply tear the excess napkin off. Then use the sand paper to lightly sand away any little pieces of napkin that stuck around. You will also poke a hole in the napkin where the birdhouse opening is and sand that extra paper away or use a little more mod podge to glue the extra napkin down into the hole.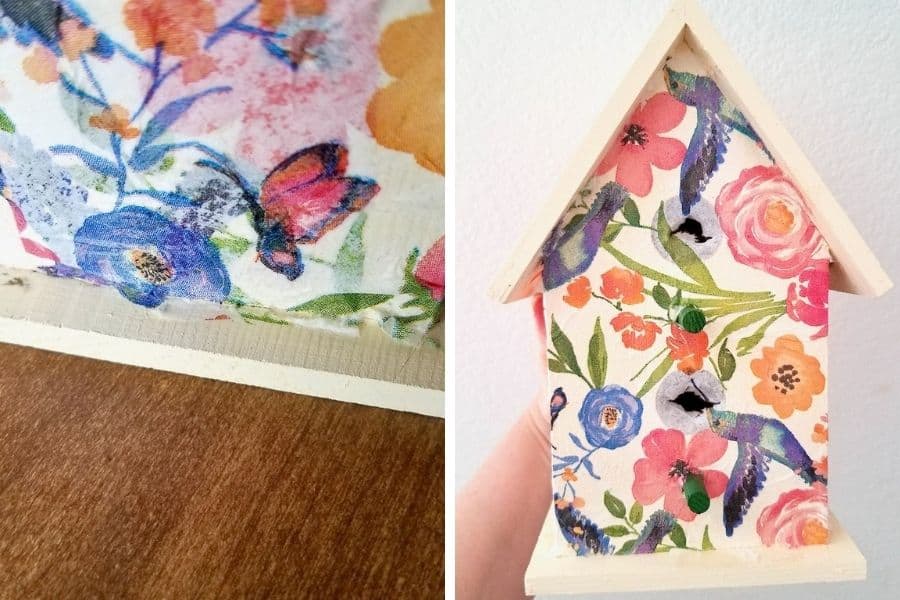 Now, add another layer of mod podge to seal the napkin into place. This second layer will go over the whole birdhouse. If you are using the decoupage birdhouse outside then you'll want to add one more layer of protection. I use the mod podge brand sealing spray but other brands work too. This extra step will help protect it from the outside elements.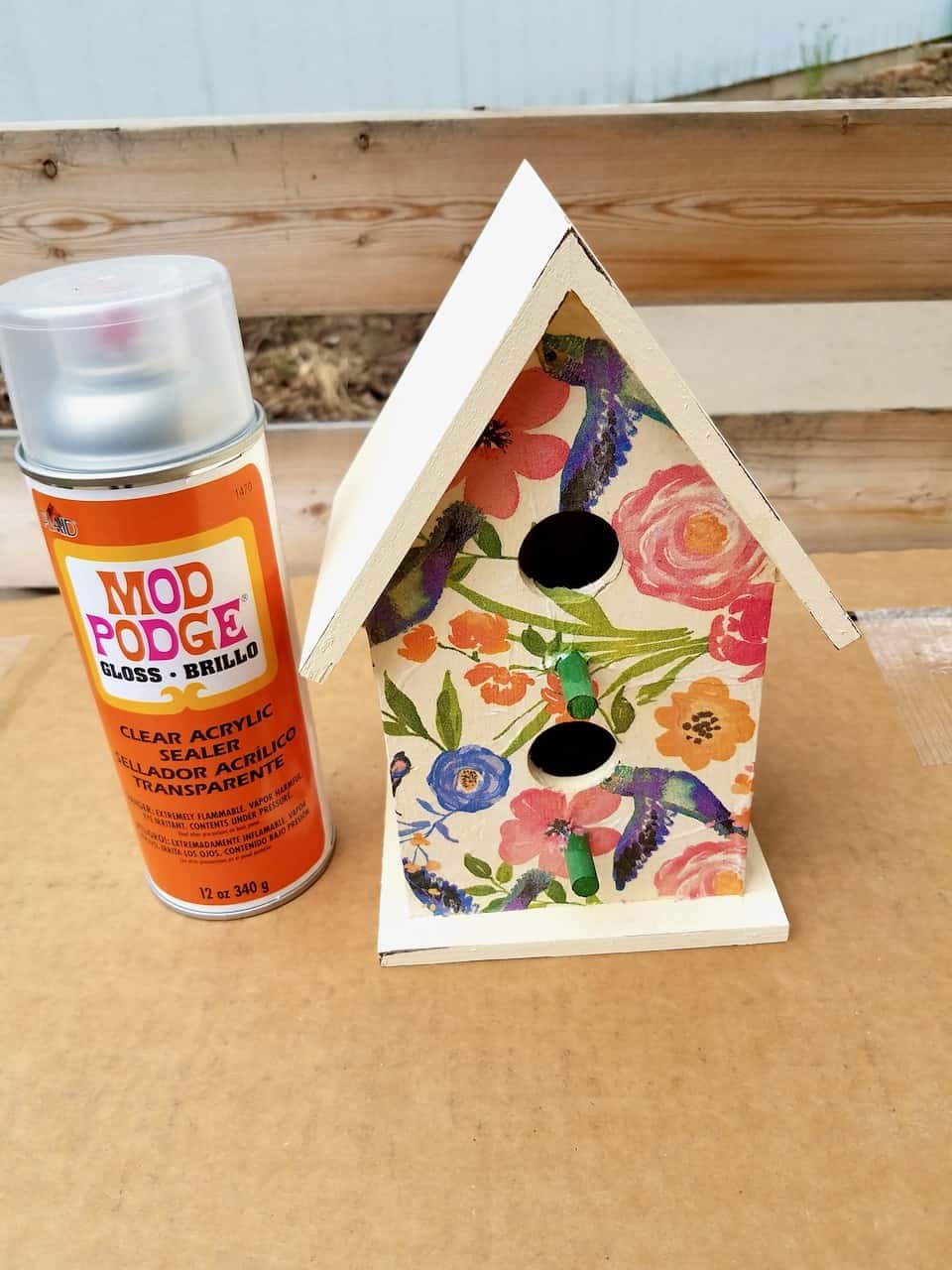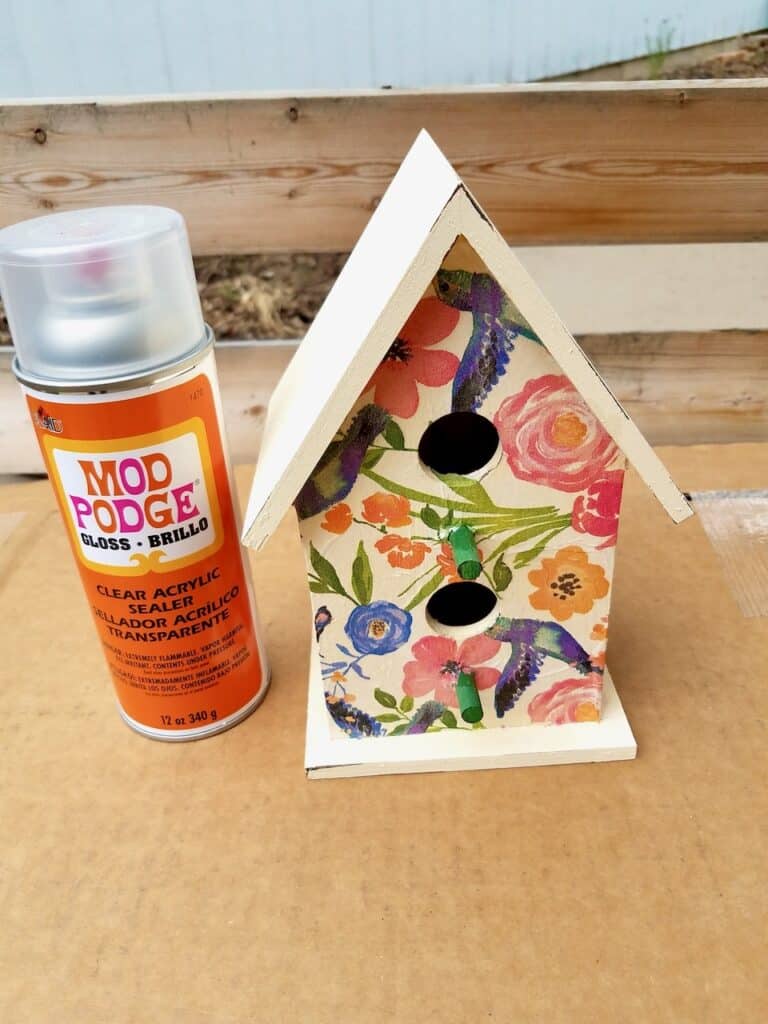 Tips for Using Mod Podge and Napkins
These are just the steps I used to decoupage a birdhouse with napkins. If you find a step doesn't work for you then do it your way.
You also don't need to use the whole napkin for this to work. Trying to mod podge a big piece of napkin can be difficult so you can always cut the pieces from your napkin into smaller pieces or cut out the pictures on your napkins and mod podge those on.
Some people use saran wrap to help apply napkins with mod podge. It helps to get a smoother finish because the saran wrap makes it easier to smooth out the napkin with out tearing it.
I really struggle with the saran wrap so I don't use it. I simply embrace the wrinkles as part of the charm of the piece but you can try it if you want.
Get as creative as you'd like with this craft. Add trim pieces or a base to the bottom of your birdhouse. Open a small vintage book and place it on top so it looks like the roof. Get crazy and have fun!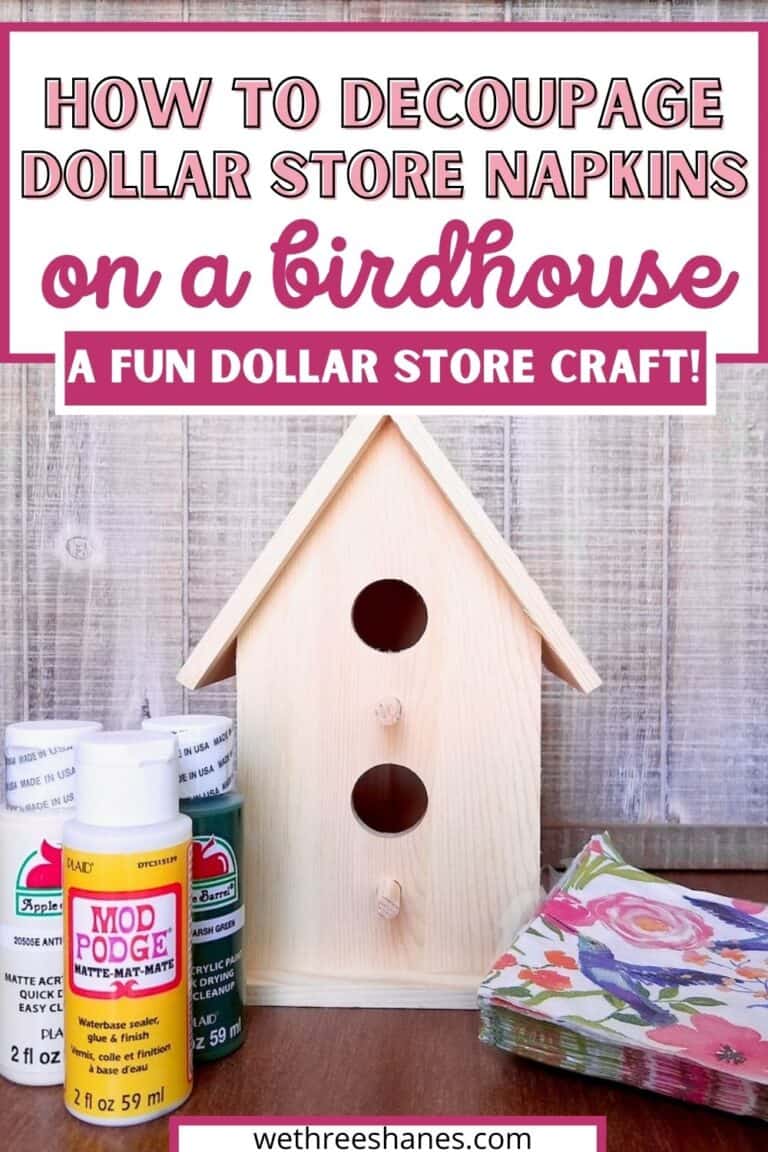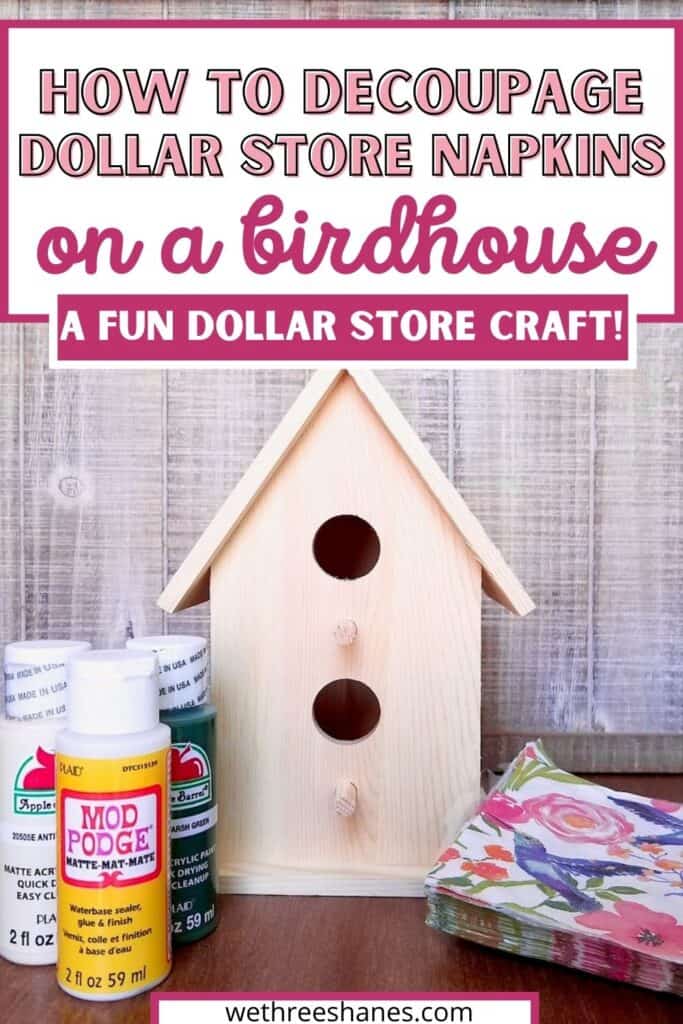 I'll be doing more napkin decoupage crafts this week so come back and check them out. Make sure you read our mod podge dollar store crafts post from last year too. Lots of people have been checking those out lately.
If you make a birdhouse using this tutorial and show it off then tag us @wethreeshanes so we can check it out. Feel free to ask questions in the comments section of this post if you have any!
---
You Might Also Like: