How to Make a Custom Cleaning Kit
Most of us want a clean home, but don't love the process of cleaning. Why not make the process as easy and fast as possible by making a custom cleaning kit? Having all your favorite supplies in one place makes it so much easier to get the job done, and in a timely manner.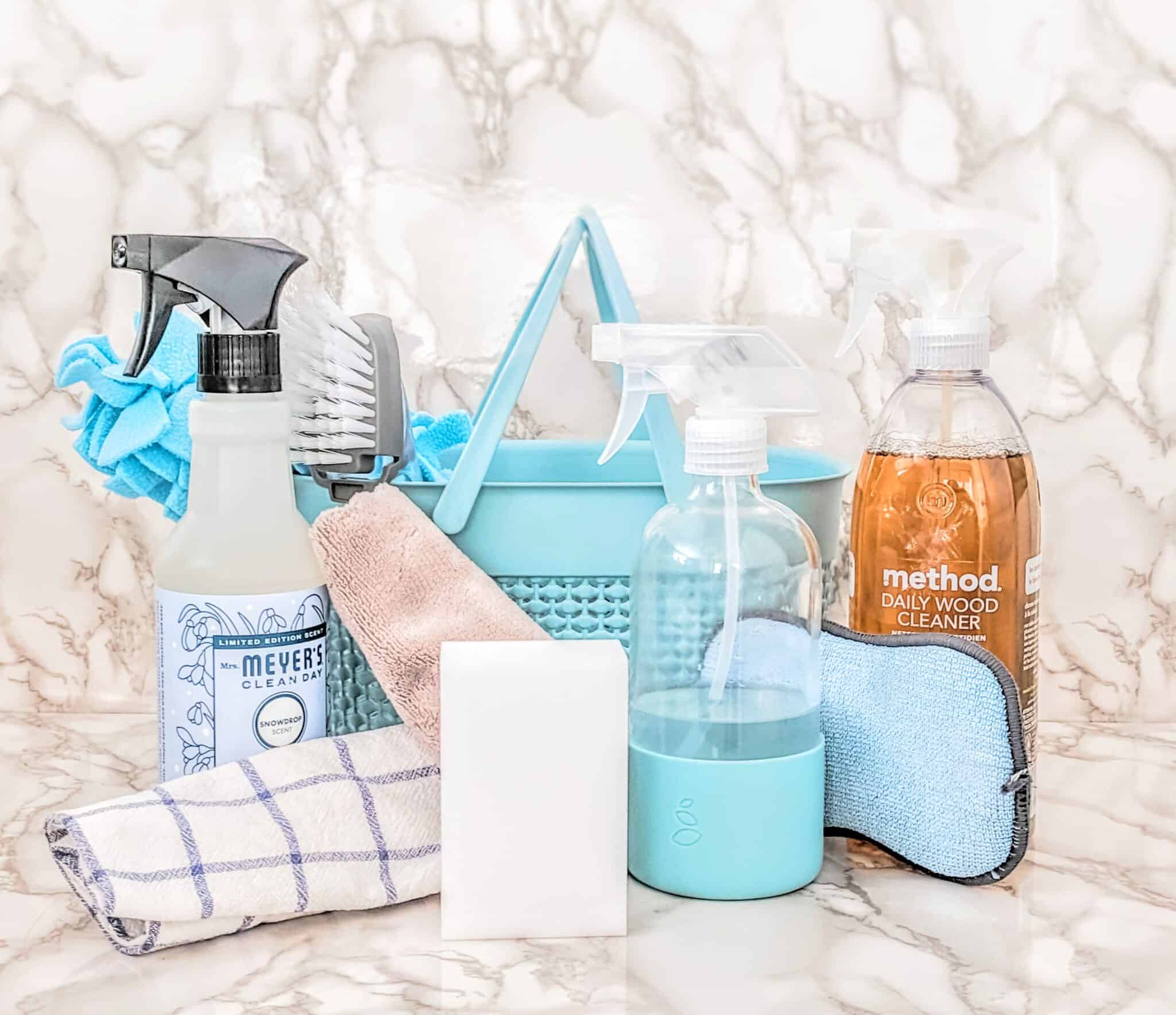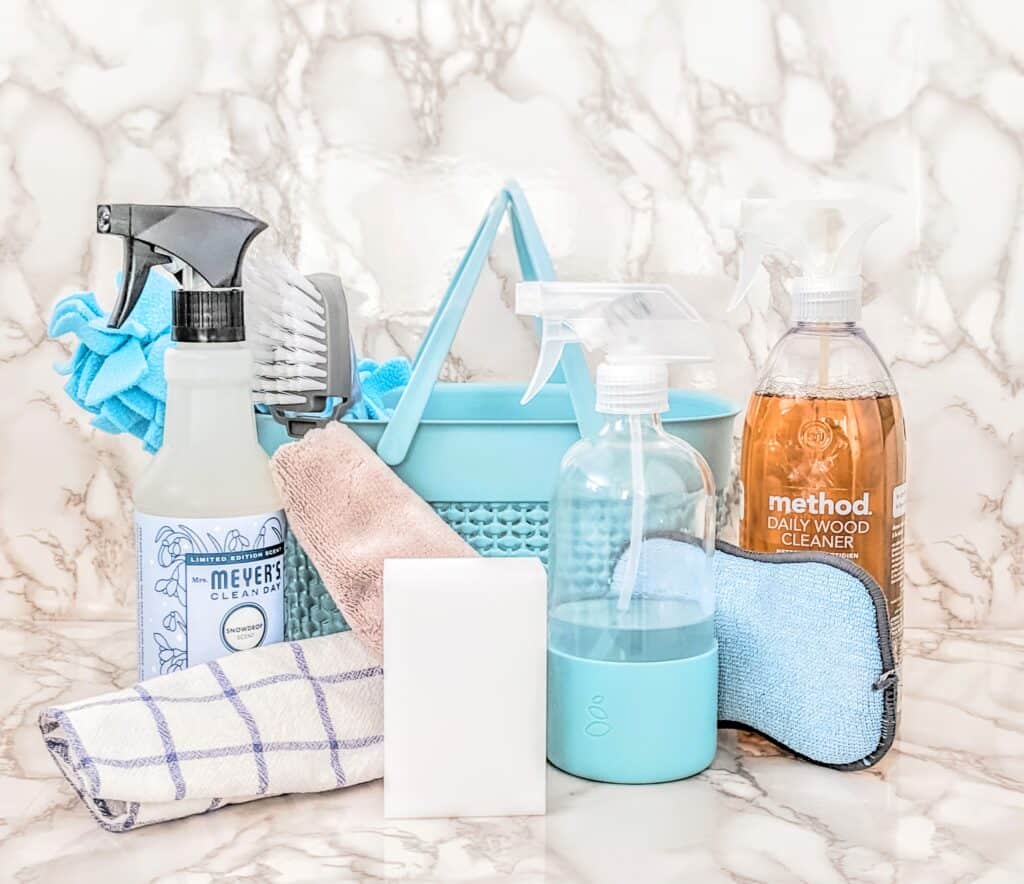 (THIS POST PROBABLY CONTAINS AFFILIATE LINKS. OUR FULL DISCLOSURE POLICY IS LONG & BORING BUT, YOU CAN FIND IT HERE.)
What is a Cleaning Kit?
A cleaning kit is a useful tool to help you keep most of the items you use to clean your home together and handy. Cleaning products and supplies all in one place instead of in different cupboards and under sinks all over your house.
They are usually in a basket, bucket, or container that makes it easy to take your supplies all over your house with you, no matter what room you are cleaning. It makes cleaning easier and less time consuming.
It can be so frustrating to get up to the second floor of your home, only to find out that the cleaner you needed is all the way downstairs. If you have your kit, you know you have everything you need.
A cleaning kit also helps you keep your cleaning routine simple and your costs low since you are finding favorite products to clean multiple spaces that you really love, and keeping them all in one place. It keeps you from continuing to buy random cleaners because you didn't realize you already had three of them in different places throughout your home.
Since all of your cleaners are together, it also makes it easy to keep track of when you need to buy more so you are never without.
---
Why Make a Custom Cleaning Kit?
No two people are alike, so why should your cleaning kit be?
There are some people who only use cleaning products they make on their own. Then there are people out there who don't even know you can make cleaning products and only buy their supplies in the store.
I believe that most of us are in the middle. We like to use safe products, but also have a favorite or two that we don't make from scratch.
I personally never use store bought glass cleaner anymore, and only use my Amazing DIY Glass Cleaner. But at the same time, the All Purpose Cleaners from Mrs. Meyers are a favorite. So my perfect cleaning kit will look different from yours…and it should.
Finding what products you love using will make it easier for you to enjoy keeping house. So let's figure out how to make you the best custom cleaning kit ever!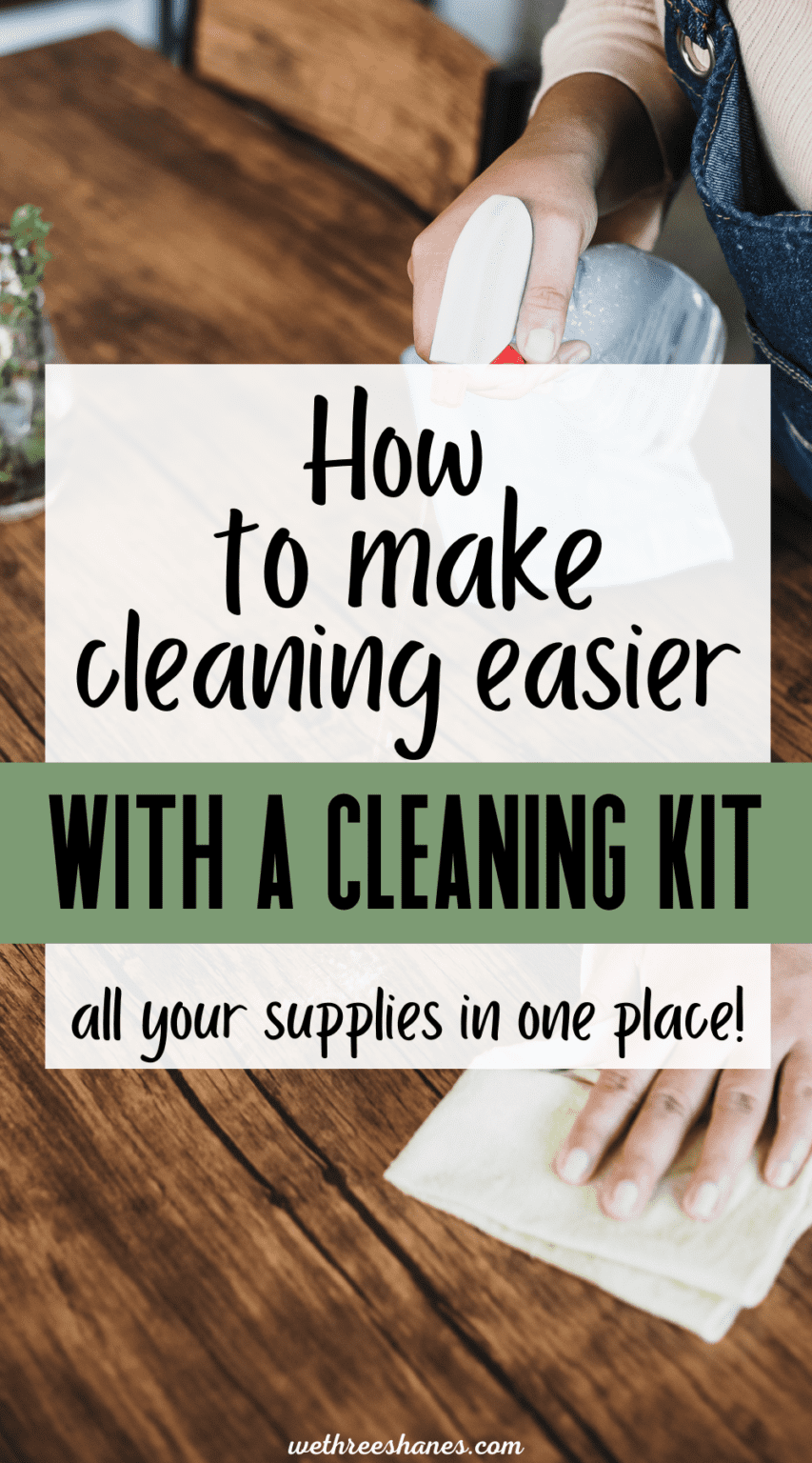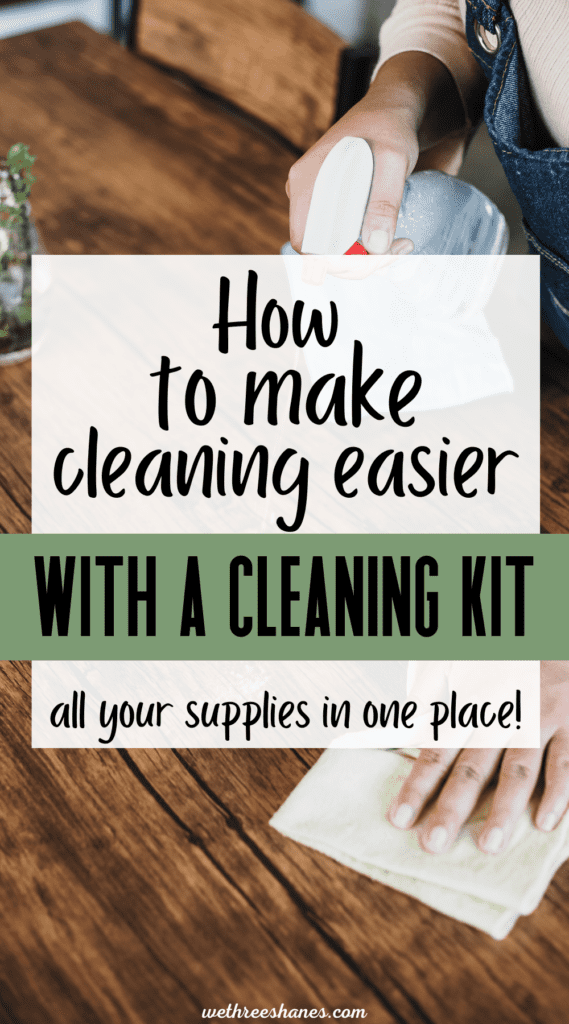 ---
Where to Start
The first thing you will need is something to hold all of your supplies. I would suggest something that isn't too big, and something with handles.
You don't want anything too big, because you don't want to encourage hoarding too many supplies. We are trying to keep it simple and cost effective. Plus, we want to be able to move our kit around easily from room to room, so we don't want it to be too heavy.
Having a handle also makes it easier to move it from space to space, especially if your home is more than one story. Having a sturdy handle makes it easier to carry your supplies while still holding onto your handrail.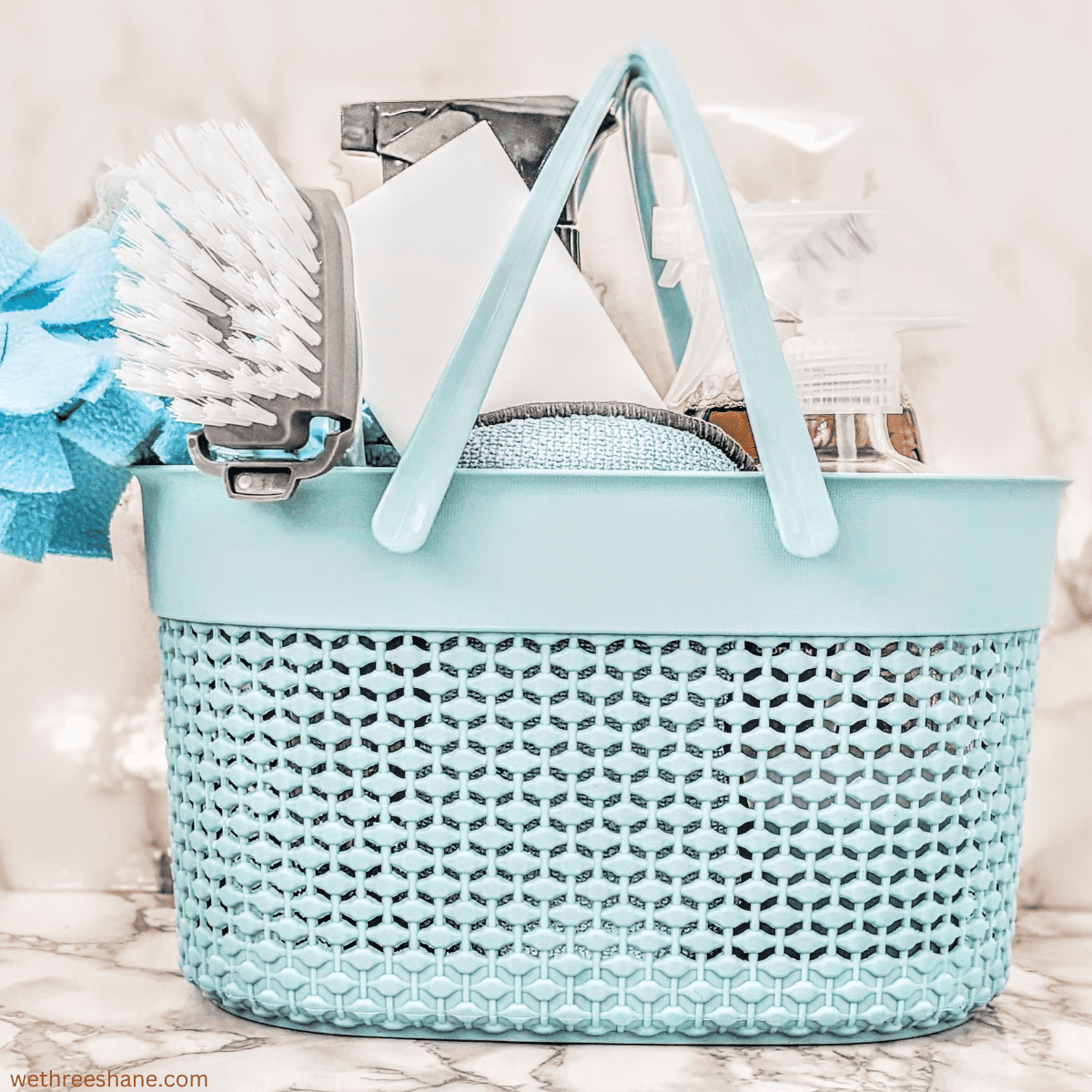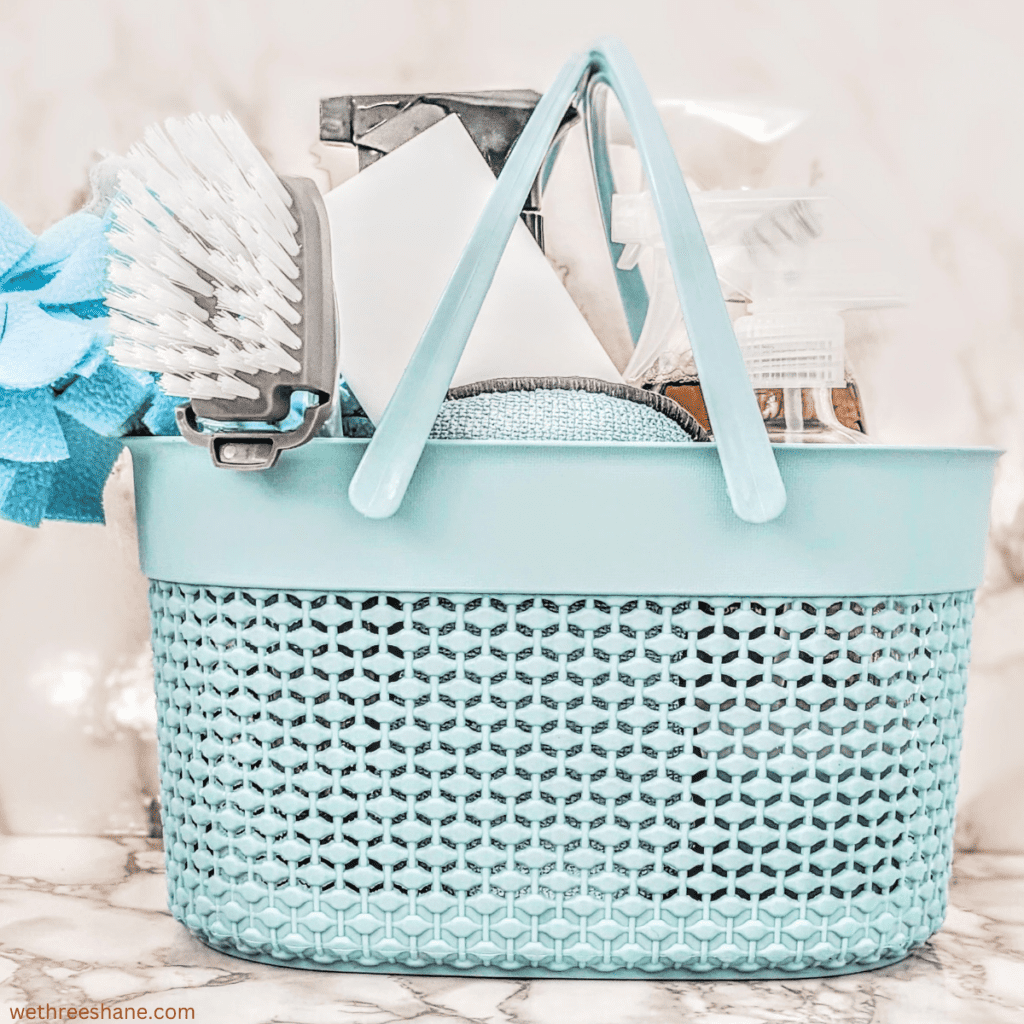 I have this basket (in the photo above) from Amazon, and I love it. It is just the right size to give me enough space for everything I need without it being too big or bulky. And the handle is tall enough to fit over spray bottles. Plus the plastic is thicker and not flimsy.
But some people prefer the type of container that has a handle that doesn't move, and so this basket might be better if that is you.
---
The Cleaners for Your Custom Cleaning Kit
Now that you have a container for your kit, you need to figure out how you want to fill it. Here are some questions to ask yourself.
What cleaners do you use most often when you clean?
2. Do you want to only use DIY cleaners you make yourself?
3. Are you going to purchase all of your cleaners?
4. Or will you be like me, and be somewhere between?
All Natural DIY Cleaners
If you would like to be able to make all of your own cleaners, I have another post that I wrote just for you, All Natural Cleaning Products, the Ultimate Guide to Making Your Own.
This post has lots of the best recipes I have found if you want to go completely DIY with your cleaning products. And many use the same base ingredients so they are very cost effective.
When making your own products you will need to purchase your own containers. I used to just buy the amber glass spray bottles, but I have learned that I am too klutzy to have unprotected glass, so now I buy the glass bottle with the silicone bottoms. This way I don't have to worry about hitting the corner of my granite or tile counter tops.
Purchased Cleaners
Some people just like the idea of buying their cleaners from the store. They don't think DIY cleaners are strong enough, or maybe they don't like the more natural scent they have.
I personally like giving my kitchen counters a wipe down multiple times a day, and because I have granite, I like using a multi-surface spray I know won't damage them, even with very repetitive use. So, I don't use a homemade spray with vinegar. But again it is all about finding out what works for you.
When going the store bought route, the one thing I would suggest, is at least looking for cleaner ingredients. These are safer to use around pets and people.
I have used and really liked cleaners from Mrs. Meyers. I have the Dish Soap and Hand Soap by my sink, and then have the Multi Surface Cleaner in my cleaning kit. You can even buy the Multi Surface Cleaner in big bulk packaging here. My favorite year round scent is the Basil, and then my favorite seasonal scent is the Snowdrop (this scent is available for purchase during the winter).
I also love the Sea Salt Neroli scented Multi-Surface spray from Caldrea, but it is more expensive than the Mrs. Meyers. This scent is my husbands absolute favorite, so I will buy it every once in awhile.
Another product that I will usually purchase instead of DIY is my wood cleaner. The DIY wood cleaner recipes work great, but they contain real oil so you can't make them in large quantities or they will go rancid before you can use it all.
So, I have the Wood Cleaner from Method in my custom cleaning kit. It works really well, smells nice, and the bottle lasts me a really long time.
The toilet bowl cleaner that is in my kit is also from Method. You can use the links in this post to purchase Method products from the Method store on Amazon, but they are also available at most Target stores.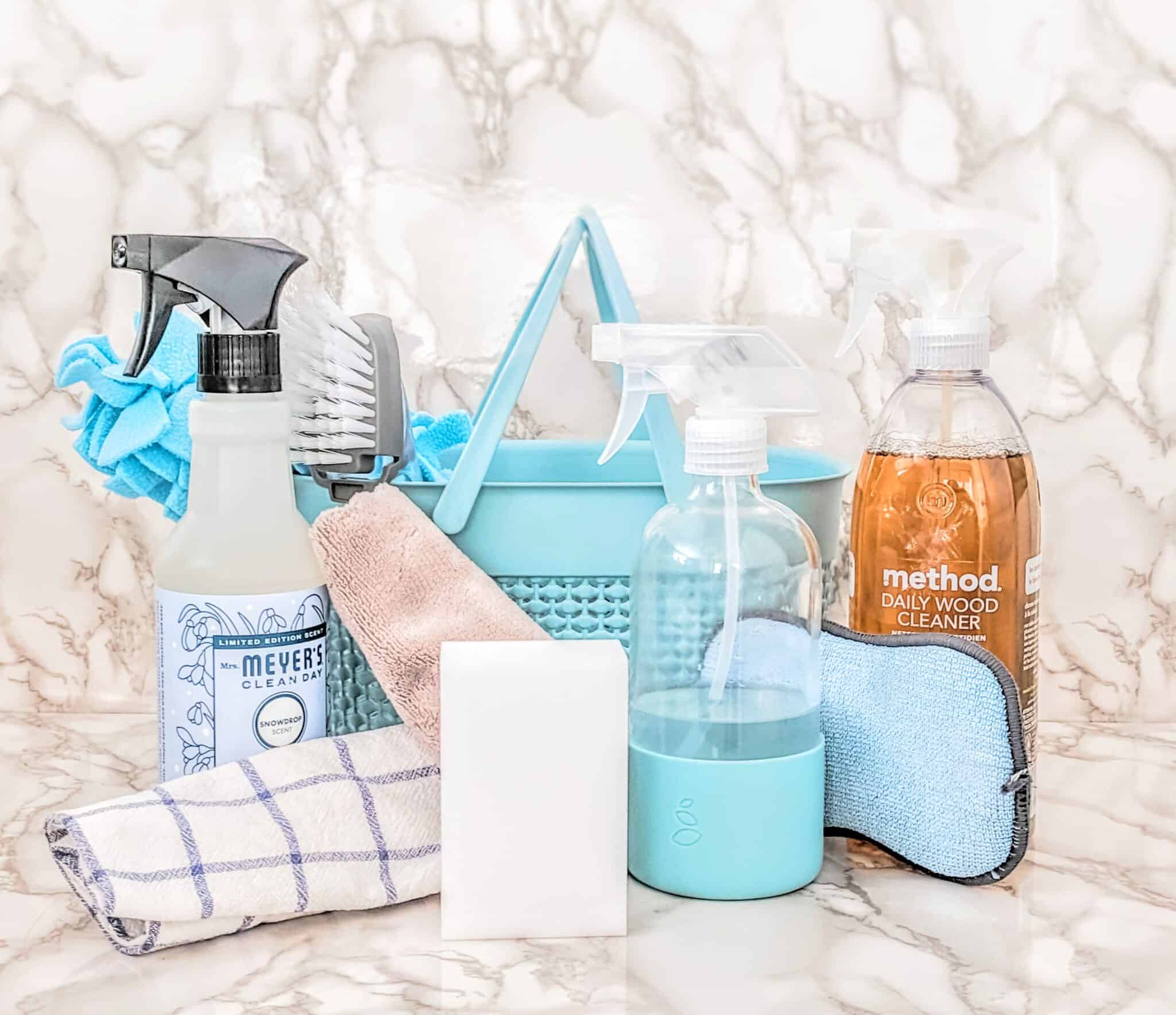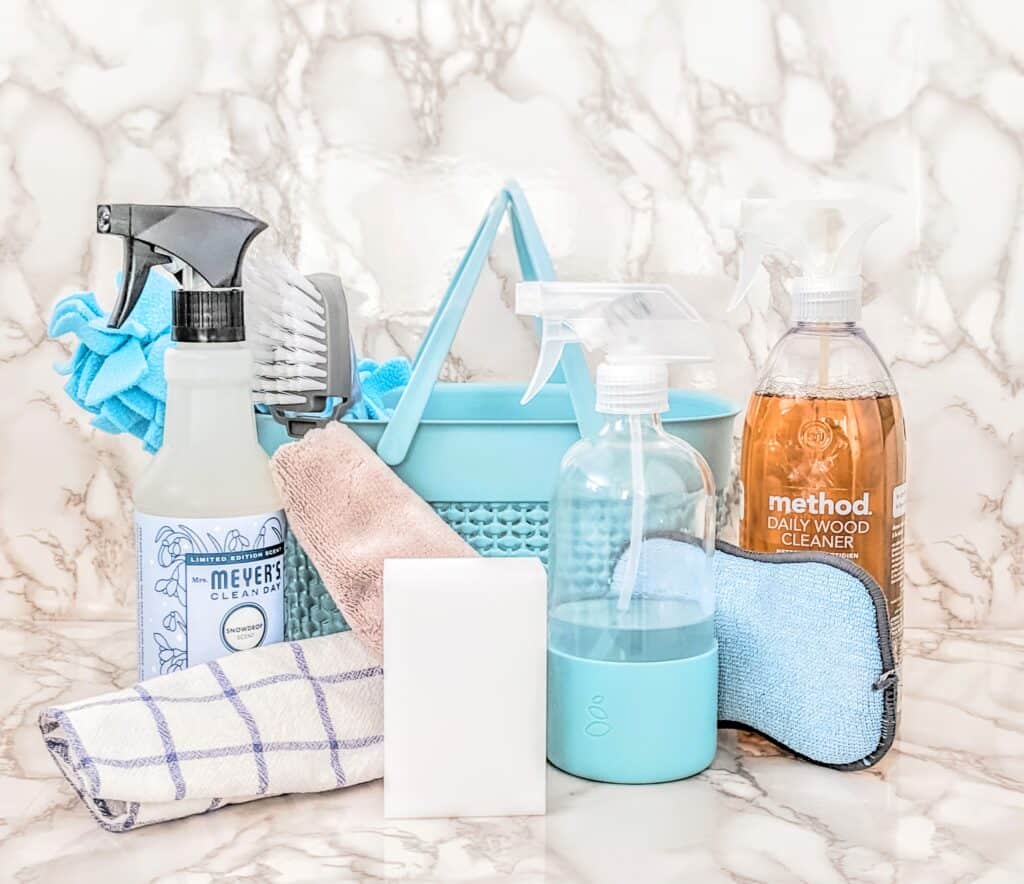 ---
Tools for Your Cleaning Kit
Now that you have your container and cleaners, you will need some tools. Each person will want different things but here is a list of possible items you might want to think about having in your kit.
---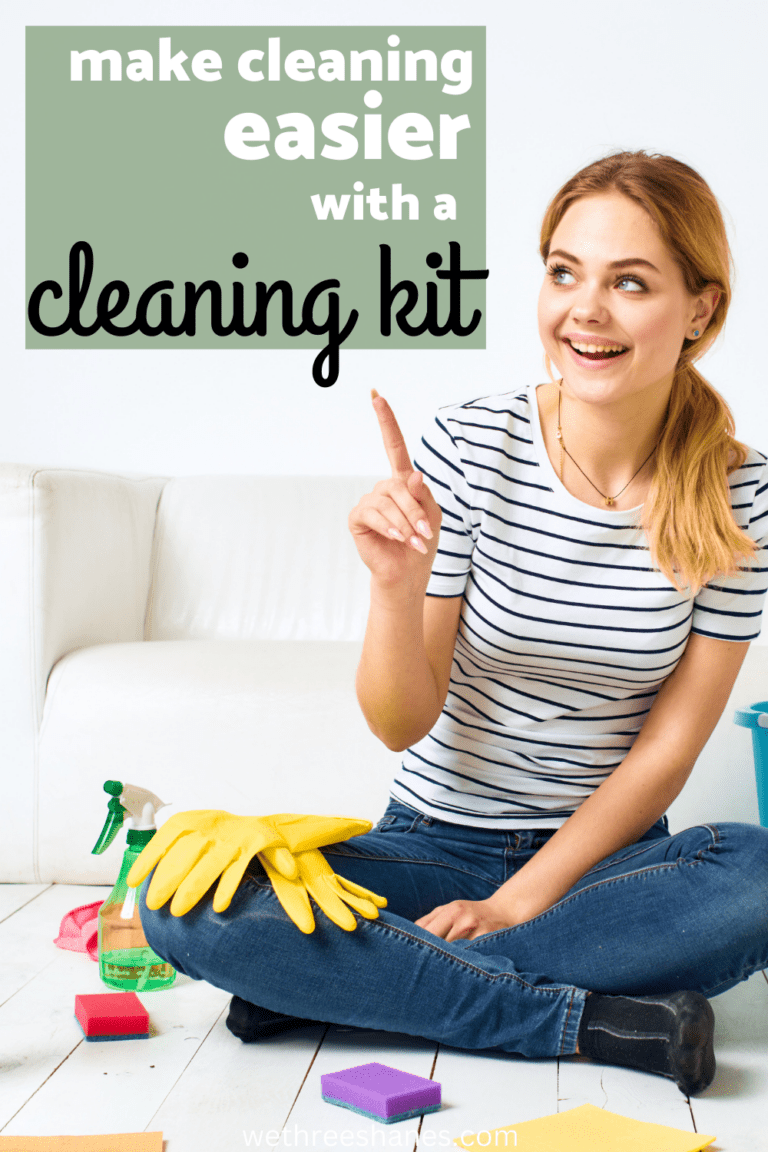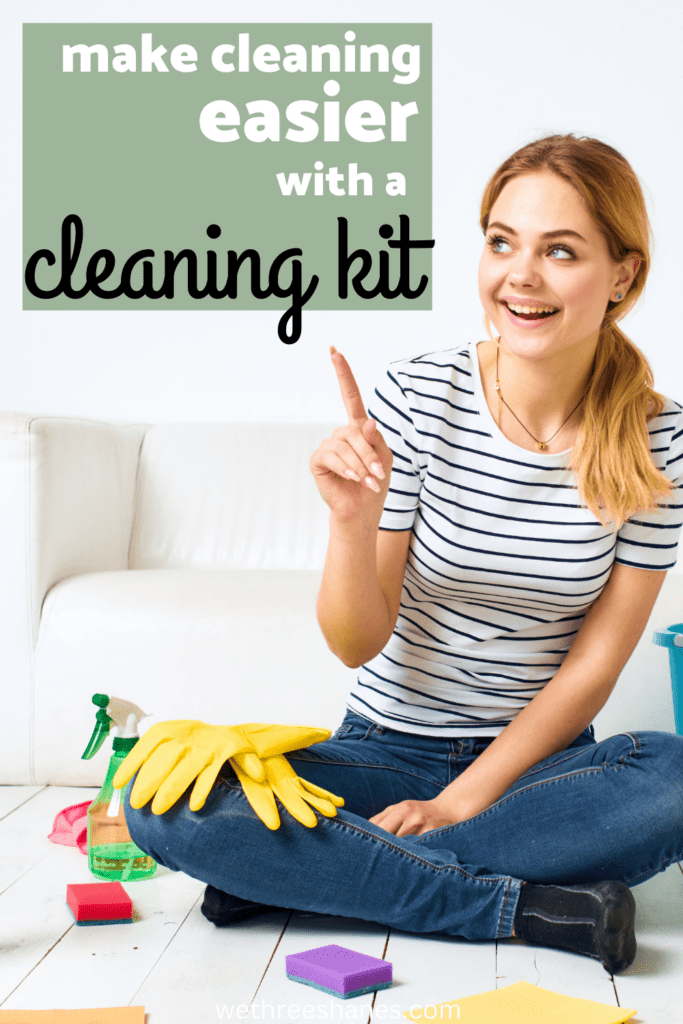 You Have Your Kit, Now What?
Now that you have your custom cleaning kit, you just have to use it and maintain it. Doing this has so many benefits.
Having a kit makes it easy to move from space to space as you clean without having to stop to look for items in different cupboards, closets, or pantries.
It also makes it easier to take notice when you are running low on one of your favorite products. Try to keep your supplies to what you use in your kit, and then just add a replacement to your list when you are running low.
If your needs change, change your kit. Just remember to stick to the space in your basket and it will keep your routine simplified, and your spending on supplies in check. It will keep you from spending money trying the latest fad product or filling the spaces under your sink with items you will never use. It keeps everything organized in one space, and looks nice and tidy.
---
Custom Cleaning Caddy
Making your own custom cleaning kit can be a game changer for your cleaning routine. It makes cleaning much faster, easier, and even more affordable. As we enter into this new year, figuring out your needs and making your own kit will greatly increase your chances of making your housekeeping goals a reality.
What goals do you have for your home in the new year? Let us know in the comments, we absolutely love to hear from you!
---
You Might Also Like: