Color Street vs Incoco and Coconut: What's the Difference?
Did you know Color Street Nails has a sister company that sells their nail polish strips for less? We've tried out both Incoco and Coconut nails to see how they compare to Color Street.
(THIS POST PROBABLY CONTAINS AFFILIATE LINKS. OUR FULL DISCLOSURE POLICY IS LONG & BORING BUT, YOU CAN FIND IT HERE.)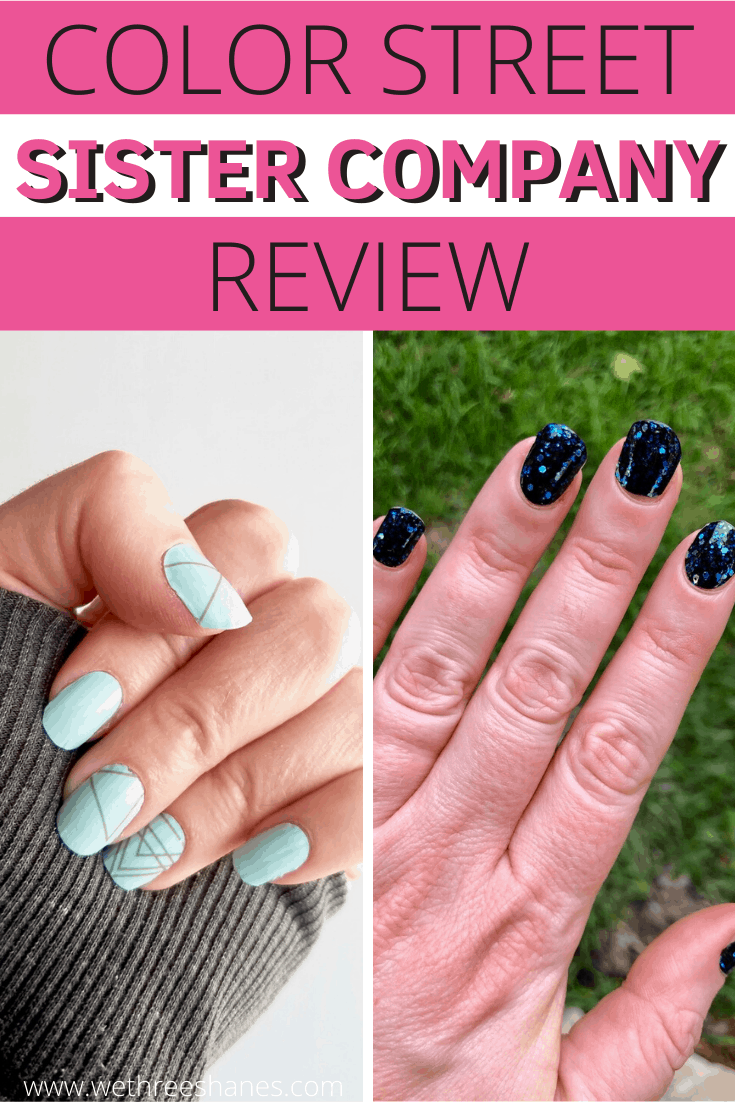 Color Street vs Incoco and Coconut: What's the Difference?
Nail strips are becoming more and more popular. Color Street nails changed the game by making 100% nail polish strips. You can read all about them in Kristy's full and honest review.
Did you know that Color Street has a sister company named Incoco? I sure didn't! We got a comment from a reader on the Color Street Review post telling us that Color Street used to be Incoco so we decided to look into things.
Turns out she was right. (Not that we didn't believe her but everyone should do there own research on things.) We looked into Incoco more and thought it would be fun to do a review/comparison of the two products but it turns out there are three products: Color Street, Incoco, and Coconut. So you get a review of all three.
First, I'll go through the similarities and difference of the 3 products on paper. Then I'll give you my review based on trying the nail polish strips myself.
---
Similarities Between Color Street, Incoco, and Coconut
There are a number of similarities between Color Street, Incoco, and Coconut nails. They are all made by the same company and founder Fa Park. Incoco Headquarters is located in Clifton, New Jersey, U.S.A where they produce all Color Street, Coconut, and Incoco nail strips.
I have seen lots of chatter about Incoco and Coconut being phased out of stores since Color Street is doing so well, but there's no hard evidence that proves this. In fact, rumors have been going on about it for years. For now, they are in stores so lets get to know them better.
Nail Strip Packing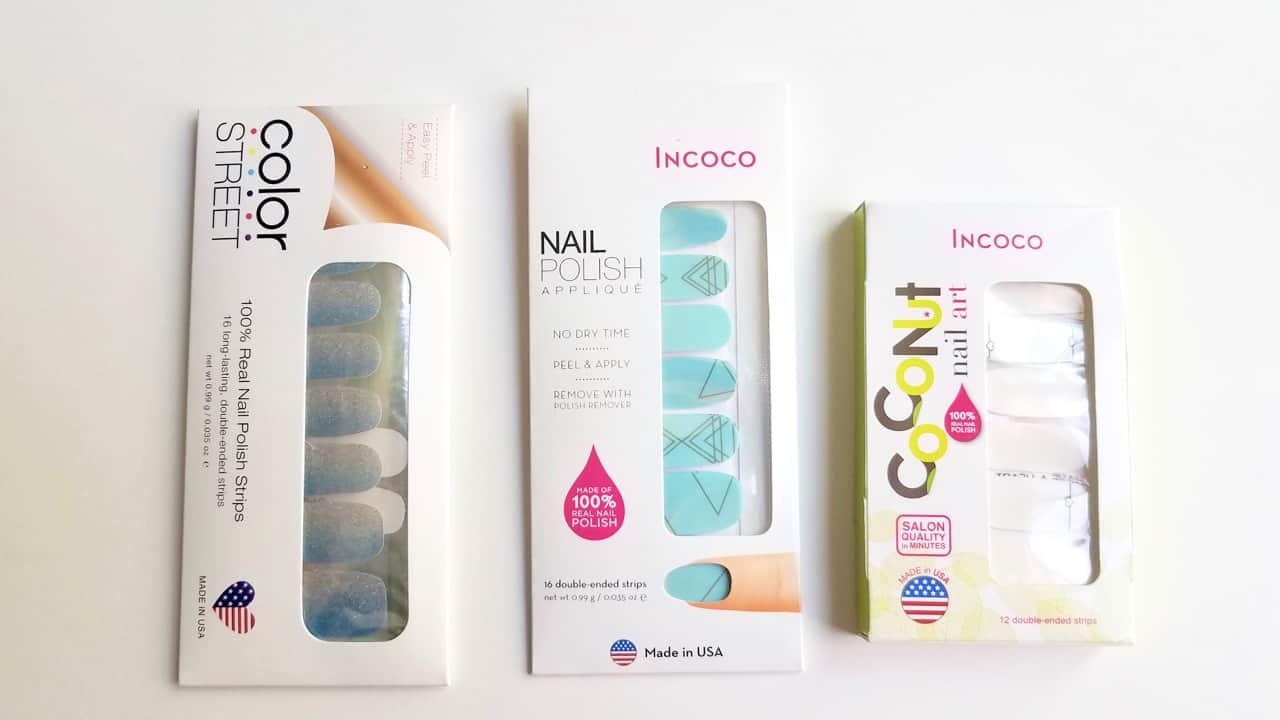 If you look at the packaging side by side you can clearly see the similarities. However, they are not exact. Both Color Street and Incoco nail polish strips come with two nail prep pads and an mini emery board for help with application.
The Coconut nail strips that I got from Walmart did not come with the nail prep pads. They only came with the emery board. Since nail prep is something that is really important for getting a great application with staying power, that's a bit of a let down. You can always grab a cotton balls and rubbing alcohol to use on nails before applying Coconut nail art.
Nail polish Strip Ingredients
All three Incoco brands have the exact same ingredients, listed in the same order. This makes it pretty clear, at least to me, that they use the same formula for Color Street, Incoco, and Coconut. The nail polish strips themselves should be the same when it comes to application and durability. But are they? More on that in the review section below.
Application
Once out of the box, the nail strips themselves look the same. They all have a clear cover on each strip that needs to be removed before applying the polish strip. Application directions are pretty much the same.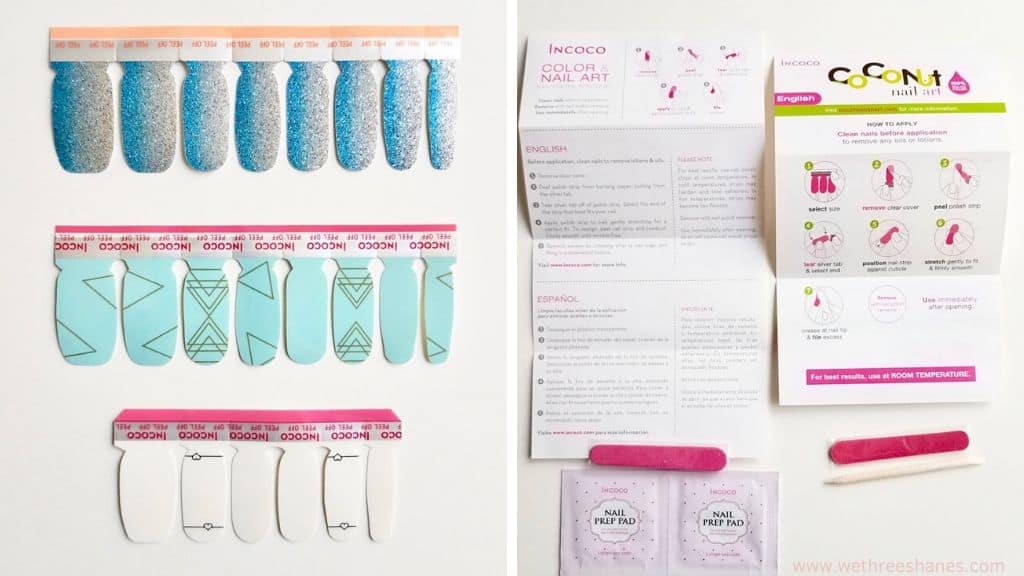 ---
Deferences between Color Street, Incoco, and Coconut
There are a lot of similarities between Color Street & it's sister company Incoco, but there are some difference as well.
Pricing Differences
There is a price difference between Color Street, Incoco, and Coconut:
Color Street nail strips cost between $11-13. If purchasing Color Street online you'll need to add $3 per order for shipping. Color Street also does donate money to charities when you purchase certain strips from them so keep that in mind.
If you take advantage of Color Streets deals like the buy 3 get one free then you'll only spend between $9-10.50 ($3 shipping included) for each set you purchase. French manicure sets are $14 but they are buy one get on free which makes them $8.50 when you add the $3 shipping fee.
Incoco nail strips price changes based on where you buy them, but not by much. At Walmart they are $6.88 but at Ulta they are $7.99. You can purchase nail strips from both places online where you could end up paying shipping fees.
Coconut nail strips are $4.97 but you get less nail polish strips. Incoco and Color Street both give you 16 nail strips. Coconut only gives you 12. Again, you can buy them online but you'll have to deal with shipping fees.
Purchasing
Color Street can be purchased online or from a Color Street stylist.
Incoco can be bought at Walmart or Ulta. You can purchase them in stores and online. Ulta has a better selection in stores but Walmart seems to have a better selection online. My Walmart only had the Coconut brand and not the Incoco nail strips. You'll have to check your own Walmart to see what they sell in stores.
Coconut is exclusively sold by Walmart. You can find them in stores and online.
Designs
Color Street has waaaaaaay more designs than Incoco and Coconut combined. Color Street has just over a hundred different styles you can choose from. They have multiple collections and categories of nail art to choose from including holiday, season, and awareness designs.
Incoco has 12 styles available at Ulta. That's not a lot. They have no solid colors. Most nail strips have a pattern on them. Then there's a couple of glitter and one French Tip. While there are a handful more nail strip styles online through Walmart, I'd be a bit reluctant to buy them. They seems to be old styles which means the nail strips could be fairly old.
I was able to find spots for all 12 styles at Ulta but they were out of a couple of them. My Walmart only had the French Manicure set and no other Incoco styles.
Coconut also has 12 styles to choose from. You'll mostly find patterns from them as well, although they do have two solid styles. My Walmart only had 8 styles to choose from so it seems every store is different.
Websites
Color Street has the best website out of the three. They have a lot more information on the site plus you can actually order nail strips from the Color Street Site.
Both Incoco and Coconut have very similar looking websites but there's not much substance to either of them. Both sites tell you a little about the product and show off the collections for the year but that's about it. You can't order nails from the site. There really isn't much of a reason to check the sites out.
---
Color Street vs Incoco vs Coconut
While all that info is important to know, to me it all comes down to how well the nail strips perform? If I hand you a nail strip out of the package would you be able to tell which brand it came from? So let's talk about how the brands actually compare to each other when it comes to wearing them.
Coconut Brand
I'll start with the Coconut brand nails. There were only 6 styles to choose from because they didn't carry all 12 designs and two were out of stock. I grabbed Have a Heart and was on my way. I love the price of Coconut nail polish strips! I'd be happy to rotate through the couple of the styles I like at that price.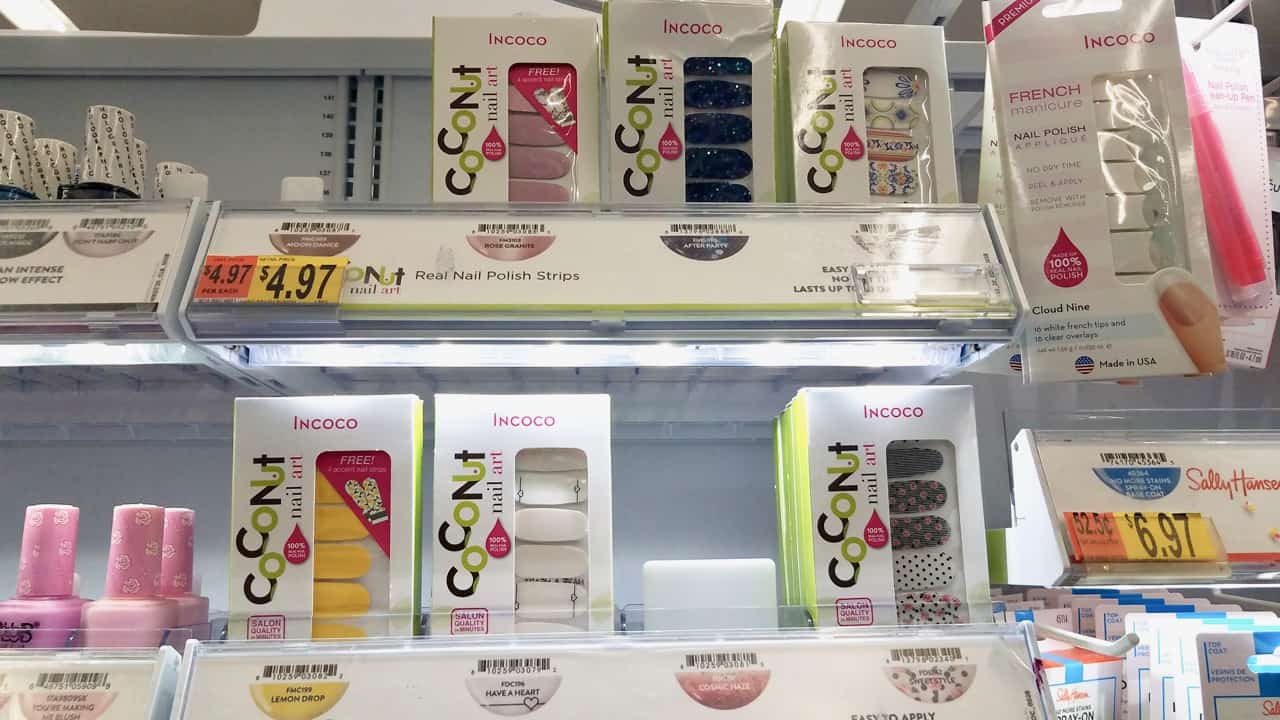 I was excited to try them out but there are a couple of problems I found when applying Coconut strips.
There are less strips so finding the right fit for each nail can be a little tricky. I feel like that's important when using nail strips.
They also don't come with the alcohol pads to clean off your nails. If you don't know to do this then you're nail polish strips might not last as long.
The clear coat that is removed before putting the nail strips on would not come off properly. I had the same problem with every nail strip that came in the package. I was eventually able to peel all the pieces off but it was a serious pain.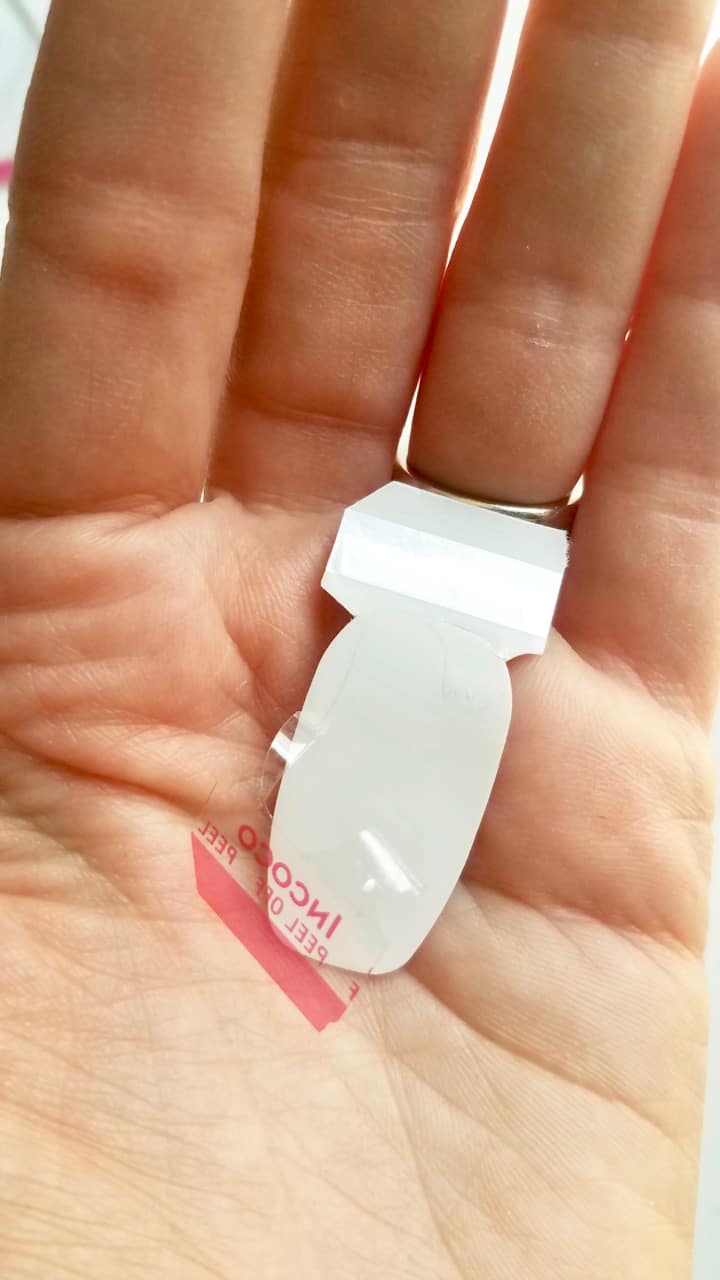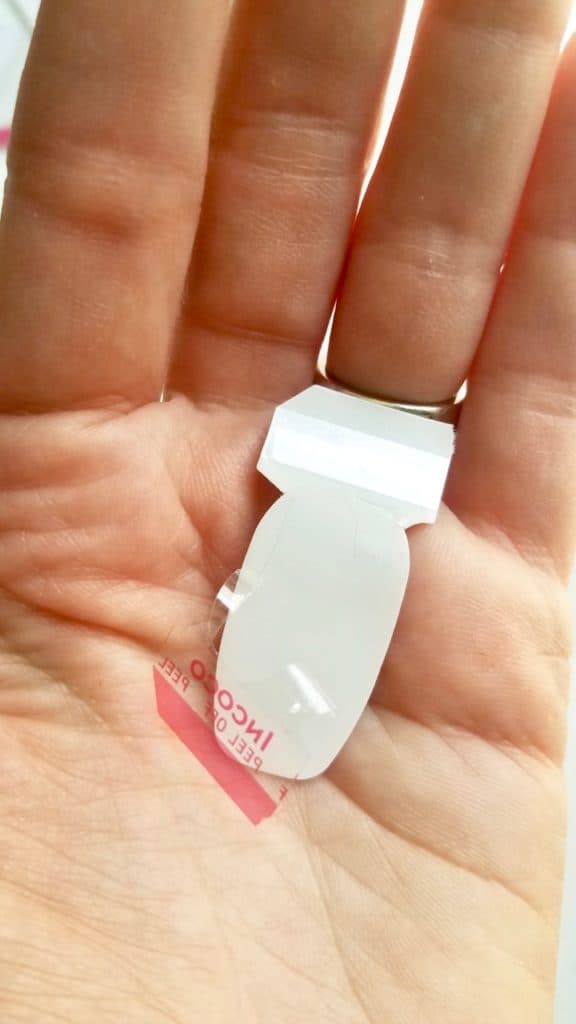 Once I finally got the clear coat off, the polish strips themselves didn't even work! I'm not sure what the problem was. Maybe it was an old set and they had started to dry out. The whole package was unusable. You can see my best attempt in the pictures below. The strips wouldn't stick well at all and they ripped off unevenly.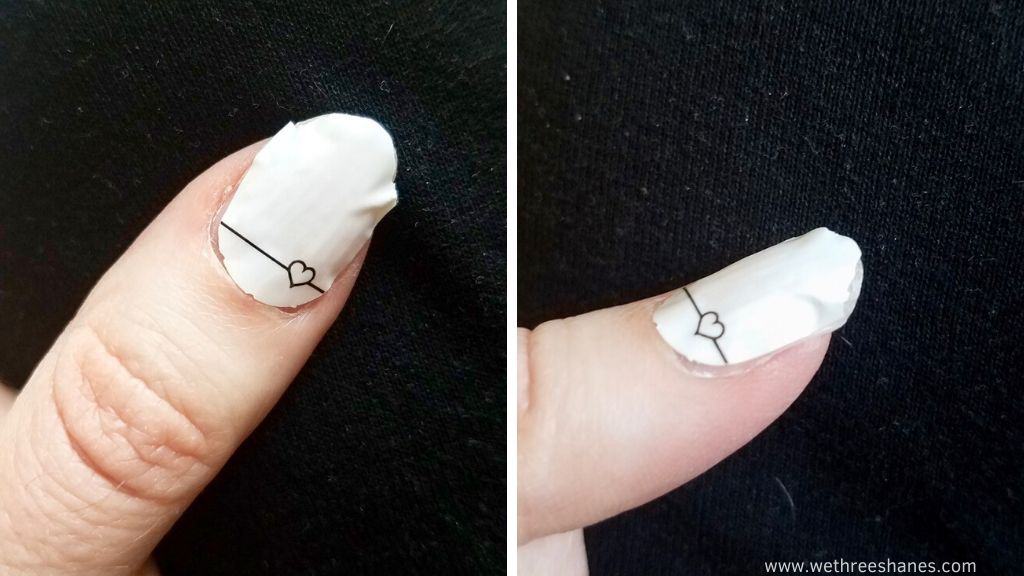 While I was really excited about the price of Coconut nail polish strips, they didn't work. I realize this could be a fluke but it was still a complete waste of my money.
Another Try for Coconut
Katie also tried Coconut nail polish strips but she didn't have a problem with them. Here's what she had to say about them:
"For the price I feel like they are pretty good but they are definitely not the same higher quality as Color Street. I had one nail that I couldn't get lined up quite right so I had to pull it up to re-position it. That nail is now coming off. The Color Street ones can be readjusted and they will still stick.
I was able to do my nails plus my daughters nails with the one set. These are great for kids. They don't feel like a waste of money to use on my daughter, where as the Color Street nails are a bit expensive to use when I know she's going to pick at them.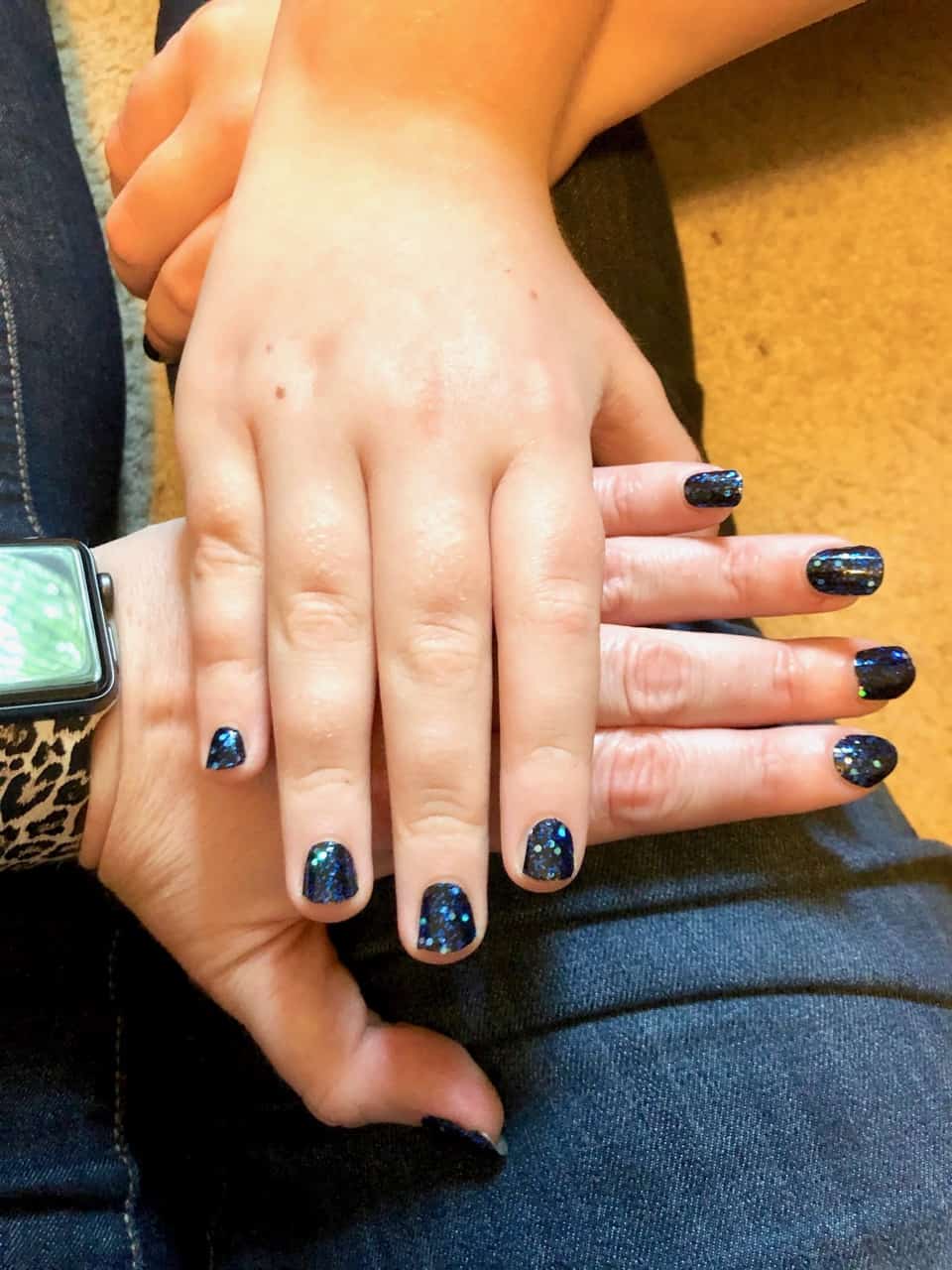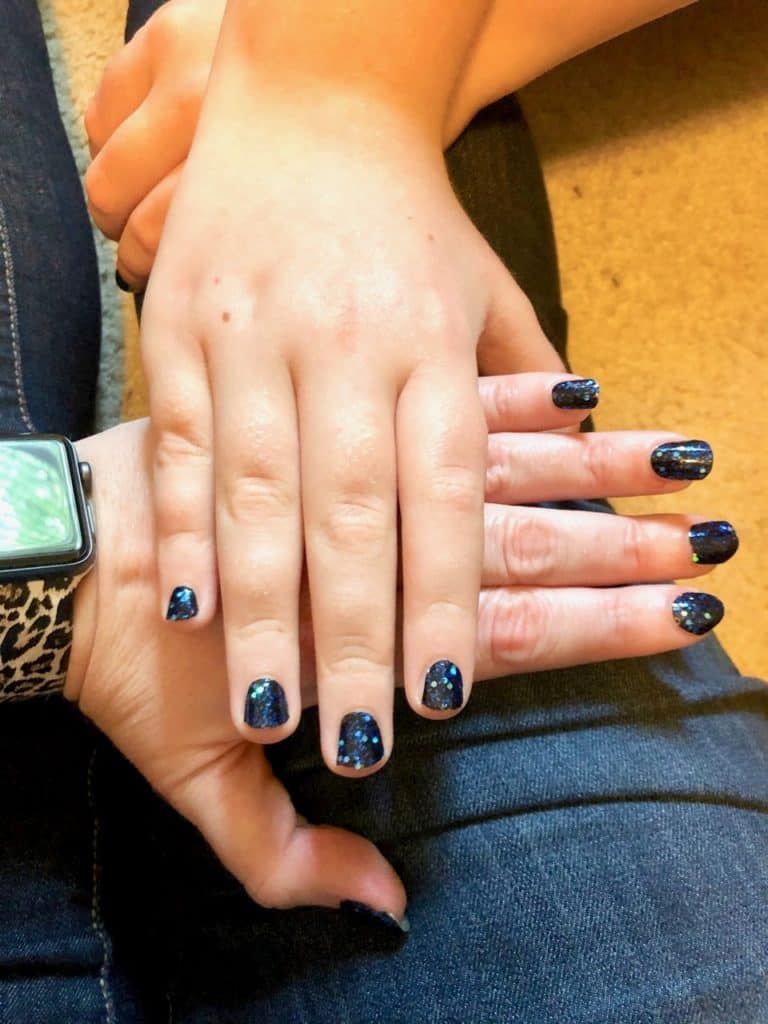 At the end of two weeks, my nails looked pretty good. There are some cracks in the polish but because the color was dark, the cracks aren't super noticeable."
Coconut Conclusion
I might give the Coconut brand another try because they are so cheap but I'd probably only use them on my toe nails. 5 bucks for a cute summer pedicure is totally worth it to me. It's great that you can pick up a set or two while doing your grocery shopping.
Sounds like these are a great option for kids and tweens as well. They would be great in an Easter basket or Christmas stocking.
---
Incoco Brand
We have two Ulta stores in our city and I only made it to one before they were closed because of Covid-19. Once stores open back up I'll have to check out the selection of Incoco nails at both stores. Ulta does have all 12 styles in stores but like Walmart, some designs were out of stock.
There was a buy one get one 50% off special going at the time so maybe that's why they weren't able to keep stocks supplied. They had four designs that were out.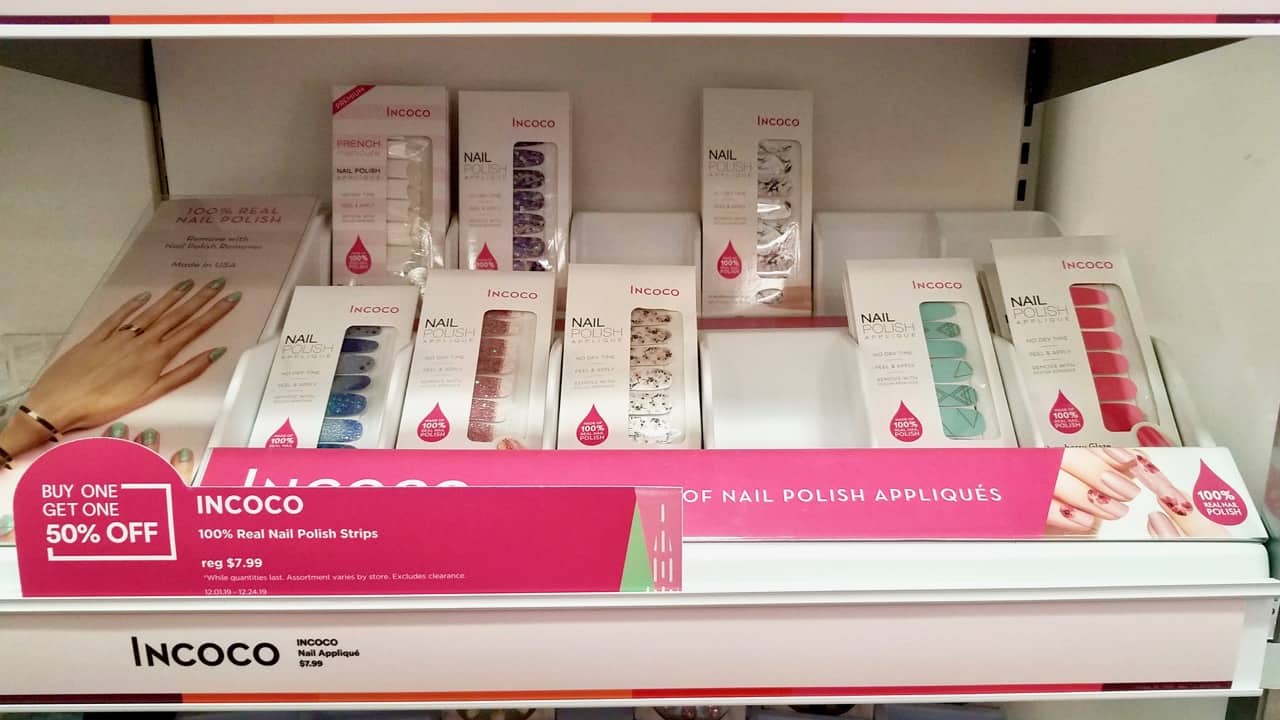 The Incoco set felt a lot like Color Street nail polish strips but they did seem slightly thinner. Not by much at all. They applied the same way and the nail strip sizes were the same as Color Street so finding a fit was a similar process.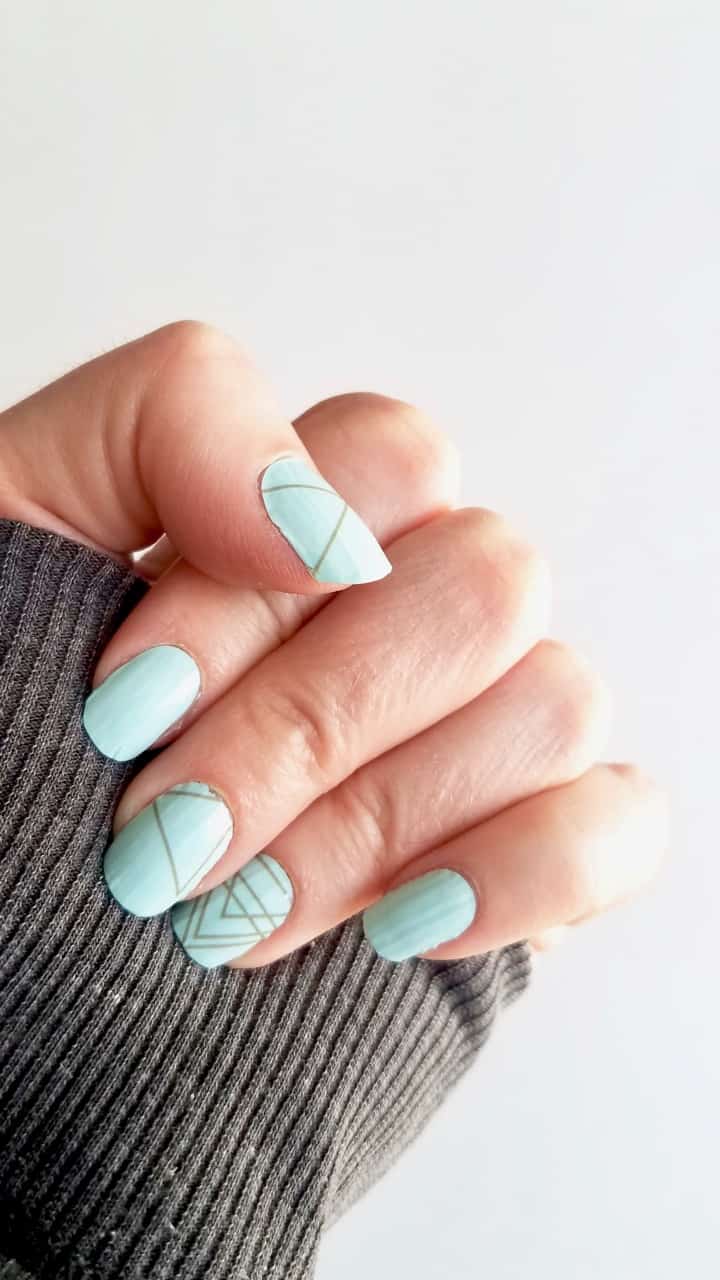 My only complaint when it comes to Incoco was that the nail polish cracked in a pretty obvious way. I never had that problem with Color Street nails. These started to crack towards the end of the first week of wear. I've been able to keep some Color Street nails on for a month without signs of wear, just obvious regrowth.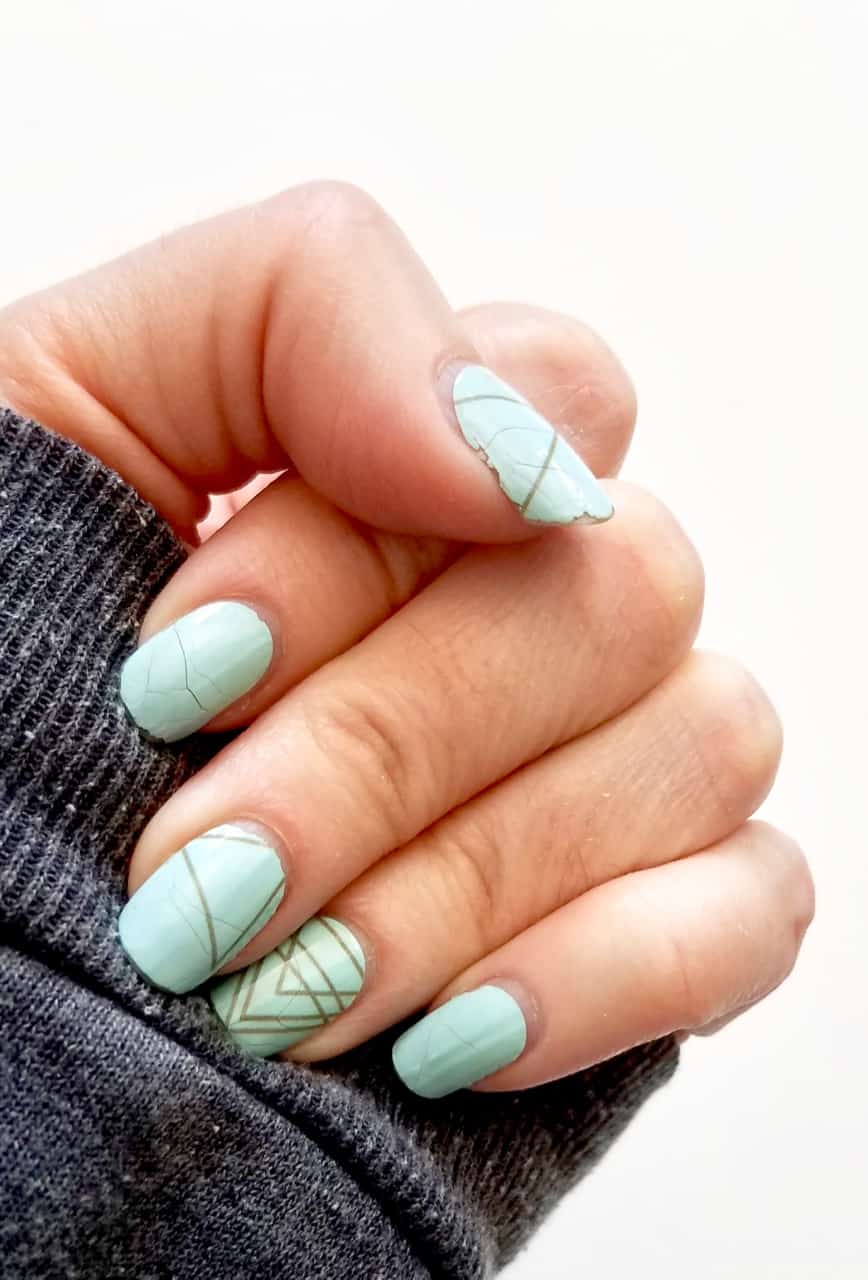 Incoco Conclusion
If I shopped regularly at Ulta, I could see picking up a pair of these but I wouldn't go out of my way to get a set. I will probably try a set of glitter nail polish strips on my toes this summer. You'd be less likely to see the cracks and nail polish strips do tend to last longer on toe nails. A French Manicure might also be worth a try for the money.
---
Color Street for the Win!
In my opinion, Color Street nails are the winner in the Sister Company challenge. There is no comparison when it comes to the style choices Color Street has. The nail polish strips themselves seems to be better quality and last longer. In this case, you really do get what you paid for.
I also like how helpful Color Street Stylist are. You get much better costumer service with a stylist. If I had had a problem with my nail polish strips like I had with the Coconut brand, I know my stylist would have replace them for free.
Like I said before, I will try Incoco and Coconut nails again for a pedicure. I'll update the post once I've tried them out on my toes. I do think the price is great on both so they are worth a try.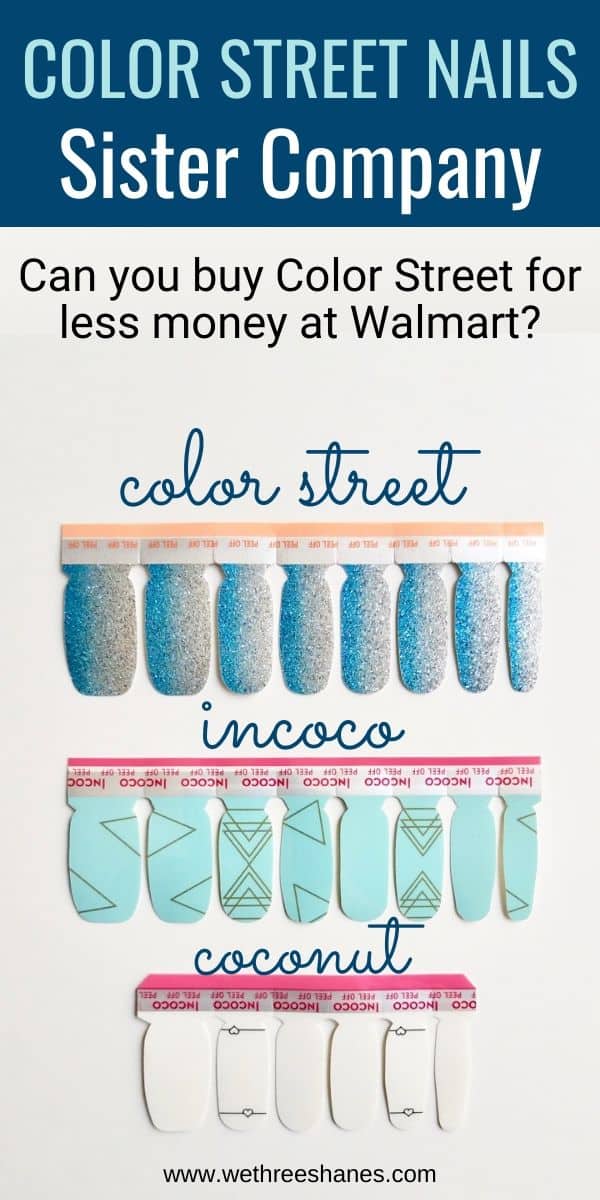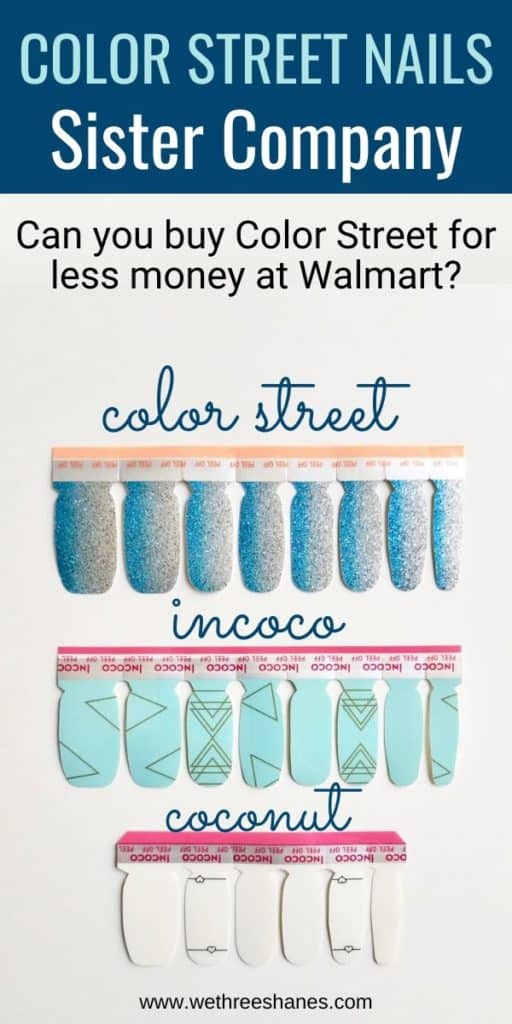 If you do try out Incoco or Coconut let us know what you think about them in the comments. We'd love to hear what your experience has been using them!
---
You Might Also Like: